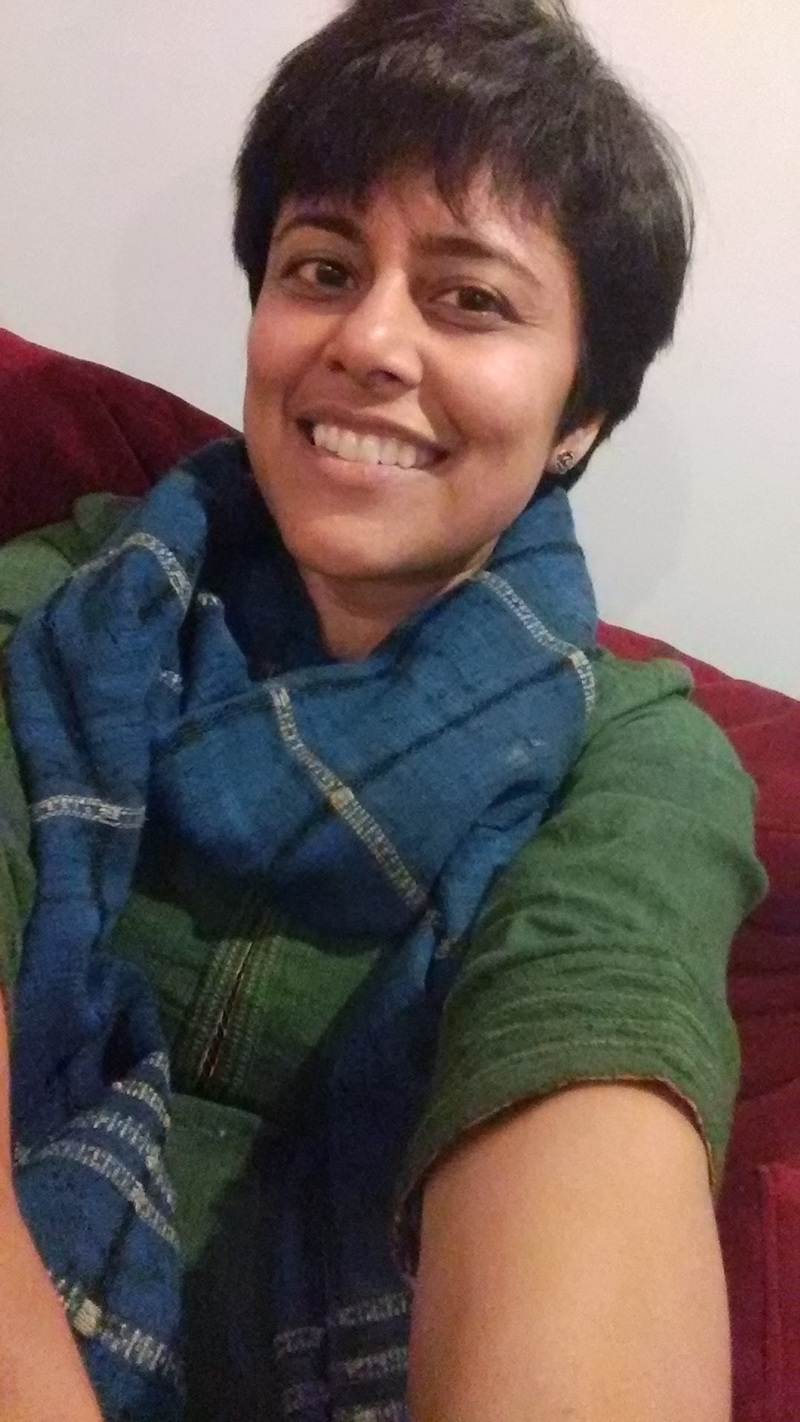 Roopa Pai is a computer engineer who always knew she was going to write for children. She is the author of Taranauts, India's first fantasy-adventure series for children in English,and several others, including some for Pratham Books. Her latest bestseller is 'The Gita For Children'.
This is why I love my job. Every so often, a project comes along that holds out the tempting prospect of a never-before challenge. I take such projects on with (an admittedly nervous) alacrity, because a challenge helps to keeps things fresh - it forces one to shift gears, to look at things through someone else's eyes, to tap into hitherto unexplored veins of creativity. And when it has been met to the best of one's ability, a challenge leaves one with a sense of accomplishment, of life having been enriched in some small way.
It was precisely such a challenge that Pratham Books' Storyweaver initiative dropped into my lap a few months ago. We want to create wonderful new stories, they said, and we want to create them quick. We want to hear new voices, on a myriad subjects. We want to help children discover disparate worlds - math, the environment, artificial intelligence, good values - through stories that are fun, engaging, and lushly illustrated. And we want to share them all, translated into a dozen different languages, with the world.
And once it is all online, they said, their eyes shining, anyone, anywhere in the world will be able to read them, for free! What's more, anyone, anywhere, can download them, print them, distribute them, translate them into any language in the world, use pictures from different books to weave new stories, or weave together different story threads to spin out brand new tales. Wasn't it all terribly exciting? And would I please be part of it?
It most certainly was, I said. And of course I would!
And that's how I landed my first job as editor. 'Guest editor', more correctly, with the responsibility of finding new children's writers, and generating, through them, four stories involving maths. The stories could be fiction or non-fiction, but they would have to deal with mathematical themes. As a sop to a first-time editor, they graciously allowed that I could write one of the stories myself.
I tossed ideas around in my head - what themes existed in primary-school level maths? Numbers, distances, patterns, measurements, arithmetic... What stories could be woven around them? The Storyweaver team and I went back and forth for weeks, until we came up with a list of ideas that we all agreed held promise. Then I went out to look for my crack team of debutante writers.
I didn't have to look far. Over the past couple of decades, I have had the pleasure of interacting and working with a number of talented, accomplished people who also work with children, but not necessarily as writers. When I had sliced and diced that contacts list to find people with backgrounds in science and / or math, AND people who lived in Bangalore (this for no other reason than that editorial meetings could then involve lots of laughing and chai-drinking), three names emerged. Fortunately for me, they all agreed instantly to be collaborators on an adventure that was new for all of us.
And who were these three people?
There was Gayathri Tirthapura, who trained as an engineer at REC (now NIT) Surathkal, before going off to the US for a double masters (Masters in Science from Stanford, Masters in Education from Harvard) and 10 years in the telecom industry. Since she returned a few years ago, Gayathri has run Kutoohala, a children's activity centre, library and bookstore where she puts all her theories on what makes for a fun, enriching education into practice.
There was Sukanya Sinha, a PhD in Physics from the University of Maryland, who has held research positions in several scientific institutes not just in India but elsewhere and is now a Visiting Professor at the Indian Statistical Institute. But Sukanya is also as much at home with demystifying complex scientific concepts to children - she is part of the founding team of Curiouscity, an organisation that promotes creativity in science among young people.
And there was Shonali Chandy Chinniah, a marine biologist from Cornell who has taught undergrad courses at both American and Indian universities, apart from conducting educational tours at the New Jersey Aquarium and working with NGOs in India to promote science education among the less privileged. Shonali is also part of the founding team of Curiouscity.
Over the course of the next few weeks, at several delightful and wonderfully stimulating editorial meetings (given the formidable - and creative - brainpower I was dealing with, it could not have been any other way), we picked different ideas, toyed with them, wondered if they would work better as fiction or non-fiction, and drank plenty of chai. Then everyone went off to write their stories.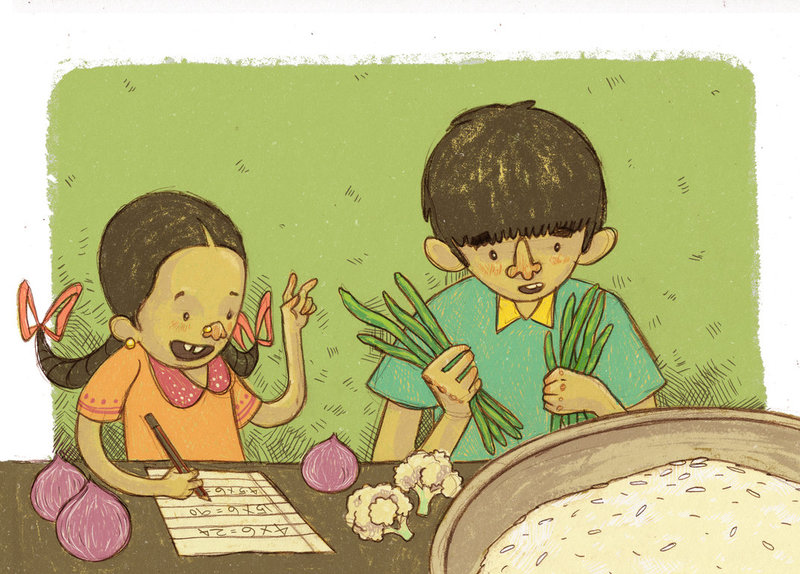 The results of that most enriching experience is - or will soon be - up there on Storyweaver for all of you to enjoy. Already up are Sukanya's awe-inspiring non-fiction story on distances - 'How Far is Far?', and Gayathri's heartwarming fiction story on math in cooking - 'Dum Dum-A-Dum Biryani'. Coming up soon are Shonali's enjoyable non-fiction story - The Fabulous Fibonaccis - on the endlessly fascinating number sequence called the Fibonacci (or Hemachandra) sequence, and my own fiction story based on history and arithmetic - How Old Is Muttajji?
How would I rate my editorial challenge on a scale of 1 to 10? I would go off the scale - it's all allowed in maths - and say 0. Because, like that old song goes, no matter how big the challenge, you can always get by with a little help from your friends.
Be the first to comment.
---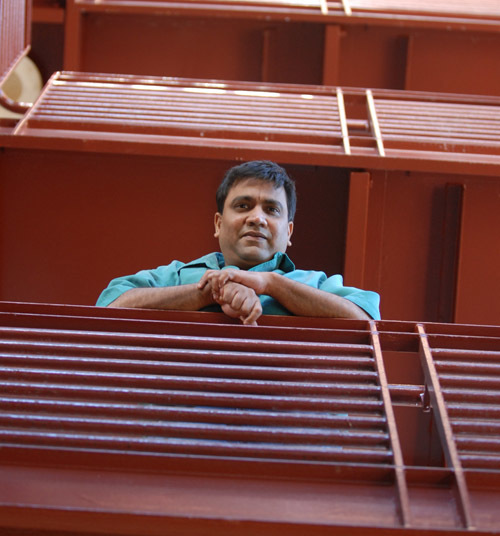 Anil Menon's short fiction has appeared in a variety of magazines and anthologies. His debut novel The Beast With Nine Billion Feet (Zubaan Books, 2010) was short-listed for the 2010 Vodafone-Crossword award. Along with Vandana Singh, he co-edited Breaking the Bow (Zubaan Books 2012), an international anthology of speculative fiction inspired by the Ramayana epic. His most recent work is the novel Half Of What I Say (Bloomsbury, 2015). He has written 'Manikantan Has Enough' for StoryWeaver.
Last year, while my friend Emma Dawson-Varughese and I were chatting, we were interrupted by the loud wails of her daughter Mahia, then about two-years-old. Mahia had crawled past her mother's alert eye, wriggled, flipped, and finally gotten stuck underneath a sofa. Emma rescued her self-pitying miscreant with a sigh. I'm sure that sigh has been echoed by every parent since the beginning of time. It is impossible to prevent children from wanting to explore the world.
Until recently however, parents had one comfort. Children may explore, but parents could guide their exploration because the world stayed the same, more or less. Parents knew what to expect. Alvin Toffler in his "Future Shock" gives a striking description of just how little things have changed for most of human history. We've had civilization for about 50,000 years. If we divide this period into generations of 62 years each, then so far, there have been about 800 generations. The first 650 generations lived in caves. We have had writing just for the last 70 generations. It is only in the last six that masses of humans have had access to the printed word. The electric motor has been around for a mere three generations. The internet is less than one-generation old.
Because the world used to stay mostly the same, parents could child-proof the future. The best way to do this was with stories. So children heard the same stories their parents had heard and took away the same lessons. The same culture. The same standards of beauty, of justice, of right and wrong, of how to treat different groups of people. There was hardly any need to update these lessons, and children could grow up to be just like their parents. This was considered a good thing.
Things are different now. Science and technology have unleashed new forces largely beyond anyone's control. The way we eat, work, mate, raise children, and communicate are all undergoing massive changes. Our kids are going to get stuck in situations we can hardly conceive. They'll live in a world where most objects possess a certain minimal awareness. Subtle AI programs will mediate everything our future adults will see and hear. Privacy will become harder and harder to achieve. There will be near-sentient robots, cyborgs, and materials almost magical in their ability to manipulate light, heat and sound. They will be able to share each other's experience, not through conversation as we do, but through more direct means, perhaps by some sort of neural link. At the same time, the complications of global warming will radically constrain all aspects of life.
Too far-fetched? The stuff of science-fiction? Yes. Our children's futures have indeed become science-fictional. So how do we prepare our children for a rapidly-changing world we'll (mostly) never experience?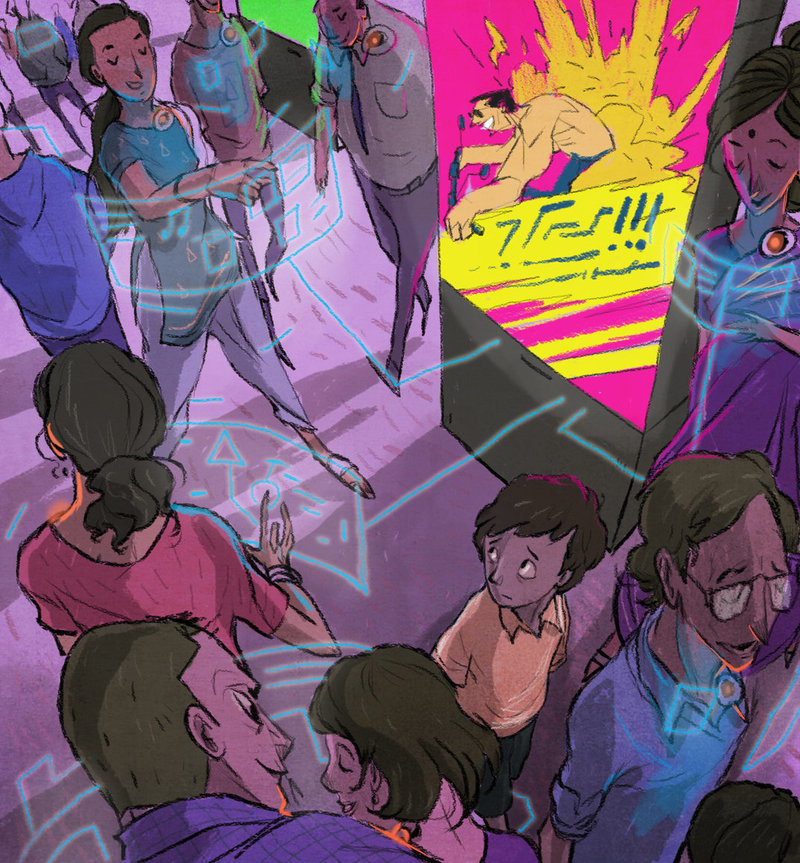 From 'Manikantan has Enough'. Illustrated by Upamanyu Bhattacharyya
We can't. We cannot child-proof the future anymore. But just as parents help their children explore the real world, they can also enable children to explore possible-worlds. Coming generations of kids need stories that won't just show them how things are, but will also inspire them to speculate how things could be. We need stories that don't pretend adults have all the answers. We need stories that'll help children learn to appreciate difference and ambiguity. We need stories that'll teach children to question the stories they're told. Our ancestors could take comfort in the fact things would remain the same. Our children can take comfort in the fact things may always be changed for the better. Then the brave new world will also be a world worth living in.
comments (2)
---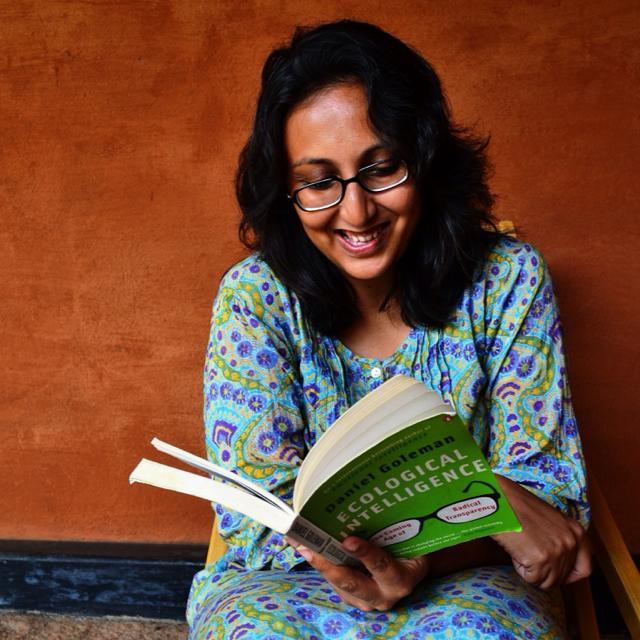 When Bijal Vachharajani is not reading Harry Potter, she can be found looking for tigers in the jungles of India. In her spare time, she works to fund the trips and books. She did this by working as the Editor at Time Out Bengaluru. After having studied climate change at the University for Peace, she now writes about education and sustainable development and is a consultant with Fairtrade Asia Pacific. She tweets at @bijal_v.
When it comes to writings about nature and children, I often find myself returning to Rachel Carson's The Sense of Wonder. "A child's world is fresh and new and beautiful, full or wonder and excitement," wrote the biologist in her book. And it's up to us, the Grown Ups to accompany children and encourage them to engage with nature. Which is why when Pratham Books' StoryWeaver asked me to commission and edit a set of environment books for children, I was quite excited.
There was a long list of topics to choose from – should we commission picture books on climate change or food security, biodiversity or water conservation, the joy of being in a forest or seed sovereignty? The wonderful thing was that the good folks at Pratham Books were enthusiastic about all ideas.
Neha Sumitran, the web editor of National Geographic Traveller India, loves everything about food. And so it wasn't a surprise when she decided to write 'Let's Go Seed Collecting!', a picture book about these precious tree-babies. There isn't any text bookish detail about cotyledons and endosperm. Rather, it's a charming story about three best friends who love to collect seeds and learn about them from a wise old tamarind tree. Neha also offers a handy seed guide at the end of the book, which connects the dots between seeds and the foods we eat and drink. No more Match the Columns and Tiresome Tables, thank you very much. Archana Sreenivasan gave life to Tooka, Poi and Inji the protagonists of the book, painting them with affection and joy.
One of the most exciting things about the project is the translations. The Hindi and Tamil versions of Neha's story have just been published, opening it to many, many more young readers. And there are more to come. As well as three more environmental books in the pipeline.
One of the stories is by artist and writer Vinayak Varma. His picture book 'Jadav and the Tree-Place' is about Jadav Mulai Payeng and his efforts to green Jorhat. Vinayak's prose is exuberant – he makes you want to read the story out loud, with expressions, and imagine Mulai as he plants one tree after the other. No tedious memoir this one.
Of course, there were challenges in the process. For example, how do you talk to really young readers about complex subjects such as climate change? It was a question I explored in my thesis topic when I was pursuing my masters in Environment Security and Peace with a specialisation in Climate Change and Security at the University for Peace. Artist Alison Byrnes used the metaphor of a mountain goat to talk about the complexities of over-consumption, migration, and resource scarcity in her story. How do you strike the balance when it comes to narrating bleak stories but offer that glimmer of hope? That was one of our biggest struggles, but I think Alison's beautifully textured drawings manage to do just that.
Content Manager Yamini Vijayan (who I call my partner in prose) and I learnt so much from Padmaparna Ghosh, as we edited her delightful story about the biodiversity of canopy forests 'Up World, Down World'. A girl and a dormouse become tentative friends as they take the reader on a whirlwind journey of the forest's many denizens. Stories where children and animals intersect often become ethnocentric, and that was something that the three of us were aware of. We didn't want children to always be the ones to swoop in and save the day or the idea of the forests being "of use" to humans. Instead, Padmaparna's insightful narrative coupled with Sunaina Coelho's stunning illustrations spotlight the lushness of the canopy forests.
These stories are all going to be picture books. And one of the compelling reasons for children, parents, and educators to tap to the next page is the images. Archana, Vinayak, Sunaina, and Alison have been working with the wonderful Kaveri Gopalakrishnan to infuse our carefully-written words with images. All of that comes together to hopefully make these stories enduring, compelling, and memorable, which foster that sense of wonder in children and maybe even for the Grown Ups.
comment (1)
---