UPDATE: This position has been filled
---
About Us:
Pratham Books (www.prathambooks.org) is a not-for-profit children's book publisher that was set up in 2004 to publish good quality, affordable books in many Indian languages. Our mission is to see 'a book in every child's hand' and we have spread the joy of reading to millions of children in India. As a publisher serving every child in India, Pratham Books has always pushed the boundaries when it comes to exploring innovative ways in which to create access to joyful stories and have been fortunate in finding partners to collaborate with who share this vision.
In 2015, Pratham Books increased its footprint by going digital. StoryWeaver, is a digital platform that hosts stories in languages from India and beyond so that every child can have an endless stream of stories in her mother tongue to read and enjoy. The stories can be read, translated, versioned, or downloaded for free. All stories on the platform are openly licensed.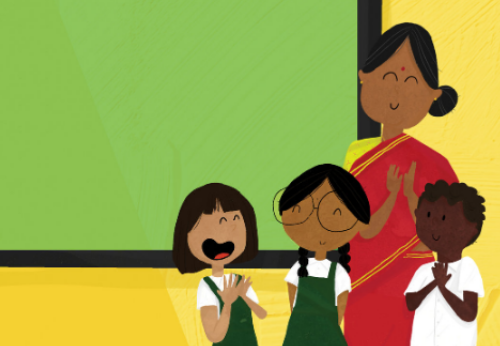 Illustration by Vibha Surya from Shruthi Floats an Idea, written by Navin Dorairaju, published by Pratham Books
We are looking for a Partnerships Manager - StoryWeaver
In the last few years, we have increased our impact by investing deeply in technology-based initiatives to further our mission. At StoryWeaver, we aim to do this by reaching out to more organisations, more educators, and many more children across the world - through our digital content.
We are looking for a passionate individual to lead the StoryWeaver Partnerships function to make our impact wider by forging strategic partnerships with organisations that promote reading and learning among children. The Partnerships Manager will be responsible for strategising and executing plans to increase the user base of StoryWeaver and also provide the necessary resources, support, and training to the partner network.
Key Responsibilities:
New Partnerships and Key Account Management:
Build and manage accounts with governmental and non-profit organisations and strategise, design, and execute plans to nurture sustained partnerships with them
Expand and nurture networks of partners working with children and/or educators in the field of ed-tech
Identify and engage in-depth with key high-stake partners to understand their programmes, their impact, and provide content resources/training/support tailored to specific needs of partners
Implement strategies and initiatives to ensure large-scale adoption of new offerings through the network of partners
Represent StoryWeaver at relevant platforms and events while being the SPOC for government and large-scale partnerships
Analyse and interpret platform and partner data from the platform to devise and develop the strategy for the vertical
Content Curation and/or Development:
Project manage collaboration with partners and external subject matter experts to curate and/or develop curriculum-based offerings for existing and prospective partners
Liaison with educational organisations, governmental partners, and teachers on curating content based on curriculum and structured frameworks
Others:
Provide information, feedback, and support to the internal product team for the development of new product offerings
Maintain documentation for the various processes under the Partnerships function and to help with research and documentation for impact assessment
Lead and manage a team to ensure a wide network of Indian and International partners
Required skills and experiences:
7+ years of work experience in Education, Outreach, Partnerships, or related areas
Direct experience working with teachers and/or in classrooms
Experience in content design/development and training in the areas of literacy and primary education
Exceptional communication and project-management/organisational skills
Proven ability to build consensus and work effectively within a cross-departmental team
Ability to network and make connections
Nice to have but not mandatory:
1. Experience working with non-profits
2. An interest in children's literature, languages, and publishing
3. Experience or interest in researching/documenting education/literacy programmes
Location:
This is a full-time position is based out of Bangalore
Compensation:
Salary will be commensurate with qualifications and experience.
Write to us:
Email your resume with Partnerships Manager- StoryWeaver in the subject line to [email protected] Also, send us a short paragraph on why you think you are suitable for the position.
comments (2)
---
A big round of applause to all the participants for the fantastic response to our contest Retell, Remix, Rejoice 2020, which aims at finding and encouraging translation talent in 10 languages: Bahasa Indonesia, Chatino, Gondi, Gujarati, Hindi, Kannada, Malayalam, Marathi, Tamil, Telugu, and Vietnamese.
We are delighted to introduce you to the wonderful judges - we are incredibly grateful to them for lending us their expertise and time.
---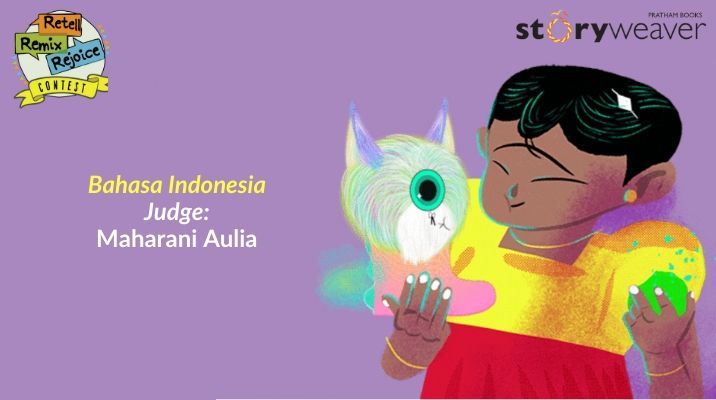 Bahasa Indonesia - Maharani Aulia
Maharani Aulia has written dozens of stories and translated over a hundred titles from English to Indonesian. Her works have been featured in local and national media, and published as books.
---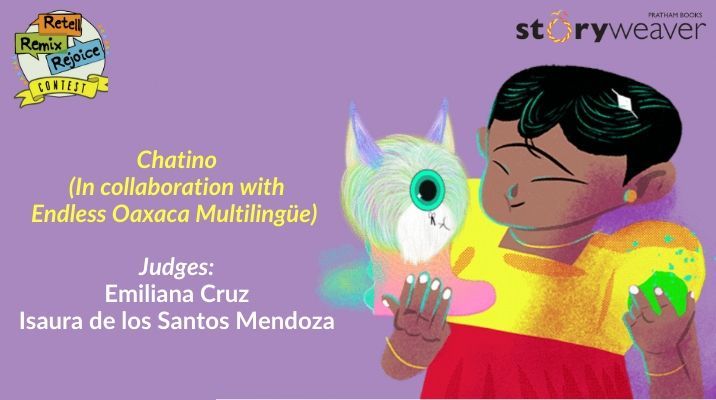 Chatino (In collaboration with Endless Oaxaca Multilingüe) - Emiliana Cruz and Isaura de los Santos Mendoza
Emiliana Cruz
Emiliana Cruz originaria de Cieneguilla, San Juan Quiahije, Oaxaca. Es antropóloga lingüista. obtuvo el grado de doctor en antropología lingüística en la Universidad de Texas en Austin y actualmente es profesora-investigadora en [CIESAS-CDMX]. Ha realizado investigación y campo en el Valle de Yakima (Washington State, EUA) con jóvenes jornaleros; en la región chatina en Oaxaca; y Chiapas. Sus líneas de investigación son diversas e interdisciplinarias destacándose principalmente en el ámbito de educación, derechos lingüísticos, territorio, documentación y revitalización lingüística. Ha recibido el premio Distinguished Community Engagement Award otorgado por la Universidad de Massachusetts. Su trabajo se distingue por una amplia experiencia de colaboración comunitaria, además es parte del colectivo "Diálogos entre Académicos Indígenas". En sus publicaciones se destaca su reciente publicación "evitemos que nuestro futuro se nos escape de las manos: tomás cruz lorenzo y la nueva generación chatina", este fue el resultado de un trabajo colectivo con chatinos.
Emiliana Cruz is a linguistic anthropologist originally from Cieneguilla, San Juan Quiahije, Oaxaca, Mexico. She earned her doctorate in linguistic anthropology from the University of Texas at Austin and is currently a professor-researcher at [CIESAS-CDMX]. She has conducted research and field work in the Yakima Valley (Washington State, USA) with young day laborers; in the Chatino region in Oaxaca; and Chiapas. Her lines of research are diverse and interdisciplinary, standing out mainly in the field of education, linguistic rights, territory, documentation and linguistic revitalization. She has received the Distinguished Award Community Engagement Award from the University of Massachusetts. Her work is distinguished by a wide experience of community collaboration, and is also part of the collective "Dialogues between Indigenous Academics". Her recent publication "Let's prevent our future from slipping out of our hands: Tomás Cruz Lorenzo and the new Chatino generation " was the result of a Chatino collective project.
Isaura de los Santos Mendoza
Isaura de los Santos Mendoza es originaria de San Miguel Panixtlahuaca, Juquila, Oaxaca. Actualmente es una estudiante de doctorado en la Universidad de Massachusetts, Amherst. Su proyecto se centra en la literacidad de la lengua chatino. Asimismo, colabora en el proyecto de documentación de la lengua chatino donde elabora textos y materiales sobre la gramática de su lengua natal. Su pasión es la enseñanza y traducción de textos a la lengua chatino.
Isaura de los Santos Mendoza is originally from San Miguel Panixtlahuaca, Juquila, Oaxaca. Her passion is teaching and translating texts into the Chatino language.She is currently a PhD student at the University of Massachusetts, Amherst, and her project focuses on the literacy of the Chatino language. She also works on collaborative projects for the documentation of Chatino, where she develops texts and materials on the grammar.
---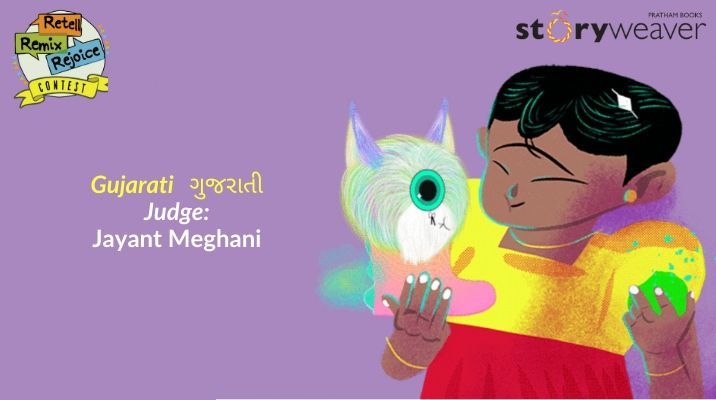 Gujarati - Jayant Meghani
Jayant Meghani has a postgraduate degree in librarianship from the M.S. University, Vadodara. He was a librarian for eight years, before starting Prasar, a bookshop that continues to run. He also works as an off-site editor-translator with Navajivan, Gandhiji's publishing house in Ahmedabad.
---
Hindi - Priyanka Gautam
Priyanka Gautam is a Hindi translator and research scholar. She has translated many books with multiple educational organisations.
---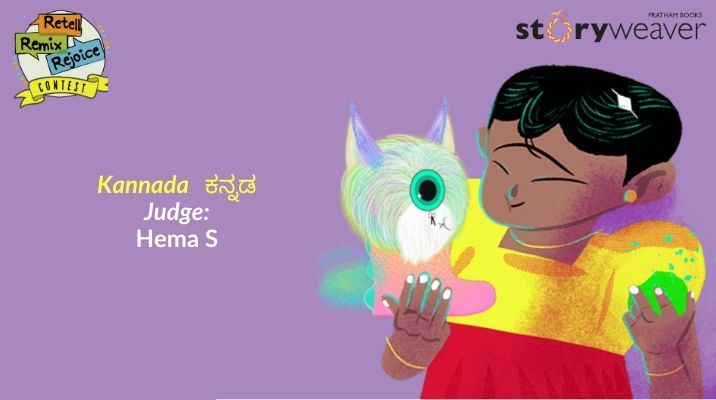 Kannada - Hema S
Hema S has translated articles, stories, and poems from Hindi and English to Kannada. Her translated works have appeared in popular Kannada dailies like Prajavani, monthly magazines like Mayura and Kasthuri, and online literary portal Kendasampige. She is known for translating Akira Kurasova's autobiography to Kannada, and the same has been published episodically on Kendasampige. Hema's published Kannada translations include Abbas Kirasthomi's poems collection titled "Hesarillada Hoo" by Sanchaya Publishers and "Uriva Banada Kogilegalu", published by Srushti.
---
Malayalam - Parvathi Aithal
Parvathi Aithal has translated 40 literary works in 5 languages - English, Kannada, Malayalam, Hindi and Tulu. She has also written 28 original books and penned short stories, novels, essays, plays, monographs, book reviews.
---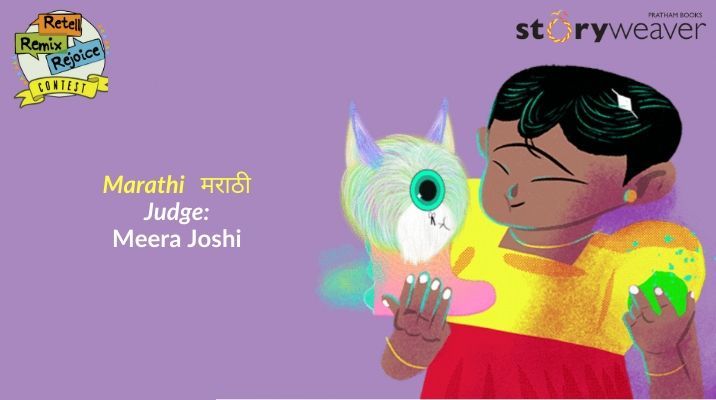 Marathi - Meera Joshi
Meera is a veteran journalist and has been associated with Pratham Books as a reviewer and Marathi language expert for a long time.
---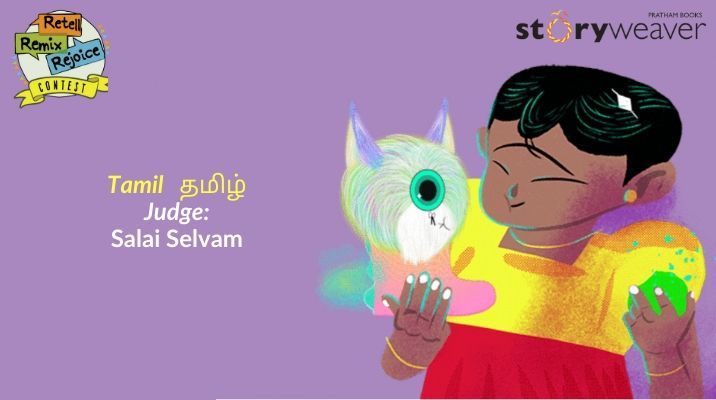 Tamil - Salai Selvam
Salai Selvam is a Tamil writer, interested in education, childhood studies, and children's literature. Her writings have appeared in several Tamil feminist journals and newspapers. For over three decades she has been working on literacy and gender issues in rural India. Currently, she is with an educational foundation that supports teacher education.
---
Telugu - Suresh Kosaraju
Suresh is the editor at Manchipustakam where he manages translation, editing and publication. has been associated with Pratham Books as a Telugu language expert for many years.
---
Stay tuned for the results of Retell, Remix, Rejoice 2020!
The winner(s) will have a one-on-one mentoring and feedback session with an editorial expert. The winner(s) will also receive a print copy of the translated book (only for participants based in India), and the winning translation will be published and highlighted as a Recommended title on StoryWeaver.
---
Illustrations by Aindri C, from Shoecat Thoocat, written by Shalini Srinivasan and published by Pratham Books.
Be the first to comment.
---
Aboli Chowdhary is a Spanish teacher and StoryWeaver Language Champion. She has translated over 30 books into Spanish. We reached out to her to come on board to build curated lists of Spanish resources that are particularly in need to keep children engaged, while they are away from school due to the ongoing pandemic. Aboli instantly agreed to help us. Read this piece by Aboli, where she shares her thoughts on translation and her experience using StoryWeaver's Translate tool.
---
Hello, I am Aboli Chowdhary from Pune, India. I am a Spanish teacher and freelance Spanish translator. I love travelling. Although I was born and brought up in Mumbai, I got opportunities to live in cities like Bangalore and Vizag (Visakhapatnam).
Do tell us about your relationship with Spanish - what drew you to learning the language, and then teaching it?
My relationship with Spanish goes back to 2014, when I first started learning Spanish. I must mention here that it was by chance! After working in the demanding retail sector for a few years, I wanted to learn a new language, and Spanish seemed to be one of the languages of the future, considering there are almost 420 million Spanish speakers spread across 21 countries! After completing an advanced diploma in Spanish, I wanted to stay in touch with the language and practise it, so I started teaching.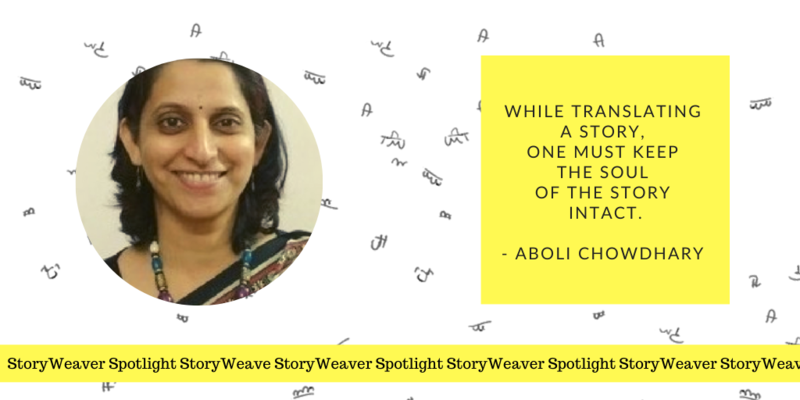 What is your experience of teaching children a foreign language and translating for children?
It's fun teaching any foreign language to children! They are curious to learn not only the language but also its culture. And that, in my opinion can be best explored through stories.
One of the biggest challenges while translating a story is 'keeping the soul of the story' intact. One has to be very careful in choosing colloquial expressions, while at the same time promoting cultural exchange.
When you have been given a picture book to translate, what is your process, and how long does it usually take? How was the experience of translating on StoryWeaver?
My experience with StoryWeaver has been wonderful thanks to the friendly interaction with its members and their prompt technical support.
For translation, I generally re-read the story and try to understand its core values and message. The next step is to find the apt expression in Spanish and then translate. I found some of the stories like 'Ammachi's Amazing Machines' challenging while translating the sound words into Spanish. But at the same time, while translating stories like, 'The Rainbow Sambar', I had to maintain the 'Indian essence' by using local language words with an explanation.
Luckily, the time taken to translate the stories got reduced due to the available translation draft. I used this feature on the StoryWeaver platform for translating several stories and made the necessary changes to the words and expressions.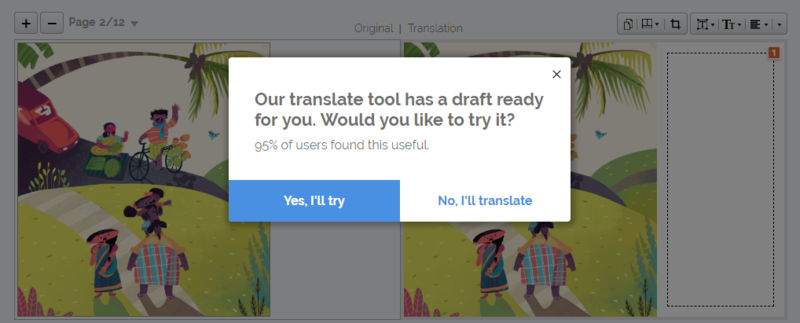 How do you approach translating the storybooks across varying Reading Levels?
Reading levels are based on the exposure to the language, rather than just age of the reader. Keeping this in mind, I use simple and easy words with occasional sound words for the earlier levels.
What are some of your favourite books from childhood? Is there any memorable reading experience that you would like to share?
I remember reading numerous ACK (Amar Chitra Katha) books in my childhood, especially on long train journeys! The language was simple with great illustrations!
We are so grateful for your contribution towards Spanish content on the platform, especially during these difficult times when there is such a need for children's reading material. Thank you for sharing the joy of reading in Spanish!
I believe that the potential of this platform is tremendous, especially since the COVID-19 outbreak. I strongly recommend reading books on this platform.I want to translate more stories into Spanish soon. So, ¡Nos vemos pronto! (See you soon!) :-)
comments (5)
---