StoryWeaver's Outreach Manager Payoshni Saraf shares what happened at a two day workshop in Chandrapur, Maharashtra.
In the warm month of May, a two-day workshop on StoryWeaver was jointly organized in Chandrapur, Maharshtra by UNICEF India, DIET- Chandrapur and Pratham Books with over 36 teacher from Government schools participating. The workshop sought to encourage the value of 'reading for joy' and introduced the teachers to StoryWeaver - an open source digital repository of multilingual stories. Through the workshop the teachers and resource people were taken through the various ways in which StoryWeaver could help address the language development requirements of the students and were guided to make them more confident about using technology to bring in more resources into their classrooms.
The session opened with a narration of 'Bheema, the Sleepyhead' and the participants were asked to guess how Bheema finally woke up. This set the context for the workshop with the participants agreeing that stories
a) are important in the classroom
b) make us think creatively and imaginatively, experience emotions and build curiosity
c) help children learn better.
As the session progressed into introducing StoryWeaver with a demo, participants shared their vision on how they would bring more stories into their classrooms. The second half of the day was reserved for a hands on session where the participants created content on StoryWeaver. This resulted in the creation of over 18 new stories by 16 first time authors, the addition of stories in two new tribal languages (Gondi and Banjari), 4 versions of a single story in less than 24 hours and curation of 25+reading lists that were useful for the participant group and the StoryWeaver community at large.
This teacher created and shared a story written in a dialect of Marathi spoken only in the Vidarbha region of Maharashtra.
Day two revolved around the various ways in which StoryWeaver can be used in the classroom and how non-fiction concepts can be delivered through stories. The teachers were acquainted with the 200 books on STEM concepts on StoryWeaver, a unique offering of fun and knowledge and a module on its use in the classroom. As part of the module, we read out Dum-Dum-a-Dum Biriyani to the group and asked the teachers to share their thoughts on the book. Along with noting that the book establishes the everyday use of multiplication and division in real life, many other interesting anecdotes were also shared.
One teacher pointed out how the story breaks gender stereotypes by showing Basha being the one interested in cooking rather than his sister, and how such mindset change can be brought about in young minds only through stories. Life skills like empathy, teamwork and responsibility emerged as other key take-aways from the story.
In later sessions participants came together to brainstorm on ideas to bring in more 'reading' and 'books' in their schools and classrooms. Some of these ideas included:
a) make '15 minutes of daily reading' compulsory
b) buy/raise funds for more books and establish and manage 'leveled' libraries and use StoryWeaver to supplement as an e-library
c) use stories for enhancing classroom resources
d) encourage creative thinking and writing
d) Sharing of resources, reading lists and best practices among the teacher peer group through a WhatsApp group.
Teachers brainstormed in groups to create and share a 'reading' action plan
A feedback survey was done towards the end of the workshop to know from the teachers if the workshop was beneficial for them, gauge their comfort in using technology to find and create resources, their vision for its use in the classrooms and their commitment on the listed next steps.
Many teachers echoed the sentiment of 'how different reading levels of stories is very helpful in a classroom setting as children are at different levels and will be able to read a story as per their reading ability. The presence of so many stories at one single platform will be able to fulfill all their reading needs.'
A retired teacher who now dedicates his time in setting up libraries remarked:
"I set up libraries in various schools and I am always looking for more books on different subjects. StoryWeaver is a great medium for my quest. So many stories on so many subjects, all for free! This is like Alibaba's Khazana that we have all got!"
The two-day StoryWeaver workshop generated a wealth of ideas and established the foundation of 'importance of reading and stories in the classroom'. We thank all the participating teachers, UNICEF and DIET-Chandrapur for making this workshop a precious experience for all of us.
Be the first to comment.
---
Nature's shining green umbrellas, those green canopies with sprinkles of fragrant flowers and fruits, TREES are such magnificent things. Though rooted to the spot, just one of them can liven up an entire desolate road. Swing from them, play and sleep under them or just sit and study them, trees will always make time and space for you. Nature seems to be giving trees special attention these days...so we should too, right? Here are a few that we picked from our flowering array of stories available in varied languages.
A Walk Among Trees written and illustrated by Nimret Handa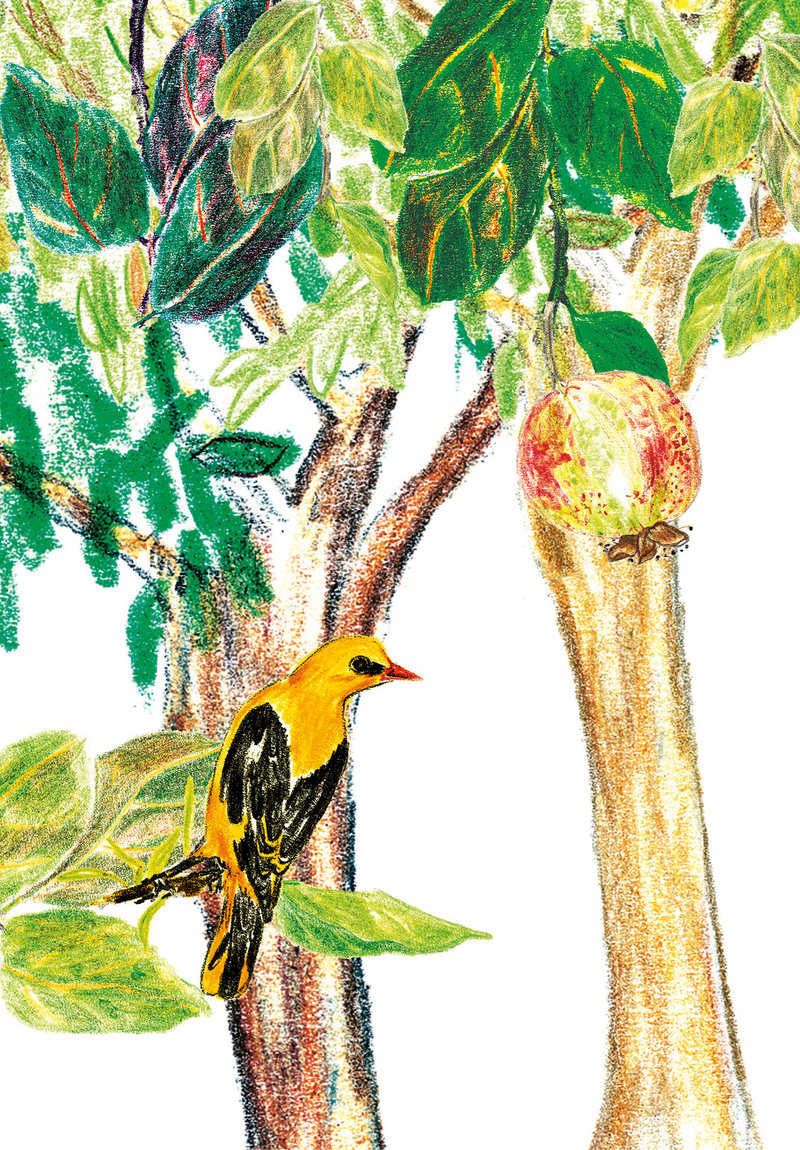 The king's head gardener is panicked and scolding all his helpers! What could this royal head gardener have to worry about? Take a fun stroll through the King's gardens and his beloved trees and find out who the king of fruits is... and why. We bet all these tree illustrations will make you fruit-hungry immediately! This story has been translated in Hindi, Kannada and Telegu.
Up World, Down World by Padmaparna Ghosh, Illustrated by Sunaina Coelho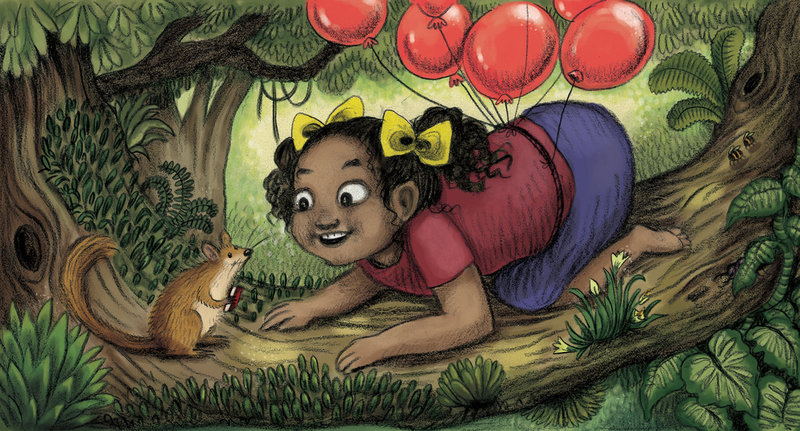 We often have these invisible boundaries around us in which we like to keep our worlds all sewn up and intact. Imagine what can happen if we pull some threads loose and allow Our World to spill out into the one we have been told not to venture into, and let some of the Other World seep into our lives? Be brave! And read this remarkable and beautifully-illustrated story of how a little girl, Fatima, found an unlikely friend in Gopa, a dormouse! Wonderful things happen when two worlds meet. This gem is translated in 9 languages including Hindi and Bengali.
Let's Go Seed Collecting! by Neha Sumitran, Illustrated by Archana Sreenivasan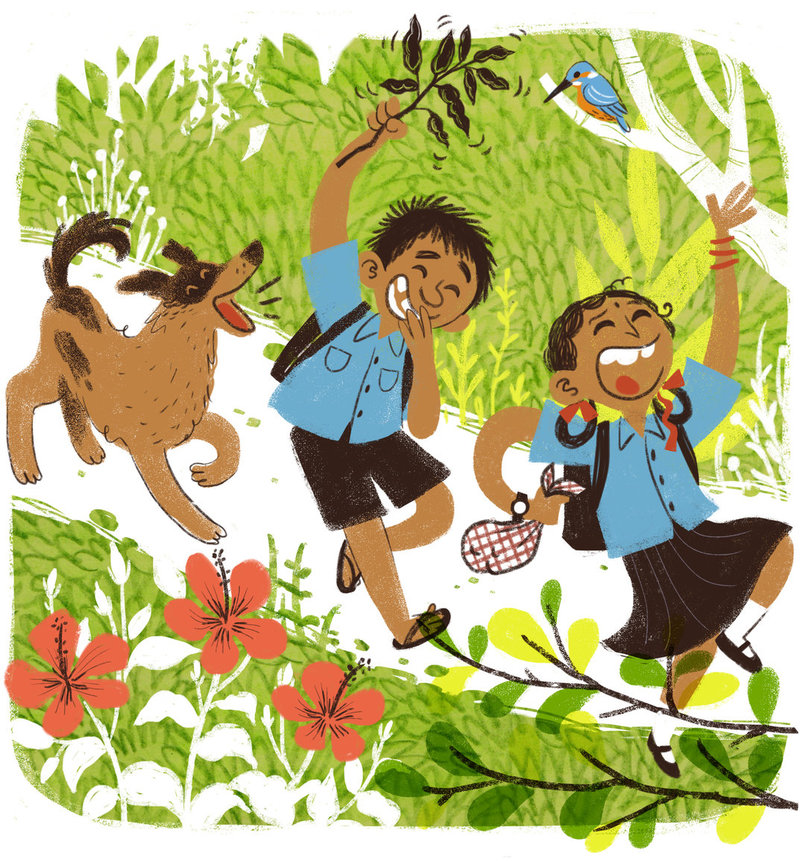 Don't you just love it when knowledge makes its way to you effortlessly? A great story with fascinating illustrations, this will help kids observe and learn from the tiniest detail of everyday landscapes, appreciate nature in its full glory, learn to be curious, and to seize the opportunity to spend time with a talking tree! Konkani and Marathi are two of the 10 languages in which this story is available in. Enjoy!
Jadav and the Tree-Place written and illustrated by Vinayak Varma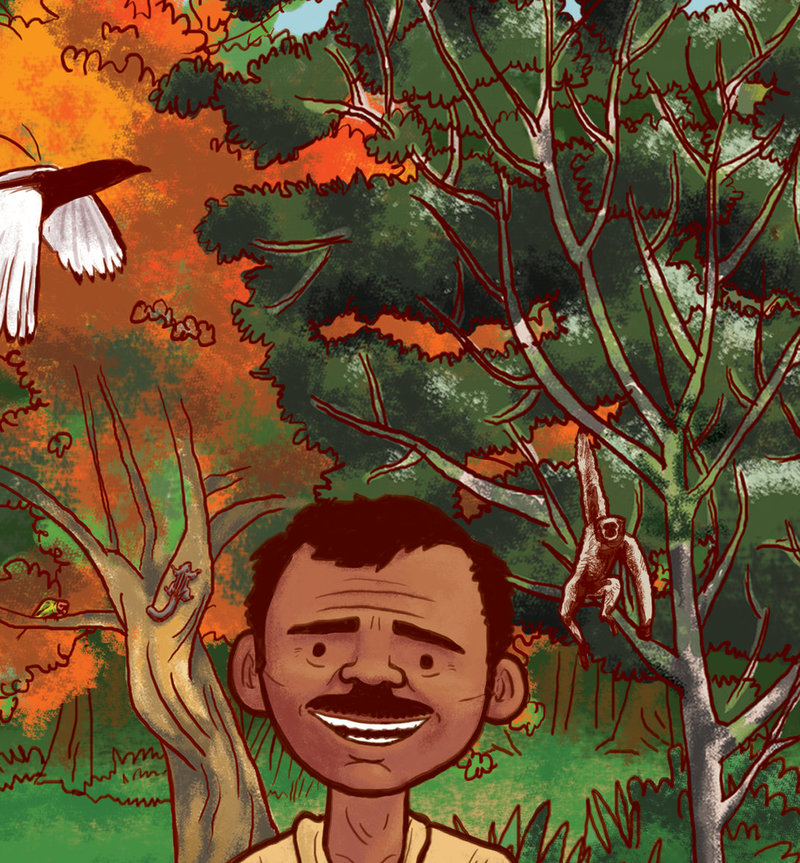 Ever heard of Jadav "Molai" Payeng? He has been planting trees for three decades now. This heart-warming story is dedicated to the undying spirit of a man who was so moved by the plight of snakes dying from heat that he decided to plant some bamboos to give them some shade. What this simple idea grew into... is incredible and an inspiration. Here's another role model for your kids. We have this story in 11 languages including Odia and Tamil.
We love to see readers like you pitching in! Here's a pick of three Community Stories where trees branch out in some form or the other:
Deepa's Resolution by Usha Ayyar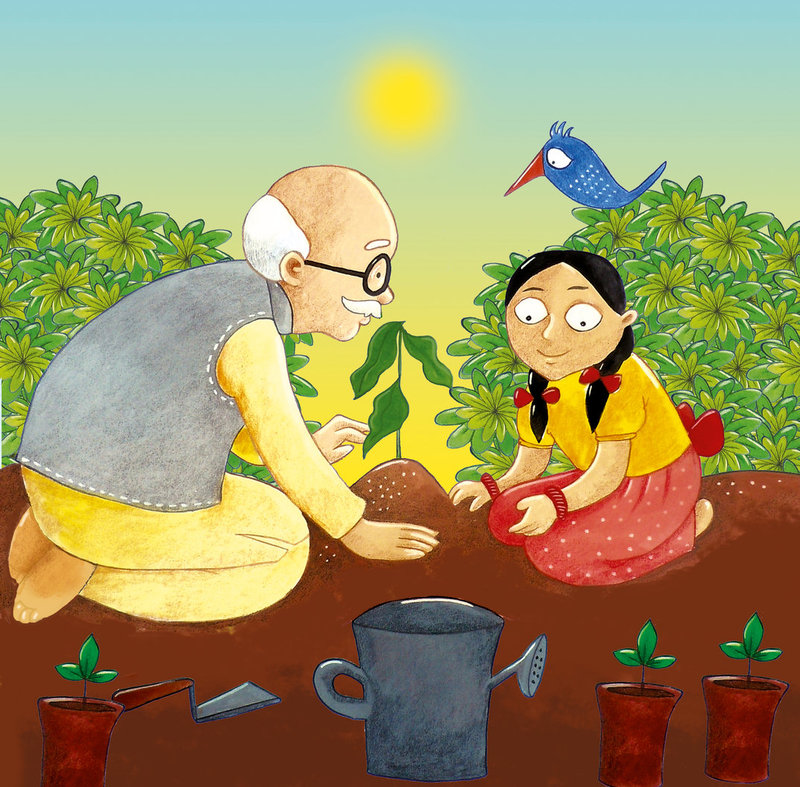 "The true meaning of life is to plant trees, under whose shade you do not expect to sit." Nelson Henderson's words are even more relevant now! Read this simple story to your kids and see what they take from it.
Asha Gives up a Bad Habit by Geetha Ravi
Here's an innovative way to make your child quit that bad, bad habit that you've been trying so, so hard to get rid of. Asha learnt two things in this story – How to give up a bad habit (Let's face it, we all can use some help on that front), and to appreciate the impact trees have on us every minute. This story's clearly a two-pronged winner.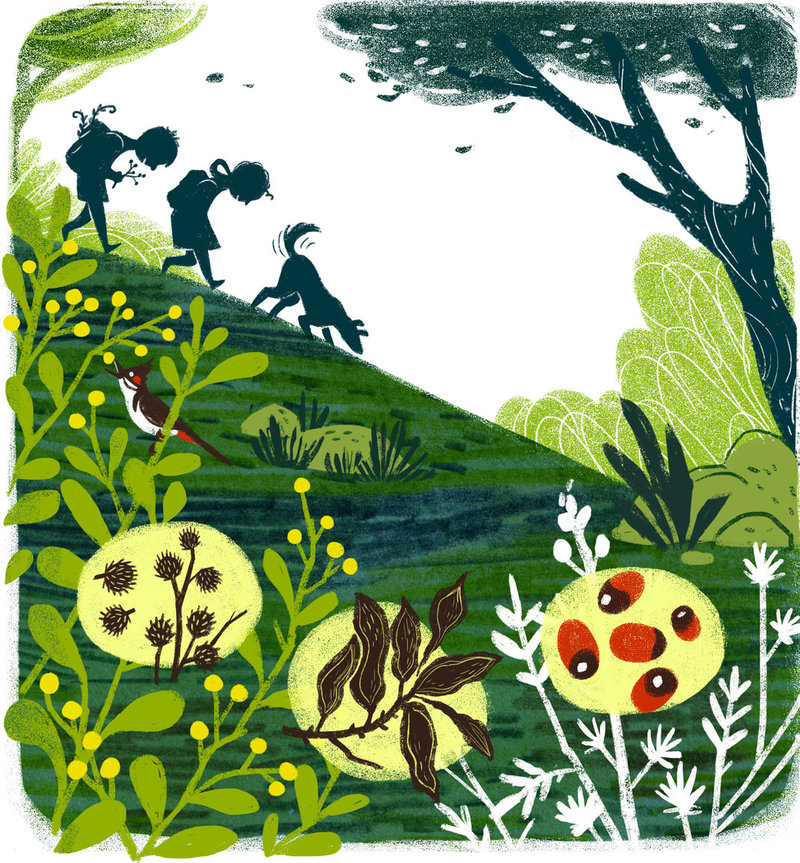 This will remind you of all the innocent times as a kid when you thought that if you sow a seed, its plant would start growing tall the very next day! Nayana and Zia love mangoes, so they decide to plant a mango tree. What they didn't take into account was all the friendly elements that will come together to help out the little seed. A Malayalam translation of this story is available here!
Do you have a favourite tree story? Tell us what it is in the comments section below, on Twitter or Facebook!
Be the first to comment.
---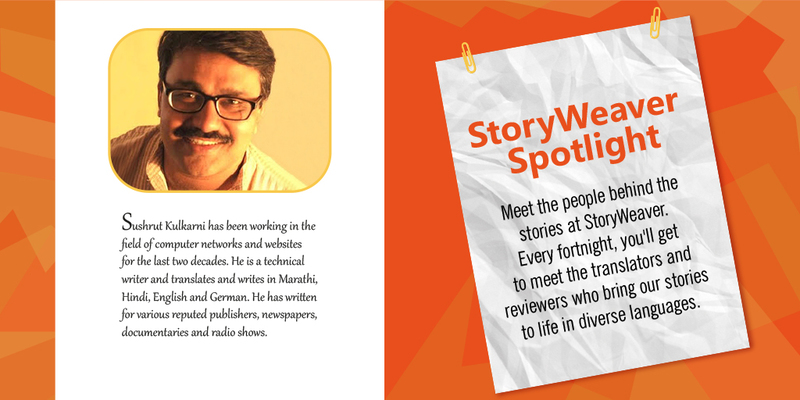 Q: What do you usually read? Which language do you prefer to read in?
A: I usually read in English and Marathi. I prefer to read English non-fiction.
Q: Do you have a favourite book / author and why is it a favourite?
A: My favourite book is 'Man's Search for Meaning' by Viktor Frankel. And why? Well, the name is self explanatory ☺
Q: You have contributed for us immensely. How has the StoryWeaver journey been?
A: StoryWeaver was an exciting experience for me. Being from the software field, writing for CMS based business websites was a routine thing for me. But translating & reviewing fiction for a digital platform and seeing it 'going live' in a moment was very exciting.
Q: What is one big take away from this experience?
A: My take away from this experience is that digital platforms are quite flexible (and quite forgiving, unlike print media). I learnt a lot about localizing the content while translating content from Indian cultures, other than my own. Once, I found nouns in one language were taboo words in another!
Q: How does it feel when your story gets published online?
A: Initially it feels different than print for sure. There is no wafting 'fragrance' of paper and ink, like in paper books. It took me a while to get used to the book 'getting published' at a click of a button on the digital platform.
Q: You have translated / reviewed a handful of stories for us. Which one has been your favourite and why?
A: My favourite is How Do Aeroplanes Fly? / विमानं उडतात तरी कशी? This book is not just about the science behind flying the aeroplanes, but also underlines the fact that women can do everything, and gender is not a hurdle if one wants to break the social barriers.
Q: What is your key driver in taking this up?
A: Like most Indian languages, Marathi too lacks quality content for young readers, especially in STEM topics. So I felt the need to do my bit.
Q: How else do you think we can join hands in taking bigger steps for children's literature?
A: We can translate German books in Marathi and other Indian languages, and that too in our cultural context. I would love to help on that front. Also, I would love to help in conducting workshops for budding translators and teachers aiding the translations of StoryWeaver content.
Q: How has the overall experience with SW been?
A: The StoryWeaver experience was very rewarding. I got immense satisfaction while translating world-class books in my own language.
स्टोरीविव्हरवर वेगवेगळ्या कथा व पुस्तके अनुवादित करणं हा एक अनोखा अनुभव होता. जागतिक दर्जाची, सुंदर सुंदर चित्रं असलेली पुस्तकं स्वत:च्या मातृभाषेत आणतानाचा आनंद काही औरच!
comments (2)
---