Launching StoryWeaver Marathi: An exciting new YouTube channel!
---
महाराष्ट्र्र दिनाचे निमित्त साधून, मराठीत गोष्टी वाचण्याचा आनंद स्टोरीविव्हरला तुमच्यापर्यंत पोचवायचा आहे. त्याचसाठी आहे हे नवीन यू ट्यूब चॅनेल, 'स्टोरीविव्हर मराठी'!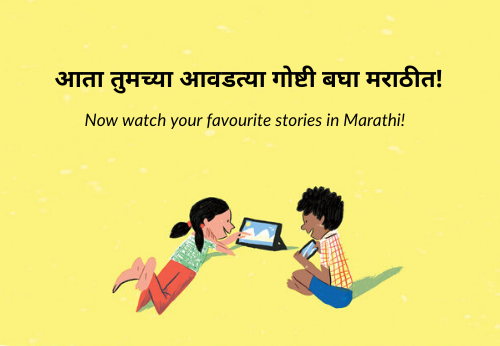 Illustration by Hitesh Sonar, for Black Hats White Hats written by Siddharth Mehta, published by Pratham Books
'रीडअलॉंग' म्हणजे सहवाचन हा उपक्रम मराठीत यशस्वीपणे राबवल्यानंतर आता यू ट्यूबवर घेऊन येत आहोत व्हिडीओ, म्हणजे दृक-श्राव्य गोष्टी.
व्यावसायिक कलाकारांनी सहज शैलीत या गोष्टीचं रंगतदार वाचन केलं आहे. त्याला मजेदार संगीताची जोडही दिलेली आहे त्यामुळे गोष्टी जिवंत होतात. शब्दाचा उच्चार झाला की तो लिखित शब्द उजळतो आणि त्या उच्चाराचं बोट धरून मुलांना तो शब्द निवेदकाबरोबर वाचणं, सोपं जातं. लिखित शब्द आणि त्याचा उच्चार असं एकत्रितपणे समोर आल्यानं मुलांना वाचनाची गोडी लागायला मदत होते.
अगदी लहान गटातल्या वाचकांना डोळ्यासमोर ठेवल्यानं, वाचन पातळी १ आणि २ अशाच गोष्टी यात आहेत. शिवाय व्हिडिओचा कालावधी ५ मिनिटांपेक्षा कमी ठेवल्यानं मुलांचं लक्ष चांगलं लागतं. पुन्हा पुन्हा येणारे विशिष्ट शब्द आणि आवाज, आकर्षक चित्रं, नाट्यमयता यांची मुलांना मजा वाटते. हे लक्षात ठेवून मोठ्यानं वाचायला मजा येईल अशा गोष्टीं निवडल्या आहेत. शिवाय 'स्टोरीविव्हर'वरील 'रीडअलॉंग'ची वैशिष्ट्ये जशीच्या तशी राखली आहेत.
यू ट्यूब वर 'स्टोरीविव्हर मराठी' याठिकाणी जाण्यासाठी इथे क्लिक करा.
दर आठवड्याला नवीन व्हिडीओ बघण्यासाठी सबस्क्राईब करा.
मजेत बघा!
---
Leave your thoughts in the comments section below! You can also reach out to us through our social media channels: Facebook, Twitter and Instagram.
Be the first to comment.
---
Written by Priyanka Sivaramakrishnan
This World Hindi Day, StoryWeaver is taking yet another step to showcase this beautiful language at a global scale, with the launch of our StoryWeaver Hindi channel on YouTube. Artfully created and carefully subtitled, these YouTube videos will bring the stories to life with their audio-visual engagement, making your kids fall in love with the habit of reading. Following the success of our Readalong feature where children can discover another fun aspect of reading, we are launching this exciting channel where children can watch fun and giggly stories like The Very Wiggly Tooth, What's Neema Eating Today? Smile Please, and many more.
With new stories every Friday, you can get started on a fun-filled reading experience by subscribing to the StoryWeaver Hindi channel here. This page will soon be joined by a StoryWeaver English channel.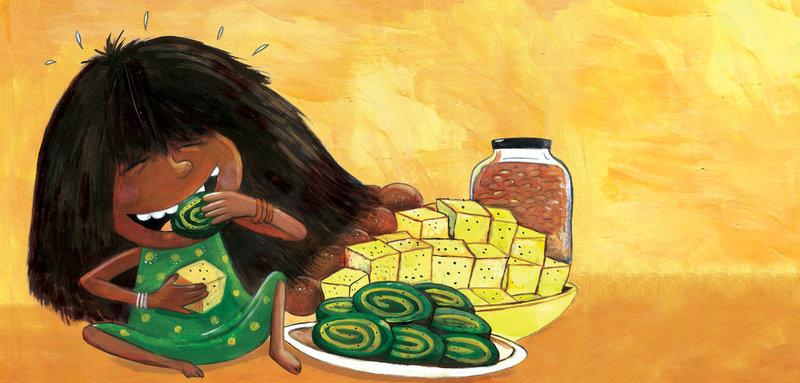 Image by Priya Kuriyan from 'What is Neema Eating Today?' by Bijal Vachharajani.
Here at StoryWeaver, we are always looking to see how we can make the reading experience better, what we can give you to help your children revel in the joy of reading. These YouTube videos have been designed with enjoyable background music, a 'natural' narrative voiced by professional artists, and synchronized highlighted text running throughout the story. The act of watching the video, listening to the pronunciations, and following the words allows for easy language acquisition by the child.
Aimed at our youngest readers, these stories are mostly Levels 1 and 2 with the videos running no longer than five minutes to make sure we don't lose the child's attention. Mirroring the Readalong feature on the StoryWeaver page, the stories have been carefully hand-picked to ensure they include repeat sounds and words, are enjoyable to read aloud, with eye-catching illustrations, and have a fair amount of dramatic flair.
Happy watching!
Be the first to comment.
---
Are you celebrating Mother's Day today? Are you taking your ma out for brunch, have you sent her flowers and a thoughtful gift? Are you at the receiving end of a whole lot of love? Or, like some, do you think it's just another Hallmark Holiday? Well, however you're spending the day, we think you'll like our tribute to Pratham Books StoryWeaver mothers. We've shared the links to the books (and mothers) featured below.
Counting on Moru by Rukmini Banerji and Nina Sabnani
In Moru's world, numbers danced, digits waved out and long division looked ike a graceful tail. But one day, this world came crumbling down in school. Moru then became the local bully. Then, someone helped him discover the joy of learning again. Read all about it in this heartwarming story.
चुन्नु-मुन्नु का नहाना by Rohini Nilekani, Sumit Sakhuja and Sonal Goyal
पानी, साबुन के बुलबुले और उछल-कूद। देखिए तो चुन्नू मुन्नू कैसे मज़े ले रहे हैं !
काकूचं बाळ by Sahitya Akademi Bal Sahitya Puraskar awardee Madhuri Purandhare
अनू अगदी उत्साहानं काकूचं बाळ बघायला जाते. आई आणि काकू मात्र सारखं त्याचंच कौतुक करतात. अनूला ते मुळीच आवडत नाही.
मेरा दोस्त by Swati Priyanka, Rupesh Sudhanshu and Suvidha Mistry
सोनू को मिला एक नया दोस्त। दोनों साथ में बहुत मज़े करते थे। क्या तुम्हे भी पसन्द है नए दोस्त बनाना ? आओ पढ़ते हैं एक अनोखी दोस्ती के बारे में।
ಸುಶೀಲಾಳ ಕೋಲಮ್‌ಗಳು originally by Sridala Swami and Priya Kurian, translated by Bhavya
ನೀವು ಕೋಲಮ್ ನ್ನು (ರಂಗೋಲಿಗಳನ್ನು) ಮನೆಯ, ಶಾಲೆಯ ಅಂಗಳಗಳಲ್ಲಿ ನೋಡಿರಬಹುದು. ಆದರೆ ಎಂದಾದರೂ ಆಗಸದಲ್ಲಿ ಕೋಲಮ್ ನ್ನು ನೋಡಿದ್ದೀರಾ? ಪುಟ್ಟ ಸುಶೀಲಾಳ ಕೋಲಮ್ ಬಾನಿನಲ್ಲಿ ಅರಳಿದ್ದು ಹೇಗೆ ಎಂದು ತಿಳಿಯಬೇಕೇ? ಓದಿ ನೋಡಿ!
(You can read 'Susheela's Kolams' in English)
'I Want That One!' by Mala Kumar and Soumya Menon
"Not that one," says Anil's mother when he asks for something. "Not that one!" say all the shopkeepers in the market too. That makes the little boy very angry indeed!
'The Birthday Party' by Megha Vishwanath and Team StoryWeaver.
After his birthday party, the boy in the story opens his gifts and is thrilled to find a camera. But as he's playing with his new gift, he notices his mother crying in the kitchen. Find out what he does next! This is a lovely wordless book created by the StoryWeaver team with Megha Vishwanath's #6FrameStoryChallenge entries)
மணிகண்டனுக்குப் போதும் originally by Anil Menon and Upamanyu Bhattacharyya, translated by S Krishnan
மணிகண்டனுடைய தாயத்து அவன் எப்போது சந்தோஷமாக இருக்கிறான்,எப்போது வருத்தமாக இருக்கிறான், உடல் நலத்தோட இருக்கிறானா இல்லையா என்பதையெல்லாம் சொல்லிவிடும். எப்போது சாப்பிடணும், எப்போது தூங்கணும் என்பதைச் சொல்வது, அவன் வீட்டுப்பாடத்தைச் செய்வதற்கு உதவி செய்வது, அவன் நலமாக இல்லை என்பதை அம்மாவிடம் தெரியப்படுத்துவது போன்ற பல வேலைகளைச் அது செய்யும். இது மாஜிக்கா இல்லை அறிவியலா? மணிகண்டனும் அவன் அம்மாவும் கிராமத்திலிருந்து ஒரு நவீன நகரத்துக்கு போகும்போது என்ன நடக்குதுன்னு பாருங்கள்.
(You can read 'Manikantan Has Enough' in English.)
గుడ్ నైట్ టింకూ! by Preethi Nambiar, Sonal Goyal and Sumit Sakhuja and translated by Janaki Rani Turaga
మంగూ రైతు పొలంలో ఉండే చిన్న కుక్క పిల్ల టింకూకి అస్సలు నిద్ర రావడం లేదు. రాత్రి చీకట్లోకి వెళ్లి చూద్దామని బయలుదేరిన టింకూ, ఎన్నో ఆసక్తికరమైన జంతువులను కలుసుకున్నాడు. టింకూ రాత్రి షికారు గురించి మరింత చదవండి.​
(In English, as 'Goodnight Tinku')
Would you like to give an extra special gift for a mother you know? Head over to www.storyweaver.org.in and create a story just for them! You can tell us about the story by emailing us at storyweaver.org.in or sharing it with us on Facebook and Twitter. Don't forget to tag it #MothersDay!
Be the first to comment.
---