Pratham Books' StoryWeaver is one of four organisations taking part in DataKind Bangalore's Sprint. The first step in the Sprint was a Project Accelerator which was held on June 10, 2018 which saw 45 participants including volunteers, DataKinders and Non-Profit partners come together to discuss their projects and present a problem statement. The participating NGOs were Pratham Books, Open City, Safe City and Daksh.
Pratham Books' problem statement was 'helping users discover the right content, faster'. 13 volunteers signed up to help find ways to solve this problem statement with our team. The afternoon was spent in brainstorming ideas and understanding the problem statement further. The volunteers also came up with a set of next steps.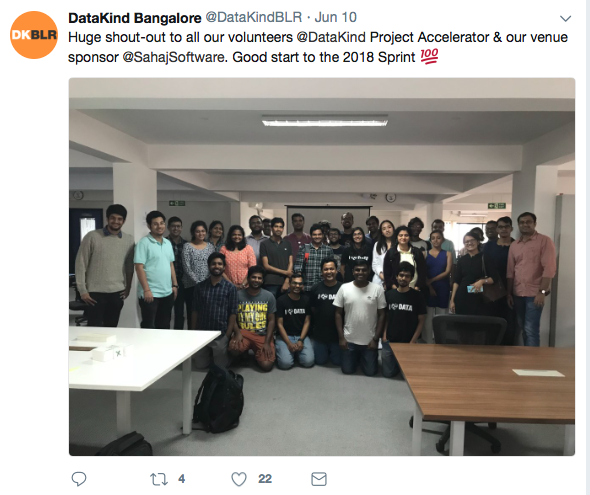 Sahil Kuchlous, one of the youngest volunteers on the team had this to say:
"I chose to attend the Data Kind event because I had recently been learning about various data analytical algorithms and techniques, and wanted to find a place where I could learn to apply them in a real-world application. I chose to work with Pratham Books because I felt like the end product they were expecting was very clear and had many interesting approaches. At first, I was apprehensive about attending the event because I knew that it would be mostly adults with much more experience than me attending, but it was a pleasant surprise to see how welcoming and accomodating everyone was to me. I really enjoyed the experience, and hope to follow the project through."
Over the next few weeks the volunteers will meet for Data Jams as part of the Sprint.
Purvi Shah, Head of Digital Projects, Pratham Books is excited about the solutions that will emerge from this collaboration. "At StoryWeaver we are very grateful to a large number of volunteers who have signed up for the project. Insights from data can play a significant role in scaling social initiatives and we are happy to partner with DataKind."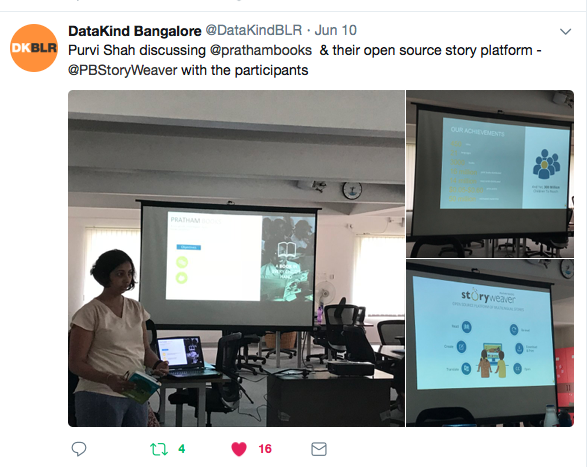 If you'd like to sign up as a volunteer join DataKind Bangalore's slack channel #pratham_books to actively participate in various discussions and to join the next set of events.
---
0 Comments