Kollegala

Sharma

is a scientist by profession, but a science communicator by passion. He teaches translation, science communication and science teaching through workshops, and has also been writing and translating science books from English to Kannada for the past three and a half decades. We spoke to him about multilingualism and how he uses the StoryWeaver platform in his interactions with children.
Q: How do you think multilingualism benefits children?
A: I believe that we are inherently multilingual. We speak a colloquial language and learn a standardized version in schools. However, it all depends on the age of the speaker and how he/she interacts with the language. Wider interactions with a language make the speaker adept at working with it anywhere. StoryWeaver provides an opportunity to learn different languages. I visualize a classroom where a teacher uses a story to teach Tamil to
Kannadiga
students with a Tamil translation in her hand. Why not? Also, I believe that learning a local language along with English is important.
Q: How and for what do you use Storyweaver?
I use StoryWeaver to excite young students to read and write and also to help adults who may not be very conversant in English learn the language by using translation as a tool. I ask participants at workshops to translate stories from English to Kannada to help them to understand the nuances of the language. Since the text is limited and is accompanied with pictures, it becomes easy for them to comprehend and then try translating. Long texts can put off beginners from learning a new language. I have worked with the teachers in Kasturba Gandhi Balika Vidyalay. Even the teachers who aren't familiar with computers and technology take to the platform easily as StoryWeaver makes it easy for them to type both English and Kannada.
I have also used StoryWeaver to teach nuances of translation to participants of workshops on translation at the National Translation Mission. The participants were from various states and to find examples of translation in all the languages was difficult. In this case I turned to StoryWeaver, as it is a repository of stories in several Indian languages. This helped the participants appreciate both the translation process and also the differences in the process when translating in different languages. I also encouraged participants, whose language is not represented on StoryWeaver, to collaboratively translate and practice online in the open class. This serves well for both the language and the participants. StoryWeaver allows for a very active and collaborative interaction. Some potential translators for StoryWeaver will also hopefully be born. They can practice translation here, revise, review and upload without any hesitation.
I'd also like to explore ways to use the platform to enthuse students with different competencies. For example, I would like to excite students with drawing and painting skills to develop themes for future stories. And I also plan to use the stories on StoryWeaver and encourage versioning them to audio formats.
Mr. Sharma's colleague's daughter reads a story in Kannada, and makes herself the main character!
Q: How do you see StoryWeaver benefitting children?
The online stories are freely available both for teachers and students alike. Such a reading resource is unimaginable in any school, especially the Government schools.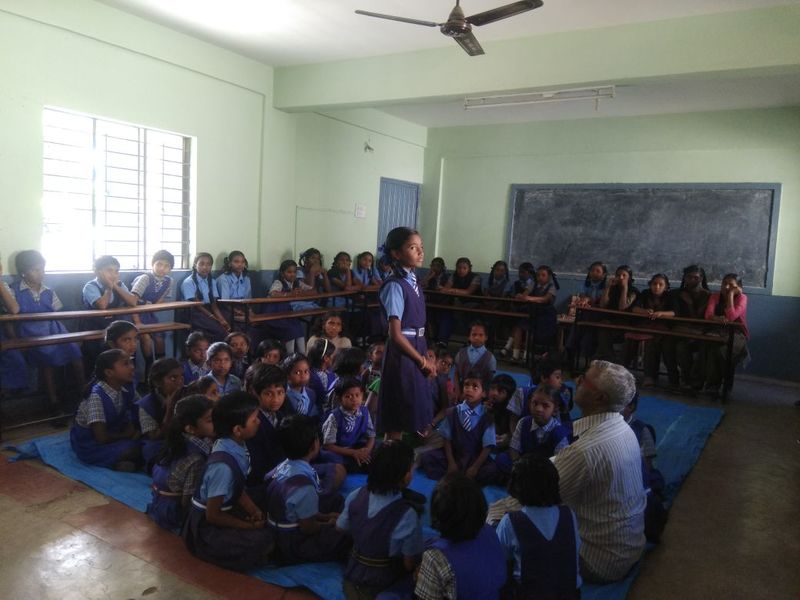 Mr. Kollegala Sharma at a recent story telling session organised by Pratham Books to celebrated National Science Day.
Q: What are the challenges around translating?
Translation poses many challenges. For example, character names might work in one language but will be very funny or strange to Kannada readers when translated. If the name is essentially part of the cultural ethos it can be retained, but in some stories where the ethos is general and can be applied anywhere in India, the strange names may sound unattractive. Secondly, spelling them in Kannada may not be appropriate for certain reading levels.
Q: What can be done to effectively make children learn a new language?
Reading and retelling stories is a wonderful way to introduce children to a new language.

If you're using StoryWeaver to help spread the joy of reading, and would like to be featured on our blog write to us at [email protected]
---