Our Outreach Manager, Payoshni Saraf reports back after three days of stories, storytelling and learning workshop with SCERT Delhi.
A common wisdom that all of us who work with children need to be reminded of is this - storytelling is the oldest form of teaching. Stories help shape beliefs, makes one curious, encourages exploration, makes one question and eager to know more – qualities every teacher hopes to build in her students. And teachers have always been storytellers. Sometimes they just need to be reminded of that.
Pratham Books joined hands with Pratham and SCERT, Delhi to bring teachers together and help them discover the storyteller within them to make classroom teaching more interactive. We conducted an extensive three-day training with teachers on specific subjects for each day - the idea was to delve deeper into the academic challenges they face in the classroom and how some of these challenges can be met by using stories, flashcards or other visual cues to make for engaging classrooms.
We began the training on a sunny Tuesday in April with a group of enthusiastic and experienced mentor-teachers. The mentor-teacher program by the Delhi Government is an effective one, where certain teachers are handpicked after a rigorous selection process as 'mentors' for other teachers. These teacher-mentors each handle about five schools and support the teachers in the school with regular trainings, observations, feedback and sharing of good practices. When a new idea or teaching tip is introduced to the mentor-teachers, they pass on the knowledge to their group of mentees making the information flow seamless and effective. In total, about 175 mentor-teachers participated in the 3-day training conducted across the following three broad curriculum categories:
1. Languages (English, Hindi, Urdu, Punjabi and other mother tongue and academic languages
2. STEM concepts (Science, Technology, Engineering and Math)
3. Environmental and Social Studies
The session started with all the participants and the Pratham Books team introducing themselves. The introductions had a twist, where the teachers were encouraged to also talk about all the languages they know. The idea was to establish the premise for multiple languages in the classroom and the many choices and challenges children face while learning, thanks to the language gap between what they speak at home and what they learn in school. Post introductions, teachers were grouped together and asked to come up with academic challenges that they often face in class. Some of the challengess which repeatedly came up included:
Most students are first generation learners of languages (especially English) and language understanding is essential for other subject learning.

Teachers want creative ideas to arouse student interest in class but face lack of quality creative resources.

Making connections between the language spoken at home and medium of instruction is important

Additional resources (like cue cards/ flash cards) are required to help learn languages, especially because of the diverse learning levels in classrooms.

Not enough time is spent in class building concepts or relating concepts to real life situations and practicing learning by doing.

Language barriers impede understanding concepts, especially in the case of spiralled learning where one concept builds on another.

Learning environment in the classroom is not joyful as not enough visualisation or experiential learning takes place.

Teaching children to develop a genuine love and interest for writing is a struggle.
With the challenges tabled to be tackled in the later half of the day, the session moved on to why stories are important and how teachers can use StoryWeaver, a digital repository of multilingual content for children, in a meaningful manner to not only curate the content but also to create and adapt stories, flashcards and illustrations as per their specific classroom needs. A demonstration of the platform was given to all the participants and they were exposed to the diverse content that is hosted on StoryWeaver. The group also discussed ideas on how stories can be used in a classroom setting to assist learning and real-life examples from across the country were shared with the mentor teachers.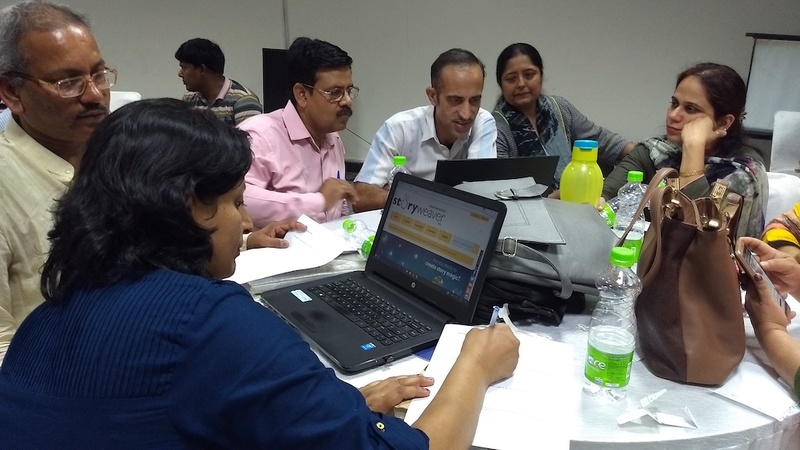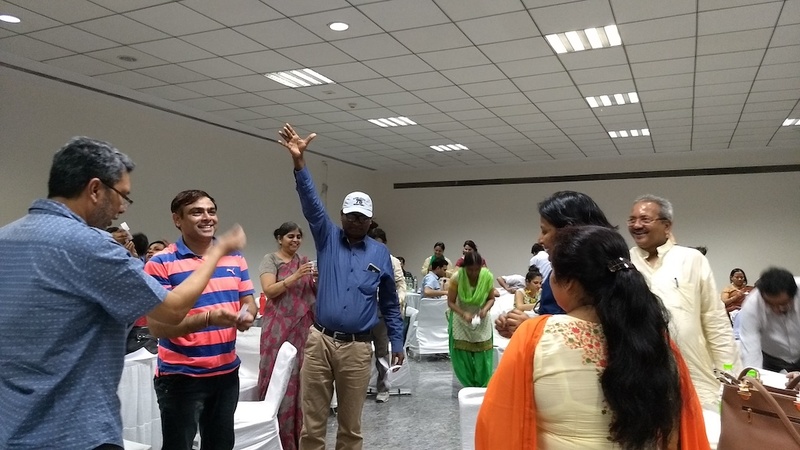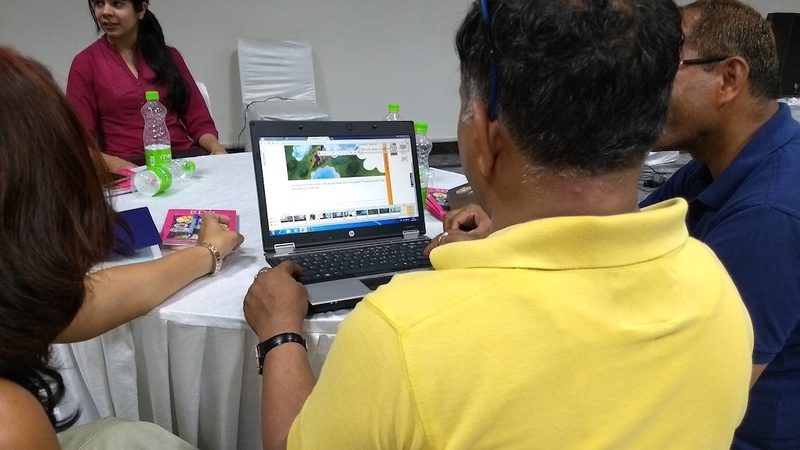 Post lunch, the session was handed over to our expert trainer, Subir Shukla. Subir is a former educational quality advisor to MHRD, Government of India. He developed the quality framework for the implementation of the Right To Education and Sarva Shiksha Abhiyan, India's EFA programme. Subir is now the principal coordinator for Group Ignus, which comprises of IgnusERG (consulting company), Ignus-PAHAL (non-profit) and Ignus-OUTREACH (low cost educational publishing). Subir joined us in training and spent a considerable amount of time with the mentor teachers to take them through some useful ideas on making classrooms more joyful and learning interesting and interactive.
Armed with Subir's tips and knowledge of StoryWeaver, the participating mentor teachers spent the last part of the day curating content for their subjects and classrooms. Few groups also created some new stories and presented them.
The workshop ended with many enthusiastic mentor- teachers sharing about how they plan to take stories and StoryWeaver to the schools and teachers they work with.
Click here to see more photographs of the day.
We are thankful to all the participating mentor-teachers who attended the training and their resolve to bring back stories into children's academic lives. We are also grateful to Mr.Shailendra Sharma from Pratham and the Delhi SCERT for giving us this opportunity. A big shout out to Mr.Subir Shukla for the wonderful guidance he extended to all the participants. We will continue to engage with more teachers and Government schools to take many more stories to India's children.
Be the first to comment.
---
With over a thousand stories and illustrations online for free, StoryWeaver is a great tool for educators to use in the classroom. One of the things teachers can do with StoryWeaver is create flashcards. With bright and appealing visuals that capture the eye, flash cards can be used to teach starting sounds of words, colours, spatial concepts (under-over, inside-outside), play memory games or rounds of 'What am I?' or 'Where do I live?'
With over 2000 images to choose from by some of the country's most talented illustrators, you'll be spoilt for choice when it comes to choosing pictures.
Creating Flash Cards on StoryWeaver
1. Log in to your StoryWeaver account. If you don't have one you sign up here.
2. Click on 'Create' and choose 'Create a story by Image'.
3. Use the search box to choose what kind of images you need. Example: animals
4. Choose the layout style you'd like and start creating your flashcard set!
If you're a little unsure about creating on StoryWeaver, don't worry, it's super easy. You can watch this quick, tutorial here before you try.
You can create the flashcards in a number of languages. Here's an example of a flashcard in Hindi.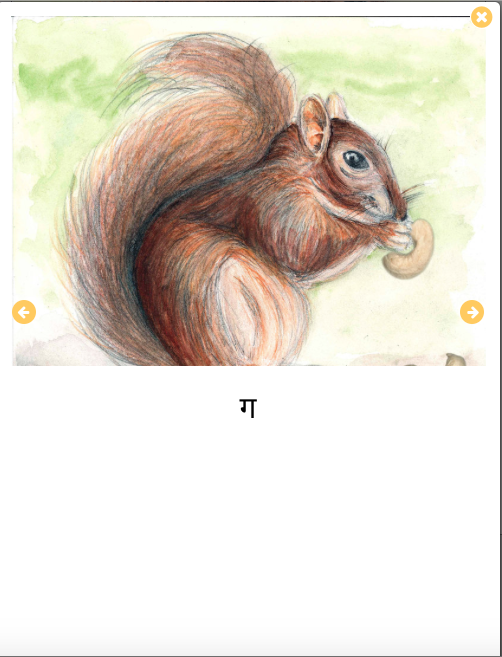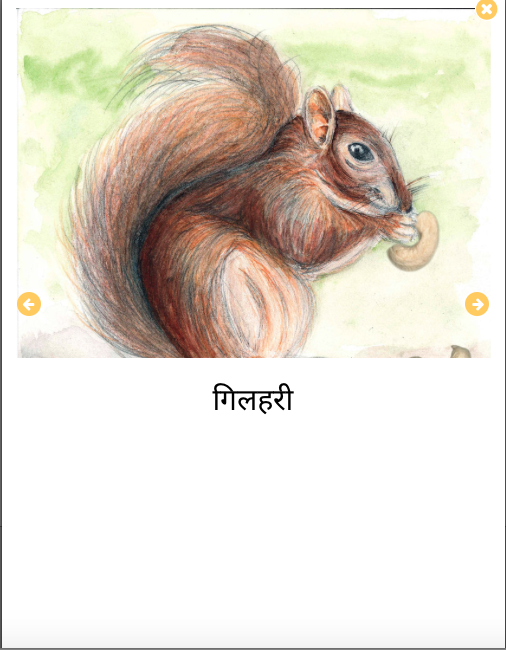 Re-leveling flashcards
Once you've created your flashcards, you can re-level them for different students. Take for example, the flashcard below.
You could use this for children in Pre-Primary to teach them alphabet sounds. This could be set as Level 1.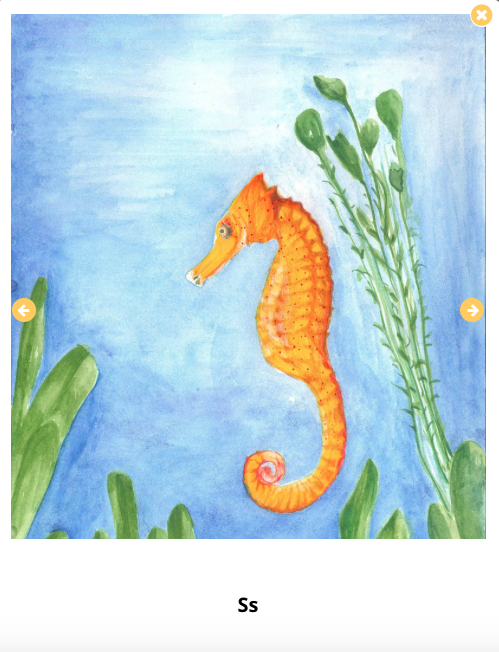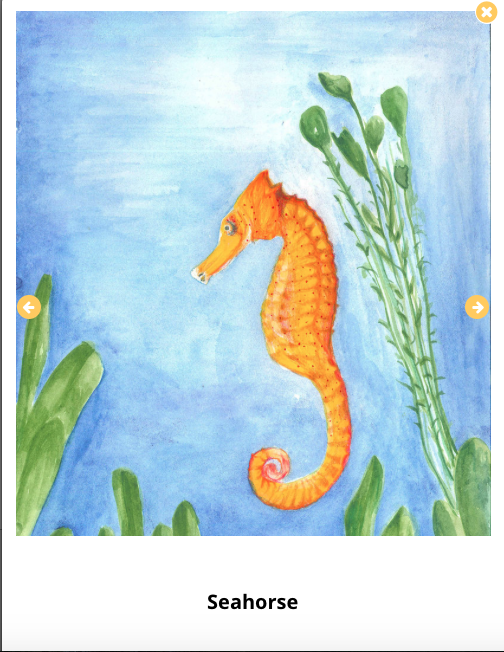 You can then use the same image for children in Primary classes to teach them concepts about animal habitats, and tag it as Level 2.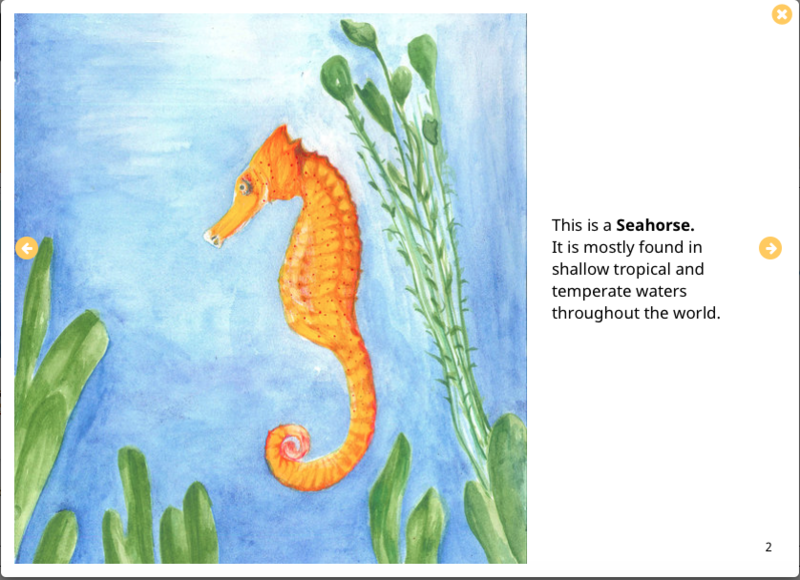 Get Inspired
'Have you ever travelled by…?' is a cheerful way to start a conversation about modes of transport with children.
'Have You Seen These Birds?' showcases birds from the humble sparrow to exotic flamingos.
'Inhabitants of the Sea' explores the deep blue waters of the sea and the creatures that live there.
Create your own flashcard
We have a few flashcard sets on StoryWeaver already but we'd love to see many more. Why not give it a try and tell us how you might use them in your class? You can share your ideas with us on Twitter or Facebook or send us an email at [email protected]
For more ideas on using StoryWeaver as an educator, click here.
Be the first to comment.
---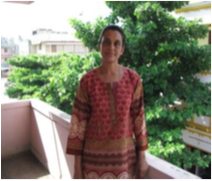 Nabanita Deshmukh is a teacher, a teacher educator, and a writer of children's stories and poems. She had been a consultant at Azim Premji Foundation, Pondicherry and has worked with government school teachers on interactive methods of teaching. Nabanita has been instrumental in introducing Stories and Language Games as a means for developing language skills in primary level children. She has also conducted workshops for teachers and students in Odisha, Pondicherry, Kerala and Arunachal Pradesh on creative writing, storytelling and classroom games and other alternate modes of classroom teaching such as the use of magazines for the improvement of English. She conducts teacher interactions on motivation and classroom management.
She contributes stories and articles to magazines and publishing houses like Chandamama, Bal Vihar, Children's World, Children's Choice, Children's Digest, Pratham Books and Matrubhumi.
You can read her books 'Why Do Bees Buzz?' and 'Why Can't We Glow Like Fireflies?' on StoryWeaver.
I am just back from a long teacher training tour in Chattisgarh and western Odisha. The main focus of the workshops was the enhancement of language and literacy skills through interactive modes such as stories, poems, skits and songs. In this context Pratham's Adi Kahani series and the online Storyweaver platform came in handy.
STORYWEAVER
Stories from this portal were shown to a group of primary school teachers and teacher educators from various states of India. Here is an example of how one of the presentations took place. The session went through three stages: pre-viewing, while-viewing and post-viewing. The 'First House' story was chosen for the demo.

In the pre-viewing stage, I first showed the cover page to the participants and they all had to guess what the story was all about and where it was set. This pushed the teachers to observe the illustrations and the printed details carefully. Later they guessed that the story took place in a forest and it was about two tribal men.

Pre-reading or pre-viewing stages always help break the ice and familiarise readers with unfamiliar settings, characters and vocabulary. If teachers used prediction like I had done with the cover page of the book, students would surely show more interest in reading a story.

In the while-reading stage, I projected the first page of the book and asked the following questions:
1. In which state of India do you think this story is taking place?
2. Which creatures do the characters meet when they come out of the cave?
3. What advice do these creatures give them? (Answers to be given using direct speech)
4. What kind of house do you think the characters built eventually? (Description)
These questions were asked to help participants use communicative English (Q-3), imaginative skills (Q-2&4), logic (Q-3) and geographical knowledge (Q-1)

After getting the answers from the participants, the entire story was projected on screen and the participants enjoyed reading it. They also loved the colourful illustrations and the different options the story presented. I finally read out the paragraph on the Singpho tribe printed at the end of the book and made the teachers use atlases to locate Arunachal Pradesh and its physical features on the map.

Some teachers even attempted to translate the first few lines of the story in their own mother tongue-Kannada, Tamil, Bengali and Chattisgarhi.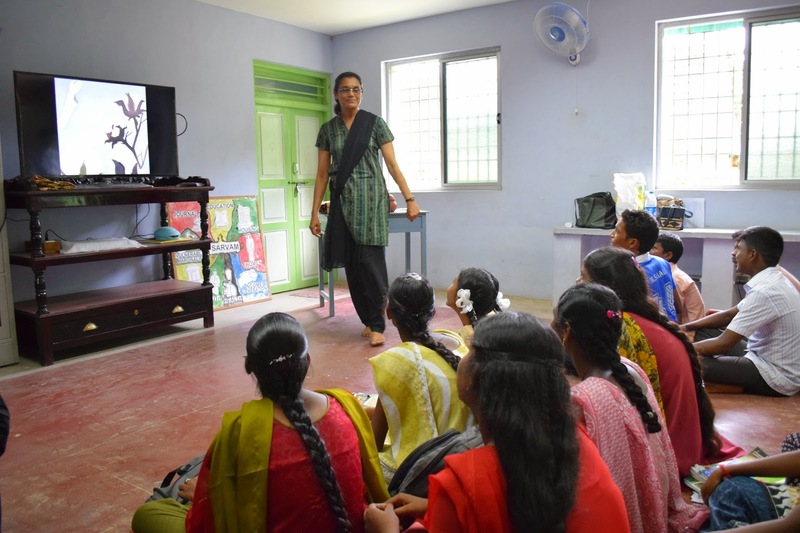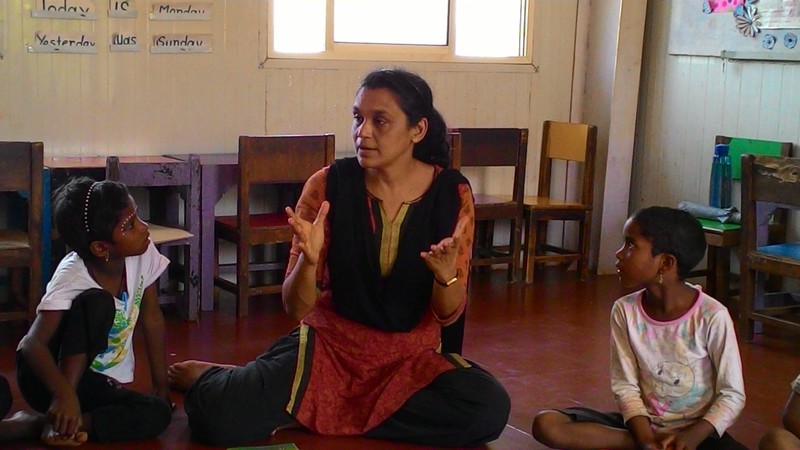 ADI KAHANI SERIES
The Adi Kahani stories in the Kui language were used in Odisha with primary school teachers who taught children of the Munda tribe. This tribe speaks the Ho language. Despite not knowing Kui, the tribal and the non-tribal teachers reacted favourably to the stories. For example in the stories of the fox and the pitcher and also in the fox and the chicken, the teachers appreciated the use of local settings, objects and characters. They thought these would help children understand the story better as the surrounding is familiar-rivers, foxes, cowherds, women carrying wood, earthen pots are all so familiar to village children no matter to which tribe they belong to!

The story of how the rabbit got its long ears became an instant favourite among Munda teachers and many felt the folktale could be made into a skit.
It was a great experience using Pratham Books and the Storyweaver platform during my training. More Odia translations of stories and Munda tribe folktales written in English and then translated into different languages will be most useful. I just came to know that the Ho language has a script. Heartening, isn't it?
Be the first to comment.
---