The National Geographic's June issue is being widely shared on Social Media, thanks to its attention grabbing cover.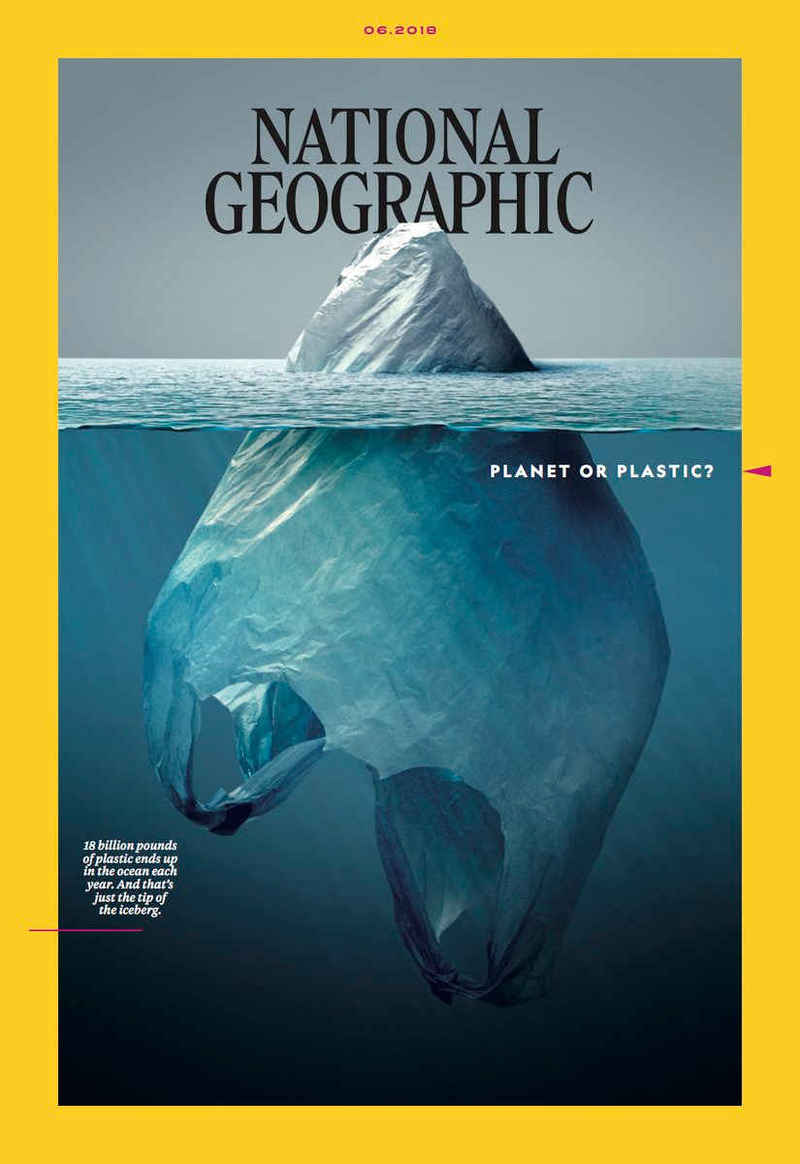 One of the most comprehensive studies on plastic polluttion estimates that 8 million tonnes of plastic went into the ocean in 2010. Oceans that are home to a stunning array of plant and animal life. These books remind us exactly who we share our planet with, and will hopefully help readers young and old think twice before reaching for a one time use plastic, that will mostly likely end up in someone elses home.
Dive! written and illustrated by Rajiv Eipe
Take a dive into the spectacular world of coral reefs, and catch a glimpse of some strange and beautiful sea creatures! Available in 14 languages, free to read, download and share.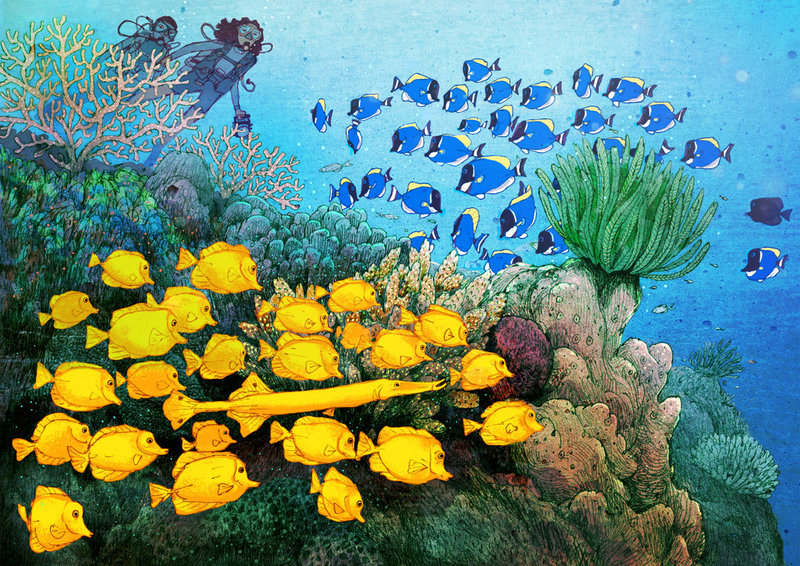 Goby's Noisy Best Friend by Sheila Dhir and Anjora Noronha
We could all use a little help from our friends... even when you live in the ocean! Legless Goby and noisy Snap are best friends who live together in a burrow deep under the ocean. What happens when Goby gets tired of Snap's loud claws?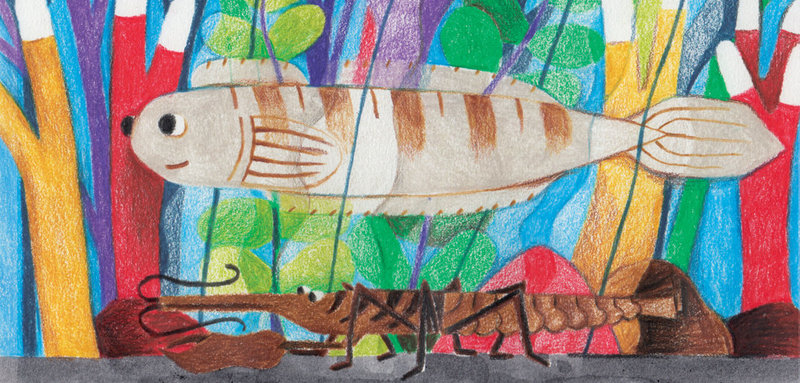 Miss Bandicota Bengalensis Digs Up the Seashore by Aditi Ghosh and Sunaina Coelho
Miss Bandicota Bengalensis is an avid explorer. Every time she digs in a new direction she lands up in new and wondrous places! This time our unlikely explorer has surfaced near the sea. Enjoy a walk along the beach with her as she befriends a host of strange creatures.
Turtle Story by Karthik Shanker and Maya Ramaswamy
Under cover of darkness, baby olive ridley turtles hatch from sun-warmed eggs on remote beaches. One of them, the little hatchling who is the narrator of our story, is delighted to make it across the beach and into the ocean without losing her way or being captured by predators. This charming life story of an olive ridley turtle introduces readers to several interesting creatures along the way.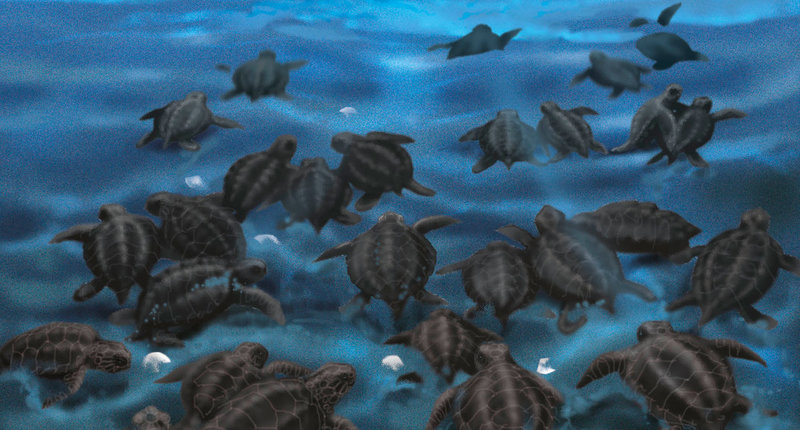 You can read, download and share ALL these stories thanks to open licensing. You can also translate them to a language you're fluent in and take the stories to more children in more languages.
Tell us, what are you reading this week?
Be the first to comment.
---
Some superheroes come with capes, hammers and iron suits that launch them into outer space. Other superheroes come armed with cameras, seeds and quiet grit. Today is #WorldEnvironmentDay, and all this June we're celebrating the environment: starting off with the real-life superheroes who do everything they can to protect and preserve the magical flora and fauna we share our home with.
Walking in the Wild by Sejal Mehta and Barkha Lohia
Zakhuma works as a forest guard and wildlife photographer with the Mizoram Forest Department in Dampa Tiger Reserve in Mizoram. This is one of India's more remote tiger reserves with a very difficult terrain. This self-taught photographer has created a valuable archive of photographs of Dampa's biodiversity: plants, animals, insects, amphibians, reptiles, birds, mosses and fungi. Join him on a walk through the jungle and meet the different animals who live there and what it means to protect them and their home.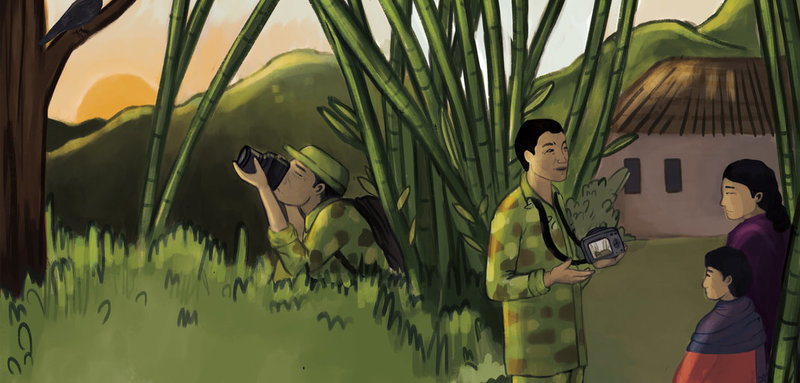 Jadav and the Tree-Place by Vinayak Varma
Jadav 'Mulai' Payeng is a conservationist and recipient of the Padmashree, one of the highest civilian honours awarded by the Indian government. Jadav lives in Majuli, Assam. At the age of 16, distressed by the sight of dying snakes that had washed up on a sandbar banking the Brahmaputra, Jadav decided to plant some trees in the spot. He started small, with bamboos, and grew an entire forest, plant by painstaking plant. Over the next three decades, Jadav and his tree-planting have managed to change the soil in the barren area. The 550-hectare sandbar is now a lush, dense forest and home to a variety of flora and fauna, including elephants, tigers, apes, deer and many species of local and migratory birds. Jadav continues to visit and nurture his forest every day, planting wherever he finds empty patches.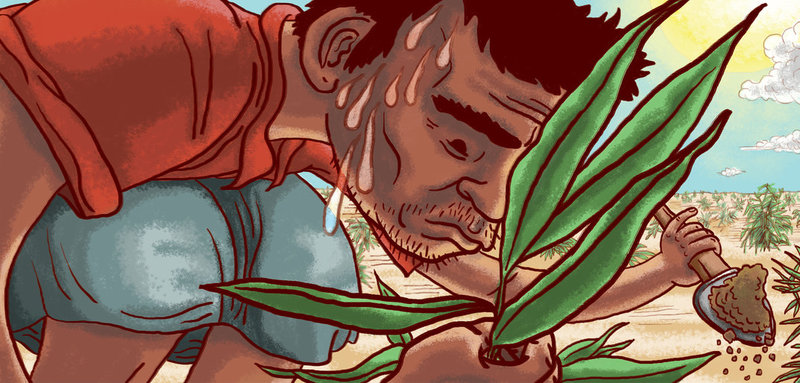 A Tiny Seed: The Story of Wangari Maathai by Nicola Riddisjk and Maya Marshak
Wangari Muta Maathai ( 1 April 1940 – 25 September 2011) was an internationally renowned Kenyan environmental political activist and Nobel laureate. She founded the Green Belt Movement, an environmental non-governmental organization focused on the planting of trees, environmental conservation, and women's rights. This lovely book from BookDash introduces readers to the little girl who worked in the fields with her mother and who was worried when she saw the big forests disappearing.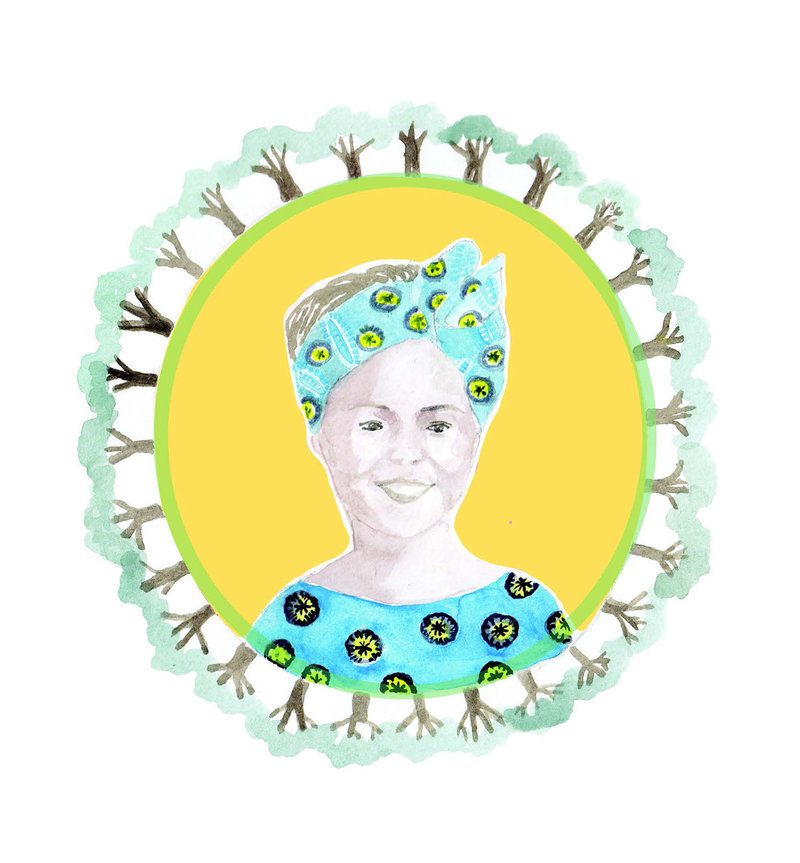 Welcome to the Forest by Bhavna Menon and Kavita Singh Kale
The Last Wilderness Foundation is an NGO that works in urban and rural areas with children to spread awareness about wildlife and biodiversity, and sensitise them towards conservation and the environment. In January 2017, the Last Wilderness Foundation in association with the Kanha Forest Department conducted a camp for 23 visually impaired students from the Ananya Manav Sai Samiti, Jabalpur. 'Welcome to the Forest' is their story.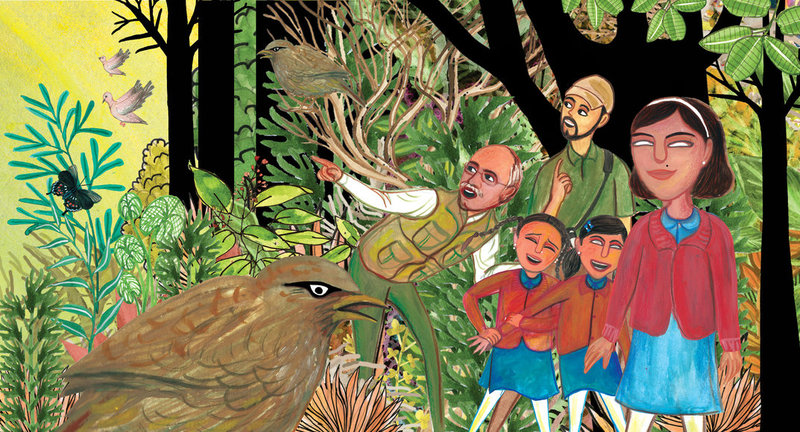 Follow us on Twitter, Facebook and Instagram and #EnvironmentMonth all this June for more wonderful books, author interviews, video resources and more!
Be the first to comment.
---
Do you love data? Do you believe algorithms can help decide what to binge watch on Netflix next and drive social change ? DataKind is an organisation that 'brings together top data scientists with leading social change organisations to collaborate on cutting-edge analytics and advanced algorithms to maximize social impact.' To describe the mission of DataKind in the words of it's co-founder, Jake Porway: "We are meticulously focused on bringing data science in all its forms to those who share our vision of a sustainable planet in which we all have access to our basic human needs. We envision a world where organizations tackling those problems have the same access to data science resources that Wall St. and Silicon Valley have."
StoryWeaver is one of four projects chosen for DataKind Bangalore's Sprint 2018. Sprint consists of a series of events where volunteers of DataKind Bangalore use their Data Science skill to solve challenges experienced by their Non-profit partners. If you'd like to volunteer your skills to our project, read on for more details.
Using technology to address the global book drought
Pratham Books is a non-profit children's book publisher with a mission is to see 'a book in every child's hand' and was founded to address the lack of high quality, affordable, multilingual books in India.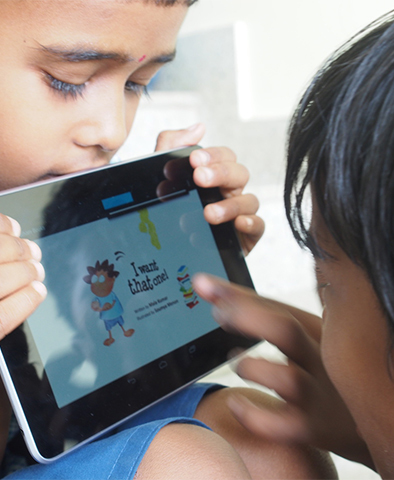 However, to even begin satisfying the reading needs of a multilingual country such as India, and create equitable access to books for all children we would need to massively scale the creation and distribution of multilingual content. The answer, we believed lay in technology and the power of open licensing.
StoryWeaver: One platform. Many possibilities.
On StoryWeaver, users can access thousands of multilingual stories for children absolutely free. All content on the platform is openly licensed under CC-BY4.0, one of the most liberal Creative Commons Licenses. Users can read, download and print all stories and images on the platform, as well as use the tools embedded on StoryWeaver to create and translate content into more languages and versions. In the 2 years since launch we have grown from a repository of 800 stories in 24 languages to a digital repository of over 8000 stories in 111 diverse languages of the world. The 650,000 member strong StoryWeaver community is spread across 220 countries and have read our stories both online and offline over 2.6 million times.
Project Scalability and Sustainability
StoryWeaver's growth and ability to scale lies in the fact that the platform is Unicode compliant. This enables content to be transported to different devices easily, and also allows users to create content in their desired language without needing to download special Indic language keyboards. This is imperative, especially in a country like India where there are so many languages in varied scripts.
In addition, Unicode compliancy has allowed us to add new languages with relative ease, even those with complex scripts like Khmer. Today, StoryWeaver offers users the chance to read, create and translate stories in a plethora of languages: from mainstream Indian and International languages, to tribal (Kora, Santali, Kurukh) and minority languages (Tibetan, Konkani), and even languages categorised as threatened or endangered (Southern Kurdish).
Impact
StoryWeaver has opened up a stream of collaborations with organizations, both in India and globally.
As a classroom tool, StoryWeaver provides educators access to thousands of stories, across genres, reading levels and in multiple languages, for use in the classroom. Teachers can tailor existing content to suit the needs of their students or create brand new teaching resources. Educators have used the platform to create early reading material in minority languages like Tibetan and endangered languages like Kurdish. Rural schools in Maharashtra have downloaded and projected our stories on to classroom walls with the help of Pragat Shikshan Sanstha. Communities Rising downloads and prints much needed books in Tamil and English for after school resource centres in Villupuram, Tamil Nadu. While organisations and schools like Mantra4Change, Akanksha and Tamarind Tree create digital libraries for students and teachers using our content. Content from StoryWeaver has also been gamified on affordable learning apps for disadvantaged children to improve their English, while Bookshare uses StoryWeaver to create accessible content for print impaired children.
By harnessing the power of technology and open licenses and adding the creative power of a collaborative and engaged community, StoryWeaver is working towards addressing the scarcity of multilingual reading resources that exists not only in India but across the world.
Focus Area For DataKind Sprint
As content on StoryWeaver continues to exponentially grow, one of the spaces we wish to improve in is the discoverability of our content. Users on our platform should be able to easily find what they are looking for in our vast repository of 8000 books.
This will be possible with better tagging of our content. While there is a basic tagging process in place for all images and stories on platform, if every story published is automatically tagged with 10 - 25 relevant keywords, it would drastically improve the discoverability of content. Additional steps would include incorporating the most searched words in our tags and even incorporate geotags. We strongly believe these steps would greatly improve the user experience.
StoryWeaver would like to collaborate with DataKind Bangalore to build such a tool during Sprint 2018.

For more details about the Project Accelerator (First event of the Sprint) and to sign up, visit their meetup page here. Also, You may like to join DataKind Bangalore's slack channel #pratham_books to actively participate in various discussions.
Be the first to comment.
---