We are delighted to host books published by the Nature Conservation Foundation, and make them available for free under the CC BY 4.0 license on StoryWeaver. We hope that our community will enjoy reading & learning more about India's wildlfe through these stories, and that they will be translated into many more languages. The first 2 books resulting through this partnership are Gyalmo, the Queen of the Mountains and Birds That Sing Their Name.
In this post, we'll give you a closer look at the making of 'Gyalmo, Queen of the Mountains'!
About the book: Koyna and her friend Lobzang are in Spiti Valley, trying to spot the most elusive cat in the world, while Gyalmo, the snow leopard, watches from a distance as they try their best to see her. Written by Ranjini Murali and illustrated by Komal Jain.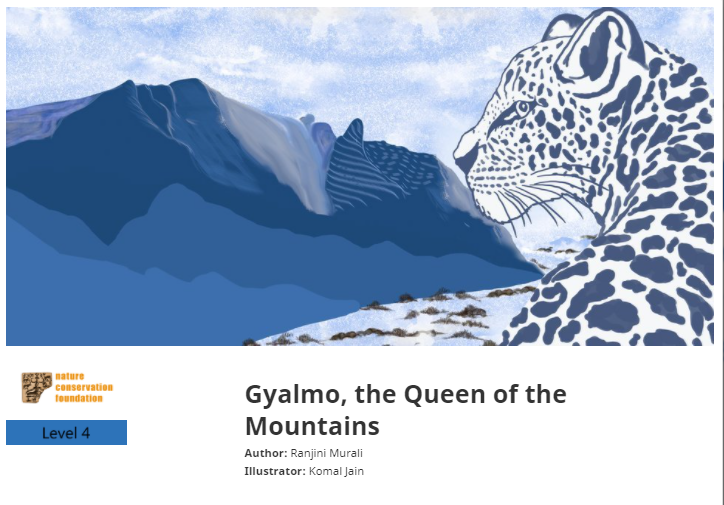 Ranjini Murali, the author, is the Conservation Scientist at the Snow Leopard Trust. In this interview, she tells us about her fascination with the mountains and why she wrote a children's book about snow leopards.
---
Tell us why you chose to write about the mountains?
This story was first written for the 'Hindu in School' newspaper supplement which was meant for children studying in Bangalore and Chennai. I wrote this story then, as I wanted to introduce children to the fascinating animals of the Trans-Himalaya.
What is the message that you hope to share through these stories?
When I was a student in Bangalore, I didn't know there were snow leopards in India, nor did I know of these stunning landscapes or the amazing biodiversity present here. Maybe children now are more aware of this, but through this story, I hope to bring a bit more awareness to these landscapes.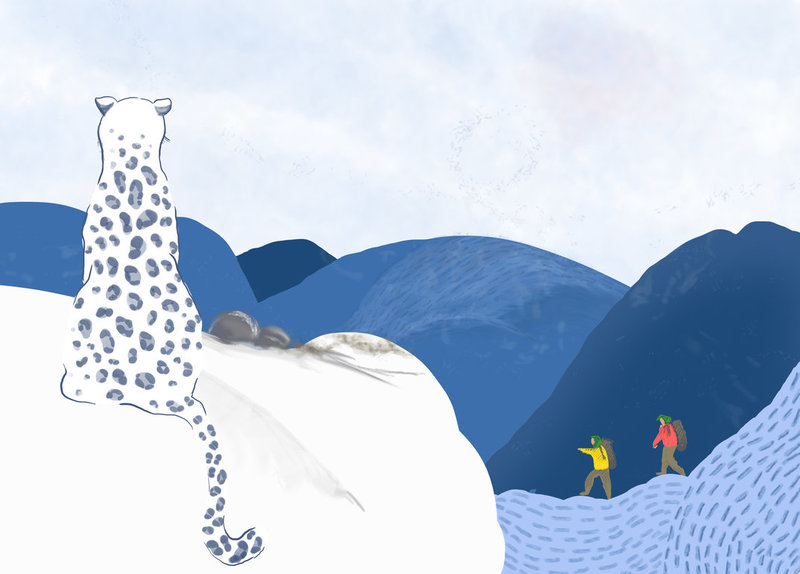 Illustration by Komal Jain
What inspired you to conceptualize this story?
I've worked in the Trans-Himalaya for more than 10 years now and have never really seen a snow leopard! Part of this story was inspired by my constant search to see the snow leopard. The chase sequence was inspired by an video I had seen online of a snow leopard chasing a bharal!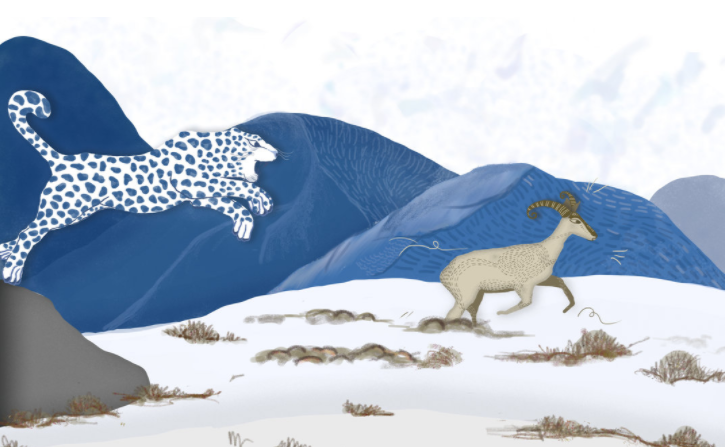 Illustration by Komal Jain
How did you get to know about StoryWeaver, and what prompted you to make your story available on our platform?
I knew of the amazing work that StoryWeaver was doing, making reading accessible to children everywhere, so I jumped at the opportunity when a colleague reached out to me about plans of creating books on the platform. I especially love how the stories on the platform are accompanied by amazing illustrations. I was so excited to see this story come alive through the illustrations! I also like that the stories are available to be translated, so they are accessible to more children around India.
---
Read Gyalmo, the Queen of the Mountains
(Post in collaboration with the team at Nature Conservation Foundation)
---