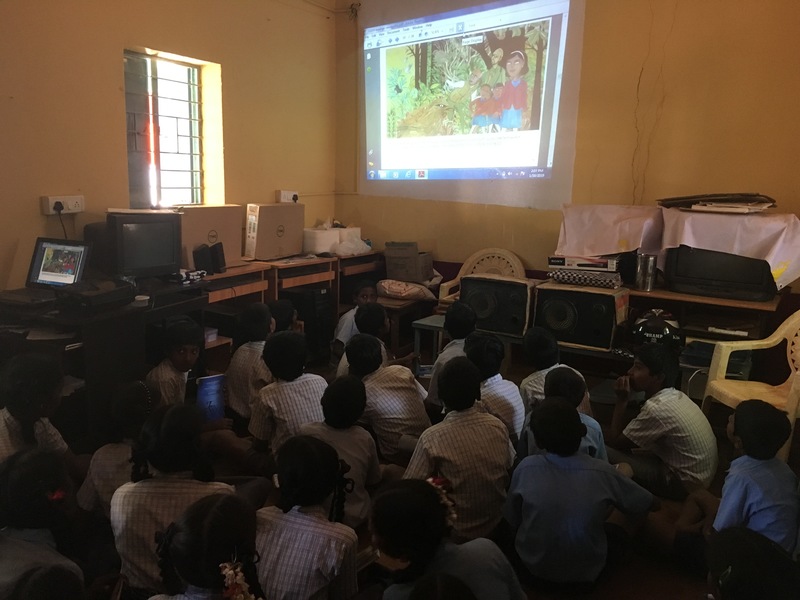 Suganya, from the Partnerships team, takes us on a journey to Tumkur where India Literacy Project is implementing a Multi-Dimensional Learning Spaces program with the government schools.
Getting there
The two-hour ride to Tumkur through traffic and on roads under-construction had taken a toll on our energy levels. But meeting children filled with enthusiasm for the read-aloud instantly put a smile back on our faces.
We were greeted by Latha, an India Literacy Project (ILP) Facilitator. She has been instrumental in implementing StoryWeaver content as a part of their Multi Dimensional Learning Space (MDLS) programme. Over 16 facilitators who work across 30 schools in Tumkur, Karnataka, identify schools in need, coordinate with partner organisations and develop a programme to help children not only with academics but also overall personality development. They provide schools with digital infrastructure, reading material and teacher guides, and also help them implement the programme in the classroom.
Story reading
Children were excited to get started with the read-aloud session. They had picked Smile Please for this. One of the children volunteered to read the story, and the others joined in. Whenever she had difficulty with a sentence or the pronunciation of a word, the class teacher and the ILP facilitator chipped in to help her out.
We were awed by the children's enthusiasm and decided to do an impromptu reading session for them. One of our team members stepped in and interacted with the children in Kannada, doing another reading. It was way past the children's lunch time, but they wanted their fill of stories first.
While the students were getting ready to enjoy their mid-day meal, we bid goodbye and continued our journey to visit more children.
More stories…
Once we reached the next school, we met with the headmaster and the ILP facilitator, Tejaswini. Teachers there have found it easier to introduce science and mathematics concepts using our STEM books. Children operate the computer and the projector during their free time to read stories on their own.
Without further ado, we began another read-aloud session with the children. This time, children had decided on Welcome to the Forest. Children enjoyed the narrative and also gained insights about the forest and animals that call it home. We asked the children, "What is your favourite book and which story do you enjoy reading aloud in class?". We were happy to hear varied responses, but Dum Dum-a-Dum Biryani! turned out to be everyone's favorite.
We were glad to see the children read and relate to the characters portrayed in our books. We believe that an incredible future awaits the children. With partners like ILP, we get that much closer to making our vision a reality.
---