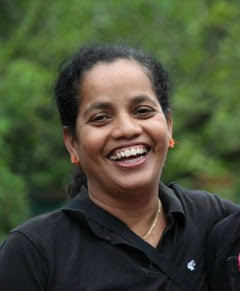 Ms. Ratnamala Divkar of the Konkani Bhasha Mandal writes in...
On this day, 29 years ago, Goa was declared a state. This was the culmination of a long struggle of the Goans - a struggle to establish identity to reclaim the origins of expression and belonging. The struggle of Konkani as the official language of its land has been intrinsically intertwined with this journey. And in a lot of ways, the struggle to populate our expressions in Konkani is still on..
As part of our Konkan journey, we were introduced to StoryWeaver, Pratham Books and its efforts to enrich children's literature with stories across many, many languages. It was a great pleasure collaborating with them for their venture in Konkani. The opportunity came to us at the Konkani Bhasha Mandal at the right time, as we had been struggling to find ways in which we could contribute to children's literature in our language, Konkani. It was a great experience interacting with like-minded people such as the StoryWeaver team.
Konkani unfortunately has suffered greatly since pre-independence and the language has not received the patronage it deserves. Konkani was not been recognised by many as an independent language but was considered a dialect of Marathi for too long. Konkani language enthusiasts and writers have had to spend much of their resources on the fight to get recognition for Konkani as a language, thus, diverting their energy from contributing to the development of the language. Finally after long drawn struggle, Konkani was included in the eighth schedule of our Constitution in 1992. There is much more to express, a struggle that still continues till today. Our Leader Dnyanpeeth Awardee Shri Ravindra Kelekar always used to say that we are fighters first and then writers.
Children's literature in Konkani was a casualty of this struggle. It's something we have been keenly aware of and we are consciously trying our best to contribute to this area. While doing so we know that children's literature is not an easy job.
Plus, like any other state the issue of medium of instruction did surface in Goa and we at Konkani Bhasha Mandal( KBM) realised that we have to provide supporting material in education besides academics. We have made an attempt to meet the expertise in this field. We conducted workshops, had interactive sessions, produced material required in education. We are still working on this mission with our committed and passionate group of writers. There is much more to be done.
The books* created by StoryWeaver cover a wide range of topics, catering to children with all types of interests. The illustrations are lively, very attractive and makes the stories more interesting.
I'd like to take this opportunity to thank you for allowing us translate these beautiful stories to Konkani and reach out to our children. We look forward to working with you on original stories in Konkani.

Cheers to that!

*The books mentioned were created under a grant from Oracle India.
---