Written by Priyanka Sivaramakrishnan
StoryWeaver's Freedom to Read 2019 is our flagship annual campaign to mark the International Mother Language Day on February 21st. We have been collaborating with some fantastic translators, educators and literacy organisations across the world to bring to you digital hyperlocal libraries across underserved languages.
When we opened up the event in November 2018, we had a rush of applications, partners who were more than eager to collaborate with us on this exciting project. We received an overwhelming 200+ applications from 36 organisations and 196 individuals, representing translation partners and individual language champions from not just across India, but also international literacy organisations and individual language champions. Our final selection boiled down to 11 organisations and 8 individuals to help build hyperlocal digital libraries across 30 languages.
With the help of these partners, we targeted 14 underserved languages such as Korku, Marwari, Basa Jawa (Javanese), Bundelkhandi, Pawari, Santaki, Kora, Pashto, Farsi, Chinyanja, Ewe and more.
Since the storybooks created on the platform will be used in classrooms to retain students' interests and preserve local culture and language, we worked closely with the partners to help them curate lists.These curated lists were entirely based on the need of the partner to fill in the gaps. For instance, Agnes N.S. Nyendwa, Editor of Macmillan Publishers, Zambia wanted to make STEM concepts easier to understand, by versioning them to her mother tongue, Chinyanja. The North East Educational Trust (NEET), Assam, India worked towards translating joyful Assamese stories for early readers because there was a lack of material in this category. Afghanistan based Darakht-e-Danesh (DD Library) wanted to translate stories that could be localised to Afghanistan and the social reality of the land. Right To Play is working with a story list that is a cultural fit for Africa and are keen to get the books printed via our publisher partner, BookDash.
To begin the process, we first had to get our partners familiar with the the StoryWeaver platform. Support materials such as the Pratham Books translation manual, tips on translating, FAQ's, and video resources on how to use StoryWeaver as a translating tool were given to the partners. During the training, we reinforced the need for peer to peer review workflows as it is essential to ensure good quality content at such high volumes and also shared our in-house playbook (a ready reckoner of sorts for hackathons) as a resource to partners who were working with teams across geographies with scaled resources to help them conduct hackathons. This was used by African Library & Information Associations & Institutions (AfLIA) to conduct multiple translation hackathons with their teams in Nigeria, Ghana, Kenya, Uganda and South Africa.
We absolutely have to give it to our translation partners for knocking it out of the park, with the lengths they took to make sure that not only books got translated, but more importantly, got published.
They faced many challenges, the biggest of them all being able to complete the project despite not having all the resources. Since we've been working with underserved languages from remote locations, our translators were not necessarily the same people who were coming up on the StoryWeaver platform and publishing the same. This led to a lot of searching for support systems. In these cases, most of the translations were pen to paper which would then get passed on to their resource in a town or city with access to computers, where the newly translated stories were uploaded.
Keep watching this space for more news, final roundups and achievements of Freedom to Read, 2019.
Be the first to comment.
---
A Serbian language teacher by profession, Ana Jovic loves to translate books. One of our language champions, Ana has played an important role in our #FreedomtoRead 2019 campaign and has just reached her goal of translating 50 stories into Serbian. In an email interview, she tells us how she hopes to build a repository of stories, by being a part of this campaign, for children from the Serbian diaspora and how much she enjoys the process of translation.
Tell us something about yourself and you connection with Serbian?
I am an English and Serbian teacher. Serbian is my native language. I studied the English language and literature, and teaching Serbian as a foreign language, so I hold two Master's degrees. I've been teaching for 18 years now both online and in brick-and-mortar schools. Teaching is both my passion and profession. I love teaching and I hope to never stop doing it. I live in the countryside with one husband, two sons, four dogs and ten cats. In my free time, I enjoy a good book, a cup of black coffee, and furry company in the form of my cute cats in my lovely backyard.
What are the benefits of creating a hyperlocal library in your mother tongue?
As a Serbian teacher, I realised there are very few online books in Serbian for children. Besides, these resources don't cater to different levels, ages or interests. Creating a hyperlocal library at Storyweaver will tremendously help children of Serbian diaspora to preserve Serbian as their heritage language. It would also help them develop their language skills and enjoy fiction in their mother tongue. This would enrich their personal experiences and allow for wider use in their heritage language schools. Such a library would also provide material for family reading time when parents and children share the language while reading and discussing stories.
You have now translated 50 stories to Serbian. How was the experience?
I loved it. I easily lose myself in translation, so the time stops for me then. I enjoyed each and every book both as a reader and translator.
Of the 50 stories that you translated, which story would be your favourite and why?
This is hard to answer. All of them are special. But if I had to choose one, let it be Counting Cats. It's about a boy who rescues cats and brings them all home. He ends up with a bunch of cats. I can relate to this story since I'm like the boy – I have ten cats. I couldn't resist their cuteness and helplessness so I rescued them all. Now, I have ten cats and still counting. Just like the boy from the story.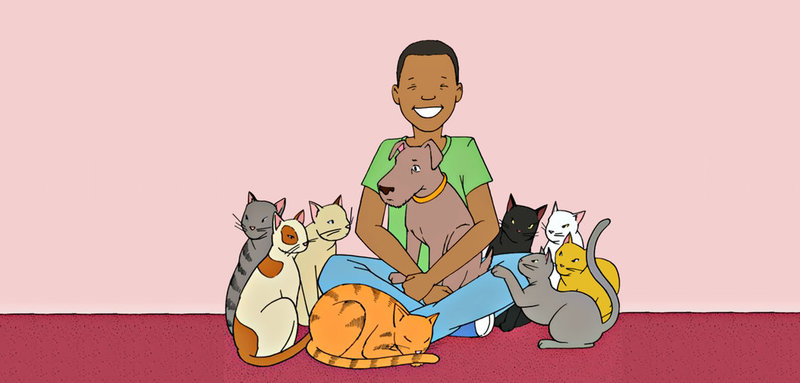 Did you face any challenges while translating a particular text and how did you overcome the same?
I have to admit that translation is an enjoyable and easy process for me. However, I find it hard to translate rhymes. You have to find rhyming words in Serbian that can keep the meaning of the original rhyme. That's the hardest part which takes most time and energy. The way to deal with it is to think hard, play with words and try as many combinations as possible to find the one that works. However, once I find a solution that sounds good and means the same as the original, I feel immense satisfaction.
Do you plan to share the stories you have translated?
I would like to present the platform and the stories to a Serbian audience. I do hope that the stories will soon reach all children of the Serbian diaspora who would like to read but can't get hold of books in Serbian easily. I hope that this Serbian library will become the families' favorite resource of Serbian storybooks.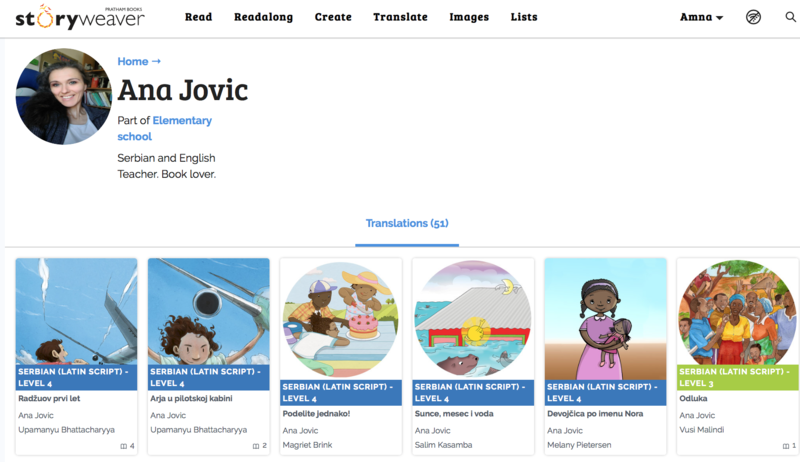 You can read the Serbian stories translated by Ana Jovic here.
Be the first to comment.
---
PhD scholar and researcher Ankit Dwivedi loves to write and tell stories. He is translating stories into Bundeli or Bundelkhandi. He is a native of Lalit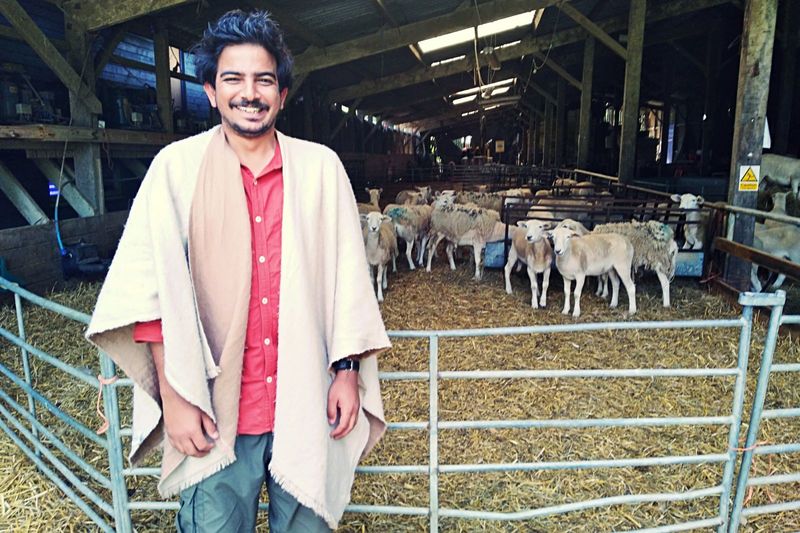 pur, a city that lies at the heart of Bundelkhand. He speaks a dialect of Bundelkhandi and uses the Devanagri script to write it. Ankit's research work during his Masters programme has been a qualitative study of a local language newspaper run by women which has influenced him to explore local language learning possibilities for children. Though there are millions, according to Ankit, who speak Bundelkhandi, there is a dearth of interesting and engaging reading material for children in the region. Ankit wants to change all of that by translating and creating a digital library of books in Bundelkhandi. In an email interview he tells us the challenges of translating in his mother tongue and how stories can make for the best company in the world.
Why did you decide to translate storybooks to Bundelkhandi as part of Freedom to Read ?
It is always a pleasure to read in the language we have grow up speaking. I realised that there weren't too many many stories or picture books in Bundelkhandi. So, this is my effort and a little step towards building a digital library in Bundelkhandi that is free and accessible to all.
Describe your process of translations and how long does it take usually?
I translate those stories that I enjoy myself as a reader. I spend some time capturing the essence of the story in the original language and wondering how it may be preserved in the language I am translating to. Then, comes the play with words. Reading it out loud helps. As for time, I would say, sometimes it takes two to three hours to translate a story. And sometimes, edits may take days.
What kind of a person do you think makes the best kind of translator for children's stories?
I believe children use their senses in a much more mindful way than adults. They don't just want to walk through a garden, they want to taste it, smell it and they want to know how everybody who is living and breathing there feels. For adults, to see the world from the child's perspective can be an effort and practice. Those who are willing to make that effort can be great at writing, illustrating or translating children's stories.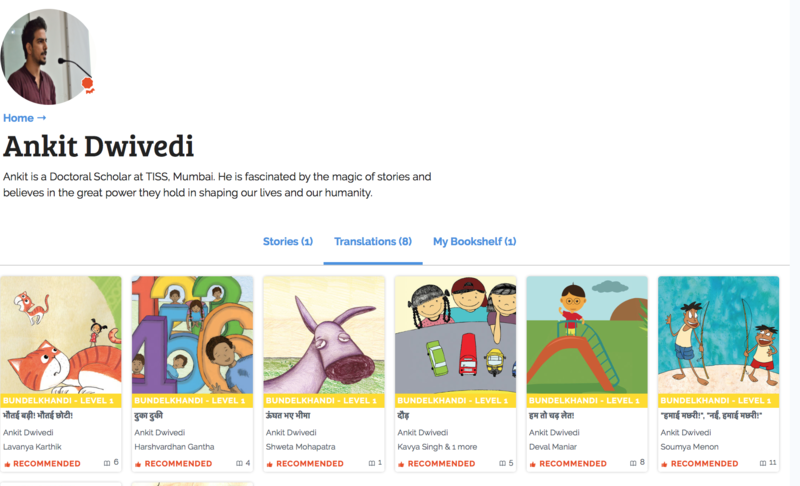 What is the hardest thing about translating from English into Bundelkhandi? How do you navigate words or phrases that are tricky to translate?
It is definitely tricky. In Bundelkhandi, just like many other dialects, who is speaking and how one speaks shapes what is being said. Just to give an example, the "Kaay" sound in Bundelkhandi is used to call people out like 'Hey there', make exclamatory remarks like 'What! Really?' or in an interrogative speech to ask 'Why?'. So, while writing, one has to consider what possible meanings the reader might be making out of these. I offer translations to people who speak the language and see how they are reading it. Repeating this process many times over gets us a better draft.
Can you tell us anything about yourself and your job that would surprise us?
I work with stories as a researcher and a storyteller. They make for a great company and people of all ages need the warmth and love they bring. I have seen adults heartily enjoying the simple linear 'we know what's going to come' stories and I have seen children engaging deeply as we peel the layers of complex grey characters. I hope as adults, we take children more seriously. And ourselves, maybe a little lesser.
You can read Bundelkhandi stories translated by Ankit here.
Be the first to comment.
---