Ph.D. scholar and researcher Ankit Dwivedi loves to write and tell stories. He is translating stories into Bundeli or Bundelkhandi language. He is a native of Lalitpur, a city that lies at the heart of Bundelkhand. He speaks the dialect of Bundelkhandi and uses the Devanagri script to write it. Ankit's research work during his Masters's programme has been a qualitative study of a local language newspaper run by women which have influenced him to explore local language learning possibilities for children. Though there are millions, according to Ankit, who speaks Bundelkhandi language, there is a dearth of interesting and engaging reading material for children in the region. Ankit wants to change all of that by translating and creating a digital library of books in Bundelkhandi. In an email interview he tells us the challenges of translating in his mother tongue and how stories can make for the best company in the world.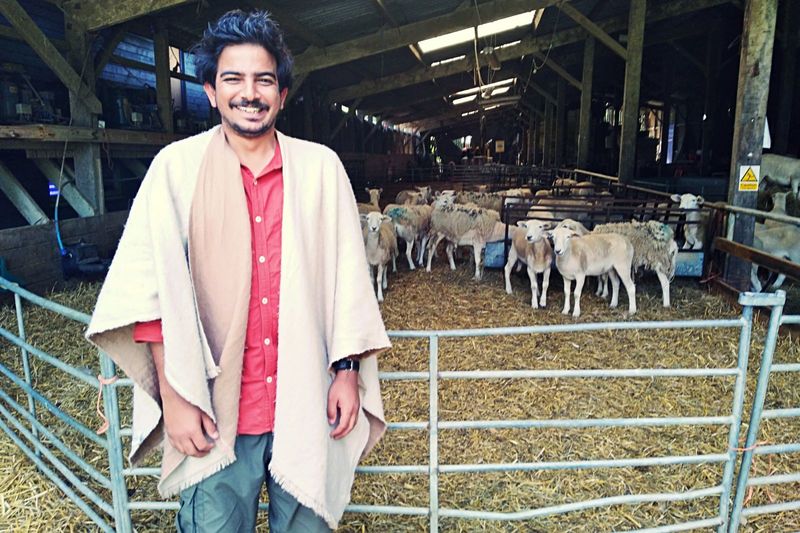 Where is Bundelkhandi Spoken?
The Bundelkhandi language is an Indo-Aryan tongue that is spoken in central India's Bundelkhand area. It is a member of the Western Hindi cluster of Central Indo-Ayran languages. Devanagri script is used to write the Bundeli language words.
The poems of the Alha-Khand epic are early instances of Bundelkhandi literature. In the Banaphari area, bards continue to preserve it. The epic tells the story of heroes from the 12th century CE. The age of Emperor Akbar is when formal Bundeli literature was first produced. Kesab Das, a poet from the sixteenth century, is one notable author. During the nineteenth century, Padmakar Bhatt and Prajnes both produced a number of works. At the Chhatrasal of Panna's court, Prannath and Lal Kabi produced a large number of works in the Bundeli language.
Bundelkhandi Language And Its Origins
Rajputs and various other warlike tribes used to primarily speak the Bundelkhandi language. Additionally, it is regarded as an Indo-Aryan language and is mostly spoken in Madhya Pradesh's Bundelkhand area. It is also spoken in various areas of Uttar Pradesh, usually more so in the south.
Bundeli is, however, mostly regarded as the western form of Hindi. It is traditionally connected to Braj Language and was only largely spoken in the north Indian region till the 19th century. There are allegedly 20 distinct ways to speak in this verbal communication.
There are up to 20 million native speakers of this vocal communication. It employs the Devanagari script as its writing system. Even in Madhya Pradesh, the biggest state in India with an area of around 443446 square kilometers, it is recognised as the most often used expression.
This Is What A Bundelkhandi Language Translator Has To Say
Ankit wants to change all of that by translating and creating a digital library of books in Bundelkhandi. In an email interview, he tells us the challenges of translating in his mother tongue and how stories can make for the best company in the world.
Why did you decide to translate storybooks to Bundelkhandi as part of Freedom to Read?
It is always a pleasure to read in the language we have grown up speaking. I realised that there weren't too many many stories or picture books in Bundelkhandi. So, this is my effort and a little step towards building a digital library in Bundelkhandi that is free and accessible to all.
Describe your process of translations and how long does it take usually?
I translate those stories that I enjoy myself as a reader. I spend some time capturing the essence of the story in the original language and wondering how it may be preserved in the language I am translating to. Then, comes the play with words. Reading it out loud helps. As for time, I would say, sometimes it takes two to three hours to translate a story. And sometimes, edits may take days.
What kind of a person do you think makes the best kind of translator for children's stories?
I believe children use their senses in a much more mindful way than adults. They don't just want to walk through a garden, they want to taste it, smell it and they want to know how everybody who is living and breathing there feels. For adults, seeing the world from the child's perspective can be an effort and practice. Those who are willing to make that effort can be great at writing, illustrating or translating children's stories.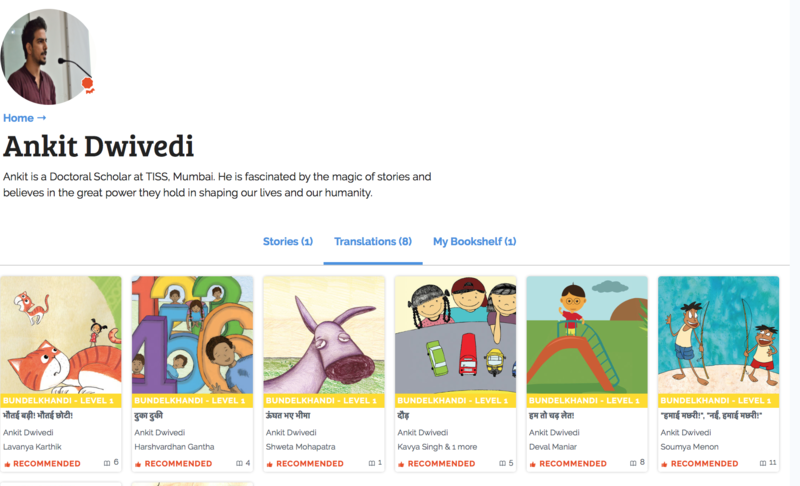 What is the hardest thing about translating from English into Bundelkhandi? How do you navigate words or phrases that are tricky to translate?
It is definitely tricky. In Bundelkhandi, just like many other dialects, who is speaking and how one speaks shapes what is being said. Just to give an example, the "Kaay" sound in Bundelkhandi is used to call people out like 'Hey there', and make exclamatory remarks like 'What! Really?' or in an interrogative speech to ask 'Why?'. So, while writing, one has to consider what possible meanings the reader might be making out of these. I offer translations to people who speak the language and see how they are reading it. Repeating this process many times over gets us a better draft.
Can you tell us anything about yourself and your job that would surprise us?
I work with stories as a researcher and a storyteller. They make for a great company and people of all ages need the warmth and love they bring. I have seen adults heartily enjoying the simple linear 'we know what's going to come' stories and I have seen children engaging deeply as we peel the layers of complex grey characters. I hope as adults, we take children more seriously. And ourselves, maybe a little lesser.
How Does Learning a Native Language Help Children?
In a way that few other things can, learning a native language may make you feel more connected to your ancestors and culture. The ability to think in one's mother tongue might act as a constant reminder that one is culturally varied and can always retreat to one's "home."
In addition to facilitating communication and interpersonal connections, our native tongue also helps us to comprehend and appreciate our own and our predecessors' cultural heritage. For kids, especially those from various familial situations, it fosters an awareness and understanding that is beyond useful.
Not only that but young children who had access to age-appropriate books and literature in their mother tongue had better pre-literacy abilities than kids who only had access to books in their second language.
Furthermore, Children who initially learn to read in their mother tongue will find it simpler than children who never learn to read in their first language to learn to read in their second language.
Even though they must acquire new letters, sounds, and words to become proficient readers in a second language, children who can read in their mother tongue comprehend the process of reading.
You can read Bundelkhandi stories translated by Ankit here.
---