"Linguistic diversity is increasingly threatened as more and more languages disappear. Globally 40 per cent of the population does not have access to an education in a language they speak or understand." - UNESCO International Mother Language Day website

Since 2000, the United Nations has observed February 21 as International Mother Language Day to promote linguistic and cultural diversity and multilingualism. This year, StoryWeaver marks the occasion by opening a gateway to digital libraries in 100 languages for children across the world and thereby addressing the scarcity of books for children in their own languages.

To achieve the milestone of 100 languages, StoryWeaver has collaborated with a global network of organisations and individuals who are helping create this vast resource of children's storybooks, as part of its 'Freedom to Read' campaign.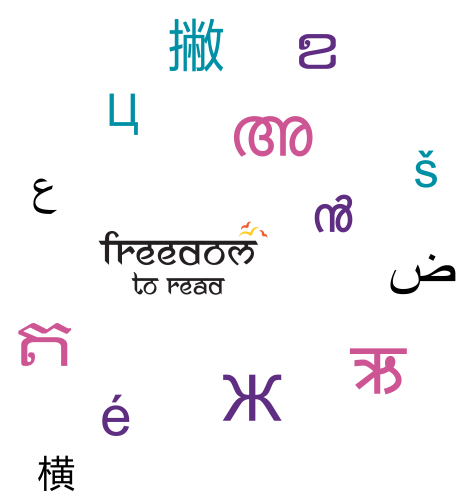 Our partners encompass national and international organisations, as well as language champions who share our passion for creating reading resources for children in their mother tongue languages. Partners like Azad India Foundation, AfLIA (African Library Information Associations and Institutions), Darakht-e Danesh Library, Little Readers' Nook, North East Educational Trust, REHMA, Right To Play, SNS Foundation, Suchana, Unnati Institute for Social and Educational Change and language champions like Agnes N.S. Nyendwa, Amit Dudave, Ana Jovic, Ankit Dwivedi, Kaye Suscang, Maharani Aulia and BE Priyanti, Nguyen Dac Thai Hang, Priya Bhakthan. The languages are varied - from mainstream languages like Afrikaans, French, German, Hindi, Italian, Spanish, Tamil, Telugu and Urdu, tribal languages like Gondi, Korku, Kora and Santali, endangered languages like Occitan to indigenous languages like Chatino, Mixe and Triqui and underserved languages like Assamese, Basa Jawa, Basa Sunda, Bhojpuri, Bundelkhandi, Igbo, Marwari, Sindhi and Surjapuri,
Collaboration has been the cornerstone of the StoryWeaver community, and the high quality of the translations - endured by a rigorous system of peer review - stands testament to the commitment of every contributor to "Freedom to Read".
These partners will take these digital reading resources even further - to serve children around the world, and help them read in their mother tongue languages. AfLIA (African Library Information Associations and Institutions) will roll out their continent-wide reading promotion 'Read Africa Read' with the same storybook titles in different languages across Africa. The Ghana Library Authority has already downloaded a book translated into Ewe in the e-readers in the Library and read it aloud to children on the World Read Aloud Day. The SNS Foundation in Rajasthan is working towards building a hyperlocal library of 100 Marwari books which will be used in 1,500 schools in Rajasthan.
The troubling statistic of 40% of the global population not having access to education in a language they speak or understand translates to over 2 billion people who would benefit from having books in their mother tongues.
"Through StoryWeaver, increasing access to quality reading resources for children has been made possible like none other. We are also grateful to collaborate with like-minded partners whose primary mission -- like ours -- is to get every child to read," shares Suzanne Singh, Chairperson, Pratham Books.
Click here to take a look at a short video on the Freedomto Read journey.
Be the first to comment.
---
The SNS Foundation leads community-focused initiatives with the objective of building a socially-equitable and environmentally-sustainable society. Through the appointment of over 100 additional teachers in 80+ partner government schools, learnings gaps among academically weak students are being bridged. Their programmes have impacted over 5,000 children. The Foundation is working towards building a hyperlocal library of 100 Marwari books with efforts of educators from the Marwari community. Marwari is a developing language spoken in Rajasthan (the largest state in India). With 20 million or so speakers (ce. 2001), it is one of the largest varieties of Rajasthani. However, Marwari currently has no official status as a language of education and government and therefore, lacks resources in the language. Vijay Tanwar, Manager JAWAI Operations, SNS Foundation tells us in his own words how he and his team are working towards creating a library of Marwari books against all odds.
एस एन एस फाउंडेशन ने StoryWeaver Freedom to Read! के अभियान पर आवेदन किया था! हमें यह जानकर बेहद खुशी हुई कि इस अभियान के लिए एस एन एस फाउंडेशन को चुना गया है तथा हमारे शिक्षकों को 21 फरवरी, 2019 अंतर्राष्ट्रीय मातृभाषा दिवस पर मारवाड़ी भाषा में बच्चों के लिए गुणवत्ता कहानियों की एक डिजिटल लाइब्रेरी का हिस्सा बनने के लिए एक अवसर मिला।
मारवाड़ी एक राजस्थानी भाषा है जो भारतीय राज्य राजस्थान में बोली जाती है। जब मैंने राजस्थान में अपने सहयोगी कर्मचारियों के साथ इस अवसर को साझा किया था तो वे सभी खुश हुए और हिंदी भाषा से मारवाड़ी भाषा में कहानियों का अनुवाद करने के लिए उत्सुकता से आगे आने के लिए तैयार हुए । इन कर्मचारियों को मूल रूप से प्रथम से मध्यम वर्ग के बीच के काल में रेमेडियल छात्रों की नींव रखने के लिए शिक्षक के रूप में नियुक्त किया गया है।
"मारवाड़ी कहानियां " शब्द सुनकर ख़ास तौर से मुझे काफी अच्छा लगा और जब मैंने टीचर्स से पुछा की क्या कभी आपने मारवाड़ी कहानियों पढ़ी हैं तो सभी का उत्तर एक ही था "नहीं "। अब यह जान कर खुशी दुगनी हो गई की अब जिन १३ सरकारी स्कूलों में एस एन एस फॉउंडेशन काम कर रही है उन स्कूलों के बच्चों को इन मारवाड़ी कहानियों को पढ़ाने का मौका मिलेगा । इन कहानियों को पढ़कर बच्चों का मनोरंजन तो होगा ही पर इसके साथ साथ उनका ज्ञान भी बढ़ेगा।
टीचर्स को हिंदी कहानियों को मारवाड़ी (भाषा) कहानियों में अनुवाद करने में जयादा वक़्त नहीं लगा। कुल ९ टीचर्स व एक फील्ड कोऑर्डिनेटर को १० / १० हिंदी की कहानियों को मारवाड़ी (भाषा) में अनुवाद करने की ज़िम्मेदारी सौंपी गयी और अनुवाद टीम ने इस ज़िम्मेदारी को बख़ूबी निभाया और दिए हुए वक़्त से पहले काम पूरा किया । अब असली चुनौती से टीम को मुक़ाबला करना था जब उनको यह बताया गया की १०० मारवाड़ी कहानिओं का अनुवाद जो आप सभी ने किया है उसकी सॉफ्ट कॉपी जमा होनी है । यह सुनकर सभी टीचर्स हाँके बांके रह गये क्योंकि जहाँ फाउंडेशन काम कर रही है वो छेत्र एक दम शहर से दूर का छेत्र है। इंटरनेट की सुविधा बहुत कम है, कंप्यूटर पर काम करने वाले लोग बहुत कम है कुल मिलकर सुविधा ठीक नहीं है।
अब जा कर यह अहसास हुआ की जो काम बहुत कम समय में हुआ था यानी कहानियों का अनुवाद अब इस से १० गुणा समय लगने वाला हैं क्योंकि परिस्थिति अनुकूल नहीं है। जैसे तैसे काम को अंजाम देने के लिए फिर से टीम जुट गई, अब समय का पता ही नहीं चल रहा था कि कैसे समय भागा जा रहा है और प्रकाशन की तारिक़ नज़दीक आ रही है । फिर बढ़ी मुश्किल से लोगों से सम्पर्क साधा, लोगों को मनाया तब जा कर कुछ कुछ कहानियों को सॉफ्ट कॉपी में करने का लोगों ने आश्वासन दिया। परिस्थिति कुछ सुधरी ही थी के एक और ज़ोर का झटका धीरे से लगा। डी टी पी ऑपरेटर ने टाइपिंग करने से मना कर दिया क्योंकि उसकी दुकान डिस्टर्ब हो रही थी और बिजली का लगातार कई घंटो तक न आना काम को पूरा करने में बहुत बड़ी रुकावट बनता जा रहा था ।बहरहाल टीम का मनोबल टूटने नहीं दिया और टीम काम करती गयी और कहानियों की सॉफ्ट कॉपी बनती गयी और एक नया अनुभव का असहसास मुझको और टीम को हुआ ।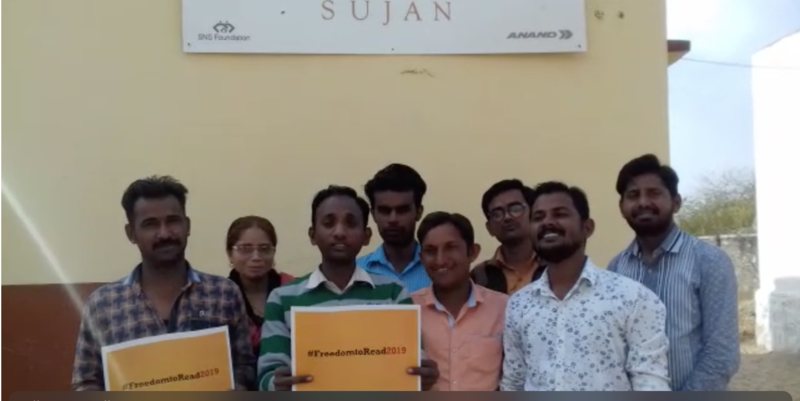 Powerhouse translators of SNS Foundation
अब मारवाड़ी काहियाँ प्रकाशित होंगी और पुरे राजस्थान राज्य के बच्चे इन कहानियों का लुपत उठाएंगे। टीचर्स इन कहिनोयों के प्रिंटआउट निकल कर बच्चो के साथ मिलकर कहनियाँ पढेंगे । इन कहानियों को लगभग १५०० सरकारी स्कुल के स्टूडेंट्स पढेंगे और हम सब का प्रयास सफल होगा।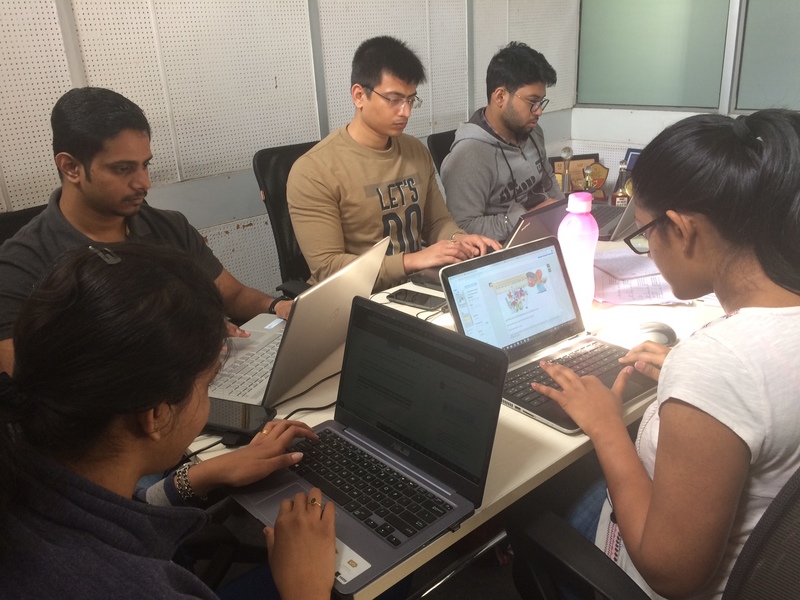 SOIL Team publishes the Marwari stories on StoryWeaver
अंत में मैं सभी टीचर्स का धन्यवाद करता हूँ की उन्होंने अपना कीमती वक़्त निकला और इस मिशन को सफल बनाने में सहयोग दिया। सॉइल टीम के स्टूडेंट्स राहुल वर्मा, रूपम दत्ता, अवनीश कुमार , निवेधा प्रियदर्शिनी व थमरईसेल्वी मोहनराज जिन्होंने मारवाड़ी कहानियों को प्राकशित करने में में एस एन एस फाउंडेशन को सहयोग दिया।
मैं एस एन एस फाउंडेशन की हेड ऑपरेशन्स दमयंती भौमिक जी का भी तेह दिल से धन्यवाद करता हु की उन्होंने मुझे इस टीम का हिस्सा बनने का मौका दिया. अनुवादक टीम के नाम: दुरपाल सिंह, हीर सिंह, दिनेश कुमार, भूपेंद्र सिंह राणावत, गोविन्द कुमार, सजल कँवर , सुरेश गर्ग, प्रदीप सिंह, विपुल सिंह, सोनिका गेहलोत और मादाराम .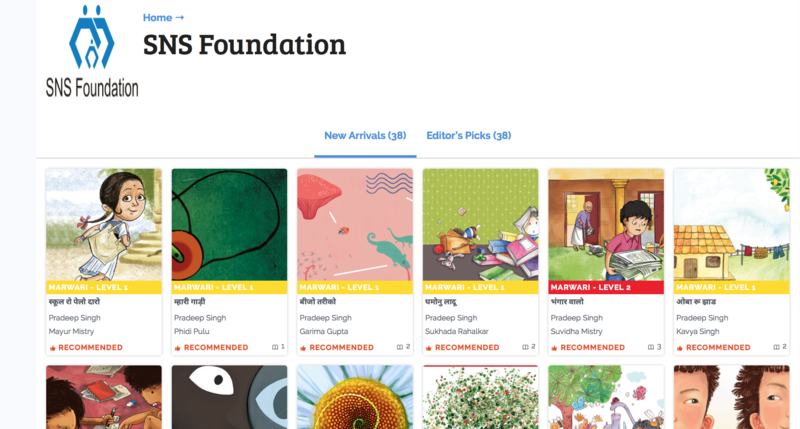 You can read the Marwari stories translated by SNS Foundation here.
Be the first to comment.
---
PhD scholar and researcher Ankit Dwivedi loves to write and tell stories. He is translating stories into Bundeli or Bundelkhandi. He is a native of Lalit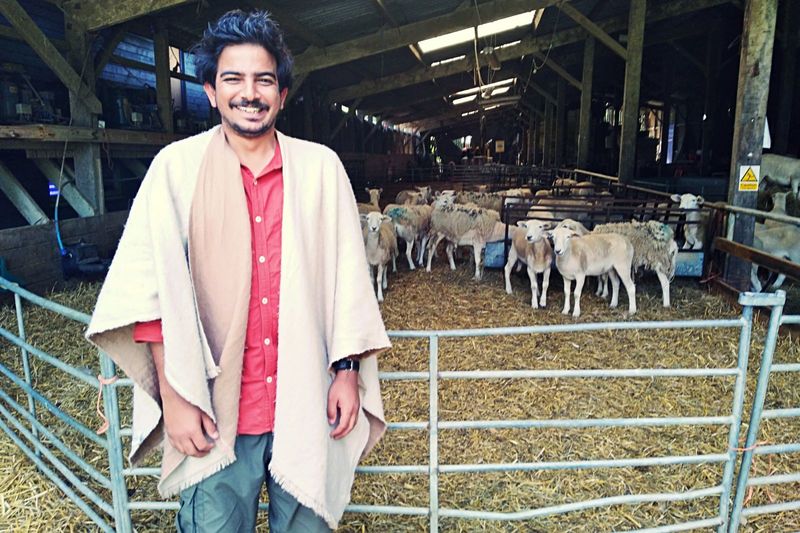 pur, a city that lies at the heart of Bundelkhand. He speaks a dialect of Bundelkhandi and uses the Devanagri script to write it. Ankit's research work during his Masters programme has been a qualitative study of a local language newspaper run by women which has influenced him to explore local language learning possibilities for children. Though there are millions, according to Ankit, who speak Bundelkhandi, there is a dearth of interesting and engaging reading material for children in the region. Ankit wants to change all of that by translating and creating a digital library of books in Bundelkhandi. In an email interview he tells us the challenges of translating in his mother tongue and how stories can make for the best company in the world.
Why did you decide to translate storybooks to Bundelkhandi as part of Freedom to Read ?
It is always a pleasure to read in the language we have grow up speaking. I realised that there weren't too many many stories or picture books in Bundelkhandi. So, this is my effort and a little step towards building a digital library in Bundelkhandi that is free and accessible to all.
Describe your process of translations and how long does it take usually?
I translate those stories that I enjoy myself as a reader. I spend some time capturing the essence of the story in the original language and wondering how it may be preserved in the language I am translating to. Then, comes the play with words. Reading it out loud helps. As for time, I would say, sometimes it takes two to three hours to translate a story. And sometimes, edits may take days.
What kind of a person do you think makes the best kind of translator for children's stories?
I believe children use their senses in a much more mindful way than adults. They don't just want to walk through a garden, they want to taste it, smell it and they want to know how everybody who is living and breathing there feels. For adults, to see the world from the child's perspective can be an effort and practice. Those who are willing to make that effort can be great at writing, illustrating or translating children's stories.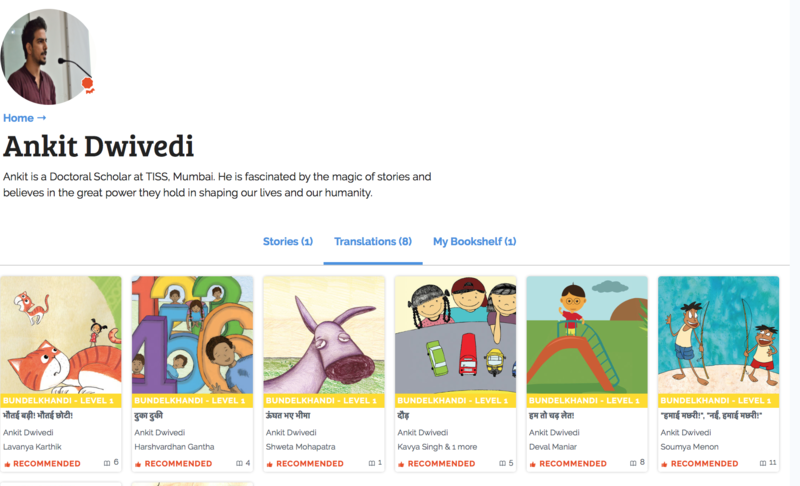 What is the hardest thing about translating from English into Bundelkhandi? How do you navigate words or phrases that are tricky to translate?
It is definitely tricky. In Bundelkhandi, just like many other dialects, who is speaking and how one speaks shapes what is being said. Just to give an example, the "Kaay" sound in Bundelkhandi is used to call people out like 'Hey there', make exclamatory remarks like 'What! Really?' or in an interrogative speech to ask 'Why?'. So, while writing, one has to consider what possible meanings the reader might be making out of these. I offer translations to people who speak the language and see how they are reading it. Repeating this process many times over gets us a better draft.
Can you tell us anything about yourself and your job that would surprise us?
I work with stories as a researcher and a storyteller. They make for a great company and people of all ages need the warmth and love they bring. I have seen adults heartily enjoying the simple linear 'we know what's going to come' stories and I have seen children engaging deeply as we peel the layers of complex grey characters. I hope as adults, we take children more seriously. And ourselves, maybe a little lesser.
You can read Bundelkhandi stories translated by Ankit here.
Be the first to comment.
---