International Mother Language Day is celebrated annually on 21 February to promote awareness of linguistic and cultural diversity, and multilingualism.
---
The ability to read is the ability to learn, to explore, and to imagine. But without books to read, how will children become readers?
In many parts of the developing world, millions of children still lack access to books in their mother tongue, that they can easily read, understand, and learn from.
UNESCO reports that children learn better in their mother tongue, for all the benefits created in supporting reading skills acquisition among children, and building a strong foundation for learning. The disruption of education systems due to COVID-19 has deepened inequities, and the need for high-quality, multilingual children's books is more urgent than ever.
Every year, StoryWeaver marks International Mother Language Day in an effort to highlight that learning to read in one's mother tongue early in school helps reduce dropout rates and makes education more engaging, meaningful and enjoyable for children.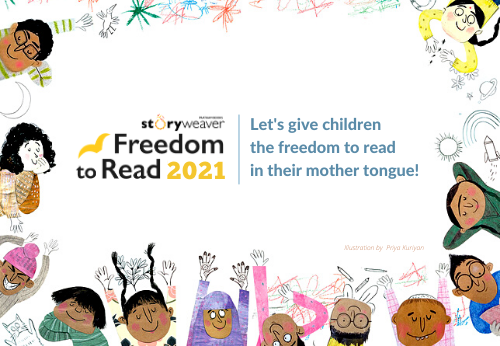 .

In keeping with UNESCO's theme for the 2021 International Mother Language Day - "Fostering multilingualism for inclusion in education and society" - we are renewing our commitment to progress towards Sustainable Development Goal 4: Quality Education For All, by enabling the creation of and open access to local language children's books.
We are delighted to announce that entries are now open for the 5th edition of our 'Freedom to Read' campaign, which focuses on the translation and sharing of open digital libraries in local languages.

This year, we look forward to collaborating with government education departments, state education ministries, government language and culture promotion boards, civil society organisations, language promotion organisations, NGOs and large advocacy groups that work with children.

StoryWeaver will train and skill each of the selected partners to translate and share an open digital library of at least 50 high-quality books, in a language of their choice.
How will we do this?
By supporting our partners with the selection of suitable books for their children. The books encompass a range of reading levels and themes, including Early Readers, Bilinguals, STEM storybooks, as well as the Curated Reading Programme.

Training them to translate quickly and efficiently.

Conducting editorial masterclasses tailored to their needs, and more
A

pplication timelines and guidelines
The last date for applications: March 07, 2021

Pratham Books reserves the final rights to select partners.

Selected partners will sign a letter of understanding with Pratham Books.

Only selected partners will be eligible for translation support and mentoring.

Applications for building digital libraries in languages with few or no books will be given preference over those in mainstream languages or languages that already have a digital library of 100 storybooks on StoryWeaver.

Applicants with basic digital infrastructure and language resources to create a local digital library will also be given preference.

All content created and published by you / your organisation on StoryWeaver as part of the 'Freedom to Read 2020' campaign will by default be licensed under CC BY 4.0.
Fill up the application form here: APPLY NOW

---
If you have any queries about Freedom to Read 2021, you can access the FAQs here or write to us at [email protected], or send us a message on WhatsApp at +91-9886110408.
comment (1)
---

Theresia Alit is a freelance translator, who translates books from English-Javanese to Bahasa Indonesia-Javanese and vice versa. She is passionate about creating a repository of storybooks in her mother tongue, Basa Jawa, as she feels that the number of people who tell children's stories in Basa Jawa is decreasing. Previously, she has worked on translating stories into Javanese for a project called Serat Kancil. As part of the Freedom To Read 2020 campaign, she has created a digital library of 50 storybooks in Basa Jawa.
In this email interview, Theresia writes about translating books into her mother tongue and the importance of creating children's books in the Basa Jawa.
Do tell us about yourself, your interests, your work.
My name is Theresia Alit, and I am from Indonesia. I am a freelance translator, and I work on translations from English-Javanese to Bahasa Indonesia-Javanese and vice versa. Speaking of interests, I am very interested in traditional culture, languages and people.
We would love to learn about your personal relationship with Basa Jawa - do tell us about it.
I am a native speaker of Basa Jawa, and was raised speaking the language. I find it sad that a lot of people in the younger generation of today do not really speak or understand Basa Jawa, despite it being their mother tongue.
How did you come across StoryWeaver and the Freedom to Read campaign?
I came to know about StoryWeaver and your Freedom to Read campaign on Twitter, from a retweet by the Wikitongues account.
Why do you think is it important to have children's books in Basa Jawa?
I feel that it is extremely important for the younger generation to learn and read Basa Jawa. In fact, yesterday, I did a campaign with a community of small children, and they were really enthusiastic about reading stories in the language!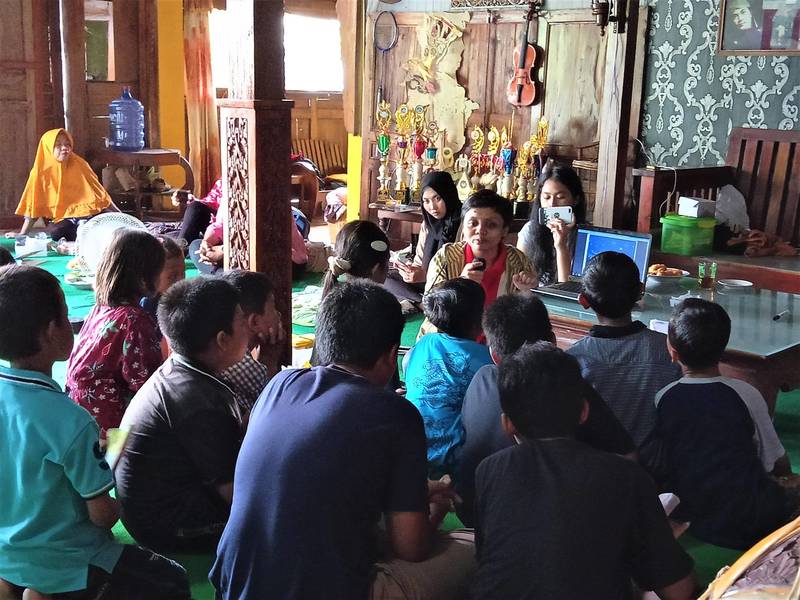 Theresia Alit conducts reading sessions for children in Basa Jawa in Indonesia
Of the 50 storybooks that you translated, which story would be your favourite and why?
I really enjoyed the book, Bayi gajah kang penasaran. It's so funny!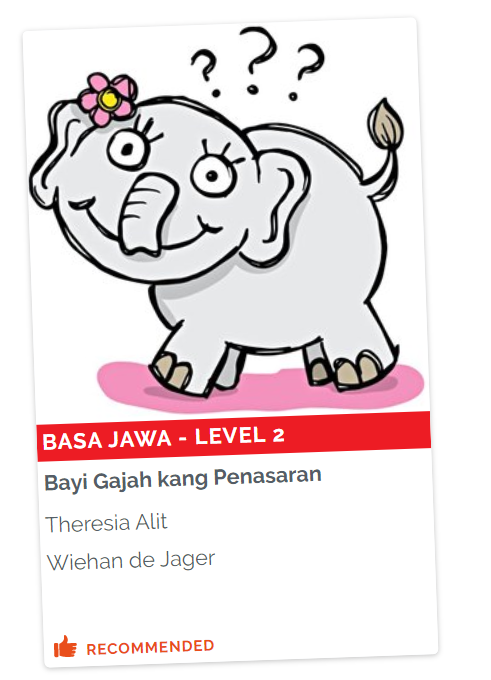 What are some of your favourite books from childhood? Is there any memorable reading moment that you would like to share?
Some of my favourite books are The Little Prince, Asterix and Obelix, Uthak-uthak Ugel (folktale), etc. When I read a book, I feel that I am moving into another world altogether. (just like Puchku!)
---
You can read all of Theresia Alit's translated storybooks here.
Do join the conversation by leaving your thoughts in the comments section below. You can also reach out to us through our social media channels: Facebook, Twitter and Instagram.
comment (1)
---

Azad India Foundation (AIF) was founded by Yuman Hussain in 1998 to seed initiatives in education & primary health care. The organisation's activities reach out to marginalised women, adolescents and underserved children from rural and urban areas of the Kishanganj district in Bihar.
We are delighted that AIF is participating in our Freedom to Read campaign for the second year in a row. They are also our first partner-translator this year to have completed their goal of translating 70+ Surjapuri bilingual books (English-Surjapuri and Hindi-Surjapuri). In an email interview, Yuman Hussain, Executive Director of Azad India Foundation, tells us about the importance of bilingual books and how these books have helped children read and learn in their mother tongue.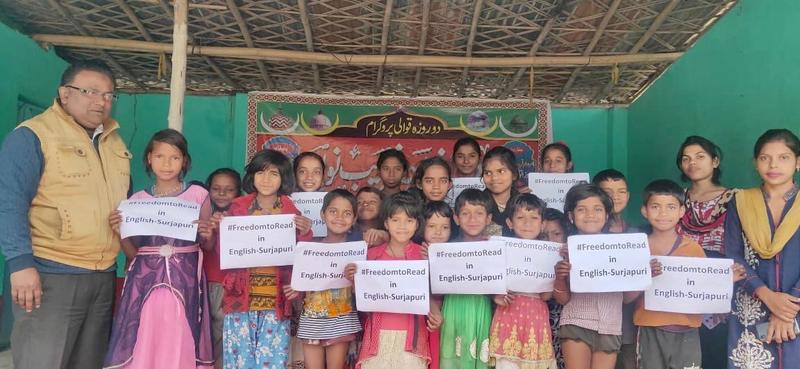 The Azad India Foundation team and the children in their learning centre in Bihar
"Azad India Foundation is delighted to be part of the #FreedomToRead campaign for the second year in a row. Foundational learning skills like reading are essential for a child's progress. StoryWeaver is a unique platform that allows children to learn these skills joyfully in their mother tongue."

- Yuman Hussain, Executive Director, Azad India Foundation
We are delighted that Azad India Foundation has participated in the Freedom to Read campaign for the second year in a row! How does it feel to be a part of the campaign for the second time?
It feels great to be part of the Freedom to Read campaign once again and to complete the translations well before time! The credit goes to the team. It was quite challenging this year as we chose to create bilingual books in English-Surjapuri.
Do tell us about the Surjapuri community and language: What is the mother tongue footprint and what resources are currently available? What are the challenges faced by Surjapuri children when they enter school?
Surjapuri is a dialect that is spoken in the Seemanchal area comprising Kishanganj, Araria, Katihar and Purnia of Bihar, and with minor variations in some parts of Bengal, neighboring Kishanganj.
I am currently not aware of any resources that are available for children in the local dialect of Surjapuri. In most schools, children learn in Hindi. In some schools, they are also taught in Urdu.
Can you tell us a little bit about how the Surjapuri books created from last year's campaign are being used? Do the children have any favorites?
We have taken printouts of the Surjapuri books from last year's Freedom to Read campaign and these are being used in classrooms for supplemental reading. Some of the STEM books are being used to explain maths and science concepts. The kids really like Gappu Can't Dance (Gappu nachwa ne sakche) and enjoy enacting it in class. However, Fat King Thin Dog (Moto Raja Patla Kutta) is their all-time favourite!
This year, you've chosen to create bilingual books in English-Surjapuri and Hindi-Surjapuri. Could you tell us about the need and benefits of these books?
Bilingual books help children understand concepts easily, and if created in the local dialect, then it becomes so much easier for children to learn. The English-Surjapuri books are great teacher learning material (TLM) for non-Hindi or English speakers. Through StoryWeaver, we have access to thousands of free storybooks. We are aiming to create at least 200 books in Surjapuri on the platform.
We do not have reading material/storybooks in English for our children, so these bilingual books for level 1 and 2 are helping our children learn and read English. Aakansha, our India Fellow at AIF, helps with the reading sessions in English–Surjapuri.
Do tell us about your team who worked to create these 70+ Surjapuri bilingual books, and how they went about the translation process.
We have an enthusiastic young team of translators: Chand Quasar, Juhi and Saqlain, supervised by Muzzamil, who rose to the challenge once again. First, they translated storybooks from Hindi to Surjapuri. Then, I added the English version and uploaded the books on StoryWeaver. It was slightly challenging finding the corresponding words/sentences in English that matched the Surjapuri version, but it was fun.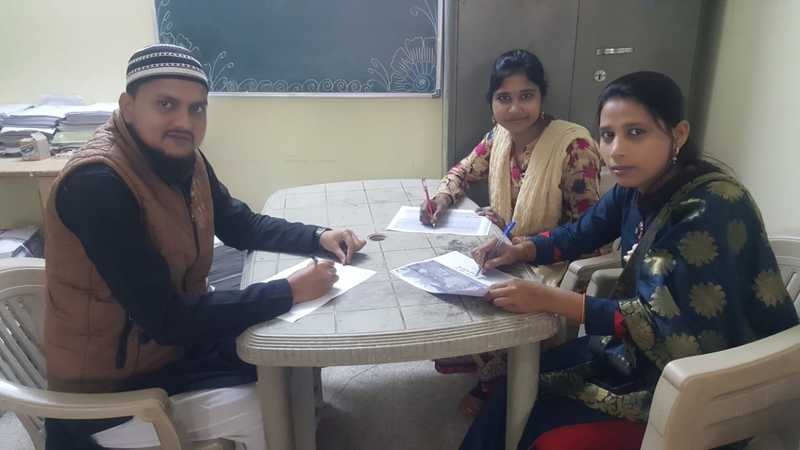 Azad India Foundation's Team Badhte Kadam
Thank you so much, Azad India Foundation, for giving children the #FreedomToRead in Surjapuri!
---
You can read all the storybooks translated by Azad India Foundation here.
Read more about the organisation here.
Do join the conversation by leaving your thoughts in the comments section below. You can also reach out to us through our social media channels: Facebook, Twitter and Instagram.
Be the first to comment.
---