September 30 is International Translation Day - a day that is very important to us at StoryWeaver.
For children to become readers, they must have access to books in the languages they speak and understand. Yet, this is sorely lacking in several parts of the world — there are not enough books, in not enough languages for children to learn and practise reading. A UNESCO study states that 40% of the world does not have access to education in their mother tongue.
In September 2015, Pratham Books set up StoryWeaver with the aim of addressing this scarcity of books for children. StoryWeaver was launched with 800 books in 24 languages. Today, just 6 years later, the platform offers over 38,000 books, and our language footprint has grown to 303 languages - 60% of these languages are indigenous.
In the coming days, we shall share more insights about the guiding principles that have helped us nurture an ecosystem to address the dearth of children's books in mother tongue languages.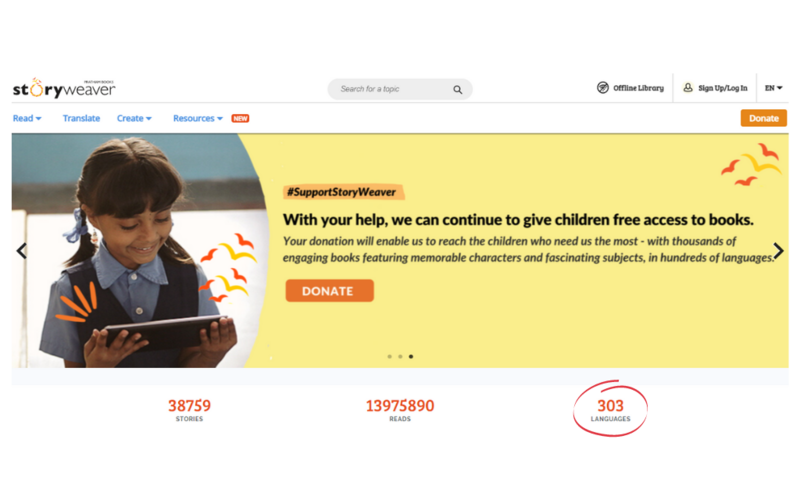 We want to say a big thank you to our wonderful translation community, our partners and collaborators that have helped us grow and learn on this journey to the 300 languages milestone on StoryWeaver. Here's to more storybooks in more languages, so that more children around the world can experience the joy of reading!
Be the first to comment.
---
Reading literacy is not only a foundation for achievement in other subject areas within the educational system but also a prerequisite for successful participation in most areas of adult life. Children who read are able to think more, are able to express themselves more freely and become independent learners.
The National Education Policy (NEP) 2020 emphasizes the importance of well-stocked school libraries and digital libraries to attain the goal of foundational literacy and numeracy for all children by the year 2025. It recommends making quality children's literature available in all local languages to build a culture of reading across the country.
About the CBSE Reading Mission
In order to support reading literacy among students and enable joyful reading experiences, the Central Board of Secondary Education (CBSE), in partnership with Pratham Books' StoryWeaver and with the support of the Central Square Foundation, is pleased to announce the launch of the CBSE Reading Mission. The launch will take place at 3:00 pm on the 20th of September 2021. During the launch, there will also be a teachers' webinar on building a culture of reading in schools.
Link to the CBSE Reading Mission launch YouTube Livestream: https://bit.ly/3ExxoXd
The Reading Mission is a two-year-long initiative, in which all CBSE schools can participate. The Reading Mission will impact young learners across CBSE's network of 25,000 schools, including Kendriya Vidyalayas, the Jawahar Navodaya Vidyalayas, Central Tibetan Schools, schools run/aided by the state governments and private independent schools.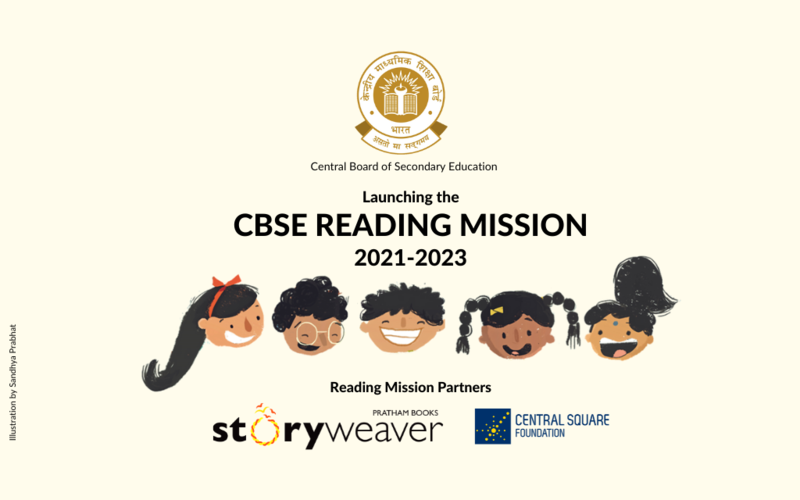 Under the Reading Mission, CBSE schools and teachers will have access to a large repository of openly licensed high-quality children's literature via the Pratham Books Reading Programme, available for free in English and Hindi on StoryWeaver. The Reading Programme offers 144 beautifully illustrated, age-appropriate storybooks that provide a rich reading experience for all children, cutting across geographical, economic, social and cultural divides.
The books are organised grade-wise and thematically for Grades 1 to 8 and are accompanied by supplementary resources such as discussion ideas and activities that can be conducted online, in-classroom or at home.
StoryWeaver will support and empower teachers with training materials on conducting engaging virtual reading sessions and activities through periodic 'Teacher Connect' interactions, where teachers can also discuss best practices, showcase their work and share inputs on the programme design.
For CBSE teachers who would like to participate, or require more details on the CBSE Reading Mission, do visit the Reading Mission campaign page on StoryWeaver: https://bit.ly/39n8FXj
comments (4)
---