Most of StoryWeaver's digital-first books explore STEM (Science, Technology, Engineering, Math) topics in interesting and fun ways. Some of you may remember some of our amazing STEM titles from last year: 'How Old is Muttajji?', 'Jadav and the Tree-Place', 'Up World, Down World', 'Dum Dum-a-Dum Biryani!', etc. We're happy to announce that these are also being printed early next year!
"This year, we've tried to create books that are simpler than last year, based on conversations with our outreach partners. Simpler does not mean easier, of course, and in many ways it has been more challenging. Fortunately, we've been working closely with some of the finest editors, writers, illustrators, art directors and translators who have helped us create a set of wonderful books. While the aim of each book is to inform and educate, the idea is also to nurture the innate sense of wonder in children and in turn, encourage them to explore further," shares Yamini Vijayan, who anchors content creation for StoryWeaver.
Exciting ideas through exciting partnerships
This year, we hope to widen the lens through which children look at the world around them, with stories that explore topics like space, types of houses, trash, seasonal food, subtraction, evolution, simple machines and even toilets!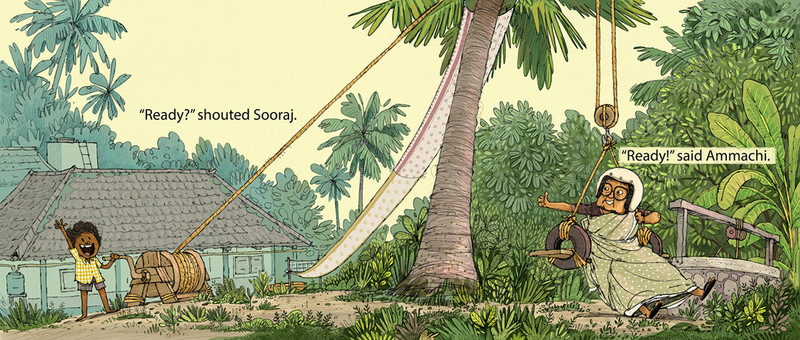 From author-illustrator Rajiv Eipe's book on simple machines
These books have been created in collaboration with 4 Guest Editors and 2 Art Directors. Award-winning author Roopa Pai has steered the books on math, Bijal Vachharajani – a journalist who writes on nature and the environment – has given shape and form to the books on environment, author-illustrator Vinayak Varma, former Editor and Art Director of Brainwave Magazine, has helped create fun science books and author-editor Payal Dhar has made technology and engineering appealing to young minds. With illustrations being such an integral aspect of these books, we were keen to involve experts in the field and so these books have been art-directed by talented illustrators Kaveri Gopalakrishnan and Vinayak Varma. We're excited to say that some of the most promising authors and illustrators have contributed to the creation of these 20 titles.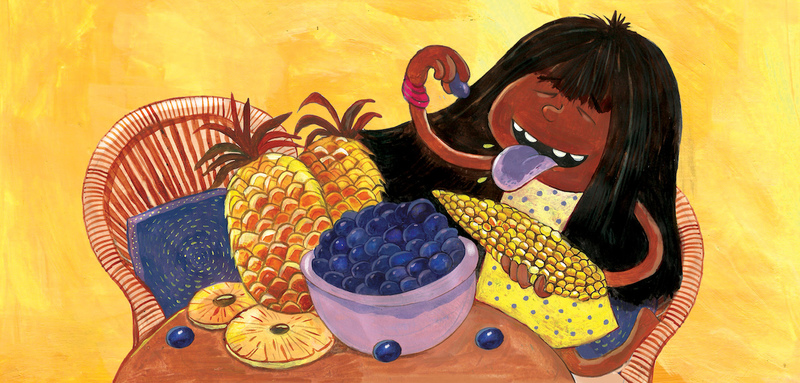 Priya Kuriyan brings Neema to life in vivid colours in 'What's Neema Eating Today?' by Bijal Vachharajani
In Math, we have books on subtraction, patterns of similarity and dissimilarity, division and estimation. Needless to say, all these have been explained through simple stories that show how we use math in our everyday lives and that it isn't restricted to our textbooks alone. At Pratham Books, we have always realized how important it is to have conversations about the environment to children. This year, we have chosen to focus on trash, seasonal food, migration and earthquakes. Themes in science that we have decided to 'storify' are simple machines, virology, evolution and the lives of gharials. We're certain that early readers will become more enthusiastic about science after reading these enchanting stories. You'd think that children's stories on technology and engineering can get a bit boring. Well, you'll change your mind when you read our stories on space, wheels, flying, types of houses and toilets. In addition to these STEM books, we have two moving stories on emotional intelligence, one on anger and the other on perseverance.
Here's what we've digitally published so far:
Environment
What's Neema Eating Today? Neema loves to eat seasonally, and you will to now!
Science
Ammachi's Amazing Machines How simple can simple machines be? Ammachi's here to teach you!
Apu's Giant Earthquake: what's causing those tremors?
Sniffles, in which a girl spreads her cold during a football match.
Ghum-Ghum Gharial's Glorious Adventure, a young Gharial's adventure in the Ganga.
Math
One by Two Share some biryani and gulab jamuns and learn a thing or two about fractions!
More or Less? Need to Guess! How many sweet boxes do the wedding guests need? Guestimation to the rescue!
I Spy! How many children are left at a birthday party?
Same-same or different?, showing the friendship between a Sparrow and a Snake and also explaining the idea of sorting.
Technology
Gul in Space: a girl explores outer space.

In keeping with our commitment to creating good quality multilingual content for children, each of the 20 titles will be translated to Hindi, Marathi, Kannada and Tamil. (Plus, don't forget, on StoryWeaver you can translate the stories to a language YOU'RE fluent in and help us spread the joy of reading to even more children.) The development of these 100 books (20 titles in 5 languages) has been supported by Oracle.
To say that we're excited about these new stories is an understatement! We cannot wait to share them with readers, young and old. Happy reading!
---