K. Suresh likes to be known as a translator and has several books published for adults as well as children. He is one of the founders of Manchi Pustakam, a Trust for publishing and distributing children's books in Telugu. The organisation has more than 200 titles published by it and distributes an equal number of select books by other publishers. His emphasis is on books that create interest in and love for books among children. He feels that there is a great need for graded books that help children to increase their reading capacities. He has translated many stories to Telugu for Pratham Books including 'The Cat in the Ghat!' and 'What If?'. You can read his stories Mouse in the House and Lost and Found on StoryWeaver.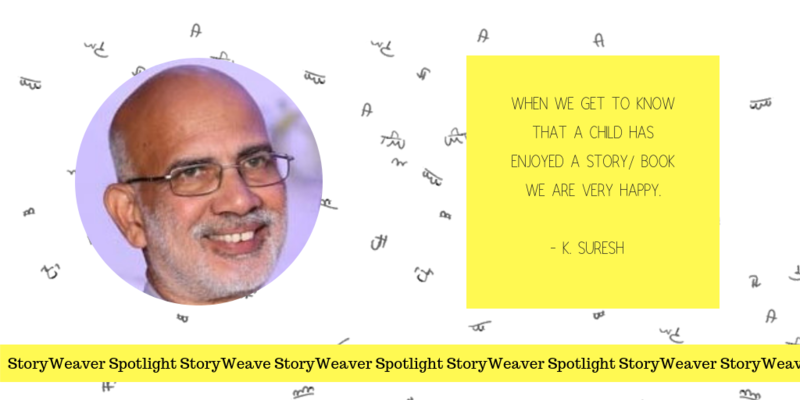 Q: What type of person do you think makes the best translator for children's stories?
A person who loves books, likes children and respects them.
Q: Do you have any advice for anyone interested in becoming a translator?
A: The person should have good command over both the languages and should know the nuances. S/he should also know the cultural context and usage of idioms and phrases in both the languages. One should also read a lot.
The language for children should be simple. While translating one should use available vocabulary, though English words are commonly used. After completing the translation, give some gap and read it again without the source language text. Read it objectively, as if it was done by others and your job is to find errors in it.
Q: A book you'd like to recommend to other translators?
I suggest that the translators start with what they like and should feel that the children in the other language would miss a lot if that book isn't translated. Obviously, I would suggest a book that I love very much.
Q: What is your personal relationship to language and/or translation?
I love to read books. I have started my work as a sub-editor in a Telugu newspaper, which involved translation and cultivated it over the years. I am not a creative writer, so I take pride in translation!
Q: When you've been given a story to translate, what's your process, and how long does it generally take?
Sometimes I jump into translation. Sometimes, I read the entire story and sleep over it. While reading and in the free time, I think about the appropriate words and how it will be in Telugu.
Q: What do stories in translation bring to young readers?
It opens up their world! It introduces a new culture.
Q: You've translated stories for us. Which has been your favourite to work on?
I had the fortune of translating, reviewing and being a Guest Editor for Pratham Books. I liked translating The Cat in the Ghat!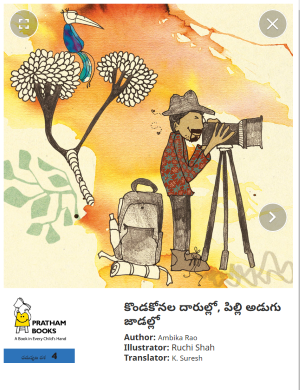 Q: What is the hardest thing about translating from English into Telugu? How do you navigate words or phrases that are tricky to translate?
The structure of English sentence is complex; it can take several adjectives and be very long. Breaking the sentences while translating sometimes results in losing the emphasis. The rhyming and punning with English words is difficult to translate. After the first translation, I explore simpler expressions and choice of vocabulary.
Q: How do you feel when your story reaches the child?
When we get to know that a child has enjoyed a story/ book we are very happy.
Q: Translating stories must have required research when it came to STEM related terms and concepts. How did you explore new objects and concepts?
For some words, I look up the dictionary. Sometimes re-writing helps. Constant reading will add to one's vocabulary.
Q: How else do you think we can join hands to take more stories to more children in more languages?
Pratham Books and Tulika are doing excellent job in multi-language publications. StoryWeaver is providing a platform for exchange of books in various languages. Arvind Gupta is encouraging multi-language translations of children's books and posting them on internet archive. Earlier there was considerable direct translation in regional languages, now English has become the connecting language. A publishers' consortium for exchange of rights would be beneficial.
Q: As a publisher and translator what do you think is the best way to approach a child?
The general tendency is to preach to children, which I do not subscribe to. We expect lot from children without practising/ following them. The best way is to make a range of books available to children from which they can choose. We should not be overly worried about what they learn from a book. They will definitely learn from books and the society at large.
---
0 Comments