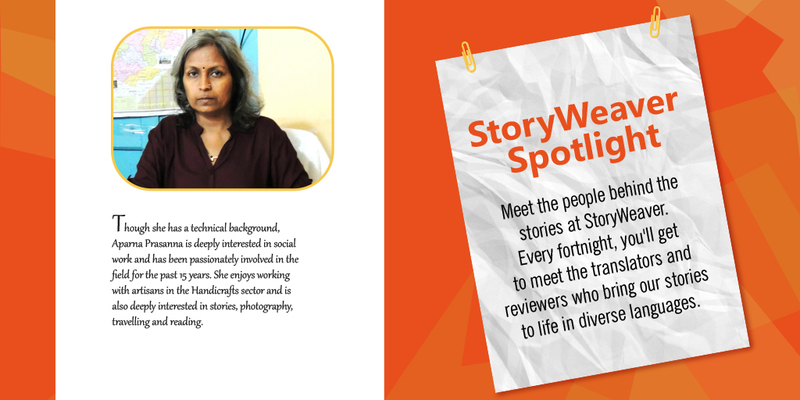 Q: What do you usually read? Which language do you prefer to read
Fiction, non-fiction, history, mythology. I read anything I can lay my hands on. I prefer to read in Kannada and English.
Q: Do you have a favourite book / author and why is it a favourite?
Yes, 'Mankutimmana Kagga' and 'Kaanoorina Heggadati' in Kannada are my favourite books.
Q: You have contributed for us immensely. How has the StoryWeaver journey been?
It has been a wonderful journey, I have enjoyed every bit of it.
Q: Could you share with us a story or anecdote from the translations / reviews? Or one big thing that you take away from this experience?
I have loved experiencing my childhood again with children surrounding me while I read them these stories.
Q: How does it feel when your story gets published online?
Oh! It brings a smile on my face.
Q: You have translated / reviewed a handful of stories for us. Which one has been your favourite and why?
There are two books I am particularly fond of: 'Jadav and the Tree Place' and The Wall Book.'Jadav and the Tree Place' is a very positive story showing how we can create wonders and that efforts do not go wasted. The Wall Book was full of information on human race and its civilisations, which I loved.
Q: What is your key driver in taking this up?
I do feel strongly about my language. And I enjoy translating stories for children so that they can read in their mother tongue.
Q: How else do you think we can join hands in taking bigger steps for children's literature?
I think introducing story telling sessions, where the kids can narrate stories would be a good step.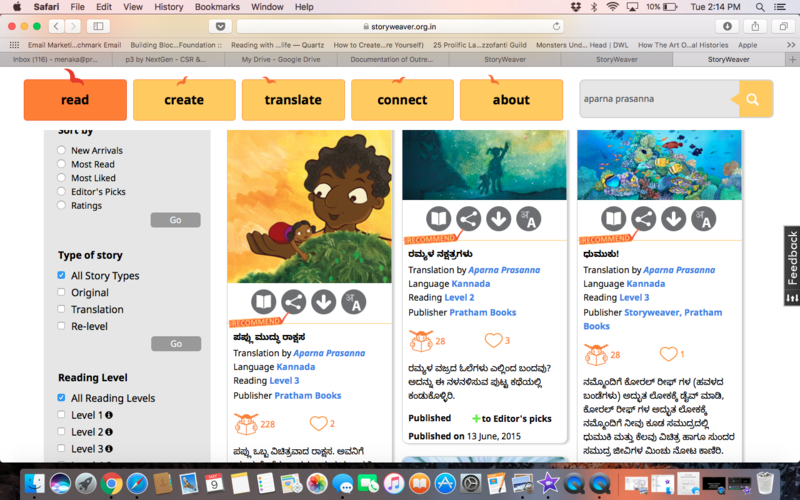 Q: How has the overall experience with StoryWeaver been?
ಅತ್ಯಂತ ತೃಪ್ತಿದಾಯಕವಾಗಿತ್ತು. ಅದ್ಭುತವಾದ ಕಲಿಕಾ ಅನುಭವವಾಗಿತ್ತು
Immensely satisfying and a wonderful learning experience.
Q: You seem to be having fun with the translations and reviews…could you share your 'secret recipe' for this with us?
I just love what am doing!
---