Due to the COVID-19 pandemic, more than 1.5 billion children and youth are out of school. With this, the need for reading materials for children that can be accessed at home, is more urgent than ever. StoryWeaver is collaborating with UNHCR, UNESCO, The Global Digital Library, The Global Book Alliance, The Asia Foundation and Learning Equality, to call for translation volunteers to accelerate the creation of multilingual digital reading material via the #TranslateAStory campaign.
You can participate in this campaign by volunteering to translate on StoryWeaver. It's easy!
Step 1: Find the book that's just right for you
StoryWeaver has over 1000 high quality books to translate from. A simple Level 1 book usually takes under 20 minutes to publish on StoryWeaver. You can also choose to translate books from 60 languages, like English, Hindi, French, Spanish, Thai, and many more.
Looking for some inspiration for which storybooks to translate? We've put together a list of books here, which includes wonderful books like Incredible Insects: A Counting Book, Bobo and the Worms, The Runaway Pig, Ira Investigates the Invisible, and several others.

And if the book you have selected has already been translated - no problem! The StoryWeaver recommendation engine will share some more options for you to choose from.
Step 2: Translate - Online or Offline!
The StoryWeaver Translate tool supports translation into 234 languages, and has a Dictionary to help you choose the appropriate words for your translation. Have a limited Internet connection? We are still here for you! You can save the book to your Offline Translate Library and sync when you have connectivity.
Here is a step-by-step guide on using the StoryWeaver Translate tool.
Can't find your language? Have some queries? Write to [email protected] or review our FAQ page.
Step 3: Publish & Share
As soon as you hit publish, your storybook will be published under New Arrivals. Don't forget to share your storybook with your friends. And of course build your author profile!
Join the #TranslateAStory campaign: TRANSLATE NOW
By submitting your translation to StoryWeaver, you are agreeing to a CC-BY 4.0 license being applied to it. Terms and conditions apply.
comment (1)
---
The #TranslateAStory campaign will accelerate the creation of multilingual digital reading material, which will help children continue their learning journey at home, and give them access to books in languages they use and understand.
You can volunteer by translating a storybook (or books) on StoryWeaver. All you have to do is sign in to your StoryWeaver account and use our simple Translate tool - through this you will have access to thousands of delightful storybooks that you can translate
Here are the answers to FAQs, and the links to translation tutorials:
1. Who is eligible to participate?
Anyone who is fluent in two or more languages is urged to participate.
Individuals who are educators or translators, literacy organisations, education advocacy organisations, organisations working at the grassroots with native communities, university / college language departments or tribal departments, organisations working in language revitalization, language organisations, translation organisations, Bhasha Mandals - everyone is welcome to join the campaign.
2. Can we translate more than one book? Can we translate books into more than one language?
Yes! Every translation makes a difference.
3. I have no prior translation experience - is that okay?
It is absolutely fine if you have no prior translation experience - if you are fluent in two or more languages, you are all set!
Refer to our translation resources here, for some useful tips on the nuances of translating children's storybooks.
4. How do I use the StoryWeaver Translate tool?
Here is a step-by-step guide on using the StoryWeaver Translate tool. You can check out our video tutorial here.
5. StoryWeaver doesn't have my language listed. Can I still participate?
Do write to us at [email protected]- we shall add your language to StoryWeaver, provided there is a Unicode compliant font for your language.
6. Is there prize money to be won?
This is not a contest, rather an invitation to volunteer our time and language expertise. There is no prize money.
7. How will I get credited for the book(s) I translate?
Once you create your own, individual account on StoryWeaver, this ensures that you receive an attribution for your translation.
8. There are 4 reading levels - what does this mean? Does it make a difference to the translation?
It is always good to keep the reading level of the child in mind while translating a storybook. Use the 'filter by level' option on the Translate page to browse and choose a book.
Level 1:

Storybooks for beginner readers. These books usually have short, simple sentences and don't have more than 1-2 sentences per page.

Level 2:

Storybooks for those who are learning to read, based on simple concepts. The books have short sentences and there are not more than 3-4 sentences per page. However you will find that some big but common words are used in these books.


Level 4: These stories are meant for those who can read proficiently and have nuanced storylines. The books have complex words, longer sentences and paragraphs. These stories sometimes contain language play like idioms, metaphors, similes, etc. Also words from other languages are introduced.

We hope this helps!
Looking for some inspiration for which storybooks to translate? Start here.
By submitting your translation to StoryWeaver, you are agreeing to a CC-BY 4.0 license being applied to it. Terms and conditions apply. For more read here.
For any other queries, do write to us at [email protected]
Be the first to comment.
---
Gireesh is a writer, visual artist and translator from Chennai. A fine arts graduate, his book was published last year in Tamil and an English translation is under progress. He has translated many storybooks on StoryWeaver including Friends Under the Summer Sun and Who Stole Bhaiya's Smile?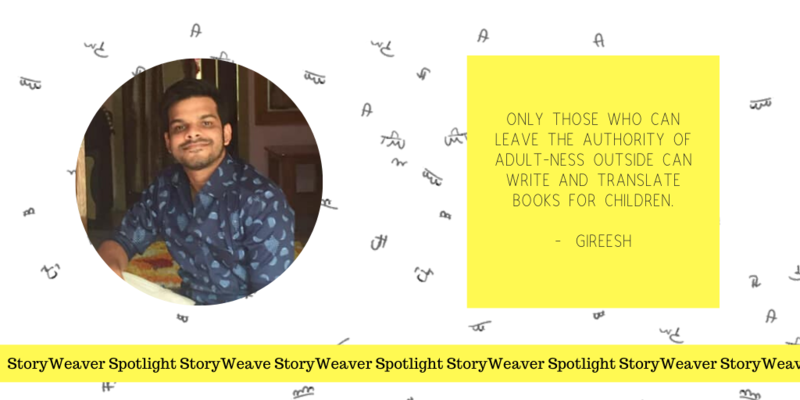 Q: Can you tell us anything about yourself and your job that would surprise us?
நான் ஓவியக்கல்லூரியில் படித்து விளம்பரத்துறையில் வேலை செய்கிறேன். விடுபட்டவை எனும் புத்தகமும் எழுதி இருக்கிறேன். பத்திரிக்கைகளுக்கு கட்டுரைகளும் கதைகளும் எழுதும் பழக்கமுண்டு.

I am an arts graduate from the Fine Arts college, working now in advertising. I have written a book called Vidupattavai, among other stories and articles.
Q: What is your personal relationship to language and/or translation?
எனக்கு புத்தகங்கள் வாசிப்பது மிகவும் பிடிக்கும். வாசிப்பதன் மூலமாக புதிது புதிதான வார்த்தைகளையும் சொல்லாடல்களையும் கண்டுகொள்ள முடிகிறது.
I love reading. I find new words and expression through reading.
Q: When you have been given a story to translate, what is your process, and how long does it usually take?
முதலில் அந்த கதையை முழுவதுமாக வாசிப்பேன். மொழிபெயர்ப்பதற்கு முன்னால் அந்தக் கதையை மனதிற்குள் பலமுறை தமிழில் சொல்லிப்பார்ப்பேன். பின்னர் அதை மொழிபெயர்ப்பு செய்வேன். மொழிபெயர்க்க இரண்டு முதல் மூன்று மணிநேரங்கள் எடுத்தாலும் குறிப்பிட்ட இடைவெளியில் அதை வாசிப்பேன். தேவைப்படும் மாற்றங்கள் செய்வேன். வாசிக்கும்போது கடினமாக இருக்கும் வார்த்தைகளையும், பெரிய பெரிய வாக்கியங்களையும் கூடுதல் கவனத்தோடு மாற்றுவேன்.
I read a story and tell it to myself in Tamil a few times. I spend a few hours translating it, and I read it a couple of times at regular intervals to make changes. When I feel certain words or sentences are hard, I change them with extra care.
Q: How did you cultivate the skills needed to translate books for children?
குழந்தைகளுக்கான புத்தகங்களை மொழிபெயர்க்க தொடங்கியபிறகு நிறைய குழந்தைகள் புத்தகம் வாசிக்கிறேன். பெரும்பாலான புத்தகங்கள் பெரியவர்கள் மொழியிலேயே இருப்பதால் வார்த்தைகளுக்கான மாற்று வார்த்தைகளைத் தேடிக் கண்டுபிடிக்கிறேன். எளிதான வார்த்தைப் பதங்களை தொடர் வாசிப்பில் இருந்தே பெற முடிகிறது.
I've read a lot of children's books since I started translating books for kids. Since most books are for adults, I look for alternative words for words. You can get easy word phrases from a series of readings.
Q: What was the experience of translating a children's book like, compared to translating/writing for adults?
பெரியவராக இருப்பதால் பெரியவர்களின் மொழி புரிந்து விடுகிறது. ஆனால் குழந்தைகளின் மொழியைப் புரிந்து அவர்களுக்கான மொழிபெயர்ப்பு செய்வது என்பது சவாலாகவே இருக்கிறது. சமயங்களில் இது குழந்தைகளுக்கு புரியாது என இன்னும் எளிமைப்படுத்தும் விதத்தில் எழுத முயற்சிக்கும் வார்த்தைகள் குழந்தைகள் ஏற்கனவே அறிந்து வைத்திருப்பது ஆச்சரியமாக இருக்கிறது. மேலும் குழந்தைகள் புத்தகம் என்றாலும் நான்கு நிலைகளில் உள்ள குழந்தைகளிடம் கொண்டு சேர்ப்பதும் சவாலான வேலையே.
As an adult it is easy to understand adults' language. But to understand and translate in a child's language is hard. Sometimes when I try to simplify words thinking it might not be understood by children, it was surprising to know children already knew those words. It is also challenging to work across four different levels.
Q: You have translated more than a few books for us now. Which is your favorite among them and why?
நான் மொழிபெயர்ப்பு செய்த கதைகளில் எனக்கு மிகவும் பிடித்தது கோடைகால நண்பர்கள். குழந்தைகளிடம் பாலினம் குறித்த மிகத்தேவையான உரையாடலையும், சகமனிதர்களை அவர்களாகவே ஏற்றுக்கொள்ள வேண்டும் என்கிற கருத்தையும் அந்தக் கதை கூறியதால் எனக்கு அது பிடித்திருந்தது.
Friends Under the Summer Sun was my favorite. As it starts the necessary discussion about gender, and tells every kid to accept others as they are, I like it.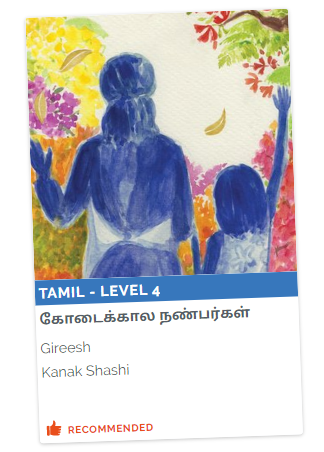 Q: What is the hardest thing about translating from English into Tamil? How do you navigate words or phrases that are tricky to translate?
பெயர்களையும் ஊரையும் மொழிபெயர்ப்பில் கொண்டுவருவதே சிரமமாக இருக்கும். சில சமயம் ஒரு நல்ல கதையை மொழி பெயர்க்கும்போது நம்மால் பொருத்திப்பார்க்க முடியாத பெயர்கள் இருக்கும்போது அவற்றுடன் தொடர்புபடுத்த முடியாது. அம்மாதிரியான சமயங்களில் வாய்ப்பிருந்தால் அர்த்தம் மாறாத மற்றும் தொடர்புபடுத்தக் கூடிய பெயர்களை உபயோகிக்கிறேன். பின்னர் உணர்வுகளை வெளிப்படுத்த பயன்படும் எந்த பொருளும் இல்லாத சத்தங்களும் கடினமே. அவற்றிற்கு இணையாக தமிழில் பயன்படுத்தப்படும் சத்தங்களை அந்த இடத்தில் பயன்படுத்துகிறேன்.
It is hard sometimes to capture names of persons and places. In such situations, I make them sound more relatable. Onomatopoeia is always a challenge, I try not to transliterate and use sounds more relatable to Tamil readers.
Q: What type of person do you think makes the best translator for children's stories?
குழந்தைகள் உலகத்துக்குள் பெரியவர்கள் எனும் அடையாளத்தோடும், அதிகாரத்தோடும் நுழையாத ஒருவரால் மட்டுமே குழந்தைகளுக்கான புத்தகத்தை எழுதவும் மொழிபெயர்க்கவும் முடியும்.
Only those who can leave the authority of adult-ness outside can write and translate books for children.
Q: Do you have any advice for anyone interested in becoming a translator?
நமது திறமையையோ நமது மொழிப்புலமையையோ குழந்தைகளுக்கு நிரூபிப்பது நமது வேலையல்ல. ஏற்கனவே எழுதப்பட்ட புத்தகத்தை சுவையும் கருத்தும் மாறாமல் எளிமையாக நமது மொழியில் மாற்றிக் கடத்துவது மட்டுமே நமது வேலை என்பதைப் புரிந்துகொள்பவராலேயே ஒரு நல்ல மொழிபெயர்ப்பை செய்ய முடியும்.
We are not trying to impress children with our talent and language skills. We only transfer a book with the same feel and simplicity. One can be a good translator if they understand these.
---
You can read all the books translated by Gireesh here.
Do join the conversation by leaving your thoughts in the comments section below. You can also reach out to us through our social media channels: Facebook, Twitter and Instagram.
Be the first to comment.
---