StoryWeaver is celebrating this festive season by presenting to you our year end wrap. Come, let us soak in this holiday season by reading our most loved stories from 2022. This festive season, let us remember the joys of the year gone by and greet the new year with hope, and renewed enthusiasm. Here is a list of fun and sparkling stories to introduce to the child.
1. A Bunch of Flowers: What is happening to Peri's mother? His mother is always sleeping, her room is always dark like a thick forest of tall trees. In this wordless book for emergent readers, Peri thinks of ways to bring the outdoors and sunshine back into their home and into his mother's eyes. Immerse yourself in this lovely picture book on hope, support, and understanding written by Liwliwa Malabed, illustrated by Saumya Oberoi, and published by Singapore Book Council here.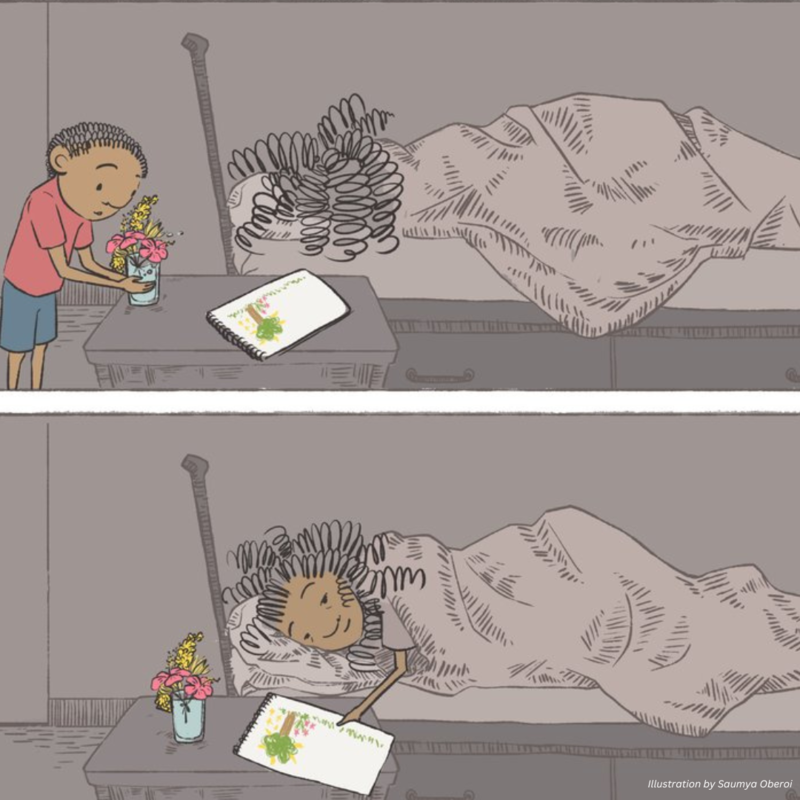 2. How Many?: Crawling snails, fluttering butterflies, pigs in the mud. This book has so many animals, and more keep joining in. Can you count them all? Count your way through complex maths concepts with this richly illustrated book written by Sudeshna Shome Ghosh, illustrated by Sayan Mukherjee, and published by Pratham Books here.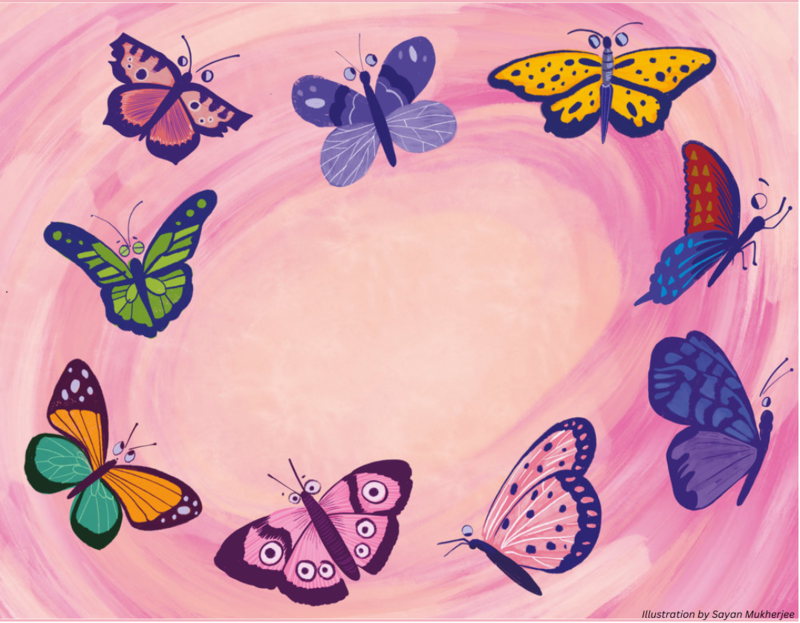 3. Brave Bora: Going to the doctor can be scary! Can Bora overcome his fears, with a little help from Baba and Jojo? Explore your own courage through this beautiful story on love and support written by Edna Gicovi, illustrated by Ellen Heydenrych, and published by Book Dash here.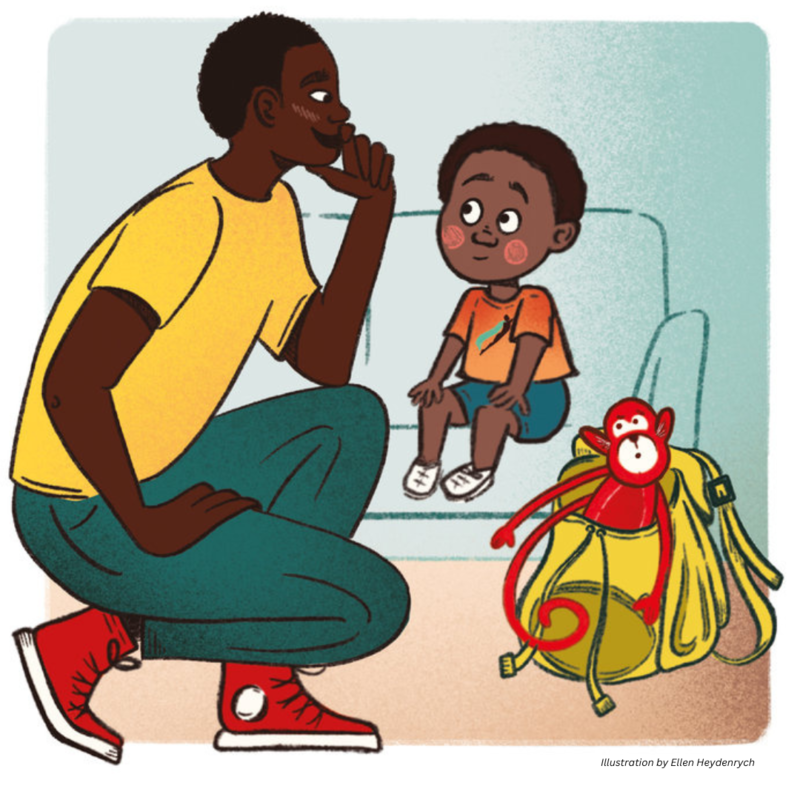 4. Haru: Meet Haru, who loves to eat, run and play. Even though there are nights when it's hard to find a warm place to sleep, or days when there isn't enough food to eat, Haru is always certain that tomorrow will be better. After all, as long as there is love and joy, it's not a bad life! Discover the joy in the little things in life through this book written and illustrated by Manjari Chakravarti, and published by Pratham Books here.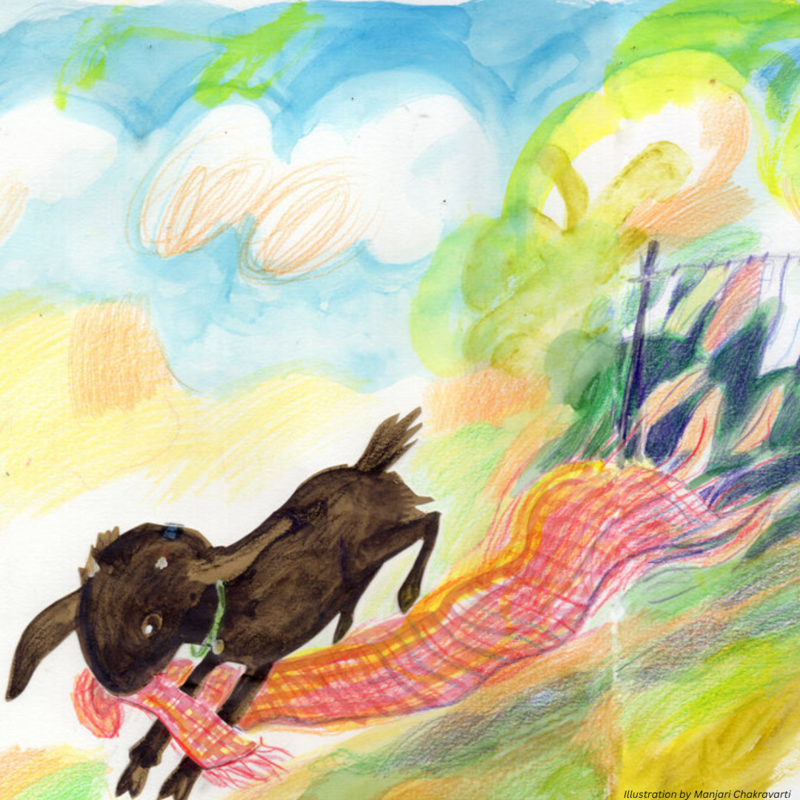 5. At Home: Ammini misses school, and her brother Unni misses his aunt. Both of them miss playing in the park. But everyone has to stay indoors. Maybe they can go out for a walk today? Ammini hopes so. A day in the life of two children in a time of lockdowns and social distancing. Join Ammini on her journey as she tries her best to keep hopeful and carry on during tough times written by Shweta Ganesh Kumar, illustrated by Annand Menon, and published by Pratham Books here.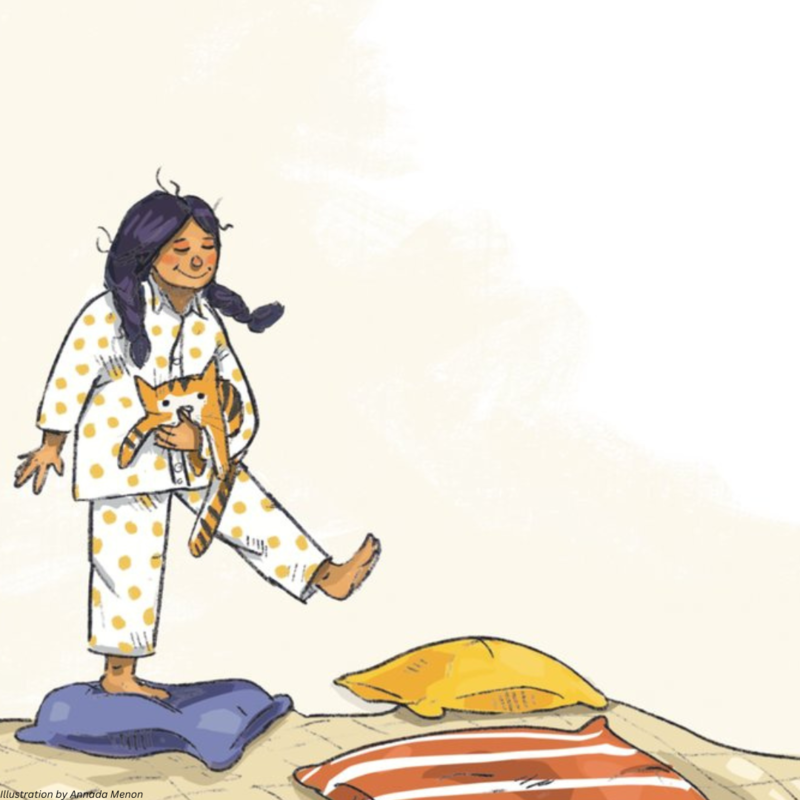 ---
As we look back, this past year has been about recovering from the impact of the Covid-19 pandemic with the realisation that we must continue our efforts to make the joy of reading fun, free, and accessible to all. Help us continue our journey of spreading the cheer of reading. If you like our work, consider donating to StoryWeaver. No amount is too small, and we appreciate every single contribution.
To make your contribution, click on: http://bit.ly/3PHTht5
comment (1)
---
Today is World Science Day and 2022-23 is the International Year of 'Basic Sciences for Sustainable Development'. As part of these observances, UNESCO emphasizes the importance of giving children access to quality science education from an early age, to encourage them to 'develop curiosity', and 'value the quest for truth'.3

We are delighted to mark World Science Day with the launch of the Pratham Books STEM Literacy Programme that helps early learners discover STEM concepts through the magic of storybooks.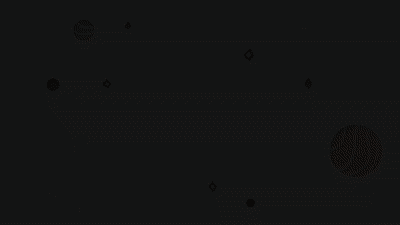 Our story-based learning approach
At Pratham Books' StoryWeaver, we are firm believers in the role that stories can play in making STEM inspiring and thrilling for young learners.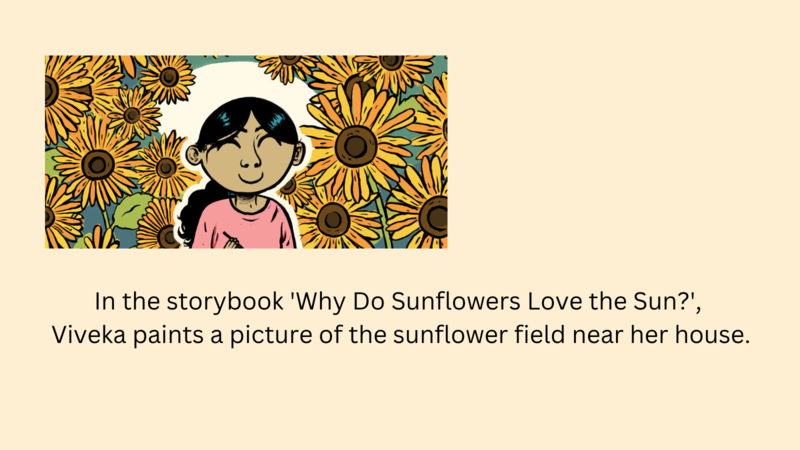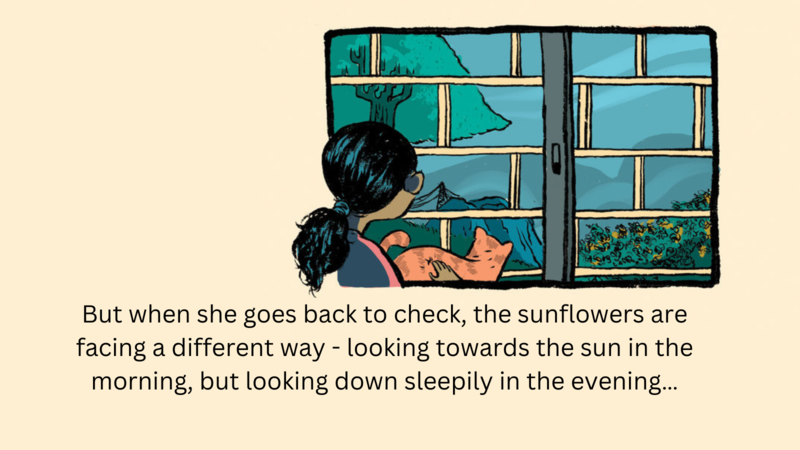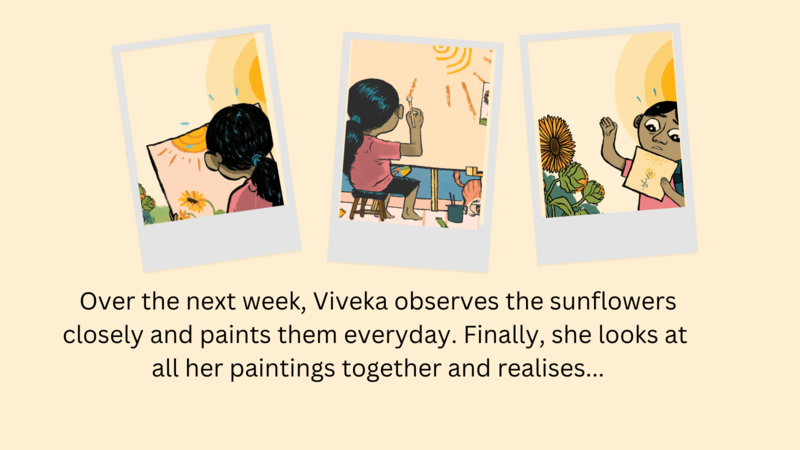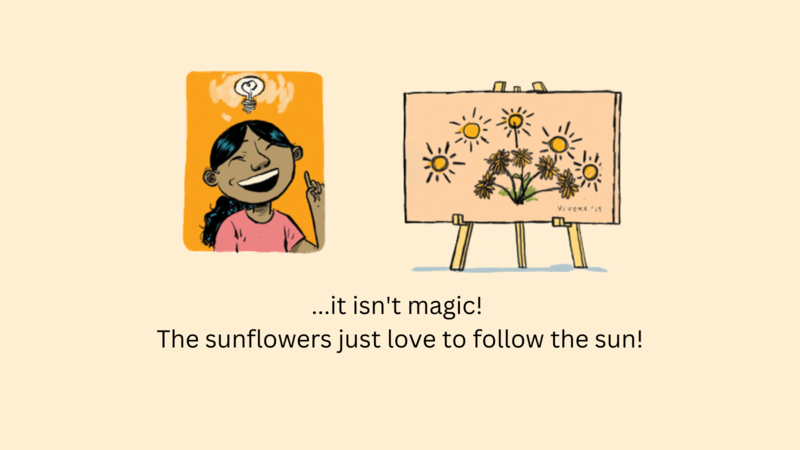 Stories have the ability to feed our curiosity, our urge to know "what happens when…", which is precisely what makes them such a powerful learning tool.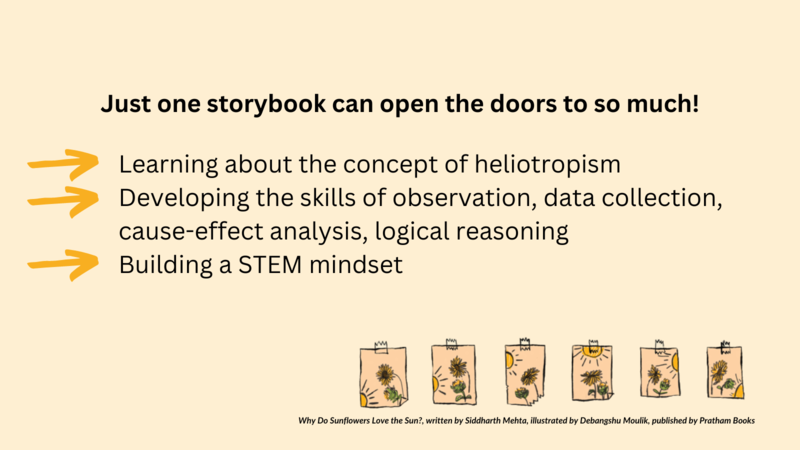 Highlights of our STEM Literacy Programme
The programme offers digital story-based learning resources for Grades 1 to 5, that teachers can use to spark discovery and engagement across a broad range of Maths, Science & EVS topics.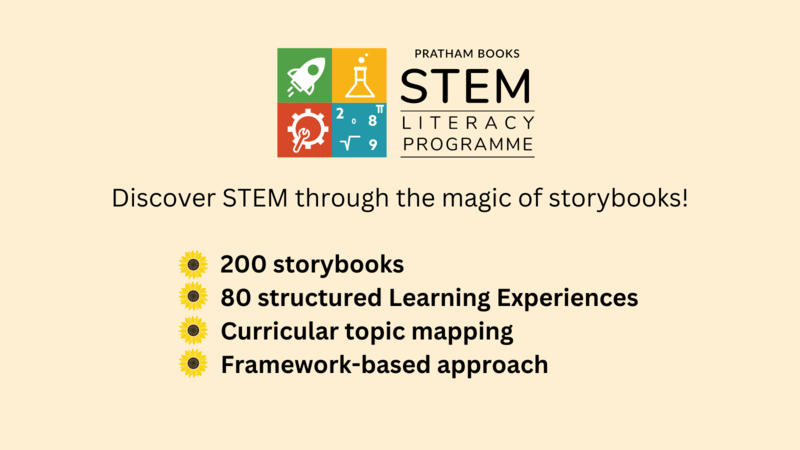 STEM literacy builds core 21st century competencies like curiosity, perseverance, problem-solving and innovation - enabling a lifetime of learning.Teachers play a pivotal role in helping children build these foundational skills. We hope that we can support them with this programme, by bringing the magic of storybooks into the classroom.
Explore the STEM Literacy Programme
*Illustrations from:
Anna's Extraordinary Experiments with Weather, written by Nandita Jayaraj and illustrated by Priya Kuriyan
Why Do Sunflowers Love the Sun?, written by Siddharth Mehta and illustrated by Debangshu Moulik
comment (1)
---
About us:
Pratham Books (www.prathambooks.org) is a not-for-profit children's book publisher that was set up in 2004 to publish good quality, affordable books in many Indian languages. Our mission is to see 'a book in every child's hand' and we have spread the joy of reading to millions of children in India. As a publisher serving every child in India, Pratham Books has always pushed the boundaries when it comes to exploring innovative ways in which to create access to joyful storybooks and have been fortunate in finding partners to collaborate with who share this vision.
In 2015, Pratham Books increased its footprint by going digital. As an industry leader, we were one of the first publishers in the country to open license our content. All this content is now available on StoryWeaver, which is a digital platform that hosts books in languages from India and beyond, so that every child can have an endless stream of storybooks in her mother tongue to read and enjoy. The books can be read, translated, versioned or downloaded for free.
Our Programmes:
StoryWeaver has created the following educator focused digital interventions:
Reading Programme - RP offers 144 beautifully illustrated multilingual age-appropriate storybooks that provide a rich reading experience to all children.
Foundation Literacy Programme - The FLP program consists of 90 storybooks in Hindi and Marathi across 6 reading levels for Grades 1 to 3.
STEM -Literacy Programme - Pratham Books' StoryWeaver has created a comprehensive STEM literacy program for Grades 1 to 5 in five languages.
We are looking for an Associate Partnerships Manager for Maharashtra to join our Partnerships Team.
Scope of Work/ Duties:
As Associate Partnerships Manager, Maharashtra, your core responsibilities with Pratham Books StoryWeaver will include the following:
Partnerships & Project Management
Partnerships building with State Education Departments, Ed Tech Companies, NGOs and CBOs in the state of Chhattisgarh, in addition to other states

Identifying and bringing on board new Marathi language partners for STEM, FLP and Reading Programme

Identify partnerships for platform (content and features) adoption at scale
Serve as the primary point of contact for all operational questions about the project internally and externally

Create and maintain detailed timelines/work plans for all project deliverables and key milestones

Deliver project status updates to internal team and stakeholders

Support in preparing project launch, weekly check-ins, to identify and capture recommendations for future execution

Prepare monthly project reports, an end project report on best practices, challenges, case stories etc.
Capacity Building
Facilitate the planning of capacity building / training of various stakeholders in the program

Support organising and completion of capacity building for stakeholders

Support the team to prepare lesson plans and editable collaterals
Impact Documentation and Monitoring & Evaluation
Support in implementing the monitoring and evaluation of project operating within Reading Programme, FLP and STEM programmes, developing and maintaining the MIS of the project/s

Support the research agency to complete the baseline and endline evaluations and providing them with necessary support from the district functionaries

Submit monthly reports on the programme implementation, reflecting achievements made, challenges and solutions for donor agency, and other key stakeholders

Documenting project successes and learnings in the form of case studies, video stories and short films
Eligibility:
Post Graduate degree in Social Work/Sociology/Education/Management or any other relevant discipline

Minimum 5 years of relevant work experience of working with Government Education Departments

Dynamic person with good communication skills and zeal to learn

Should be fluent in writing and reading in English and Marathi

Should be able to work on word, PowerPoint and excel sheets

Should be able to write reports and minutes of meetings

Should be willing to travel within Maharashtra as the job requires extensive travel within the State
Reporting:
The Associate Partnerships Manager, Maharashtra will be directly reporting to the Senior Manager - Partnerships
Duration of the engagement:
1 year (starting from September 20th, 2022)
Location:
Pune
Compensation:
Compensation offered will be commensurate with the qualifications and experiences of the candidate
How to Apply:
Interested candidates can email their detailed CV by the 15th of October, 2022 to [email protected]. In the subject line, candidates must specify 'Associate Partnerships Manager, Maharashtra'.
*Please note that only shortlisted candidates shall be notified by us.
comment (1)
---