Outreach team member Khyati Datt writes about our recent workshops with Teach For India in Bangalore and Delhi.
StoryWeaver has collaborated with many organisations in order to take stories to more and more children. One such organisation that works with children directly is Teach For India and we conducted a StoryWeaver workshop with the Teach for India fellows in Delhi and Bangalore. We invited fellows from the organisation to spend a few hours with us and brainstorm around ways that stories could be integrated with everyday teaching in the classrooms.
With the fellows coming straight from school, the workshops were shorter than our usual workshops but the fellows were actively engaging with us despite the long tiring day that they'd just had.
The session in Delhi began with a quick round of introductions where the fellows told us their role in the organisation. It was great to see that the participants worked in different verticals of the organisation - there were Program Managers, First year fellows, Content Advisors and TFI alums in the audience. After a brief introduction of Pratham Books and StoryWeaver, we dived into the demo of StoryWeaver and the functions available on the platform.
We discussed with them the various ways that different organisations were using the content on the platform to give the participants ideas on how to combine learning with fun! We also saw videos of teachers and organisations using StoryWeaver with their students and shared our thoughts on whether stories could help make classes more joyful. The fellows then went on to their first task of the session - looking for interesting stories and plugging them in in a lesson plan. While some fellows decided to use the story for Reading Comprehension, others chose to use a STEM book to introduce the children to the concept.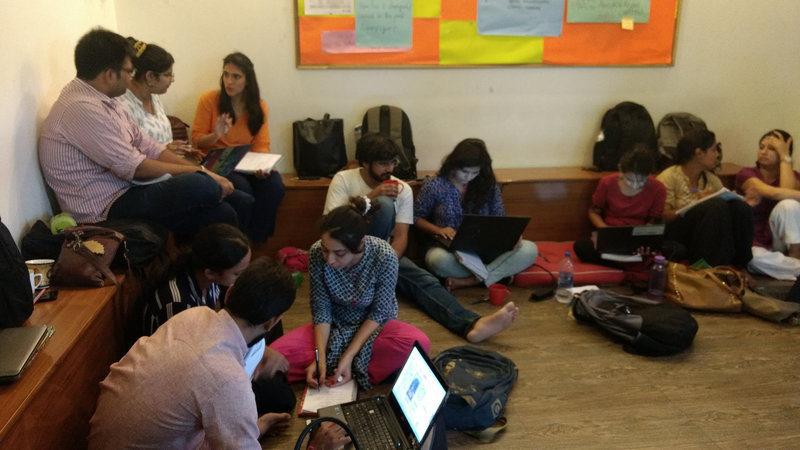 After hearing the thoughts of the participants on what they'd seen so far, we asked them to do the most interesting task of the workshop - creating stories! The fellows saw this as an opportunity to create the kind of stories that they thought would work in their classrooms and added a fun element to their lessons. We received some great stories from the audience, with flying animals and dream schools!
We ended the session with a question - actionable ways through which stories could be used with children. While some fellows were excited to share their takeaways from the session with other fellows, the alums wanted to understand how stories could be used in their context.
We conducted the same workshop with the Teach For India Bangalore fellows. All the participants were in their first year of fellowship and were happy to share their experience in the classrooms and discuss with us ideas on how they could use stories to make children learn in a joyful manner!
Both the workshops gave us an opportunity to interact with people who were working with children directly and we thank Teach For India Delhi and Teach For India Bangalore for arranging the same.
If you are interested in hosting a similar workshop for your organisation, drop us an email on [email protected]
Be the first to comment.
---
Reading is one of the most essential components of a child's learning & development journey. At Pratham Books and StoryWeaver, we understand this and StoryWeaver came about with the exact purpose of increasing access to books for children in languages and context that they enjoy - in a boundary-less digital way.
StoryWeaver (http://www.storyweaver.org.in/) is an open source, digital repository of multilingual children's stories. StoryWeaver is an especially useful tool for organisations and individuals working in Education, allowing them to:
Browse, read and curate a reading list from over 9700 stories across 122 languages

Download stories for offline reading

Create a new story or a set of flashcards from an image bank of over 13000 illustrations

Re-level or remix a story to suit your child's needs

Translate stories to a language of your choice
And best of all, ALL of this is absolutely FREE
We invite educators, librarians and resource people to attend the StoryWeaver workshop to be held in Hyderabad. To celebrate the diversity of languages we have, we are planning to conduct the workshop session in English on the 29th of November and in Telugu on the 30th of November. You are requested to give your preference for the date/language while signing up and we will confirm the final date and the venue of the workshop to you at a later stage. However, just in case we have lesser number of participants for the Telugu workshop, we will be looking at doing a bilingual one on 29th itself. Please do make a note of this.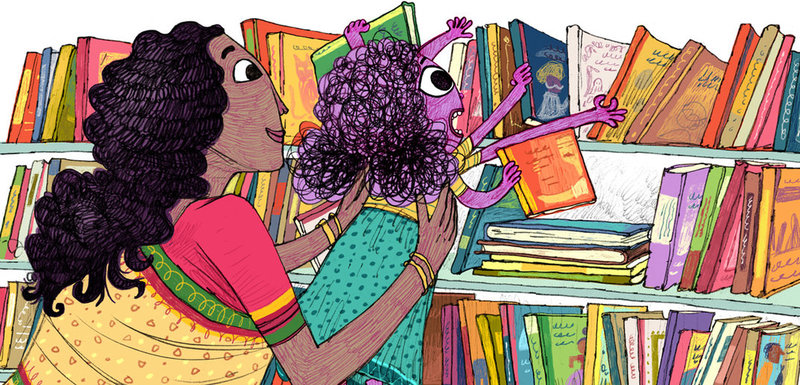 (Image from 'A Book for Puchku' by Deepanjana Pal and Rajiv Eipe.)
The workshop would cover the following:-
1. A detailed Demo of StoryWeaver – how to navigate and use the platform
2. Examples of how educators are using StoryWeaver effectively in their classrooms
3. Dedicated work time for participants to try their hands on StoryWeaver
4. An opportunity to meet other educators and make interesting conversations
If this excites you, REGISTER HERE to book your place in the workshop, latest by 22nd November, Thursday.
Please note that the seats are limited and we might not be able to accommodate more than 2-3 people per organization. Confirmed participants will get a separate email confirming their participation and other logistical details.
The workshop will be held between 9.30 a.m to 4.30 p.m and there is no fee to attend the workshop.
Feel free to reach out with any questions to Khyati at [email protected]. Look forward to seeing you there!
Be the first to comment.
---
The role involves developing and implementing strategic engagement initiatives by building and sustaining relationships with multiple stakeholders, and advocating the brand across a variety of social networks.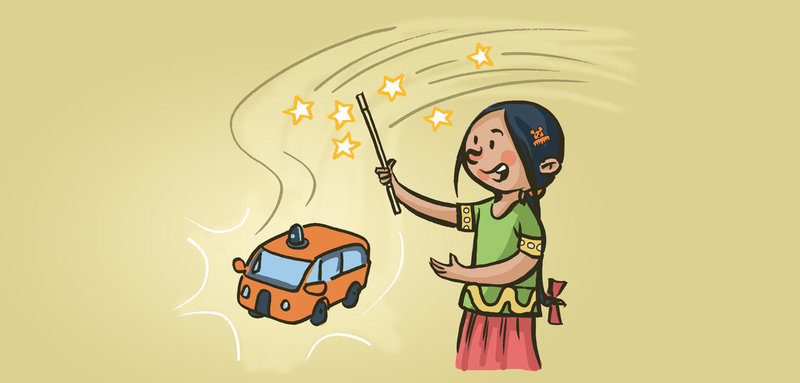 Key Responsibilities:
Responsible for all social media for StoryWeaver handles.
Incorporating online tools and networking to create relationships and ultimately build the company's brand, both online and off.

Distributing the brand's content across a variety of different social networks.

Identifying and building lasting relationships with a diverse group of stakeholders from non-profits, community groups, authors, illustrators, publishers, children, parents, etc.

Using Analytics and other measurement tools to provide reports on metrics, and continually find ways to improve on those metrics through testing and new initiatives.
Required skills
2-3 years of experience in social media management.

Familiar with latest technology, trends and analytics in Social Media.
Nice to have but not mandatory:
Location:
This is a full-time position and is based out of Bangalore
Compensation:
Salary will be commensurate with qualification and experience.
Write to us:
Email your resume with Social Media Manager- Storyweaver in the subject line to [email protected]
Be the first to comment.
---