Reading is one of the most essential components of a child's learning & development journey. At Pratham Books and StoryWeaver, we understand this and StoryWeaver came about with the exact purpose of increasing access to books for children in languages and context that they enjoy - in a boundary-less digital way.
StoryWeaver (http://www.storyweaver.org.in/) is an open source, digital repository of multilingual children's stories. StoryWeaver is an especially useful tool for organisations and individuals working in Education, allowing them to:
Browse, read and curate a reading list from over 9700 stories across 122 languages

Download stories for offline reading

Create a new story or a set of flashcards from an image bank of over 13000 illustrations

Re-level or remix a story to suit your child's needs

Translate stories to a language of your choice
And best of all, ALL of this is absolutely FREE
We invite educators, librarians and resource people to attend the StoryWeaver workshop to be held in Hyderabad. To celebrate the diversity of languages we have, we are planning to conduct the workshop session in English on the 29th of November and in Telugu on the 30th of November. You are requested to give your preference for the date/language while signing up and we will confirm the final date and the venue of the workshop to you at a later stage. However, just in case we have lesser number of participants for the Telugu workshop, we will be looking at doing a bilingual one on 29th itself. Please do make a note of this.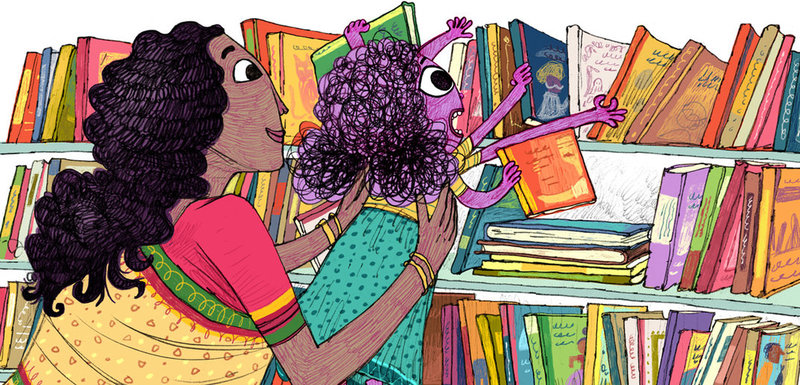 (Image from 'A Book for Puchku' by Deepanjana Pal and Rajiv Eipe.)
The workshop would cover the following:-
1. A detailed Demo of StoryWeaver – how to navigate and use the platform
2. Examples of how educators are using StoryWeaver effectively in their classrooms
3. Dedicated work time for participants to try their hands on StoryWeaver
4. An opportunity to meet other educators and make interesting conversations
If this excites you, REGISTER HERE to book your place in the workshop, latest by 22nd November, Thursday.
Please note that the seats are limited and we might not be able to accommodate more than 2-3 people per organization. Confirmed participants will get a separate email confirming their participation and other logistical details.
The workshop will be held between 9.30 a.m to 4.30 p.m and there is no fee to attend the workshop.
Feel free to reach out with any questions to Khyati at [email protected]. Look forward to seeing you there!
Be the first to comment.
---
Riddhi Dastidar recently joined Pratham Books as Outreach Manager. Here she writes about our recent workshop in Delhi, with Humana India.
On a scorching summer day in June, we found ourselves in the winding bylanes of Kishangarh in Delhi, looking for the Humana India Office. We entered to wooden floors, quiet reading spaces filled with books in multiple nooks and a massive German Shepherd dog draped languorously across the gate to welcome us in.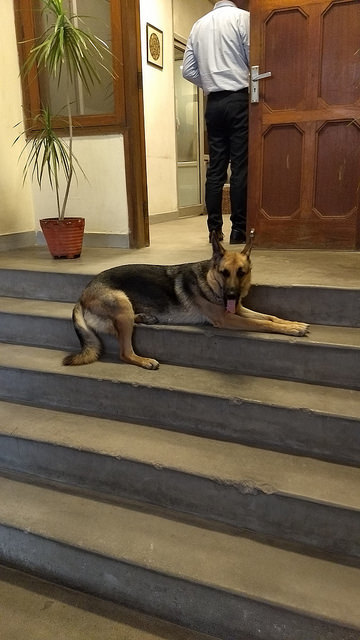 Humana People to People India is a part of Humana International's network of 31 organisations in Europe, Africa, Asia and the Americas working across a range of issues from from health to microfinance. Our overlap in interest comes from their work in Education.
HPPI's educational programmes aim to equip people with knowledge and skills to break the cycle of poverty and fulfill their potential. Their five programmes are Necessary Teacher Training Programme (NeTT), Academy for Working Children, Girls Bridge Education, Step up Centers and Prarambh. NeTT and Prarambh focus on incubating quality teachers. Humana had invited their NeTT master trainers from different states to spend the day with us to know about StoryWeaver and how can it be used to bring in a reading culture in the classroom, as well as serve as a resource pool for our teachers. We also had trainers from other organizations like Stir Education and Pratham who added to the diversity of the group.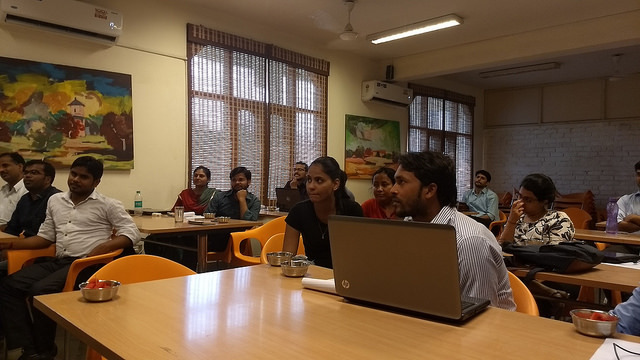 We started by getting to know the workshop participants a little better by discovering their hidden talents. Someone mentioned they were good at working with special needs children while another teacher found travelling interesting. Stories give way to many emotions and what better way to establish that than to begin the session with a story? The audience giggled and winced and tried to come up with a solution to Bheema's problem in the process realising with us how important stories are to classrooms!
How stories help kindle curiosity and develop lateral thinking in children.
After we walked through how StoryWeaver works, our philosophy of reaching as many children in need as possible in their native tongue, and hence our embrace of Creative Commons, it was time for the teachers to get their own hands dirty. They practiced curating lists of stories on specific themes (from Math concepts through biryani making to a Level 1 reading on Traffic lights). They got into groups to take a stab at translating stories into Hindi and finally even creating their own story from our set of open illustrations.
To break down the concept of 'filters' on StoryWeaver to help select the desired kind of tale we drew a parallel to online shopping - Amazon and Flipkart being commonly recognized.
An interesting story we explored brought out the critical role illustration can play in a book. We read 'दीदी का रंग बिरंगा खज़ाना', and the teachers pointed out that as Didi became happier, the book bloomed from black and white into colour - hence even a child struggling to read the words would be able to grasp what was happening!
By the end of the workshop we had a couple of first-time story-writers in our midst. The teachers were beginning to share the challenges of balancing something as 'inessential' and essential as the time to read for joy in class with the demands of administrative work and completing the syllabus. Waseem, one of the trainers from Stir mentioned that the main reason we work is actually the children. Very often lost in the pressures of checking very real demands and tasks off the checklist, we forget the heart of it - which is the relationship being built with the child. He pointed out that stories could be a great option to reverse this disinvestment and foster strong relationships.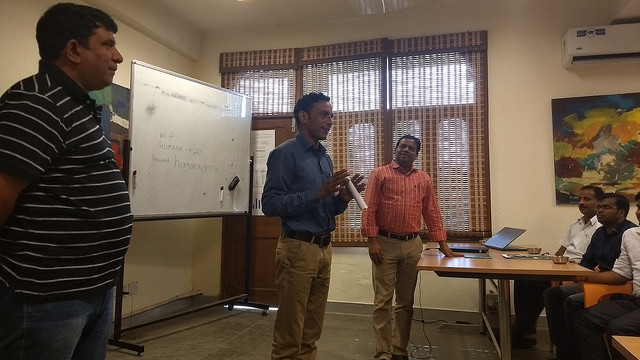 We came out of the workshop with many of the teachers coming up to us to ask for follow-up training with their organisations, and excited to see how they would go on to integrate stories into making different kinds of academic learning interesting - be it learning about division through biryani or just taking 20 minutes out of the day to Drop Everything And Read!
To see more images from the workshop, click here.
If you would like us to conduct a workshop with your organisation, drop us an email at [email protected]
Be the first to comment.
---
My first StoryWeaver workshop took me to Hyderabad. I was officially on the training side of the workshop, but since this was my first, I experienced those two days with two different batches as a participant too.

50+ educators, resource people, librarians and program managers from 12 different organisations and schools poured into the room and were brimming with energy even before the workshop began. Payoshni, Senior Outreach Manager and trainer for the workshop, talked about StoryWeaver - our open repository of free children's books, its practical uses in a classroom, and the way it can be used to enhance a child's world from all aspects like cognitive approach, social skills, comprehension, logical thinking and aesthetics.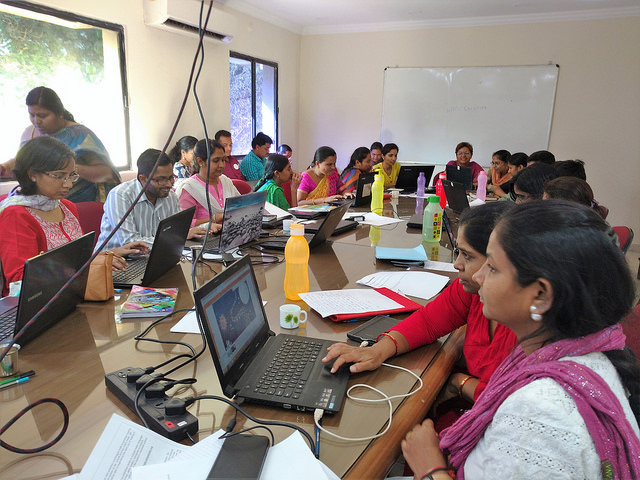 Teachers became curious students and asked us countless questions that spanned across queries about our features, to the efficacy of the platform itself. It was a delight to see them realize the applications of StoryWeaver in the classroom. Once they understood the intricacies of creating, translating or releveling (simplifying or making a story complex) stories on the platform, all of them were eager to try their hand at bringing about their own creation on StoryWeaver.

Sandhya Damodar, Pudami Schools, Hyderabad talks here about the various applications of StoryWeaver in a classroom and specifically the advantages of being able to 'relevel' stories:


The fact that the stories on StoryWeaver are free to use, read, download and print was exciting and important for teachers who came from schools based in rural settings. Active discussions ranged from how to preserve the accuracy and sanctity of a language through translations. Concerns unfolded about how some languages need more original content for the children, and one way could be to create and translate in that language on platforms like StoryWeaver.
In this short video, workshop participant Shadab Ahmad, Focus High School, Hyderabad talks about how StoryWeaver will help him in getting Urdu stories across to his students and also about the ease of publishing good stories on the platform.


The childlike joy of the teachers working in teams with fellow educators whom they didn't know previously, and raising their hands to read their created stories out loud was infectious. They proudly presented their work in front of everyone and laughed along with everyone at the bits they got wrong or where they themselves had added humor! Some of them are still active on the platform and creating/translating/releveling stories for their students, for fun, or to contribute in some way to their favorite language.

As we wrapped up the two-day workshop, it was a comfort to know there are educators who are eager to learn about how to improve a child's experience in classrooms. And not just that, they want to do it through the art of stories.

Here are a few pictures from the event!
A big thank you to Dr.Reddy's Foundation who made this wonderful workshop possible and all their efforts in bringing the best opportunities to their children. If you are interested in hosting a similar workshop for your organisation, drop us an email on [email protected]


Be the first to comment.
---