Bharti Menghani is a translator and storyteller, who loves creating storybooks in her mother tongue, Sindhi. Bharti aims to help revitalise the language by contributing to literature in Sindhi. As part of the Freedom To Read 2020 campaign, she has created a digital library of 50 storybooks in Sindhi.
In this email interview, Bharti writes about her love for her mother tongue and the importance of creating children's books in Sindhi.
Could you tell us a bit about yourself, your interests and your work?
I am an HR professional working in a corporate.
Reading stories has always been my passion. I have grown up reading and discussing stories with my mother, and I feel that stories have shaped my personality as they have always acted as a torchbearer for me, showing me how to face real life issues. I love to read children's stories, motivational books, spiritual stories, folk tales and stories from the Panchtantra.
We would love to learn about your personal relationship with Sindhi - do tell us about it.
Sindhi is my mother tongue. I grew up speaking and reading in Sindhi. As I did my schooling from a school where Sindhi was a compulsory subject, I started writing in Sindhi from grade 4 and simply loved it.
How did you come across StoryWeaver and the Freedom to Read campaign?
In 2016, I did a course in storytelling from a renowned institute. Most of my batchmates were teachers and I came to know about Pratham Books' Storyweaver through them. When I visited the website, I was amazed to see the vast repository of storybooks in a variety of languages and more importantly, created with the noble cause of providing reading material to children as their basic right. I followed StoryWeaver on social media and kept receiving notifications from time to time. Though one such notification, I came to know about International Mother Language Day and the Freedom to Read campaign.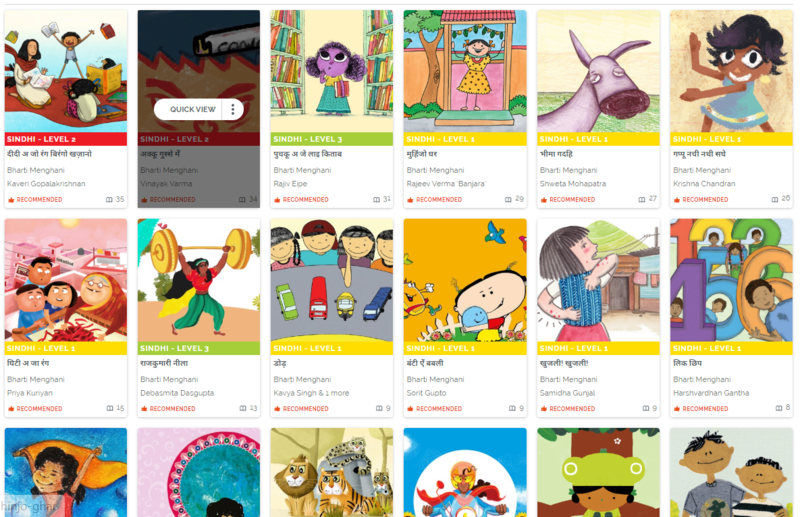 Bharti has translated 50 storybooks into Sindhi on StoryWeaver
Why do you think is it important to have children's books in Sindhi?
In 1967, Sindhi was added to the constitution, as an official language of the Republic of India. However, like many other regional languages today, Sindhi is facing the danger of becoming extinct.
There are two sets of children in the Sindhi community. One – those who have the means to afford books and other reading material in Sindhi, but do not do so, as their parents want them to learn to read and write in English. For these children, their interaction with the Sindhi language only comes from speaking it at home. The second set comprises those children who speak in Sindhi, but being from an economically weaker background, they are unable to buy Sindhi books for reading. Hence, it is important to have children's books in Sindhi to cater to the needs of both the sections. I feel that Storyweaver is one such platform which fulfills this criteria.
Of the 50 storybooks that you translated, which story would be your favourite and why?
Gully Jo Gazab Jo Pitaro would definitely be my favourite. This book is about an intelligent child who is passionate about helping and solving everybody's problem instantly, and for this he keep collecting things - which could have gone into the waste - and makes the best use of them to help anyone in need.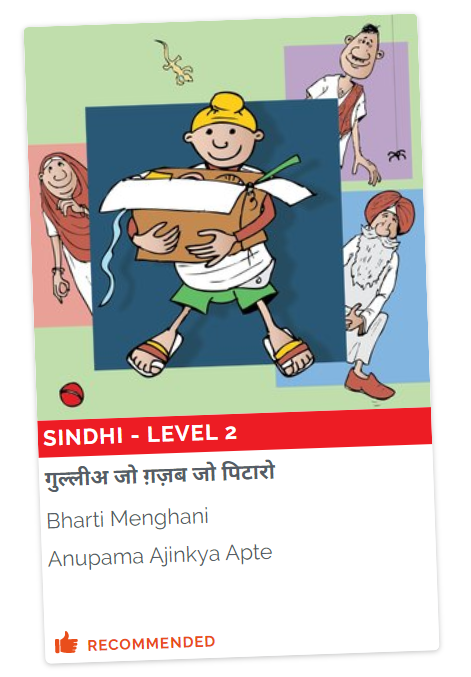 What are some of your favourite books from childhood? Is there any memorable reading moment that you would like to share?
My favourite book from childhood is a storybook called "Hansti Duniya". It is children's book that is published every month by the Nirankari Mission and features stories, poetry, and sections on science facts, quizzes, puzzles, mythology, and so on.
Another favourite from childhood is Chacha Chaudhry and the Panchtantra tales.
What is your favourite word / phrase / quote in Sindhi?
Here's a poem about my love for my mother tongue:
सिंधी भाषा प्यारी भाषा,
हर भाषा खां न्यारी भाषा,
प्यार अमड़ि जो जंहिंमें पातुम,
अहिड़े थदड़नि ठारी भाषा,
मिठड़ी ॿोली ऐं लफ़्ज़ मिठा,
आहे भाॻनि वारी भाषा,
अखरनि में वडी॒ सभिन खां,
सिंधियत जी अवतारी भाषा,
कन्हैया आहूजा,हास्य ,व्यंग्य कवि, बिलासपुर
---
You can read all the storybooks translated by Bharti Menghani here.
Do join the conversation by leaving your thoughts in the comments section below. You can also reach out to us through our social media channels: Facebook, Twitter and Instagram.
Be the first to comment.
---
Azad India Foundation (AIF) was founded by Yuman Hussain in 1998 to seed initiatives in education & primary health care. The organisaton's activities reach out to marginalised women, adolescents and underserved children from rural and urban areas of Kishanganj district in Bihar. AIF has learning centres at 73 villages in three blocks of Pothia, Kishanganj and Thakurganj in Kishanganj, impacting 3,500 + children directly in the area. The children in AIF's centres are aged between 6-9 yeas and are either school dropouts or attending Madrassas. The centre's syllabus includes Hindi, English, Science and Maths. The main aim of the initiative is to ensure that children are ready to merge with mainstream education in state-run schools by grade 4.
AIF is also our first partner translator to have completed its goal of translating 100 StoryWeaver books into Surjapuri. Surjapuri is spoken in pockets of Bihar, West Bengal, Assam and Bangladesh by 1.2 million people. In Bihar, the language is spoken in Koshanganj, Katihar, Purnia and Araria districts. In an email interview Yuman Hussain tells us why creating a hyperlocal library in Surjapuri is important and how AIF managed to reach its goal of 100 books in collaboration with its project and cluster coordinators.
Tell us more about Azad India Foundation?
Azad India Foundation (AIF) has been working in Kishanganj district of Bihar from 2001. It started its activities with a non-formal education and vocational training centre for women. Over the years, AIF's focus has been on the development of poor and marginalized children, adolescents and women. Our activities are in the fields of women's literacy, formal school education, non-formal education, rural employment, income generating skills, SHG formation, and community health programmes. Currently, we are directly working with 3,500 children in the primary classes through learning centres in 73 villages of four blocks — Kochadaman, Pothia, Kishanganj and Thakurganj.
What are the long-term effects of a lack of easy access to resources in mother tongue languages for the communities that you work with?
Surjapuri is local language spoken among a large section of people in the Seemanchal area (Kishanganj, Araria, Purea and Katihar) of Bihar. Unfortunately, we have not seen any books or resources available in the local language for the children. There is a possibility that these languages will be lost over a period of time as more and more people now speak Hindi. In fact, when we started translating books in Surjapuri and shared them with the children and community members they were unable to recognize their own written language.
What are the benefits of creating a local digital library of joyful storybooks in Surjapuri?
Creating a hyperlocal library at StoryWeaver will help our children have access to and preserve Surjapuri as their language. It would also enable them develop their reading skills and enjoy stories from all over the world in their own dialect. The digital library is free besides being easily accessible to every one. The mobile friendly feature has made it possible for the books to reach even remote corners of the country.
Tell us more about your team of conributors and how you managed to translate and publish the 100 Surjapuri stories?
The stories were translated by the team of project Badhte Kadam comprising cluster coordinators Aslam, Chand, Juhi and teachers. They were really excited about creating Surjapuri stories as it gave them an opportunity to contribute to the preservation of their own language. Muzzamil, who is the project head, reviewed the stories. The stories were chosen according to the themes and levels of the children accessing them. The toughest part was the typing and uploading of the stories that was done diligently by Saqlain, our computer operator. AIF is really proud and thankful to its team members for completing this programme within the stipulated time period with sincerity and enthusiasm. We will continue adding more stories and hope to bring the joy of reading to all children.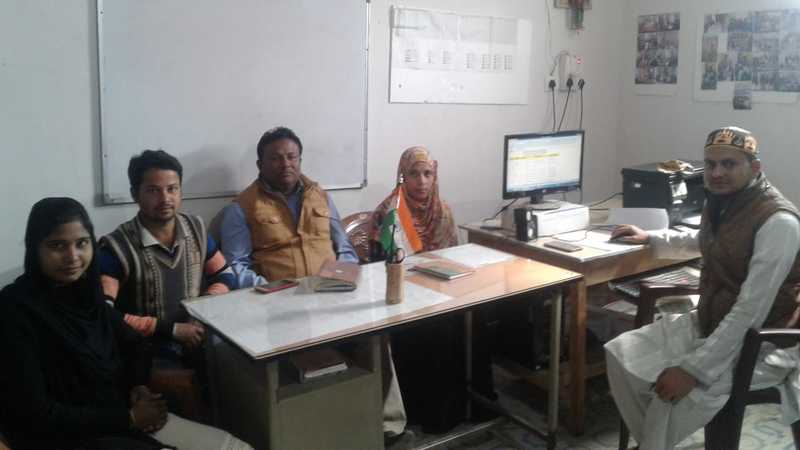 AIF's Team Badhte Kadam
How does Azad India Foundation plan to use this digital library of a 100 books?
AIF plans to introduce these stories among the children at our learning centres. We are also spreading the message through social media about the StoryWeaver platform so that the community can access, use these stories and help in building this digital library further with many more books. This is a small step towards the preservation of local languages for which we are grateful to the StoryWeaver platform.
You can read the Surjapuri stories translated by Azad India Foundation here.
Be the first to comment.
---
Jala is a translation platform that combines human skill with translation technology to make high quality translations accessible to those who need it the most. It collaborates with organisations, communities and individuals to help bridge the language barriers and increase access.
Earlier this year, Jala teamed up with StoryWeaver to help build a high quality repository of openly licensed storybooks in Chinese and Bahasa Indonesia. To get some insight into the translation process, they interviewed Sophia, a Jala user and hobbyist/ freelance translator, who translated five stories on StoryWeaver from English into Bahasa Indonesia. You can read an excerpt from the interview below.
---
Sophia, who translated storybooks from English to Bahasa Indonesia.
Hi Sophia! Thanks for being such an active user on Jala! Can you tell us a little about why you decided to translate the StoryWeaver books?
Hello! It was my pleasure. Well, firstly a little background about me. Bahasa Indonesia is my native language, but I moved to Singapore at the age of 15, and then later moved to the UK. So English has been the language I have spoken more actively. But ever since I started working in the publishing industry and have focussed on developing Singaporean content for Singapore, I began to miss home, and I began thinking about reconnecting with Indonesia. I feel a little like an outsider to Indonesia now, and I was not sure how I could help local readers in Indonesia. So when the opportunity to translate children's books on Jala into Bahasa Indonesia came along, I was quite excited by the idea! It felt quite perfect. While my Indonesian language abilities have withered a little, mainly due to lack of practice, I felt that working on translation really helped to revive my language skills! Translating children's stories had its own challenges for me. For example, word choice, which had to be suitable. I had to be sensitive about how an Indonesian child would understand the words I had chosen. It made for an interesting puzzle for me!
That's great. What did you like most about the stories that you translated?
Like any children's book, there was a nice rhythm to the stories. There were moments when I felt that the words in English had a rhythm, which I tried to capture in my translation. Knowing the natural rhythm of the book, I tried to ensure my translation stayed true to the original in terms of sentence length and word choice.
I liked that the stories were upbeat and (mostly) positive. For example, in Fati and the Honey Tree, even though the girl (Fati) fell down and hurt herself, there was still a positive message at the end. I also enjoyed the unique settings for the stories, everything from the environment to the characters and how they interacted with their surroundings.
Fati and The Honey Tree
The Indian and Ghanian cultures were very refreshing to me, and something I feel that is lacking in publishing, as most settings are very Western-centric. Finally, I liked how each story teaches something. For Let's Play, it was science, through the introduction of simple concepts in a child's everyday world.
This is really great to hear! What was the translation process like for you?
I was very methodical in my translation process, after the first one, I actually figured out what worked best for me and then came up with my own methodology which I actually have written down on my phone!
To start off I usually skim the original text first. I then proceed to do the translation line by line on Jala. I go through it once and have a first draft ready. I then go through both the original and the translation, by carefully comparing the two, and making any corrections along the way. I then read through just the translation to see how it flows and if I'm comfortable with it on its own. When I'm happy with what I have, I leave it for a day and then come back and read the translation again and do a final comparison with the original before submitting the piece. I like how Jala will always save my work, and I know that my progress will be safe until the next time I revisit the project!
Stories on the Jala platform
Of all the translations that you worked on, which was your favourite story to translate, and why?
I liked Fati and the Soup Pot the best.
Fati and The Soup Pot
Fati's attitude was really funny in the story. I also liked how despite the fact that Fati's mother knew that Fati had done wrong, she did not punish or scold Fati in the way you would expect parents to. In addition, I felt that the description of the cooking process and the listing of ingredients was a nice touch! If you are curious enough, you could attempt to recreate the dish! It also really liked that the child was involved in the cooking process!
What do you enjoy about freelance translation?
I think what I find most appealing is the extra income. But I also do believe there is a more interesting aspect to freelance translation. For instance, gaps in languages can be filled by multilingual individuals or translators. Being able to help and contribute to a specific skill is really interesting! I also think it's a really great cycle, the more you do, the more interested you are, and the more that you learn! For example, when there are natural disasters, you see NGOs making open (and urgent) calls for translators for a specific language. Often, contributions can be through knowledge instead of money or goods, which is so meaningful when you are filling a gap. Even in non-dire circumstances, I believe that translators can make a difference.
---
To read the original interview, click here.
You can read the stories translated by the Jala Community on StoryWeaver here.
Please join the conversation by leaving your thoughts in the comments section below. You can also reach out to us through our social media channels: Facebook, Twitter and Instagram.
Be the first to comment.
---