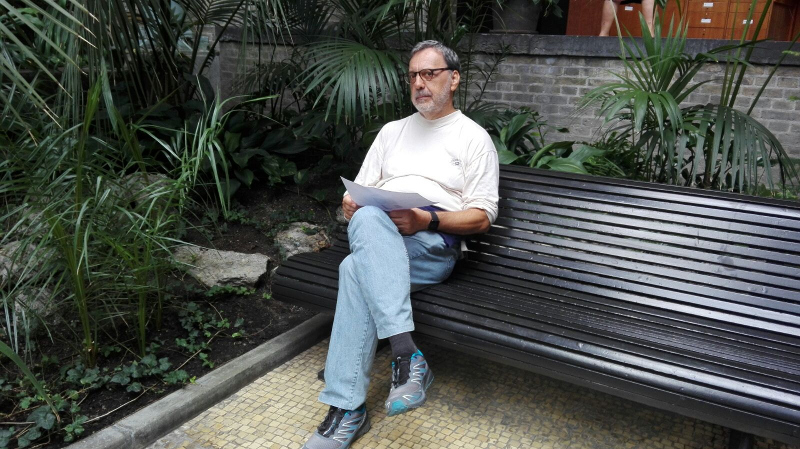 Roberto Marcolin is a High School teacher near Milan, Italy. He's been doing some very interesting things with StoryWeaver both inside the classroom and out! Read on to find out more.
"I'm a teacher in a high school near Milan, Italy and I'm in charge of the school library. Our school recently participated in Libriamoci a Ministry of Education project to promote reading aloud. Many different classes in the school took part, with some students reading out loud stories from StoryWeaver in English. At the end of January, we took part in Piazze Solidali (Solidarity Squares), an event held in the public library of our city. At the event some of my students read StoryWeaver stories in six different languages: Albanian, Romanian, Arabic, Spanish, French and of course Italian."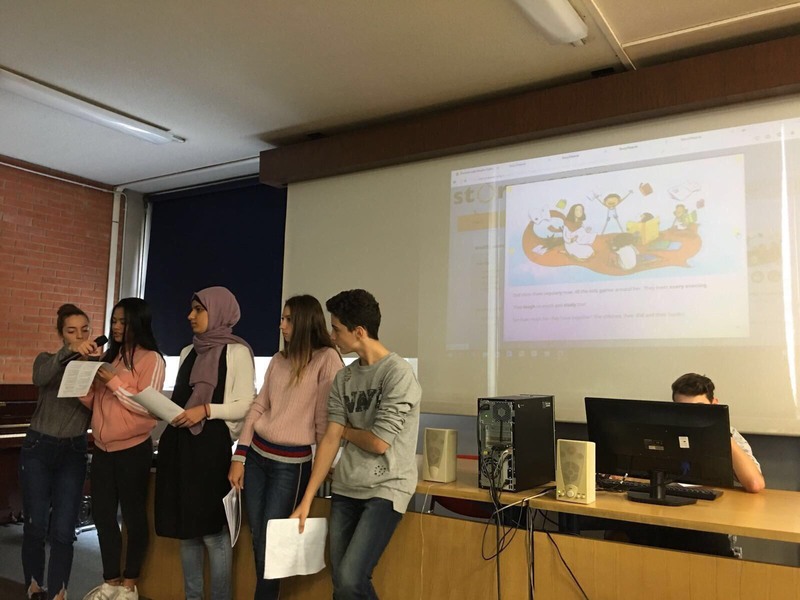 A class from Roberto's school is participating in Etwinning a European project, students from the Czech Republic, Spain and Sweden. "Through this project they will translate books from English to their mother tongue on StoryWeaver. You can find the first seven stories translated to Italian on StoryWeaver."
Students read aloud stories from StoryWeaver at the Libriamoci event held in October, 2017.
Roberto has also made an audio version of 'Ghum Ghum Gharial's Glorious Adventure' in Italian with Canoprof an open source software created by the French education ministry.
"Framapad is an open source software for collaborative writing which I used when preparing for the Piazza solidale event. I made some recordings of stories like this one and I hope to do others. I think they could be used to promote reading amongst students."
Roberto has a few other ideas on how he would like to use StoryWeaver. "In 2018, I would like to organize a collaborative translation of some stories of StoryWeaver involving other teachers and students. The translators could meet in a place at school like the library and collaboratively translate some stories together. I would also like to create free digital libraries using StoryWeaver stories as my French colleague Cyrille Largillier has already done here."
We look forward to hearing more from Roberto and his students this year!
If you are using stories in your classroom or library and would like to share it with our community, write to us at [email protected] and we'll feature you on our blog!
Be the first to comment.
---
Yesterday evening, StoryWeaver achieved a new milestone by adding the one hundredth language to the platform! The team had been keeping an eye on the language counter on the StoryWeaver homepage for the last couple of days as it teetered precariously on 99.
When we launched StoryWeaver two years ago with 800 stories in 24 languages, we really couldn't predict the tremendous reception the platform has had, not just in India but around the world. Today, with over 5000 stories in 100 languages, StoryWeaver is truly a global repository of multilingual stories. And the thing that makes us happiest is that over 40% of the new languages added to the platform have been at the request of YOU, our amazing community!
Once we shared the happy news on Social Media, congratulatory messages started coming in! Here are some of them:
N.Chokkan, Translator and Reviewer
"Thrilled to hear about StoryWeaver hitting the magic 100 (in terms of number of languages). This is a huge milestone in their journey to make every story available to every child in the world. Very happy to be part of this great project in a small way, and looking forward to 100s of more languages and 1000s of new stories, more smiles!"
Vibha Lohani, Writer, Translator and Storyteller
"A HUNDRED LANGUAGES! Wow ... This is remarkable. I came across StoryWeaver a little over a year back and fell in love with the platform as a mother as well as a writer and storyteller. Over the last year, I witnessed the team give a wider reach to the beautiful stories written by eminent authors and community writers by including various languages into the platform. With so many languages dying due to ignorance and neglect, touching the 100 languages milestone is an achievement worthy of applaud. Keep up the good work StoryWeaver!"
Tanvi Bambolkar, Writer and Translator
""It is a huge milestone for a platform that is so inclusive and always ready to accept and adopt the new. StoryWeaver is taking tales from various languages to kids speaking and reading only one language. I am sure it is also helping the kids to learn new languages and new cultures. Like one of my students learnt the Tamil word 'Kottavi' when his mother tongue is Marathi. This will only encourage them to learn new words and get in touch with newer world. Hundred languages, hundred cultures!"
Madhubala Joshi, Writer, Translator and Reviewer
"This is exhilirating, great news! May our clan of languages and readers, translators,illustrators, editors grow! May every child, everywhere have access to books, fun and joy and eventually knowledge."
Sanghamitra Ghosh, Writer, Translator and Reviewer
"No one can ever forget the magic of stories, fables and fairy tales that we hear and read as children. Working for Story Weaver put me back in touch with that wonderfully whimsical world. Nothing makes me happier than knowing that now so many more kids can be a part of this world of wild imagination and possibilities. Happy 100 StoryWeaver."
A BIG thank you from the bottom of our heart to each and everyone of you who has been with us each step of the way, and believes just as passionately as we do in the Pratham Books mission of 'A Book in Every Child's Hand.'
comments (2)
---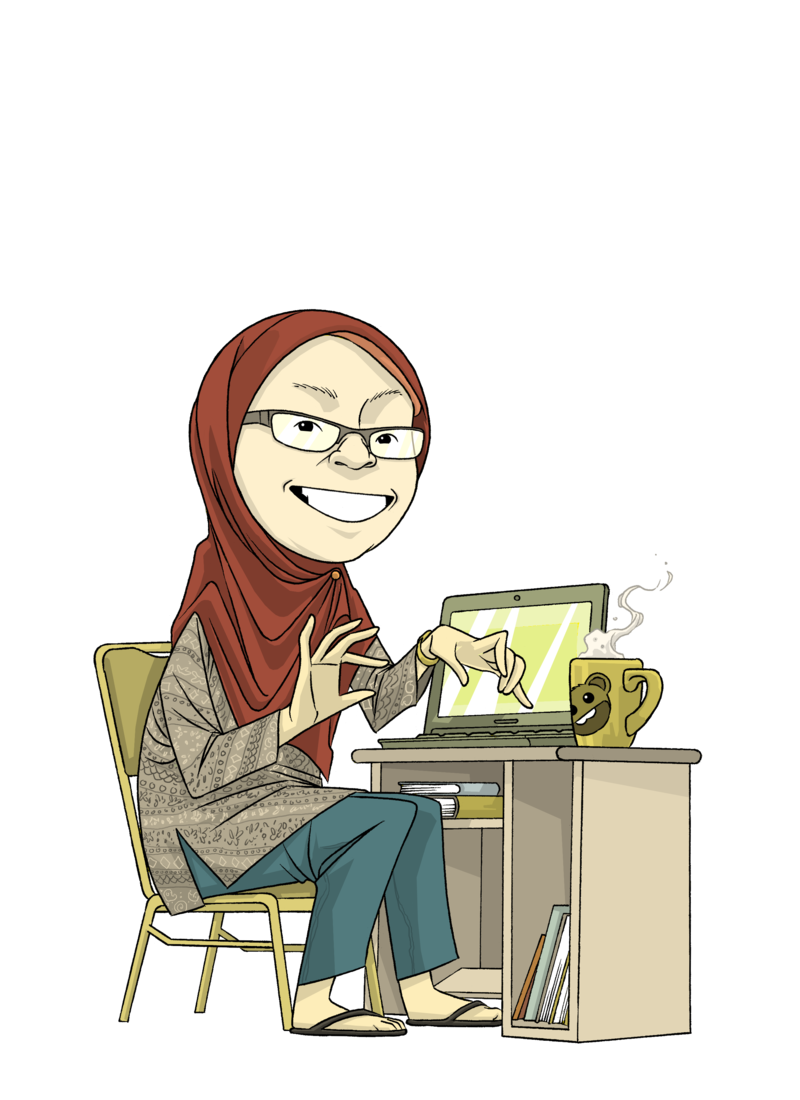 Maharani Aulia, commonly called by her nickname Lia. She has written dozens of stories and translated over a hundred titles from English to Indonesian. Her works are spread in local and national media, and published as books in several national publishers. She writes for the StoryWeaver blog about her writing journey. (Caricature of Maharani Aulia by Diyan Bijac.)
I have been writing since I was a kid. My first very-short story was published in a local newspaper, Surabaya Post, when I was 11. This encouraged me to continue my writing, although I couldn't write much because I was still in junior high school. I wrote only 2 stories at that time, published in local children's magazine, Mentari (Mentari means the sun in English). I love to read since childhood because my parents gave me many books. While in high school and college, I just wrote for my school magazine and journal for our own circle.
I started writing as a professional writer in 2005, with my first children's book published by a national publisher (Mizan), entitled Makan Sepuasnya. (Eat As Much; on the contrary, I wrote this story to inspire my readers to share our food with the poor.)
In fact, my parents did not really support me to become a writer. Perhaps they thought as a writer, I could not be rich. My educational background is animal health (part of veterinary medicine), but I keep writing for children because this is what I love since I was a kid. I write for early readers and older ones, and recently wrote about a child in a kindergarten who can not read yet, but he can draw. I'm still learning to write good children stories.
I recently wrote two biographies, in Genius Kids series, at the publisher's request. Writing biographies gave me a new experience, but I prefer to write stories and non-fiction articles on topics I choose. I have published six articles in national papers (Kompas, children section) about how to learn effectively, how to care about our senses, about plastics and its negative impacts on environment, how to live healthy with animals, why we should wash our hands with soap, and introduction to cashless society. All these are for older readers (10-12 years old).
Bitten by the translation bug
I have a passive knowledge of English, and I'm still practicing speaking it fluently. Basically I like to learn about languages, and I have translated stories and articles on my own since I was in high school. About a decade later, a publisher offered me to translate storybooks from English into Indonesian, and I was so excited. I have translated over a hundred books, some of them are teenage books. Reading so many stories on StoryWeaver give me much information and entertainment. I like to translate Indian stories written in English into my language, and I like to share my translations with my friends and colleagues. They like StoryWeaver's stories, too. Some of them have contributed their original stories to the web.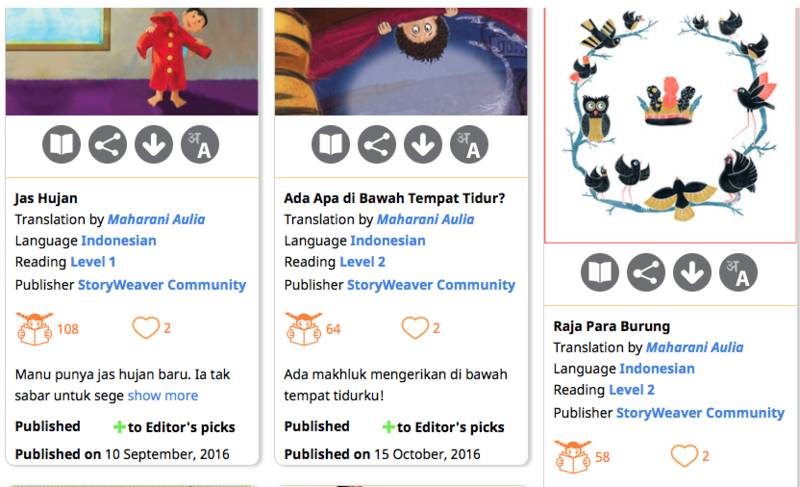 My friends have a free download e-book website, called SeruSetiapSaat (it means Fun Anytime in English). I am now waiting for my first picture book to be published on it, and after being illustrated, I plan to link it to StoryWeaver. Of course, I will translate it into English to be read by everyone:).
Maharani Aulia has translated 25 stories to Indonesian on StoryWeaver. You can read them here.
comments (3)
---