Imagine if the language you speak to your friends, think your funniest thoughts in and dream your bravest dreams in, is hardly known in your own country, and might even reach an early death in two decades. To ward off this isolation acutely felt by Kora and Santali, tribal languages spoken in communities across West Bengal and Odisha, Suchana has been working towards their preservation with quiet determination fuelled by their love for literacy and a zeal for preserving adivasi languages.
Suchana, a 10 year old community group, works in Birbhum, W. Bengal towards the education of pre-school to class 10 children from Santal and Kora adivasi communities. Suchana knows that when education knocks at your door, it must come in a language that you understand. Entering a school room can be daunting for a child from an adivasi background as she or he is expected to know a state-language that they or their family have never learnt, or have been denied access to. Our education system is missing out on a huge cultural opportunity here by not being inclusive of more languages, and thus not reaching out to children who need education the most. This tragedy of education not benefitting children who are trying to break centuries-old shackles of being looked down upon as an adivasi is profound.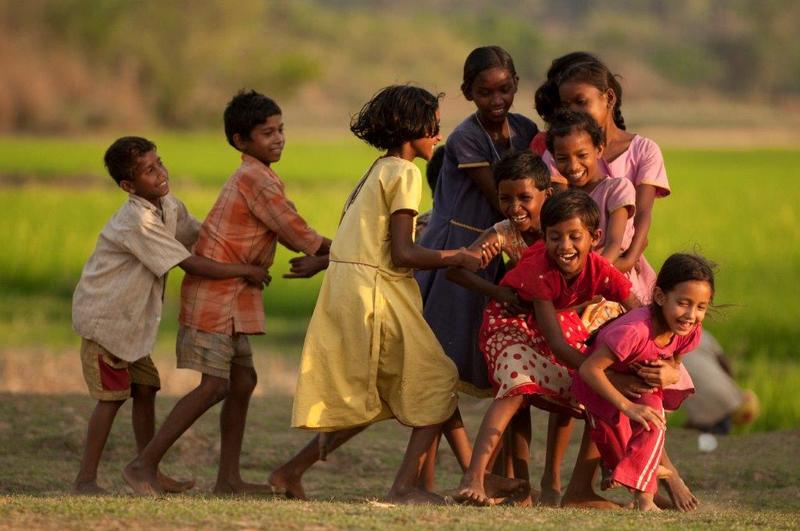 This is where Suchana steps in to ensure 'Right to Education'. They have made it their mission to make sure that Kora and Santali are looked upon as legitimate, literacy-inducing languages, and that 'adivasi school going kids' can just be school going kids. They aim to sustain cultural identities and promote literacy among the tribal and underprivileged communities through their education programs. As far as they know, they are the first organization to have created children's books, or in fact any books at all, in Kora.
One of their key educational initiatives, Mobile Library, was started in 2011 with children of 6 villages. Today, the library travels in two vehicles, covers 25 villages and has 1135 members. It consists of books that are written in multiple languages, especially in the tribal languages (Kora and Santali) that children can relate to and learn in. Children who have never held story books in their hands or understood their importance now have access to joyful reading material that's related to their education and growth, along with creativity and imagination.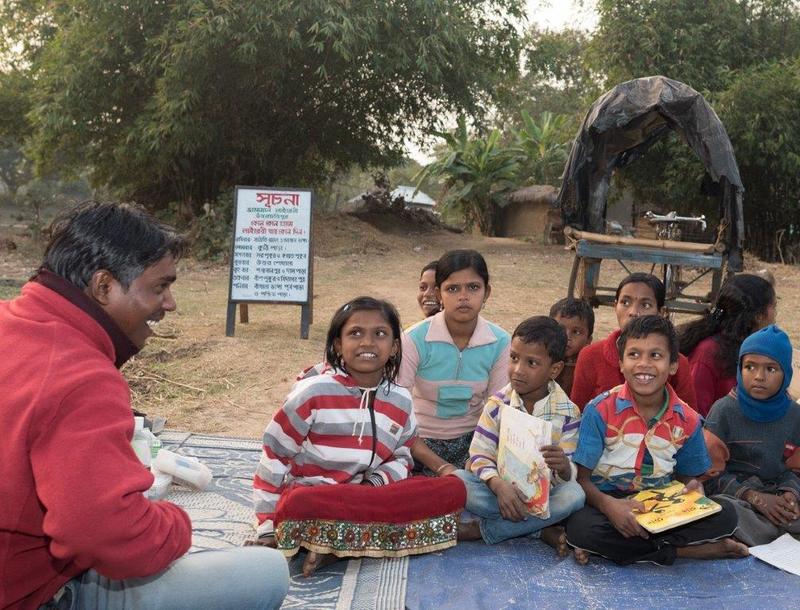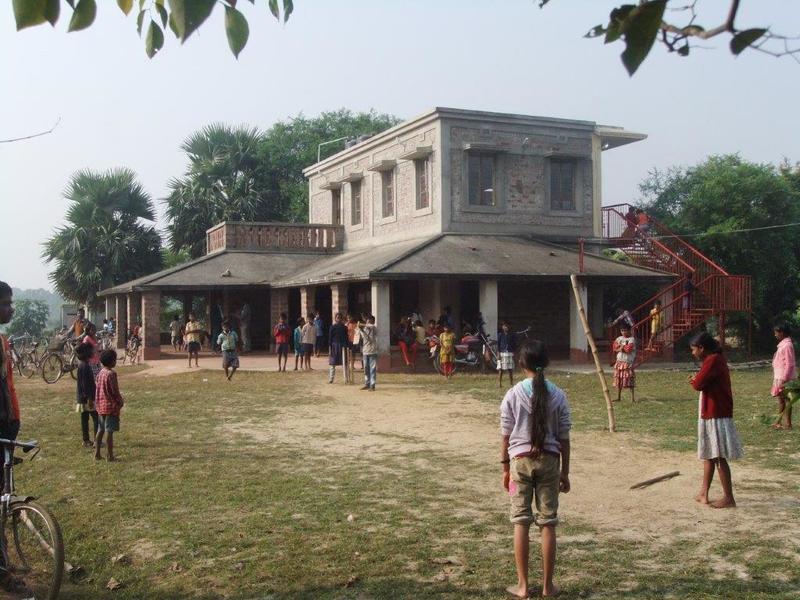 Kirsty Milward, Founder of Suchana, says, "In Santali and Kora – and other adivasi languages – there is no children's literature at all. This is at least partly because until the current generation, most adivasi children did not go to school. Among the (still quite young) mothers of Suchana's current adivasi students, for example, 80% never went to school at all. So where was the need for children's books in those languages?"
We are proud of our association with Suchana. The organisation's teacher-translators have been able to develop supplementary reading materials in Kora and Santali at a much faster and prominent way through StoryWeaver. Currently, 27 Kora books and 19 Santali, both in Bengali script are on StoryWeaver. Suchana has printed 10,000 copies of these books for their mobile library and are exploring loading e-books onto SD cards to disseminate stories on low cost mobile phones.
It's a huge step for languages that were near obscurity and oblivion, to be suddenly sailing the digital waves and ready to be accessed by the whole world in the form of beautiful stories. Read these stories in Bengali script in the tribal languages of Kora and Santali.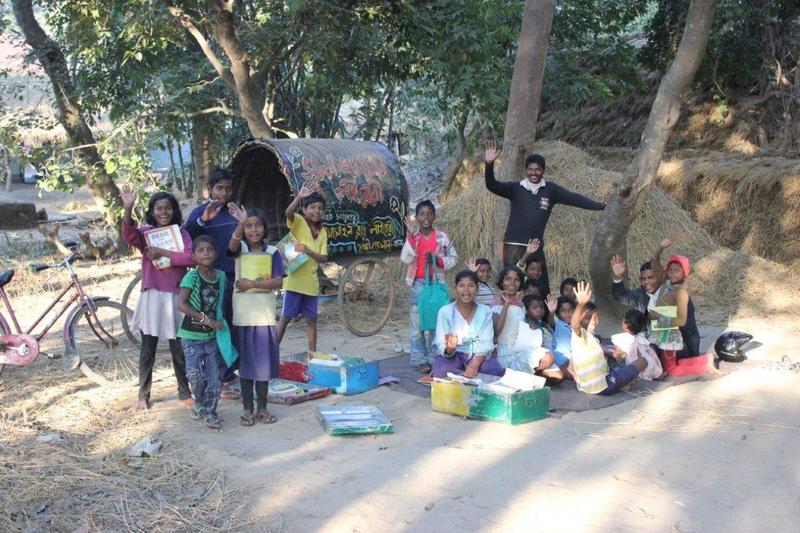 ---
comment (1)
---
When Pratham Books launched StoryWeaver two years ago and openly licensed all the content on the platform under CC-BY4.0, we had an inkling of the potential the idea had. In the last 24 months we have been blown away by the amazing ways our community members have used the power of open licensing to adapt the content on StoryWeaver to answer certain needs in classrooms and other learning spaces.
BooksThatSpeak.com is one such initiative. The platform hosts audio and video versions of children's stories in Marathi, Hindi, English and Gujarati. Many of the stories are from Pratham Books. Asawari Doshi, who runs the platform lives in Pune with her husband and two daughters and works part-time on reading and creating audio and video versions of stories for BooksThatSpeak.com.
Q: Tell us a little bit about why you started BooksThatSpeak.com
A: My aim behind starting this initiative was to create a medium through which more kids can listen to and read the fantastic stories that are published by Pratham Books. I currently read out books in four languages that I am familiar with (Marathi, Hindi, Gujarati and English).
But wait, my daughters (age 9 years and 4 years) and my niece (3 years) also are part of the Books That Speak team. You will hear their sweet little voices at the beginning and at the end of the stories, along with their signature tunes.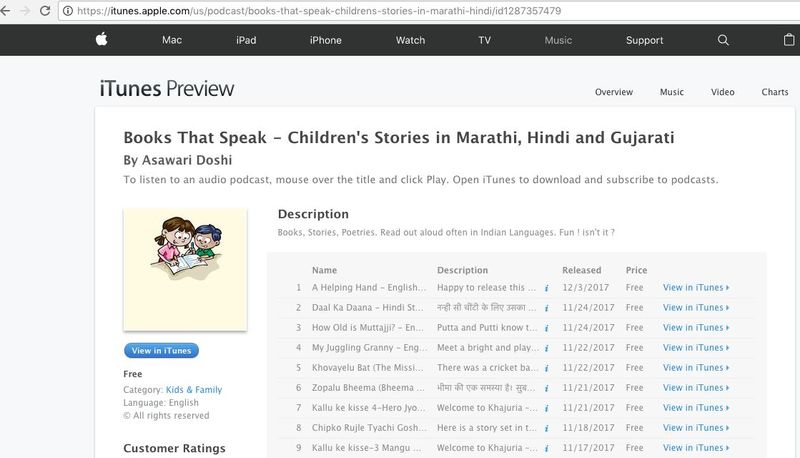 Q: How did you discover the StoryWeaver platform?
I got introduced to the lovely books published by Pratham Books around 6 years ago when my daughter brought some books home from her school library. I (even more than my kids) have been in love these books since then. We must have around 30 books published by Pratham Books in our little book cupboard at home!
From Pratham Books website and blog, I got to know about the StoryWeaver platform around 2 years ago. I was so happy to know that so many of these books are now freely available for everyone to read and also to re-purpose in multiple ways.
Q: What made you want to create audio versions of the books and make videos with them for YouTube?
A: My kids were the inspiration to start this initiative. They just love stories. But more than reading the books themselves they keep asking me to read stories to them. I love reading the stories to them too. My husband suggested why not share this joy with many more children. That was the start of BooksThatSpeak.com
Initially, I started creating audio versions of the books but as I read the books, I felt that the creative illustrations add so much to the experience so that's why I started creating video stories as well using the illustrations.
I must say that I personally enjoy the process of selecting which book to read next. As part of this process, I get to read to a lot of books from the StoryWeaver platform. All of the books are so good, that it makes the decision making very hard :) but I am not complaining because I get to read all these fantastic books.
Q: Where does your love for storytelling come from?
My background in in IT. But, I have been an actor in amateur theatre in my village in Konkan for many years. I think that may have been my accidental training in storytelling. Also, thanks to the inspiration from my father, ever since I was a child I used to read lots of books. I also remember that as a child I used to be mesmerized listening to Pu La Deshpande (A renowned Marathi author and my personal favourite) reading out and enacting his books. I think I might have picked up the liking for reading books aloud from those early years.
5. Do you have any plans for taking these stories to children?
As of now, Books That Speak are available as podcasts on the several platforms like iTunes, Sticher and Player.fm. The stories are also available as videos on our YouTube channel. I read stories in Marathi, Gujarati, Hindi and English. In future, I would love it if I can find other volunteers who want to join BooksThatSpeak.com and read out stories in other languages like Bengali, Urdu etc.
I hope to connect with government schools so that they can download and play these audio or video stories for children in their schools.
6. What kind of feedback have you received from the online community for your recordings?
I am getting to hear a lot of positive feedback from the children and their parents for these stories. I think though that most of the praise really is deserved by Pratham Books, StoryWeaver and the authors, translators and illustrators who have created these books and made their work Open Source.
Some feedback for BooksThatSpeak.com:
"Aunty, I love these stories! Why do you record only one story every day, start recording 2 or 3?"
"Beautifully narrated stories. The changes in voice for different characters make the stories a lot of fun."
"My kid's goodnight sleep starts with these stories, thank you Asawari!"
"My child loves the stories and enjoys the ae-roo-waao-ee signature tune at the beginning and end of the stories"
"These audio stories are very helpful to keep kids engaged during long travels. It's much better than them playing games on the phone all the time"
Here's a photo of me reading my favourite Pratham Books to my daughters!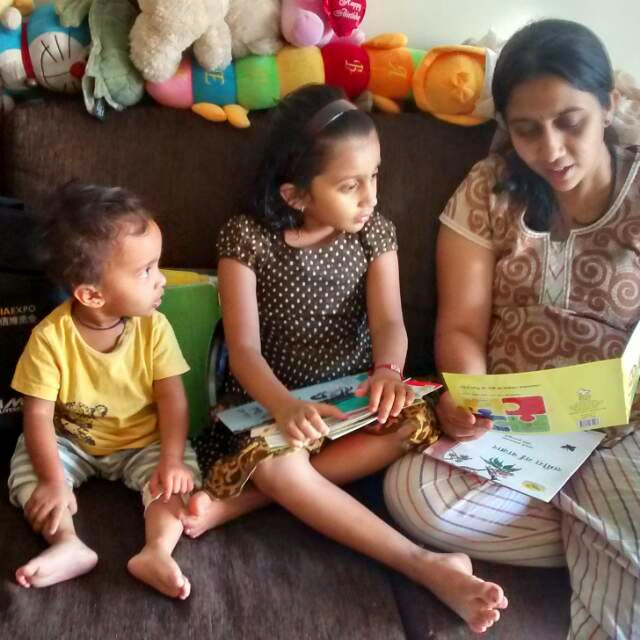 Thank you Aswari for this wonderful platform and taking the joy of reading to more children with your efforts! If you'd like to get in touch with Asawari head over to BooksThatSpeak now!
Are you using StoryWeaver content in interesting ways? Write to us at storyweaver@prathambooks.org and tell us so we can feature you on our blog.
Be the first to comment.
---
Written by Chetana Divya Vasudev and Sherein Bansal, Assistant Editors, Pratham Books
Even a kilometre away from Agastya Foundation's Science Campus in Kuppam, we're greeted by the fresh scent of its green landscape. We all wake up (or are made to) after a three hour journey, and look out the windows to see hills and farmland all around. As we reach the gate, we see their motto 'Aah Aha! Haha!' inscribed on it - a philosophy that drives their 18 year old science education programme.
Children from under-served backgrounds experience the wonderment of discovery (Aah!), to understanding the concept (Aha!), to having fun with learning (Haha!) here. The science campus, situated on the border of the three Southern states- Andhra Pradesh, Karnataka and Tamil Nadu, attracts about 600 children from neighbouring villages, who come to the campus about once a week to experience learning.

Pratham Books and Agastya Foundation have been collaborating for years, driven with a common philosophy of making children curious. With the launch of StoryWeaver, getting books into the hands of the hundreds of children that visit the campus has been made even easier. The digital library sits in the computer center where the children can choose a book to read in either Tamil, Telugu, Kannada or English, including many of our STEM titles, along with learning animation and mastering basic computer skills. The Pratham Books team is on a visit to the amazing campus to get a sense of all the initiatives Agastya Foundation has undertaken to nurture this curiosity further.
We roll ahead and everyone is looking out of the van windows pointing at the sculpture of a dismantled batsman, or a huge ant hill with child-sized ants crawling over it, or a mini-bus randomly sticking out on a pole. We come to know later that all the sculptures and installations across this beautiful 172 acre land were created by the renowned architect, Sharukh Mistry and Agastya Design team.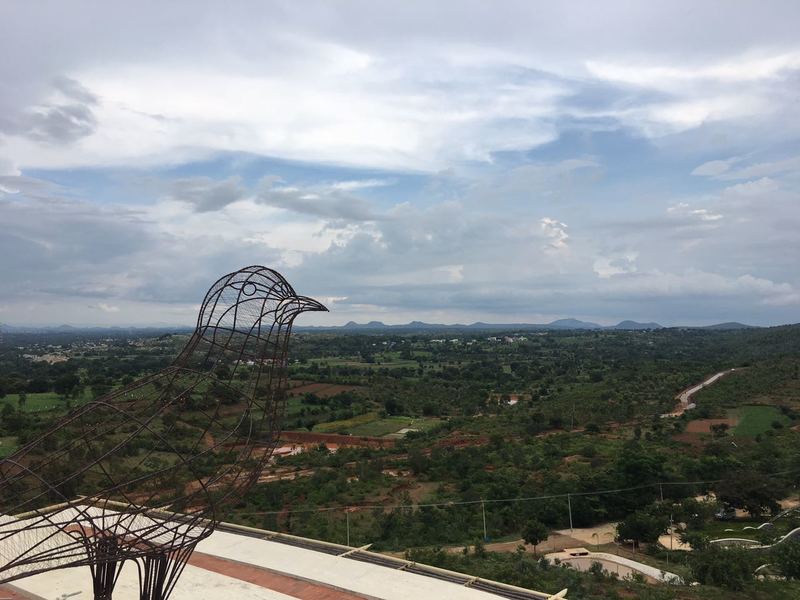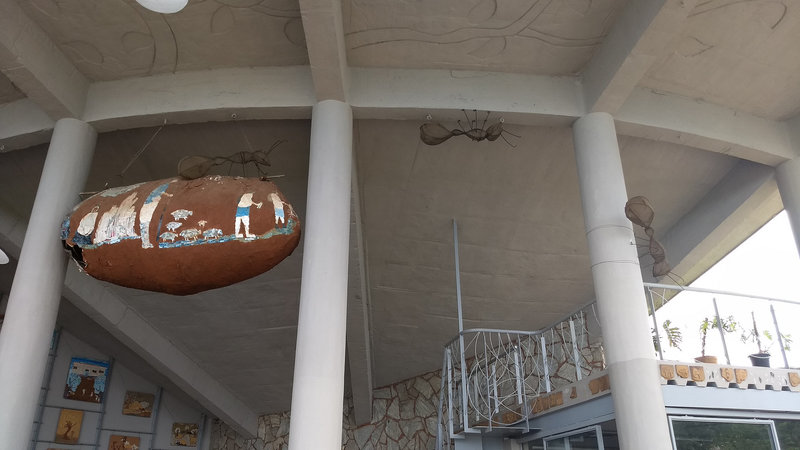 We have our fill of the sight of the faraway hills that circle us, and reach the stone-walled auditorium situated in the midst of this biodiversity. It's nearly lunch time when we walk into the cool auditorium. Jagadeesa, an ace storyteller and head of the library program at Agastya Foundation, has just finished the narration of 'Kottavi Raja and His Sleepy Kingdom' in English and Telugu. His audience of about 200 children, scattered across the space, are clearly delighted. One girl even volunteers to tell the story in English again.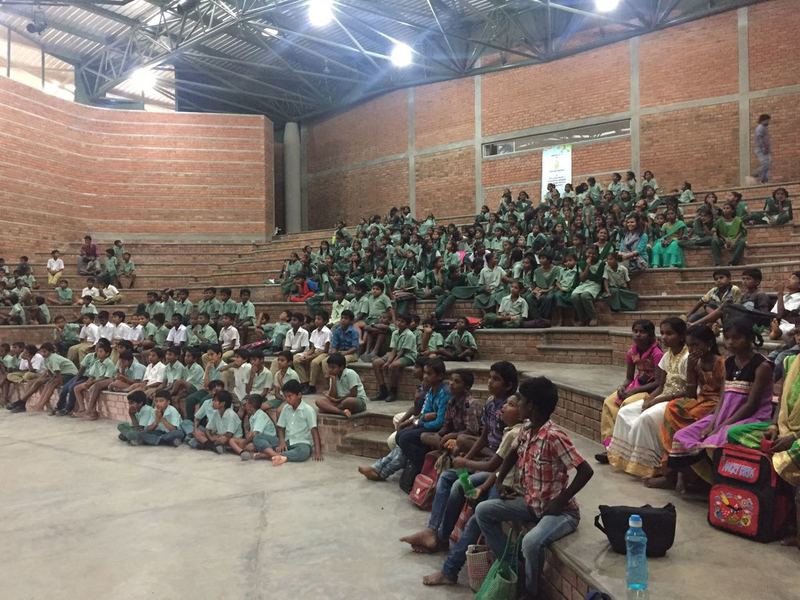 Once she's done, our team spreads out among the children, and an easy chatter resumes. Soon, they start filing out for their noon break. We meet some of the Agastya staff members, and they tell us more about the work they do.They lead us out, along a concrete path strewn with imprints of leaves of the Indian almond tree, up to the canteen. By the door are tyre and metal pawns that go with an outdoor chess board! The meal is simple yet delicious and we discuss Agastya's philosophy behind setting up this campus in detail.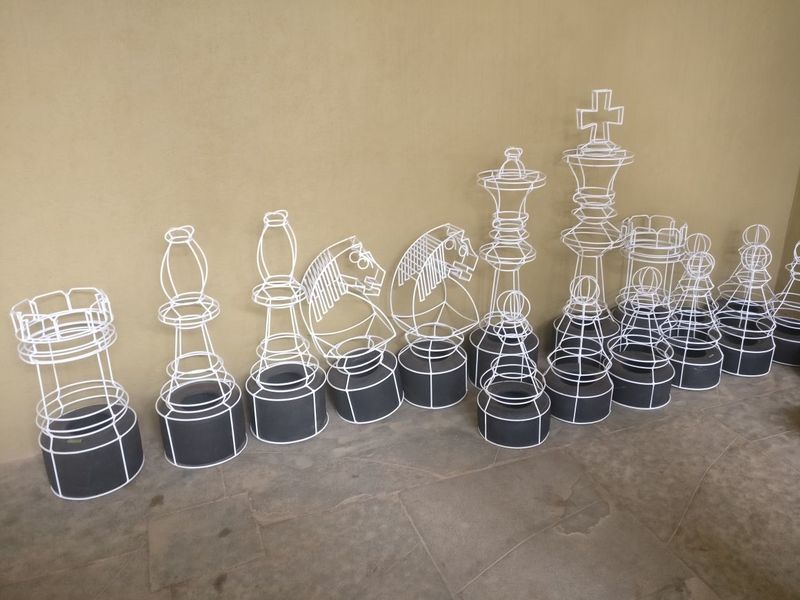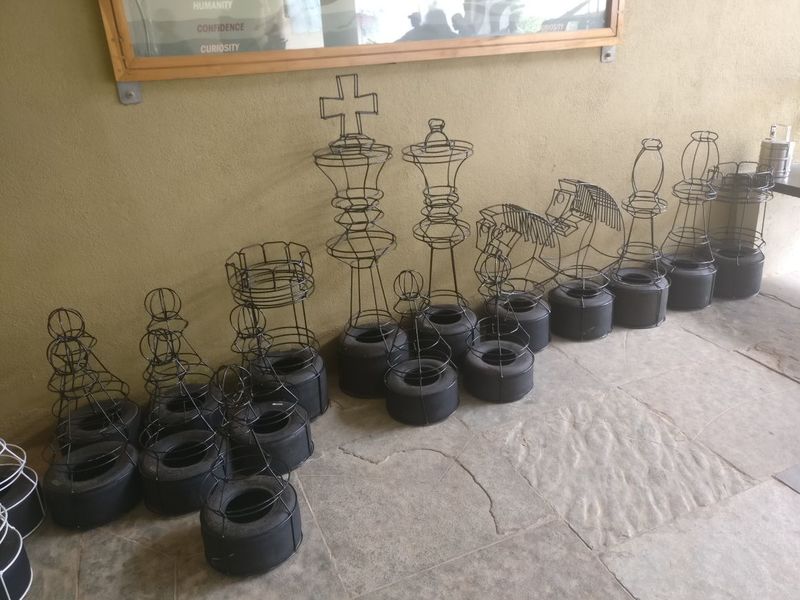 A little later, Aparna Kapur, author of 'Ghum-Ghum Gharial's Glorious Adventure', takes the stage and narrates the story of Ghum Ghum, a baby gharial who separates from her family in the river and must make her way back to them somehow! The children giggle their way through the animal sounds that punctuate the book. Jagdeesa live-translates the story into Telugu.
Our Editor, Bijal Vachharajani is up next. She makes the children laugh with the narration of her story 'What's Neema Eating Today?'. We watch children repeat after her. Funny expressions and sounds of 200 satisfied tummies, and the auditorium goes "Mmm-mmmmmmmmmmm!" Everybody has fun identifying their favorite seasonal fruits in the colourful picture book.
The final session with the children is the Food Rakshasa Activity conducted by Bijal and Aparna. Children are divided into groups and together they draw their idea of a monster on paper by substituting body parts with fruits and vegetables -- chilli, ladies' finger, bottle gourd, apple, carrot and more. And what lively, scary, yummy monsters we get to see by the end of it!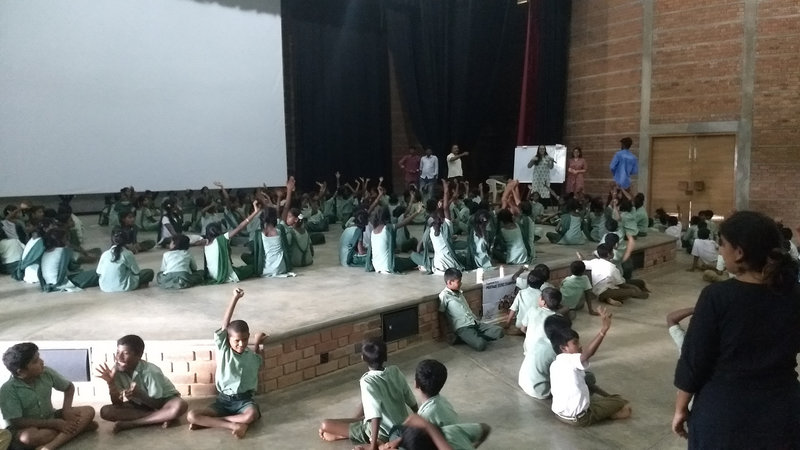 Post the session, the Pratham Books Team follows Subramanya Shastry, a key team member of the Foundation who has generously agreed to give us a detailed tour of the campus. "The children observe the nature around, pick up things from their surroundings, and create art from it," our host is explaining. But his words nearly skip our attention; the display around us is distracting.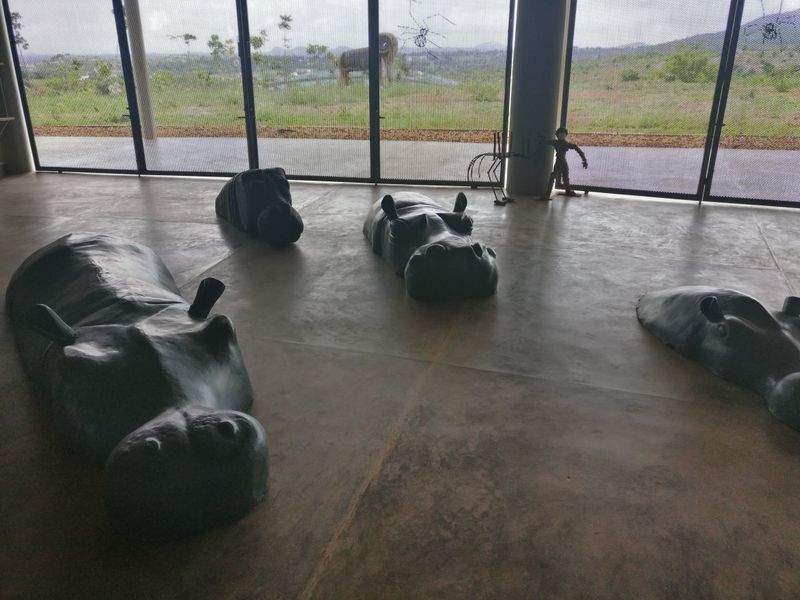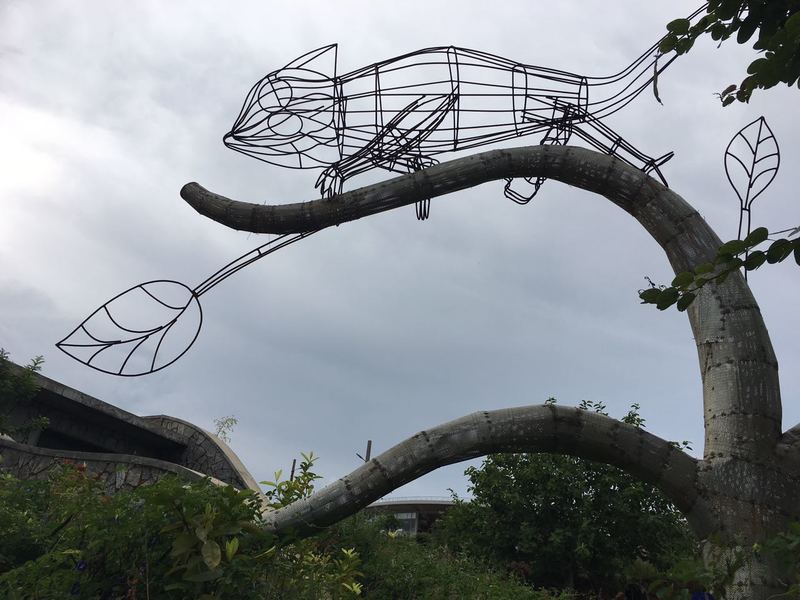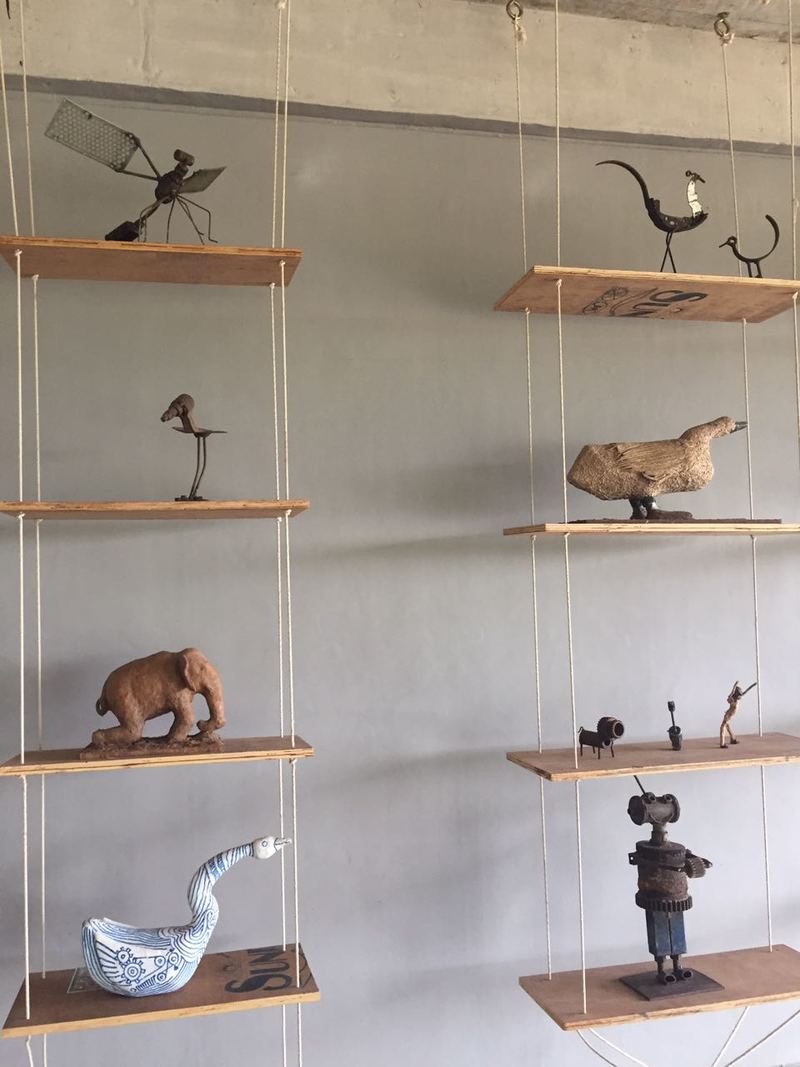 We tear ourselves away from this building with some difficulty and head to the innovation centre. Here the children, in groups, come up with devices or social interventions that impact their day-to-day life. For example, since water supply is erratic in most villages, one group has devised a sensor to alert people when water has been released. In the summer months, the supply can be as infrequent as once in ten days, so it's crucial not to miss every opportunity to fill up the buckets. Another group's device, to be installed at bus stops, would indicate how many buses of a certain route have passed.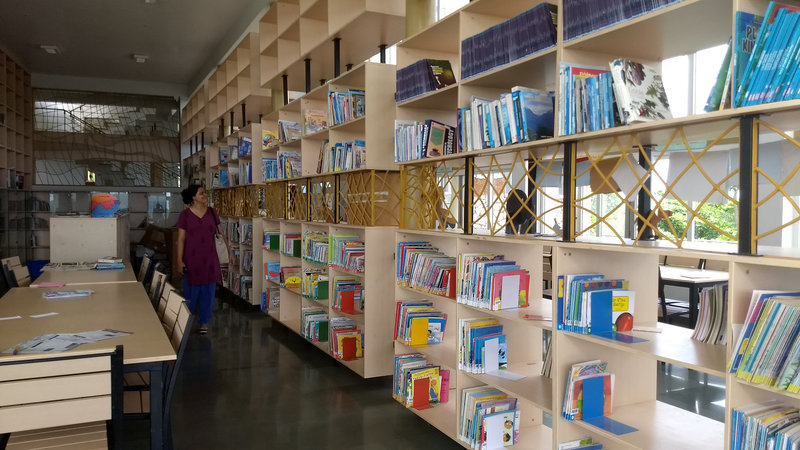 Our tour includes the media centre where we get to see photographs, animations and short films by the children. We wrap up with a short visit to the library and the robotics lab.
Too soon, it's time to get back on the bus. As we wave goodbye to the staff and children, we're certain we'll be back here before long.
More pics from our visit can be seen here: https://flic.kr/s/aHsm4sDAMf
Be the first to comment.
---