International Mother Language Day is celebrated annually on 21 February to promote awareness of linguistic and cultural diversity, and multilingualism.
---
The ability to read is the ability to learn, to explore, and to imagine. But without books to read, how will children become readers?
In many parts of the developing world, millions of children still lack access to books in their mother tongue, that they can easily read, understand, and learn from.
UNESCO reports that children learn better in their mother tongue, for all the benefits created in supporting reading skills acquisition among children, and building a strong foundation for learning. The disruption of education systems due to COVID-19 has deepened inequities, and the need for high-quality, multilingual children's books is more urgent than ever.
Every year, StoryWeaver marks International Mother Language Day in an effort to highlight that learning to read in one's mother tongue early in school helps reduce dropout rates and makes education more engaging, meaningful and enjoyable for children.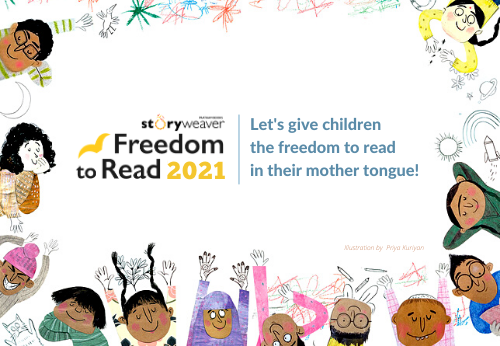 .

In keeping with UNESCO's theme for the 2021 International Mother Language Day - "Fostering multilingualism for inclusion in education and society" - we are renewing our commitment to progress towards Sustainable Development Goal 4: Quality Education For All, by enabling the creation of and open access to local language children's books.
We are delighted to announce that entries are now open for the 5th edition of our 'Freedom to Read' campaign, which focuses on the translation and sharing of open digital libraries in local languages.

This year, we look forward to collaborating with government education departments, state education ministries, government language and culture promotion boards, civil society organisations, language promotion organisations, NGOs and large advocacy groups that work with children.

StoryWeaver will train and skill each of the selected partners to translate and share an open digital library of at least 50 high-quality books, in a language of their choice.
How will we do this?
By supporting our partners with the selection of suitable books for their children. The books encompass a range of reading levels and themes, including Early Readers, Bilinguals, STEM storybooks, as well as the Curated Reading Programme.

Training them to translate quickly and efficiently.

Conducting editorial masterclasses tailored to their needs, and more
A

pplication timelines and guidelines
The last date for applications: March 07, 2021

Pratham Books reserves the final rights to select partners.

Selected partners will sign a letter of understanding with Pratham Books.

Only selected partners will be eligible for translation support and mentoring.

Applications for building digital libraries in languages with few or no books will be given preference over those in mainstream languages or languages that already have a digital library of 100 storybooks on StoryWeaver.

Applicants with basic digital infrastructure and language resources to create a local digital library will also be given preference.

All content created and published by you / your organisation on StoryWeaver as part of the 'Freedom to Read 2020' campaign will by default be licensed under CC BY 4.0.
Fill up the application form here: APPLY NOW

---
If you have any queries about Freedom to Read 2021, you can access the FAQs here or write to us at [email protected], or send us a message on WhatsApp at +91-9886110408.
comment (1)
---
Azad India Foundation (AIF) was founded by Yuman Hussain in 1998 to seed initiatives in education & primary health care. The organisaton's activities reach out to marginalised women, adolescents and underserved children from rural and urban areas of Kishanganj district in Bihar. AIF has learning centres at 73 villages in three blocks of Pothia, Kishanganj and Thakurganj in Kishanganj, impacting 3,500 + children directly in the area. The children in AIF's centres are aged between 6-9 yeas and are either school dropouts or attending Madrassas. The centre's syllabus includes Hindi, English, Science and Maths. The main aim of the initiative is to ensure that children are ready to merge with mainstream education in state-run schools by grade 4.
AIF is also our first partner translator to have completed its goal of translating 100 StoryWeaver books into Surjapuri. Surjapuri is spoken in pockets of Bihar, West Bengal, Assam and Bangladesh by 1.2 million people. In Bihar, the language is spoken in Koshanganj, Katihar, Purnia and Araria districts. In an email interview Yuman Hussain tells us why creating a hyperlocal library in Surjapuri is important and how AIF managed to reach its goal of 100 books in collaboration with its project and cluster coordinators.
Tell us more about Azad India Foundation?
Azad India Foundation (AIF) has been working in Kishanganj district of Bihar from 2001. It started its activities with a non-formal education and vocational training centre for women. Over the years, AIF's focus has been on the development of poor and marginalized children, adolescents and women. Our activities are in the fields of women's literacy, formal school education, non-formal education, rural employment, income generating skills, SHG formation, and community health programmes. Currently, we are directly working with 3,500 children in the primary classes through learning centres in 73 villages of four blocks — Kochadaman, Pothia, Kishanganj and Thakurganj.
What are the long-term effects of a lack of easy access to resources in mother tongue languages for the communities that you work with?
Surjapuri is local language spoken among a large section of people in the Seemanchal area (Kishanganj, Araria, Purea and Katihar) of Bihar. Unfortunately, we have not seen any books or resources available in the local language for the children. There is a possibility that these languages will be lost over a period of time as more and more people now speak Hindi. In fact, when we started translating books in Surjapuri and shared them with the children and community members they were unable to recognize their own written language.
What are the benefits of creating a local digital library of joyful storybooks in Surjapuri?
Creating a hyperlocal library at StoryWeaver will help our children have access to and preserve Surjapuri as their language. It would also enable them develop their reading skills and enjoy stories from all over the world in their own dialect. The digital library is free besides being easily accessible to every one. The mobile friendly feature has made it possible for the books to reach even remote corners of the country.
Tell us more about your team of conributors and how you managed to translate and publish the 100 Surjapuri stories?
The stories were translated by the team of project Badhte Kadam comprising cluster coordinators Aslam, Chand, Juhi and teachers. They were really excited about creating Surjapuri stories as it gave them an opportunity to contribute to the preservation of their own language. Muzzamil, who is the project head, reviewed the stories. The stories were chosen according to the themes and levels of the children accessing them. The toughest part was the typing and uploading of the stories that was done diligently by Saqlain, our computer operator. AIF is really proud and thankful to its team members for completing this programme within the stipulated time period with sincerity and enthusiasm. We will continue adding more stories and hope to bring the joy of reading to all children.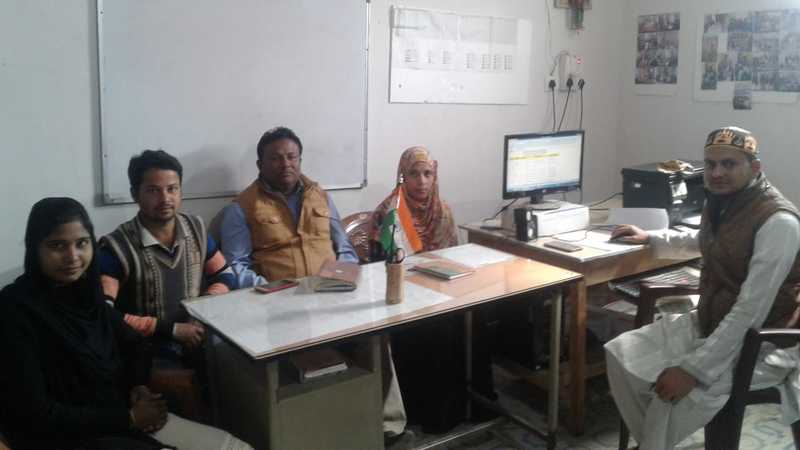 AIF's Team Badhte Kadam
How does Azad India Foundation plan to use this digital library of a 100 books?
AIF plans to introduce these stories among the children at our learning centres. We are also spreading the message through social media about the StoryWeaver platform so that the community can access, use these stories and help in building this digital library further with many more books. This is a small step towards the preservation of local languages for which we are grateful to the StoryWeaver platform.
You can read the Surjapuri stories translated by Azad India Foundation here.
Be the first to comment.
---

At StoryWeaver, we believe that every child deserves to have joyful reading material in her mother tongue. To make this a reality, we have been building all-digital libraries in underserved languages through the 'Freedom to Read' campaign.
In November 2019, we opened applications for the 4th edition of Freedom to Read, inviting organisations and individuals to partner with us to achieve our goal: the co-creation of digital libraries in languages with few or no storybooks by February 21, 2020 - International Mother Language Day. Each of these free-to-use digital libraries will contain at least 50 quality-assured books - creating more storybooks, in more languages, that serve more children all over the world.
We are overwhelmed by the response to Freedom to Read 2020. A BIG thank you to the applicants - we are inspired by your work in the field of literacy and language.
Based on our guidelines, relevance of work, and a rigorous evaluation, we have selected 5 organisations and 18 individual Language Champions to collaborate with us to build and share digital libraries in 20 languages.
Here is the list of partners for Freedom to Read 2020:
Partner Organisations
| | |
| --- | --- |
| Target Language | Organisation |
| Amharic | Ras Abebe Aregay Library |
| Bodo, Nepali and Karbi | Pragyam Foundation |
| English-Surjapuri | Azad India Foundation |
| Fijian | Fijian Language Society |
| Hindi-Magahi | Karunodaya Foundation |
Language Champions
| | |
| --- | --- |
| Target Language | Language Champion |
| Amharic | Kaleab Getachew |
| Arabic | Amina Bouiali |
| Chhattisgarhi | Rohit Sharma, Er. Vivek Rathore, Charan Das Mahant |
| Farsi | Marzieh Nezakat |
| Basa Jawa (Javanese) | Theresia Alit, Sigit Apriyanto |
| Kochila Tharu | Sanjib Chaudhary |
| Lepcha | Minket Lepcha |
| Persian | Nazanin Karimimakhsous |
| Rana Tharu | Kamal Singh Rana |
| Setswana | Leelo |
| Sambal | Leo Fordan |
| Sambalpuri | Dron Sahu |
| Sindhi | Bhawana Dhameja P, Bharti Menghani |
| Tu'un savi | Francisco Amado Cruz Ramírez |
We shall be getting in touch with the selected partners to discuss the next steps.
We are so grateful to everyone who applied - thank you once again for your participation, interest and support! We shall do our best to reach out to you to explore alternate ways to collaborate.
---
Do join the conversation by leaving your thoughts in the comments section below. You can also reach out to us through our social media channels: Facebook, Twitter and Instagram.
Be the first to comment.
---