Whether you are an educator looking for distance learning solutions, or a parent looking for ways of keeping your little ones engaged, or someone who cares about children having uninterrupted access to reading resources even during school closures due to the COVID-19 outbreak - StoryWeaver is here to support you.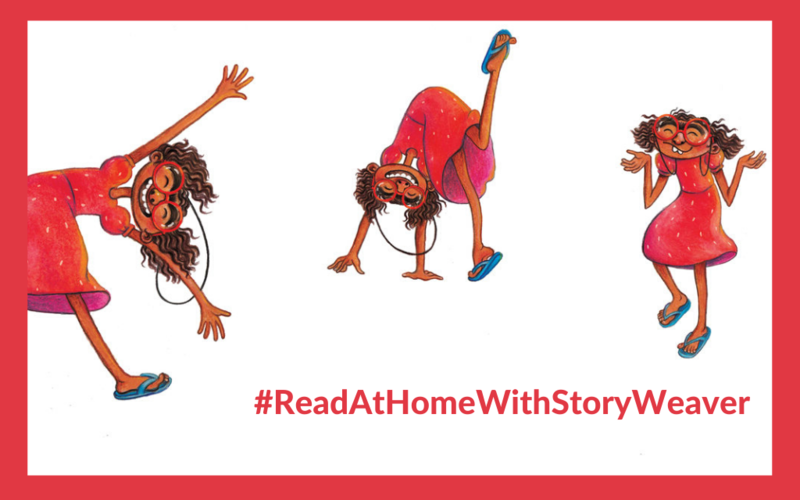 Illustration by Ekta Bharti, for I Love Me, written by Menaka Raman and published by Pratham Books.

We have more than 19,000 storybooks in 230 languages, available on our platform www.storyweaver.org.in which you can read online, on your phone, download or print PDFs, all for free. Here are some of the other ways that you can use StoryWeaver:
--> The Reading Programme is an easy-to-use, curated collection of books, themes and activities, tailored to suit the learning needs of children from Grades 1 to 8. Sign up for free and help children fall in love with books and reading! http://bit.ly/33jYdMl
--> The STEM Reading Lists have a collection of storybooks that spark curiosity and interest in children to explore concepts related to science, math and technology: http://bit.ly/3aR5RR9
--> The Readalongs are audio-visual storybooks that early readers can listen to as they learn to read. These books have subtitles that mirror the audio narration of the story, which help children build language acquisition skills: http://bit.ly/3aS5Nk2
--> StoryWeaver's English and Hindi YouTube channels have delightful, artfully narrated video stories to engage children and nurture their thinking and imagination.

Explore StoryWeaver's local language digital libraries that are available in Amharic, Assamese, Bahasa Indonesia, Bangla (Bangladesh), BasaJawa , Bengali, Chinyanja, Farsi, French, Gondi, Gujarati, Hindi, Igbo, Kannada, Khmer, Kiswahili, Kolami, Konkani, Korku, Luganda, Macedonian, Marathi, Nepali, Odia, Punjabi, Serbian, Tamil, Telugu, Tibetan, Urdu, Vietnamese and Yoruba, to name a few.

If you are looking for more distance learning solutions, here is a comprehensive list shared by UNESCO.

Thanks to the power of open licensing, technology, and our network of wonderful authors, illustrators, translators and partners, we can give children around the world free access to joyful reading material, even during school closures.

Keep calm, stay safe and #ReadAtHomeWithStoryWeaver.
P.S. Do share your 'read at home' moments with us on Facebook, Instagram and Twitter using #ReadAtHomeWithStoryWeaver, and inspire our community!
Be the first to comment.
---

Theresia Alit is a freelance translator, who translates books from English-Javanese to Bahasa Indonesia-Javanese and vice versa. She is passionate about creating a repository of storybooks in her mother tongue, Basa Jawa, as she feels that the number of people who tell children's stories in Basa Jawa is decreasing. Previously, she has worked on translating stories into Javanese for a project called Serat Kancil. As part of the Freedom To Read 2020 campaign, she has created a digital library of 50 storybooks in Basa Jawa.
In this email interview, Theresia writes about translating books into her mother tongue and the importance of creating children's books in the Basa Jawa.
Do tell us about yourself, your interests, your work.
My name is Theresia Alit, and I am from Indonesia. I am a freelance translator, and I work on translations from English-Javanese to Bahasa Indonesia-Javanese and vice versa. Speaking of interests, I am very interested in traditional culture, languages and people.
We would love to learn about your personal relationship with Basa Jawa - do tell us about it.
I am a native speaker of Basa Jawa, and was raised speaking the language. I find it sad that a lot of people in the younger generation of today do not really speak or understand Basa Jawa, despite it being their mother tongue.
How did you come across StoryWeaver and the Freedom to Read campaign?
I came to know about StoryWeaver and your Freedom to Read campaign on Twitter, from a retweet by the Wikitongues account.
Why do you think is it important to have children's books in Basa Jawa?
I feel that it is extremely important for the younger generation to learn and read Basa Jawa. In fact, yesterday, I did a campaign with a community of small children, and they were really enthusiastic about reading stories in the language!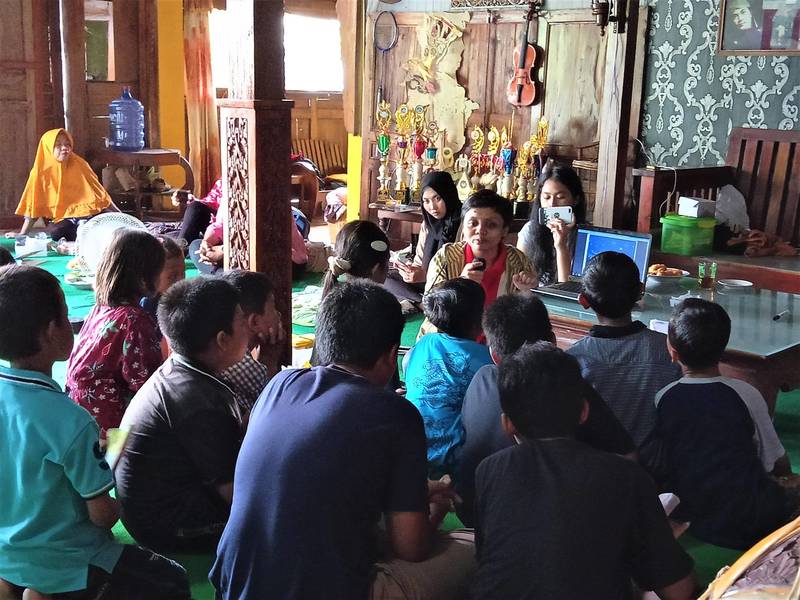 Theresia Alit conducts reading sessions for children in Basa Jawa in Indonesia
Of the 50 storybooks that you translated, which story would be your favourite and why?
I really enjoyed the book, Bayi gajah kang penasaran. It's so funny!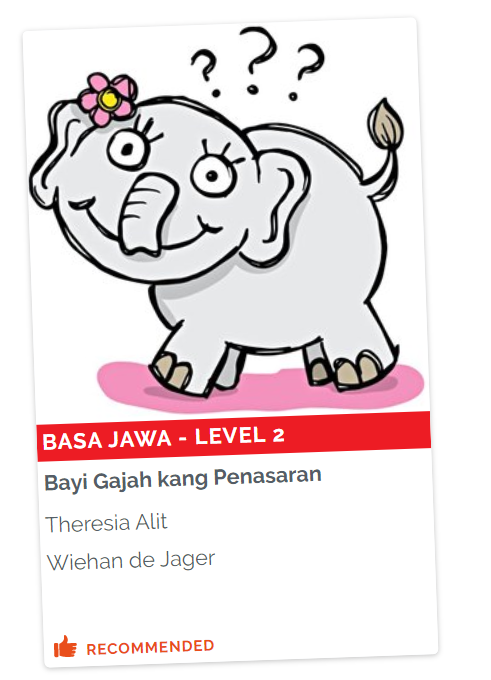 What are some of your favourite books from childhood? Is there any memorable reading moment that you would like to share?
Some of my favourite books are The Little Prince, Asterix and Obelix, Uthak-uthak Ugel (folktale), etc. When I read a book, I feel that I am moving into another world altogether. (just like Puchku!)
---
You can read all of Theresia Alit's translated storybooks here.
Do join the conversation by leaving your thoughts in the comments section below. You can also reach out to us through our social media channels: Facebook, Twitter and Instagram.
comment (1)
---