World Book & Copyright Day is an international initiative to promote the enjoyment of books and reading. By championing books and copyright, UNESCO stands up for creativity, diversity and equal access to knowledge.1
Aparna Kapur, Editor at Pratham Books, writes about the making of 'The Novel Coronavirus: We Can Stay Safe' - made possible through an amazing collaborative effort.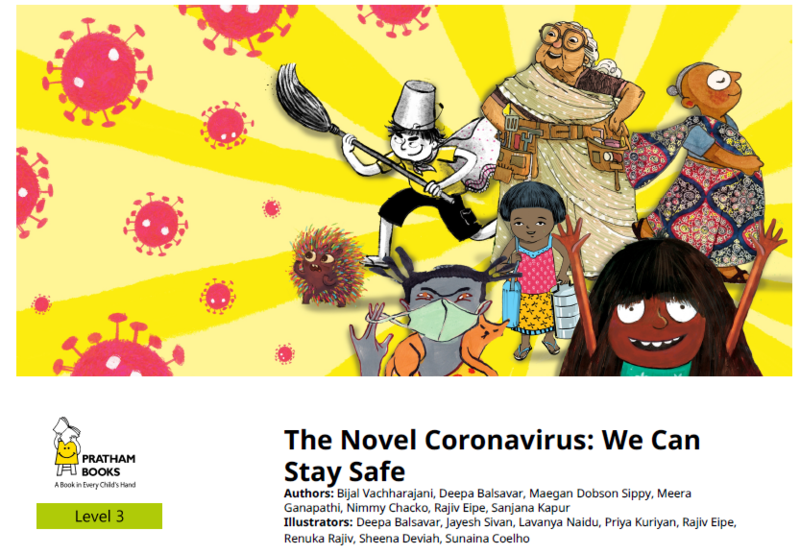 'The Novel Coronavirus: We Can Stay Safe' is a book aimed to help children better understand what they can do to stay safe during this pandemic. The book isn't just special because it was created in ten days, or because it's available in five languages. What makes this book remarkable is that it involves thirteen of India's best children's book writers and illustrators, and characters from seven of Pratham Books' most popular books - all released under the CC BY 4.0 license, and free to read on StoryWeaver.
Above everything else, artists define themselves by their work. Their words, their pictures, their design -- these are closest to their hearts. So when creators agree to release their work under Creative Commons, it is their way of showing their trust in the publisher, and a commitment to a common goal. In our case, that goal is 'to see a book in every child's hand'.
For the last 15 years, Pratham Books has been working towards this goal by publishing affordable openly licensed picture books, and making them available for free on StoryWeaver - ensuring they can be accessed and enjoyed by children all over the world, some of whom may not otherwise have had access to books. This has helped us create a sense of community with our creators. Which is why when we asked them to be a part of this project, nearly everyone responded within minutes, telling us that they would be happy to.
In the current state of things, when everyone needs to stay indoors as much as possible, the value of digital content is hard to ignore. The internet is helping all of us stay connected to each other, but also to things that give us joy and comfort. By openly licensing content, we aren't just removing the locks from our doors, we are throwing the door wide open and welcoming everyone in.
The book is already available in five languages. And with the CC BY 4.0 license, and the community-based StoryWeaver platform, people all over the world will be able to translate it, or use the images to make their own posters or books, or download a PDF and share it with people.
Multilingual. Generous. Collaborative. Worldwide.
When open licensing is done right, it can do wonders.
---
Read, download, translate 'The Novel Coronavirus: We Can Stay Safe' on StoryWeaver here.
A big thank you to the wonderful team of creators and experts who made this possible.
The book is written and illustrated by Bijal Vachharajani, Deepa Balsavar, Jayesh Sivan, Lavanya Naidu, Maegan Dobson Sippy, Meera Ganapathy, Nimmy Chako, Priya Kuriyan, Rajiv Eipe, Renuka Rajiv, Sanjana Kapur, Sheena Deviah and Sunaina Coelho. Thank you to Anirban Mahapatra, Dr N S Prashanth, Shambhavi Naik and Dr Tanya Seshadri for their help with fact-checking.
Be the first to comment.
---
Here's a step-by-step guide on how to use the Translate tool on StoryWeaver:
1. Login to your StoryWeaver account using your email ID and password. If you don't already have an account, sign up here. A confirmation email will be sent to the email ID you have used to sign up. Please confirm your account to complete the sign up process.

2. Click on the Translate tab on the StoryWeaver homepage. Select the language you would like to translate to. Remember to translate the story in the language with which you are most familiar with or in the language in which you think and feel! The stories that come up will be the ones that do not have translations in your chosen language.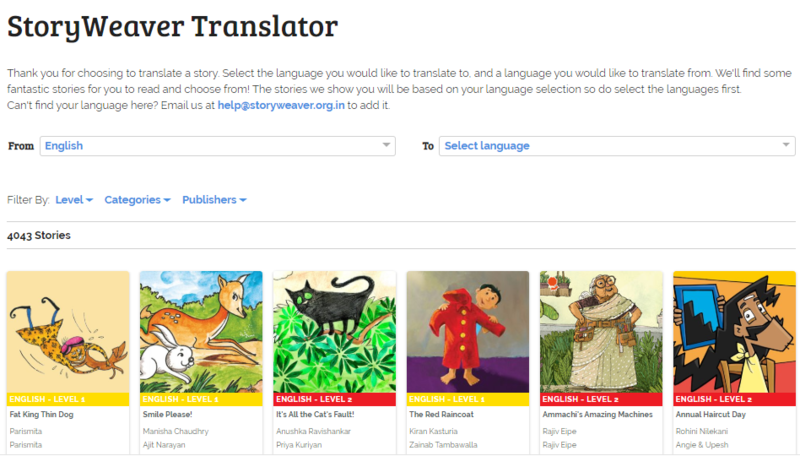 3. Selecting a story for translation
You can narrow your story choices by using filters like Reading Levels (who are you translating the story for), Categories (what kind of stories are you looking for) etc. Browse through the selected stories and pick the one you would like to translate.
Once you have selected the story, we suggest you read the story a few times before you begin translating. You can do this by hovering the mouse on the story card, clicking on the 3 dot menu and selecting the 'Read Story' option from here.
After you have read the story, click on the TRANSLATE button on the story card.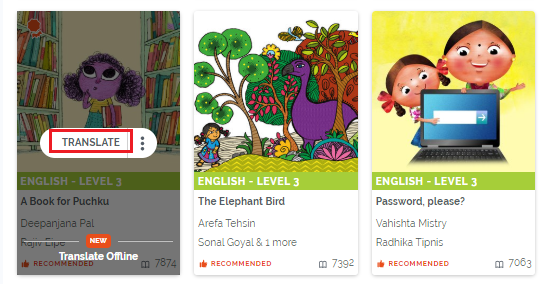 4. Setting up the translation draft
The story will now open in the Story Editor along with the original text on the left hand page as a reference for you while translating. This reference text does not get published.
The Tips button at the top will give you handy tips and best practises in translating children's picture books.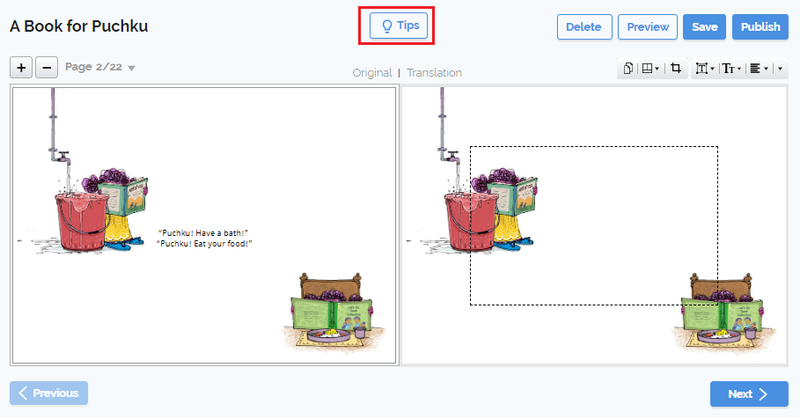 To know more about the translation process, check out our Translate Tutorial or read the answers to Frequently Asked Questions about translation. You can also find some great translation tips here.
You can save your translation and find it under 'My Drafts' in your Dashboard.

You can now translate without using the internet. To know more about our new Offline Translate feature, click here.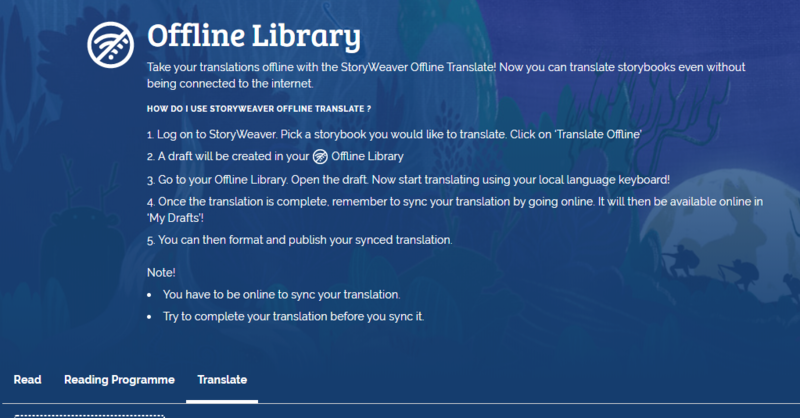 5. Start translating
You can add your translation in the Story Editor window on the right side. Please note that only Unicode fonts work on StoryWeaver as it's a universally accepted standard display of font.
You can type using the language keyboard on your machine or start translating the text phonetically in the text box. For example, you can type "namaste" in English to get "नमस्ते" in Hindi, which sounds like "Namaste". As you start typing the word in English, a list of possible transliterations will appear. Choose the one you want and press 'Enter'.
StoryWeaver offers transliteration support for 12 languages and dictionary support in over 100 languages to help with choosing the right form of the word in the translation.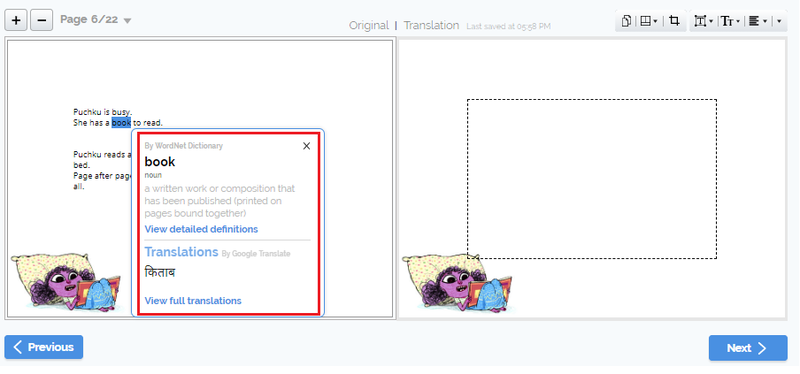 If your chosen language does not have transliteration support, we recommend that you use Google Input tools. From Google Input tools, you can just copy & paste the translated text into StoryWeaver.
6. Formatting your translation
You can change alignment, text size and text style using the formatting options in the editor. For better readability, we recommend matching these to the style, size and alignment used for the original text (on the left hand page).
You can add a duplicate page if the translated text does not fit into the text box (dotted lines). The duplicate page can hold the remaining text.
7. Getting ready to publish
We recommended previewing your draft before you publish (from the Preview button in the editor).
Hit the Publish button when you are ready.
This will open the Publish form. Fill in all the details, including the translation of the synopsis in the form before clicking 'Publish'.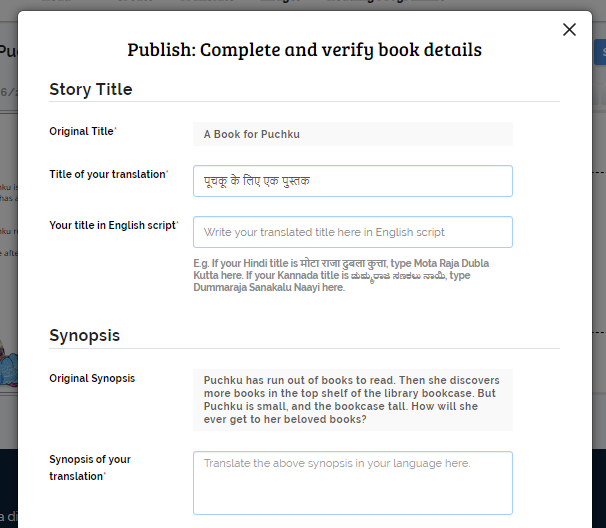 Your story will appear in 'New Arrivals' shortly.
8. Share your work, build your profile
You can share your translation on social media so that others can enjoy it too. You can click on the Share button from the Story Details page of your story and share your story on WhatsApp, FaceBook or Twitter.
Lastly, don't forget to update your profile page by adding a few lines about yourself, a profile picture and contact info (email ID/ social handles, if any) in the 'My Details' section of your Dashboard.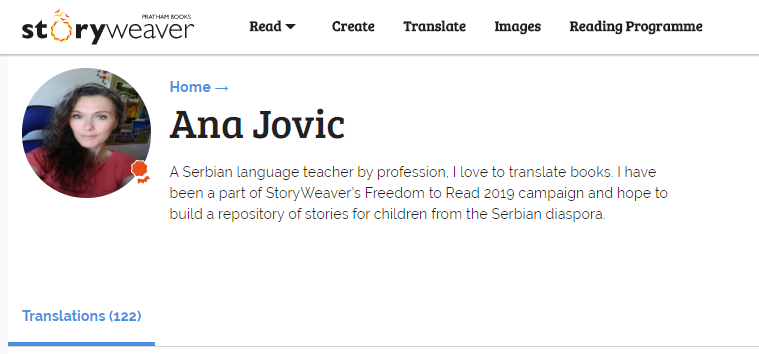 If you have any questions or are facing any issues, please write to us at [email protected]
---
Leave your thoughts in the comments section below! You can also reach out to us through our social media channels: Facebook, Twitter and Instagram.
Be the first to comment.
---
Written by Shaoni Dasgupta, Assistant Editor at StoryWeaver
We are thrilled and proud to reach 20,000 storybooks on the StoryWeaver platform! When StoryWeaver was launched in September 2015 with 800 storybooks in 24 languages, we couldn't have predicted the tremendous reception the platform has received over the last five years - not just in India, but around the world.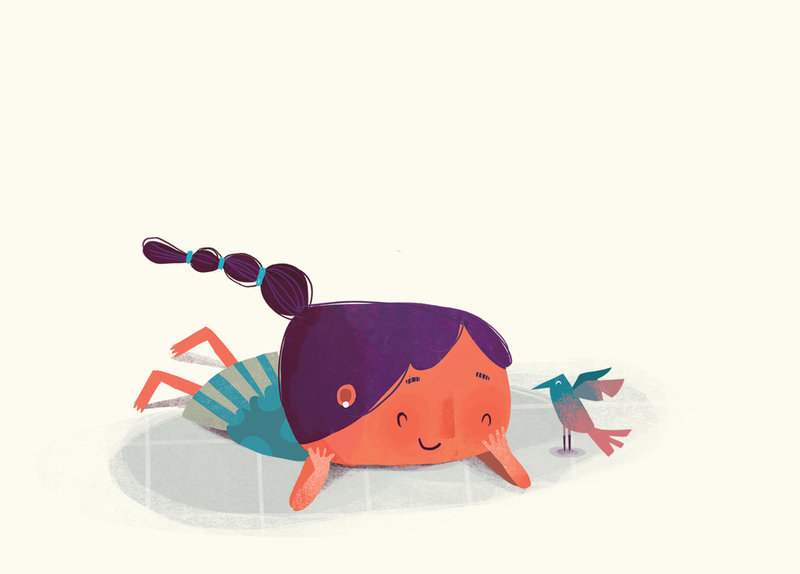 Illustration by Sandhya Prabhat, for Today I Am written by Varsha Seshan, published by Pratham Books

We are extremely thankful to our amazing community, for helping us get to where we are today. It is your unwavering faith in our motto, and your help with strengthening our foundation through your stories and translations that has helped us achieve this milestone. Without your support and goodwill, we wouldn't be where we are! We are so excited to do what we do because of you and our brilliant pool of publisher and translator partners. Here's a shoutout to all of you for being amazing! You have joined hands to hold the base of the platform to make it what it is, and we couldn't be more thankful.
Today, with 20,000 storybooks in 235 languages, StoryWeaver is truly a global repository of multilingual content. More than 1.5 billion children around the world are at home due to school closures, in an effort to control the COVID-19 outbreak. It's a difficult time for everyone and the need for reading materials for children that can be accessed at home, is more urgent than ever. During this difficult time we hope you can Read At Home with StoryWeaver and continue to partner with us to bring joyful content to children the world over.
Be the first to comment.
---