Madhu B. Joshi prefers to be known as a communication practitioner. She sees a great need for demystification in daily life and has been trying to work towards it. She has taught translation and a short, self-designed course of Indian culture, mentored content teams of major education NGOs and designed educational audio-video programmes for CIET and NCERT. Joshi is a translator of Hindi poetry and short fiction in English and has presented major black feminist writers in Hindi. She is also a prolific and visionary collaborator of StoryWeaver, and has translated many storybooks into Hindi including मुझे खोज कर दिखाओ! and बाग की सैर. You can read all her stories on StoryWeaver here.
Apart from all of the above, we also know and love the other मधु बी. जोशी (in her own words)... जो खाना पकाना, इलाज करना, पौधे और कुत्ते पालना, राय देना.. जैसे बहुत से मुफ़्त काम करती हैं। उन्हें सब से ज़्यादा मज़ा बच्चों के लिए काम करने में आता है और वह इसका कोई मौका नहीं चूकतीं।
In this blog post, Joshi writes about the complexity of translation and the many challenges it presents.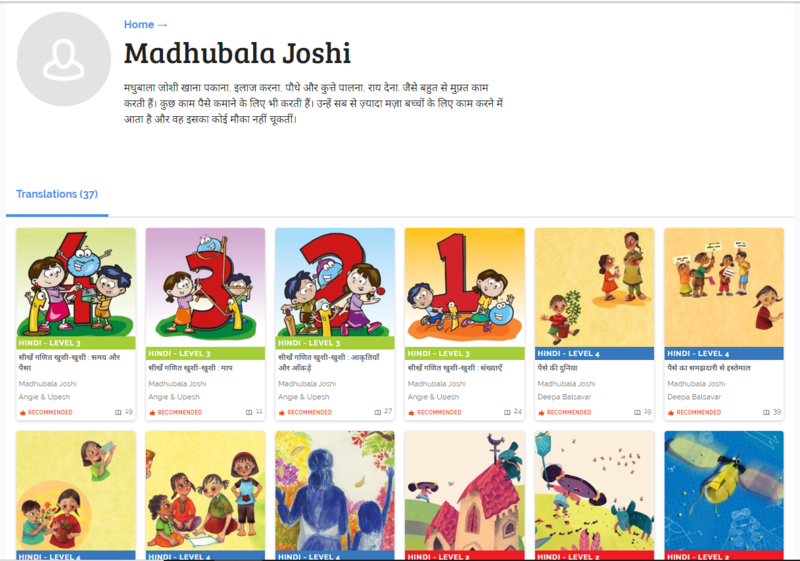 Stories translated into Hindi by Madhu B. Joshi on StoryWeaver.
स्टोरीवीवर की कहानियों का अनुवाद हमेशा चुनौती साथ लाता हैः हमें ठीक-ठीक मालूम नहीं होता कि कहानी का पाठक दुनिया के किस हिस्से में है, उसकी आयु या शैक्षणिक पृष्ठभूमि क्या है, वह प्रस्तुत पाठ को किस उद्देश्य से पढ़ रही है, क्या हमारे शब्द उसके लिए भी वही अर्थ रखते हैं, क्या हमारा किया अर्थान्वय उसके लिए भी कारगर रहेगा?.....अनेक प्रश्न बार-बार कलम रोकते हैं। और फिर लेखक के मूल कथ्य और मंतव्य को पकड़ने की चुनौती तो हमेशा ही अनुवादकों के सामने रहती है-अरे मन संम्हल-सम्हल पग धरिये!
एक मोटा-मोटा सूत्र राह दिखाता हैः अनूदित सामग्री पढ़नेवाले पाठक के लिए वही मूल रचना है। लेकिन नामों और रिश्तों का जटिल संसार कभी-कभी बहुत कड़ी परीक्षा लेता है। एक कहानी में दक्षिण भारतीय मुख्य चरित्र, जो एक लड़का था, का नाम सत्या था, हिंदी मे यह लड़कियों का नाम होता है; तो नामों के मूल रूप बनाए रखने की ताकीद के बावजूद मैंने उसका नाम सत्य कर दिया क्योंकि मुझे हिंदी के पाठकों को भ्रम में न डालना ज़्यादा महत्वपूर्ण लगा। हाल ही में गोआनी मूल के ईसाई लेखक की लिखी सुंदर और बहुत रोचक कविता-कहानी में शवयात्रा के समय बजनेवाले बैंड (भारत में कम ही जगह इस तरह का चलन है) का उल्लेख आया। इसे हिंदी के बाल-पाठक को समझाने के लिए हमें लंबी-चैड़ी टिप्पणी देनी पड़ती जो पढ़ने का मज़ा ही किरकिरा कर देती। तो हल निकाला शवयात्रा का उल्लेख गोल करके; पाठ की रोचकता बरकार रही, उस की गुणवत्ता हल्की नहीं हुई।
लेकिन कई बार तकनीकी शब्दावली की यांत्रिकता आड़े आती हैः प्रचलित शब्द गोल/गोला से पता नहीं चलता कि वह किसी पिंड का संकेत दे रहा है या द्विआयामी आकृति काः गेंद भी गोल है, और नंगी आंख से धरती से दिखता चांद भी! अब अगर हम सायकिल के पिंडाकार पहियों की बात कहना चाहें तो कैसे कहेंगे? एक और बड़ी समस्या पशु-पक्षियों-कीट-पतंगों-वनस्पतियों के नाम हिंदी में बताते हुए आती है। इस संदर्भ में 'ताल का जादू' के हिंदी अनुवाद की याद आती है। इसमें उल्लिखित कई पक्षियों और कीटों के नाम मुझे नहीं पता थे। हमारी प्रचलित शब्दावली में, कई कारणों से इन में से बहुत के नाम उपलब्ध नहीं हैं; किसी वैज्ञानिक शब्दावली में मिल भी जाएं तो शेर-बाघ-तेंदुए के बीच अंतर न जानने वाले हमारे पाठकों के लिए वे इतने अपरिचित होते हैं कि अंग्रेज़ी नाम देना भी ठीक ही लगता है-जैगुआर कहने पर यह संभावना बनी रहेगी कि कोई जानकार उसे इसका अर्थ समझा सकता है (वैसे जैगुआर अमेरिका में पाए जाने वाले तेंदुए हैं)। बेसिल का अर्थ आमतौर पर तुलसी लगाया जाता है लेकिन तुलसियां भी कम से कम छः तरह की होती हैं, बेसिल में यह तथ्य निहित है, तुलसी में नहीं।
हर नया पाठ अनुवादक के लिए नई चुनौती लाता है। हर नया अनुवाद भाषा के क्षितिज को कुछ आगे सरकाता है।
---
We'd love you to join the conversation by letting us know your thoughts in the comments section below.
For more updates, follow us on social media: Facebook, Twitter,Instagram.
Be the first to comment.
---
Pallavi Rao has done her MA in English and loves music, literature and painting. She is the daughter of well-known Kannada writer Vaidehi, and has worked on a compilation of talks by eminent theatre personality Sri B.V Karanth (edited by Sri Muralidhar Upadhya). Pallavi has been teaching PU students in several places and currently resides in Delhi. She has translated several storybooks to Kannada including The Night the Moon Went Missing and A Whistling Good Idea on StoryWeaver.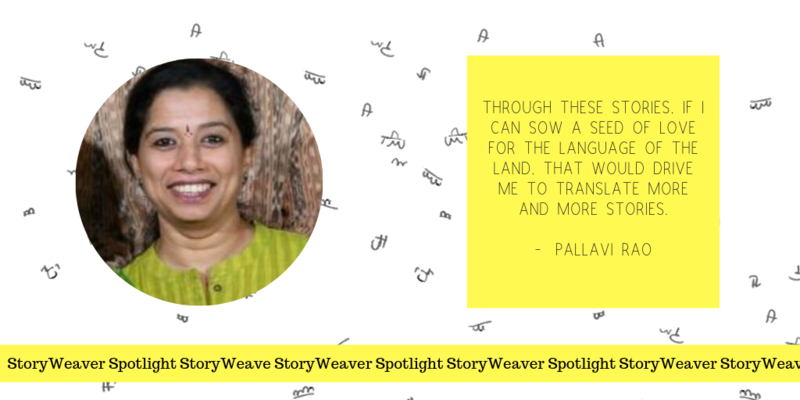 Q: You carve out time for translating children's books from a busy life. What do stories in translation bring to young readers?
Young readers unknowingly come to know the culture, way of life and language at a young age itself. I think it is very important to imbibe these qualities at a young age.
Q: What is your personal relationship to language and/or translation?
Kannada being my mother tongue, I have read and listened to several great writers and thinkers in Kannada. I breathe my language and this helps me bring stories into Kannada.
Q: What is your take on translation?
Translation is a very responsible task. You have to translate the story keeping its original flavour intact and at the same time giving it the flavor of the language it is translated into. One should have a grip on both the languages i.e., from which you are translating and the one to which it is being translated into.
Q: Translating certain stories must have required a lot of research, especially when it came to STEM-related terms and concepts. For example, stories like A Whistling Good Idea. How did you explore new objects and concepts?
When I read a story to be translated, I dwell on it and begin thinking it in my language. It helps me to understand the story in local circumstances so that I can translate accordingly. While translating concept-oriented stories like 'A Whistling Good Idea', I felt it was such a nice way to make a child understand the concept in a playful manner. Difficult concepts are quite hard for children, but when the same concept is told through games, it becomes simple and hence is more understandable and easy for a child.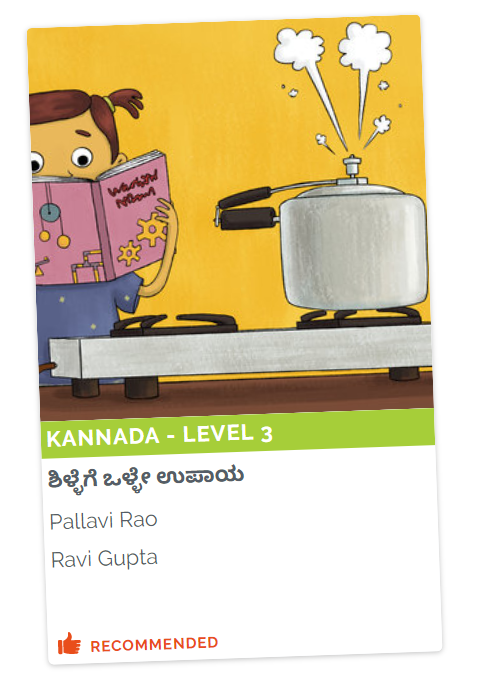 'A Whistling Good Idea', translated by Pallavi Rao
Q: You have contributed for us immensely. How has the StoryWeaver journey been? What is one big takeaway from this experience?
Overwhelming. By repeatedly wearing a child's shoe while translating, it has made me more observant and my mind keeps weaving stories for children from whatever I observe around me!
Q: How do you feel when your story reaches the child?
If I can ignite the imagination of a child and add to the child's vocabulary through my stories, nothing would be more satisfying.
Q: What is your key driver in taking up translation of stories into Kannada?
I have a very strong feeling towards my language. Children in big cities in my state rarely speak Kannada, which is very disturbing. Through these stories, if I can sow seed of love for the language of the land - that would drive me to translate more and more stories.
Q: How else do you think we can join hands to take more stories to more children in more languages?
India has abundant folk stories and poems for children in regional languages. They have to be made reachable to more children in other languages too. For example, in Kannada, we have stories of Panje Magesh Rao, Hoysala, Ullala Mangesh Rao, Ugrana Mangesh Rao, Rajaratnam and so on. Apart from translating stories from English to regional languages, I feel that we should also translate stories from regional languages to English and to other regional languages as well.
Q: When you have been given a story to translate, what is your process, and how long does it generally take?
I read the entire story two or three times, linger on the story and try to visualize the same while working on other chores. I try to keep the language simple, use more of sound words to make it more attractive and increase the vocabulary in children.
Q: What is the hardest thing about translating from English into Kannada? How do you navigate words or phrases that are tricky to translate?
Certain English concepts are not present in Kannada. For example, we don't have a 'cape' in our costume. In such times we have to coin a word in Kannada and ensure that the image is translated successfully to the child.
Q: Do you have any advice for anyone interested in becoming a translator?
Keep the language as simple as possible and make it interesting for children by visualising the story yourself to get the best output.
Q: A book you'd like to recommend to other translators?
From the ones that I have translated it would be 'A Whistling Good Idea'.
Q: Can you tell us anything about yourself and your job that would surprise us?
Cooking and painting interests me to a large extent. Experimenting techniques in both the fields are the same, I feel.
---
We would love for you to join the conversation by leaving your thoughts in the comments section, or on social media: Facebook, Twitter, Instagram
Be the first to comment.
---
A former software professional, Rajani Muralidhar developed a keen interest in children's literature while reading to her own children over the last few years. The lack of contemporary original content in Kannada for children piqued her interest towards writing for her own children in Kannada.
ಸಾಫ್ಟ್ ವೇರ್ ವೃತ್ತಿಯಲ್ಲಿದ್ದ ರಜನಿ, ಕೆಲವು ವರ್ಷಗಳಿಂದ ಅವರ ಮಕ್ಕಳಿಗೆ ಕಥೆಗಳನ್ನು ಓದುತ್ತಾ, ಮಕ್ಕಳ ಸಾಹಿತ್ಯದಲ್ಲಿ ಆಸಕ್ತರಾದರು. ಸಮಕಾಲೀನ ಮಕ್ಕಳ ಸಾಹಿತ್ಯದಲ್ಲಿ ಮೂಲತಃ ಕನ್ನಡ ಕೃತಿಗಳ ಲಭ್ಯತೆ ಕಡಿಮೆ ಇದ್ದ ಕಾರಣಕ್ಕೆ, ರಜನಿ ತನ್ನ ಮಕ್ಕಳಿಗಾಗಿ ಕನ್ನಡದಲ್ಲಿ ಬರೆಯಲಾರಂಭಿಸಿದರು.
In this bilingual blog post, Rajani writes about Dr. G.P. Rajarathnam, author, lyricist and poet from Karnataka and how his work inspired her to write poetry in Kannada.
---
November 1st, the day when the state of Karnataka was formed in 1956, is observed as 'Kannada Rajyotsava' every year. It is a day to celebrate the rich and varied culture and heritage of this state.
There is no better day than this to remember Dr. G.P. Rajarathnam, author, lyricist and poet from Karnataka, well-known for composing children's poems. Dr. Nissar Ahmed, also an eminent author and poet in Kannada language, once quoted, "Dr. Rajarathnam understood the minds of children and their need. Some of his works have remained a challenge for translators even today". Such is the quality of Dr. G.P. Rajarathnam's poetry.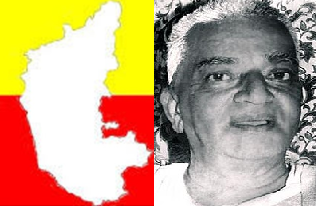 Dr. G.P. Rajarathnam
Every child's initiation to language in school begins with nursery rhymes. Similarly, initiation to Kannada in school always begins with one of Dr. Rajarathnam's poems.
Dr. Rajarathnam started writing poetry for children several decades ago by accident. The story goes that his father worked as a Kannada teacher in a school and was unwell for a few days. Dr. Rajarathnam had to work in his place as a substitute teacher for 2nd grade children. He was appalled by the poems taught to small children in school. The same evening, he sat thinking after a walk near a lake at the foothills of Chamundi hills in Mysore and wrote his first story in the form of a poem 'Bannada tagadina tutturi'. He introduced this poem to his students in school and it was an instant hit. Thrilled with its popularity, he also taught this poem to the children in his neighbourhood. He continued writing more poems for the children. A publisher in his neighbourhood noticed his work and asked him to write a collection of children's poems, which went on to be published as a book. Thus, began his journey as a writer.
Some of his popular poems taught in schools even today:
'Naayi Mari Naayi Mari' – a delightful poem about feeding a little puppy

'Ondu Eradu Baalele Haradu' – a poem that teaches numbers starting from 1 to 10 while describing the art of eating a meal on a banana leaf

'Bannada Tagadina Tutturi' – a poetic story of boy who bragged about his colourful trumpet and eventually lost it

'Hatthu Hatthu Ipatthu' – a poem teaching addition of numbers while narrating a story of a boy who tried to steal mangoes from an orchard

'Namma Maneyalondu Sanna Paapa' – a poem about the exploits of a little baby

'Taata Butti Tumba Rotti' – a short poem about a boy who ate tasty rotis that were not meant for him.

'Kuriya Mari Byaa' – a story of hunting down a tiger about to kill a little lamb

'Kallu Sakkare' – a short poem about the tasty candy sugar
The list goes on. In all, Dr. G.P. Rajarathnam wrote more than 100 poems for children. Apart from 'Bannada Tagadina Tutturi', my personal favourites are 'Kuriya Mari Byaa' and 'Kallu Sakkare' because of their natural rhythm and funny sounds in between that children love.
When my daughter was 3 years old, I started reading English books to her extensively to keep her entertained and develop the habit of reading. After a few months, I noticed an unexpected fallout of this habit. She had stopped conversing in Kannada, her mother tongue. The more I tried, the less she spoke in Kannada. Dr. Rajarathnam's poems came to my rescue. One day, she sang 'Bannada Tagadina Tutturi' in school after learning it from her older brother. The appreciation that she got in school opened the doors to her conversing in Kannada again. This made me realize the power of poetry as a tool for learning.
Inspired by Dr. G.P.Rajarathnam's style of writing stories as poems, I started writing in Kannada for my children a couple of years ago and the first of my rhyme and rhythm stories is available in Story Weaver: ಅಚ್ಚುಮೆಚ್ಚಿನ ಸಂಗಾತಿ- A story about a little girl's quest for a pet. You can read the English version of the story here.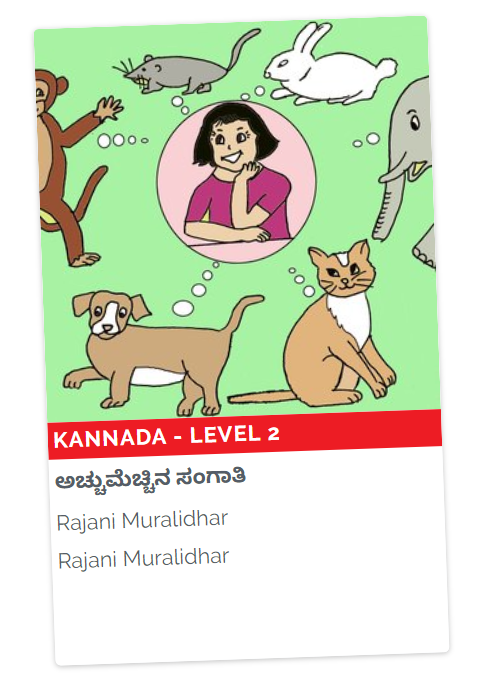 A beautifully illustrated book of the poems 'Bannada Tagadina Tutturi' and 'Namma Maneyalondu Sanna Paapa' written by G.P.Rajarathnam is available in StoryWeaver. You can read the book here.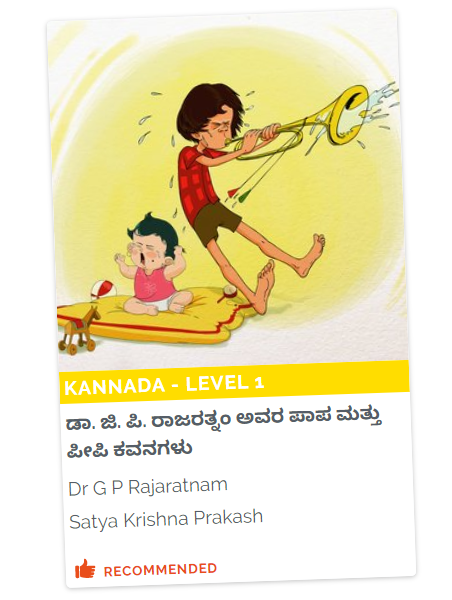 There are several delightful poems written by other well-known Kannada poets that are illustrated and available on the site:
Celebrate Kannada Rajyotsava by enjoying these classic Kannada poems with your little ones!
---
೧೯೫೬ರ ನವೆಂಬರ್ ಒಂದರಂದು ಕರ್ನಾಟಕ ರಾಜ್ಯವು ನಿರ್ಮಾಣವಾಯಿತು. ಇದರ ಸಂಕೇತವಾಗಿ ಪ್ರತಿವರ್ಷ ಈ ದಿನವನ್ನು ಕನ್ನಡ ರಾಜ್ಯೋತ್ಸವವೆಂದು ಆಚರಿಸಲಾಗುತ್ತದೆ. ಕರ್ನಾಟಕ ರಾಜ್ಯದ ವೈವಿಧ್ಯಮಯ ಹಾಗೂ ಸಮೃದ್ಧ ಸಂಸ್ಕೃತಿಯನ್ನು ಈ ದಿನ ಆಚರಿಸುತ್ತಾರೆ.
ಕನ್ನಡದ ಸುಪ್ರಸಿದ್ಧ ಸಾಹಿತಿ ಹಾಗೂ ಮಕ್ಕಳ ಕವಿತೆಗಳಿಗೆ ಖ್ಯಾತಿ ಪಡೆದ ಡಾ|| ಜಿ.ಪಿ.ರಾಜರತ್ನಂರವರನ್ನು ನೆನಪಿಸಿಕೊಳ್ಳಲು ಇದಕ್ಕಿಂತ ಉತ್ತಮ ಸಮಯವಿಲ್ಲ. ಖ್ಯಾತ ಸಾಹಿತಿ ಡಾ|| ನಿಸಾರ್ ಅಹ್ಮದ್ ಹೇಳಿದಂತೆ "ಡಾ|| ರಾಜರತ್ನಂ ಮಕ್ಕಳ ಮನಸ್ಸನ್ನು ಚೆನ್ನಾಗಿ ಅರಿತಿದ್ದಾರೆ. ಈಗಲೂ, ಅವರ ಕೃತಿಗಳನ್ನು ಭಾಷಾಂತರಿಸುವುದು ಅನುವಾದಕರಿಗೆ ಬಹಳ ಕಷ್ಟದ ಕೆಲಸ."
ಪುಟ್ಟ ಮಕ್ಕಳಿಗೆ ಶಾಲೆಯಲ್ಲಿ ಆಂಗ್ಲ ಭಾಷೆ ಕಲಿಸಲು ಮೊದಲಿಗೆ ನರ್ಸರಿ ರೈಮ್ಗಳನ್ನು ಹೇಳಿಕೊಡುತ್ತಾರೆ. ಹಾಗೆಯೇ ಕನ್ನಡ ಭಾಷೆಯನ್ನು ಕಲಿಸಲು ಶಾಲೆಯಲ್ಲಿ ಮಕ್ಕಳಿಗೆ ಮೊದಲಾಗಿ ಡಾ|| ರಾಜರತ್ನಂರವರ ಶಿಶು ಪದ್ಯಗಳನ್ನು ಹೇಳಿಕೊಡುತ್ತಾರೆ.
ಮಕ್ಕಳಿಗಾಗಿ ಪದ್ಯಗಳನ್ನು ಬರೆಯಲು ರಾಜರತ್ನಂರವರು ಆಕಸ್ಮಿಕವಾಗಿ ಆರಂಭಿಸಿದರು. ರಾಜರತ್ನಂರವರ ತಂದೆ ಶಾಲೆಯೊಂದರಲ್ಲಿ ಶಿಕ್ಷಕರಾಗಿದ್ದರು. ಒಮ್ಮೆ ಅವರ ಆರೋಗ್ಯ ಕೆಟ್ಟಿದ್ದ ಕಾರಣಕ್ಕೆ ಅವರ ಸ್ಥಾನದಲ್ಲಿ ರಾಜರತ್ನಂರವರು ಎರಡನೇ ತರಗತಿಗೆ ಪಾಠ ಮಾಡಲು ಹೋದರು. ಮಕ್ಕಳಿಗೆ ಹೇಳಿಕೊಡುತ್ತಿದ್ದ ಪದ್ಯಗಳನ್ನು ನೋಡಿ ಅವರಿಗೆ ಬೇಸರವಾಯಿತು. ಆ ದಿವಸದ ಕೆಲಸ ಮುಗಿದ ಮೇಲೆ ಸಾಯಂಕಾಲ ಚಾಮುಂಡಿಬೆಟ್ಟದ ತಪ್ಪಲಿನಲ್ಲಿದ್ದ ದೊಡ್ಡ ಕೆರೆಯನ್ನು ಒಂದು ಪ್ರದಕ್ಷಿಣೆ ಹಾಕಿ ಯೋಚಿಸುತ್ತಾ ಕುಳಿತರು. ಮಕ್ಕಳಿಗಾಗಿ 'ಬಣ್ಣದ ತಗಡಿನ ತುತ್ತೂರಿ' ಎಂಬ ಕವನದ ರಚನೆಯೂ ಅಲ್ಲಿಯೇ ಆಯಿತು. ಮರುದಿನ ಶಾಲೆಯಲ್ಲಿ ಮಕ್ಕಳಿಗೆ ಈ ಪದ್ಯವನ್ನು ಹಾಡಲು ಹೇಳಿಕೊಟ್ಟರು. ಅವರ ಸಂತೋಷವನ್ನು ನೋಡಿ ಅಕ್ಕಪಕ್ಕದ ಮನೆಯಲ್ಲಿದ್ದ ಪುಟ್ಟ ಮಕ್ಕಳಿಗೂ ಪದ್ಯವನ್ನು ಹೇಳಿಕೊಟ್ಟರು. ಮಕ್ಕಳ ಉತ್ಸಾಹವನ್ನು ಕಂಡು ಅವರು ಇನ್ನಷ್ಟು ಪದ್ಯಗಳನ್ನು ಬರೆಯತೊಡಗಿದರು. ಎದುರು ಮನೆಯಲ್ಲಿದ್ದ ಪುಸ್ತಕ ವ್ಯಾಪಾರಿಯೊಬ್ಬ ಅವರಿಗೆ ಪುಸ್ತಕವೊಂದನ್ನು ಬರೆಯಲು ಪ್ರೋತ್ಸಾಹಿಸಿದರು. ಹೀಗೆ ಅವರ ಮೊದಲ ಕವನ ಸಂಕಲನದ ಪುಸ್ತಕವು ಪ್ರಕಟವಾಯಿತು ಹಾಗೂ ಅವರ ಲೇಖಕ ಜೀವನ ಆರಂಭವಾಯಿತು.
ಈಗಲೂ ಶಾಲೆಗಳಲ್ಲಿ ಹೇಳಿಕೊಡುವ ಅವರ ಪ್ರಸಿದ್ಧ ಕವನಗಳು ಇಂತಿವೆ:
೧. 'ನಾಯಿಮರಿ ನಾಯಿಮರಿ': ಪುಟ್ಟ ನಾಯಿಮರಿಯೊಂದಿಗೆ ಸಂಭಾಷಣೆ
೨. 'ಒಂದು ಎರಡು ಬಾಳೆಲೆ ಹರಡು': ಬಾಳೆಯೆಲೆ ಊಟದ ಜೊತೆ ಸಂಖ್ಯೆಗಳನ್ನು ಕಲಿಸುವ ಪದ್ಯ
೩. 'ಬಣ್ಣದ ತಗಡಿನ ತುತ್ತೂರಿ': ಜಂಬದ ಕೋಳಿ ಕಸ್ತೂರಿಯ ಕಥೆ
೪. 'ಹತ್ತು ಹತ್ತು ಇಪ್ಪತ್ತು': ಮಾವಿನ ಹಣ್ಣನ್ನು ಕದಿಯುವ ಕಥೆಯೊಂದಿಗೆ ಗಣಿತದ ಪಾಠ
೫. 'ನಮ್ಮ ಮನೆಯಲೊಂದು ಸಣ್ಣ ಪಾಪ': ಕೂಸಿನ ಗಲಾಟೆಯ ಪದ್ಯ
೬. 'ತಾತ ಬುಟ್ಟಿ ತುಂಬ ರೊಟ್ಟಿ': ಕಿಟ್ಟ ಮತ್ತು ತಾತನ ರೊಟ್ಟಿಯ ಕಥೆ
೭. 'ಕುರಿಯ ಮರಿ ಬ್ಯಾ': ಕುರಿಮರಿಯನ್ನು ಹಿಡಿಯಲು ಬಂದ ಹುಲಿಯ ಬೇಟೆಯ ಪದ್ಯ
೮. 'ಕಲ್ಲು ಸಕ್ಕರೆ': ಬಾಯಿಯಲ್ಲಿ ನೀರೂರಿಸುವ ಕಲ್ಲುಸಕ್ಕರೆಯ ಬಗ್ಗೆ ಕಿರುಪದ್ಯ
ಡಾ|| ರಾಜರತ್ನಂರವರು ಮಕ್ಕಳಿಗಾಗಿ ನೂರಕ್ಕೂ ಹೆಚ್ಚು ಕವನಗಳನ್ನು ಬರೆದಿದ್ದಾರೆ.
'ಬಣ್ಣದ ತಗಡಿನ ತುತ್ತೂರಿ' ಅಲ್ಲದೆ, ನನಗೆ ಇಷ್ಟವಾದ ಕವನಗಳು 'ಕುರಿಯ ಮರಿ ಬ್ಯಾ' ಮತ್ತು 'ಕಲ್ಲುಸಕ್ಕರೆ'. ಈ ಕವನಗಳನ್ನು ತಾಳ ಹಾಕುತ್ತಾ ಹಾಡಬಹುದು ಹಾಗೂ ಕುಣಿಯಲೂ ಬಹುದು .
ನನ್ನ ಮಗಳಿಗೆ ಮೂರು ವರ್ಷಗಳಾಗಿದ್ದಾಗ ಓದುವ ಅಭ್ಯಾಸ ಮಾಡಿಸಲು ಆಂಗ್ಲ ಭಾಷೆಯಲ್ಲಿ ಅವಳಿಗೆ ಅನೇಕ ಪುಸ್ತಕಗಳನ್ನು ನಾನು ಓದುತ್ತಿದ್ದೆ. ಕೆಲವು ತಿಂಗಳುಗಳ ನಂತರ, ಅನಿರೀಕ್ಷಿತವಾಗಿ ಅವಳು ತನ್ನ ಮಾತೃಭಾಷೆಯಾದ ಕನ್ನಡವನ್ನು ಮಾತನಾಡುವುದನ್ನು ನಿಲ್ಲಿಸಿದಳು. ಆಗ ಡಾ|| ರಾಜರತ್ನಂರವರ ಕವನಗಳು ನನ್ನ ಸಹಾಯಕ್ಕೆ ಬಂದವು. ತನ್ನ ಅಣ್ಣನಿಂದ 'ಬಣ್ಣದ ತಗಡಿನ ತುತ್ತೂರಿ' ಕವನವನ್ನು ಕಲಿತು, ಅವಳು ಶಾಲೆಯಲ್ಲಿ ಹಾಡಿದಳು. ಎಲ್ಲರ ಮೆಚ್ಚುಗೆ ಪಡೆದಿದ್ದು ಅವಳಿಗೆ ಹುಮ್ಮಸ್ಸು ಕೊಟ್ಟಿತು ಹಾಗೂ ಅವಳು ಕನ್ನಡದಲ್ಲಿ ಮಾತನಾಡಲು ಪುನಃ ಶುರು ಮಾಡಿದಳು.
ಭಾಷೆಯನ್ನು ಕಲಿಯಲು ಕಾವ್ಯಗಳ ಮಹತ್ವ ನನಗೆ ಆ ದಿನ ತಿಳಿದುಬಂತು. ಡಾ|| ರಾಜರತ್ನಂರವರ ಕವನ ರೂಪದ ಕಥೆಗಳಿಂದ ಪ್ರೇರಿತಳಾಗಿ ನನ್ನ ಮಕ್ಕಳಿಗಾಗಿ ನಾನು ಪದ್ಯರೂಪದ ಕಥೆಗಳನ್ನು ಬರೆಯಲಾರಂಭಿಸಿದೆ. ನನ್ನ ಮೊದಲ ಕಥೆ 'ಪ್ರಥಮ್ ಬುಕ್ಸ್'ರವರ 'ಸ್ಟೋರಿವೀವರ್'ನಲ್ಲಿ ಪ್ರಕಟವಾಗಿದೆ: ಅಚ್ಚುಮೆಚ್ಚಿನ ಸಂಗಾತಿ- ಪುಟ್ಟ ಹುಡುಗಿಯ ಸಂಗಾತಿಯಾಗುವುದು ಯಾವ ಪ್ರಾಣಿ?
https://storyweaver.org.in/stories/66886-the-perfect-companion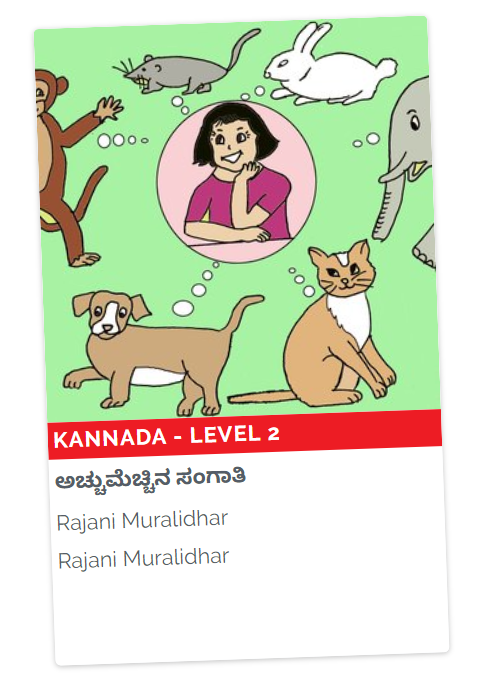 'ಸ್ಟೋರಿವೀವರ್' ಸೈಟ್ನಲ್ಲಿ 'ಬಣ್ಣದ ತಗಡಿನ ತುತ್ತೂರಿ' ಹಾಗೂ 'ನಮ್ಮ ಮನೆಯಲೊಂದು ಸಣ್ಣ ಪಾಪ' ಪದ್ಯಗಳನ್ನು ಅದ್ಭುತವಾಗಿ ಚಿತ್ರಿಸಿರುವ ಪುಸ್ತಕವನ್ನು ಓದಬಹುದು. ಇದರ ಲಿಂಕ್ ಕೆಳಗಿದೆ: https://storyweaver.org.in/stories/37577-dr-g-p-rajaratnam-avara-paapa-mattu-peepi-kavanagalu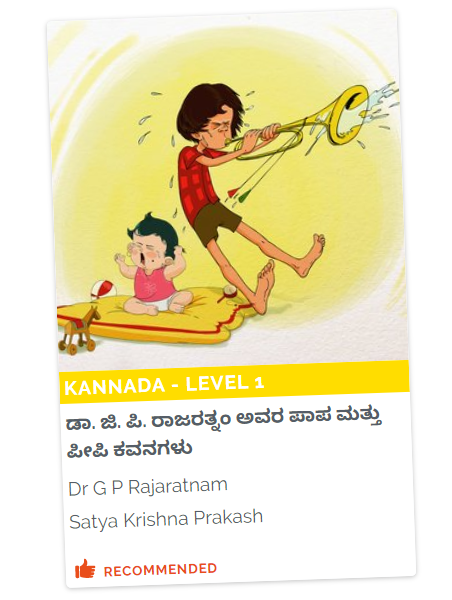 ಸ್ಟೋರಿವೀವರ್' ಸೈಟ್ನಲ್ಲಿ ಅನೇಕ ಪ್ರಸಿದ್ಧ ಕವಿಗಳ ಸೊಗಸಾದ ಕವನಗಳನ್ನು ಓದಬಹುದು.
೧. ಡಾ|| ಕುವೆಂಪು ಅವರ ಚಂದ್ರ ಮತ್ತು ಕಾಮನಬಿಲ್ಲುಗಳ ಕುರಿತು ಸುಂದರ ಕವನಗಳು
https://storyweaver.org.in/stories/43188-kuvempu-avara-chandra-mattu-kaamanabillu-kavanagalu
೨. ಶ್ರೀಮತಿ ಬಿ.ಕೆ.ತಿರುಮಲಮ್ಮ ಅವರ ಗಣಿತ ಹಾಗೂ ಗುರುತ್ವಾಕರ್ಷಣೆಗಗಳ ಕುರಿತು ಮನೋಹರವಾದ ಕವನಗಳು
https://storyweaver.org.in/stories/37633-b-k-tirumalamma-avara-haaru-beelu-kavanagalu
೩. ಡಾ|| ಸಿದ್ಧಯ್ಯ ಪುರಾಣಿಕ ಅವರ ಕೈಕೋಲನ್ನು ಕುದುರೆಯಾಗಿ ಭಾವಿಸುವ ಮನಮೋಹಕ ಪದ್ಯ
https://storyweaver.org.in/stories/40394-dr-siddayya-puranik-avara-nanna-kudure
೪. ಡಾ|| ಪಂಜೆ ಮಂಗೇಶರಾಯರ ತೆಂಕಣ ಗಾಳಿಯ ಆರ್ಭಟವನ್ನು ಕುರಿತ ಪದ್ಯ
https://storyweaver.org.in/stories/43237-panje-mangesh-rao-avara-tenkana-gaaliyaata
ಈ ಮಹಾನ್ ಕವಿಗಳ ಶ್ರೇಷ್ಠ ಕವನಗಳನ್ನು ನಿಮ್ಮ ಮಕ್ಕಳಿಗೆ ಓದಿ(ಸಿ) ಕನ್ನಡ ರಾಜ್ಯೋತ್ಸವವನ್ನು ಆಚರಿಸಿ. ನಮಸ್ತೇ!
---
Do join the conversation by leaving your thoughts in the comments section below. You can also reach out to us through our social media channels: Facebook, Twitter and Instagram.
Be the first to comment.
---