Hello, Developers! On Pratham Books' StoryWeaver, all storybooks are open-licensed, and can be used and adapted freely - with appropriate attribution - to suit a user's needs. To amplify our reach, we are open sourcing the code under the OSI-approved MIT license, so that developers across the world can use it as is, or adapt it to meet their needs.
It's also your chance to help make StoryWeaver even better!
StoryWeaver is built on Rails, a web application framework with ReactJS as its front-end technology. The third-party libraries we use are also open-source. All our code is on GitHub where anyone can view and participate in the further development of StoryWeaver - make sure you take a look at our participation guidelines. All the code that we release is mature. The platform continues to be actively developed by Pratham Books and new code will be released as soon as it passes internal QA processes.
Your contributions - in any kind, like bug reports, patches, suggestions, and feature requests - are not just welcome, they're eagerly anticipated.
Having seen the rapid adoption and extensive usage of StoryWeaver in India, as well as globally, we believe that many more can benefit from our platform. Educators can customise reading material for their classrooms. Parents can co-create stories with their children. Readers, of all levels, can discover storybooks of their choice and language.
Developers may wish to contribute to the standalone components and algorithms - the recommendation engine, image processing tools, cropping and formatting features, and more.
If you'd like to adopt StoryWeaver as a platform for your needs, our developer team would love to connect. Drop us an email at [email protected]
For more information please go to https://open.storyweaver.org.in/
Be the first to comment.
---
Vineetha from the Partnerships Team talks about StoryWeaver's collaboration with the Kerala government's initiative, KITE, (Kerala Infrastructure and Technology for Education) to take our books to more teachers, classrooms, and students through their digital initiatives.
It's a bright, sultry day in May at Cotton Hill high school in Trivandrum where an ICT training session for 150 primary school teachers is underway. Cotton Hill school is one among the 500 such locations across the state where teachers are currently being trained by the KITE,a Kerala government initiative, on the latest ICT innovations for the classroom. Over the last 3 weeks, the academic team at KITE has been conducting large scale trainings for nearly 90000 teachers at nearly 500 locations across the state part of ICT capacity building initiatives.
Kerala Infrastructure and Technology for Education (KITE) is a Govt of Kerala establishment set up to foster, promote and implement modernisation of state run and aided educational institutions in Kerala.
As part of the Hi-Tech school project that works with over 9000 primary schools, it is conducting a large scale training for government school teachers. The objective of this training is to train teachers on the latest tools and platforms and basic ICT tools such as open source software for documentation and processing, spreadsheets, audio recordings,and more.
And here's where StoryWeaver fits in.
StoryWeaver, is now one of the tech platforms that primary teachers in Kerala will be trained on annually.
Our collaboration with KITE is very special to us, thanks in no small part to their commitment to the open source philosophy. In fact, KITE was recently in the news for its massive success with the use of open source software in Kerala government schools. After our initial meetings with the KITE team, and our shared commitment to ensuring open access, we couldn't wait to get this collaboration off the ground. It began with the annual training that StoryWeaver was integrated into. The academic team at KITE explored the platform and further trained master trainers who took the programme out to the field and the 90000 primary teachers across the state.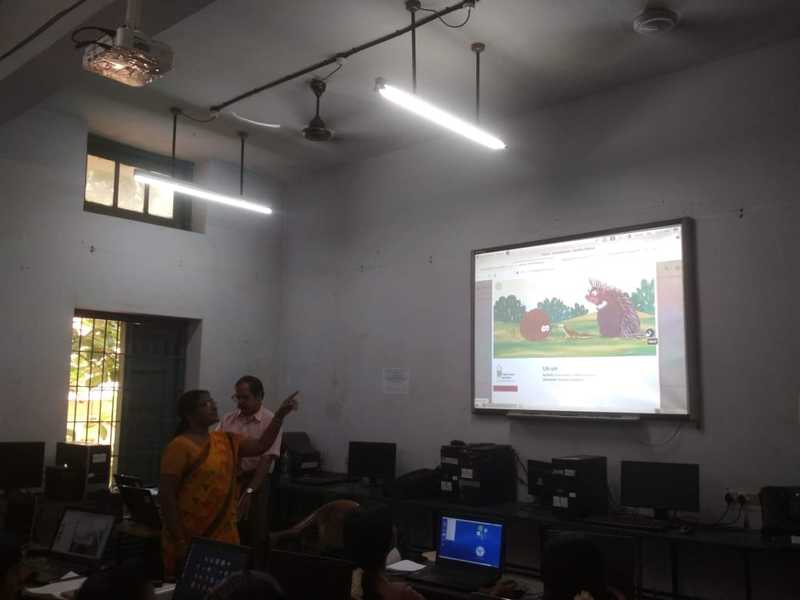 At the training in Cotton Hill school, we met Sadhana M and Anthony Raj, two government school teachers and masters trainers for KITE who are leading the training on StoryWeaver. Cotton Hill school is one of the 12 centres in Trivandrum where this training is being conducted.
When asked about the common struggles they face as language teachers, Sadhana who has been teaching in government schools for over 20 years, says "The level of the books is either too high or too low. It's always a challenge to find something that's just right for our students."
When asked what the children liked to read, they added that in most schools in Kerala, children are exposed to mainly English and Malayalam books, in addition to some Hindi books. Anthony Raj, who teaches English,adds "Children are only going to learn to write and communicate better when they can read. Children need to read more to develop vocabulary in any language. So, reading is not something we can afford to ignore in classrooms."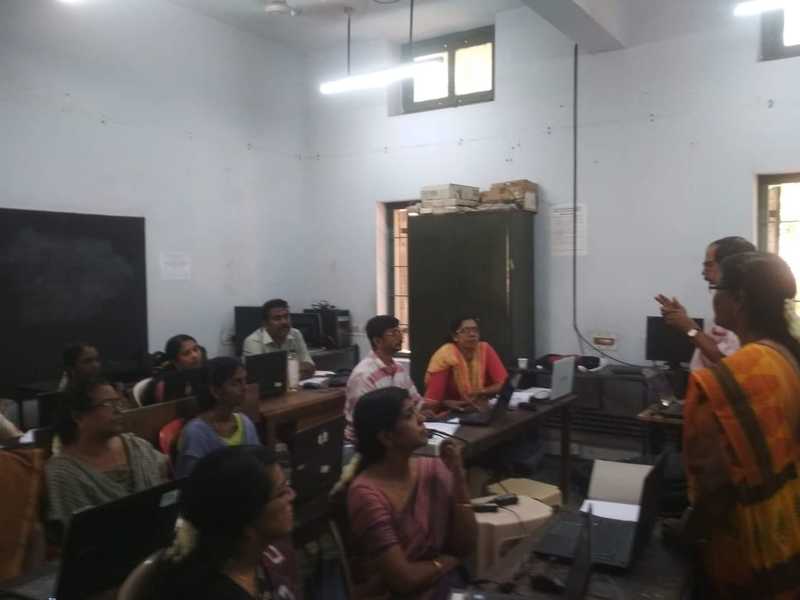 The teachers and trainers at the centre echo the role that technology plays in education in today's day and age. They mentioned how all teachers are invested in their professional journeys, where tech plays a huge role today. They add that considering how comfortable children are with technology, it's time for teachers to catch up, and platforms like StoryWeaver are a great way for teachers to integrate technology in the classroom.

For us in the StoryWeaver team, workshops and trainings are a great way for us to interact with and learn from the educators on the ground. The KITE workshop was no different.
We saw the trainers using Ammachi's Amazing Machines to highlight how stories could be used to teach Science, while another trainer showed how Busy Ants could be used to introduce vocabulary and grammar in early grade classrooms. The Readalong stories a big hit with the trainers and teachers alike, who agreed that AV stories are always a great way to engage students' attention and build listening and reading skills. We would like to thank the KITE team for letting us be a part of their work, and are committed to supporting this collaboration to work with more teachers and children across Kerala.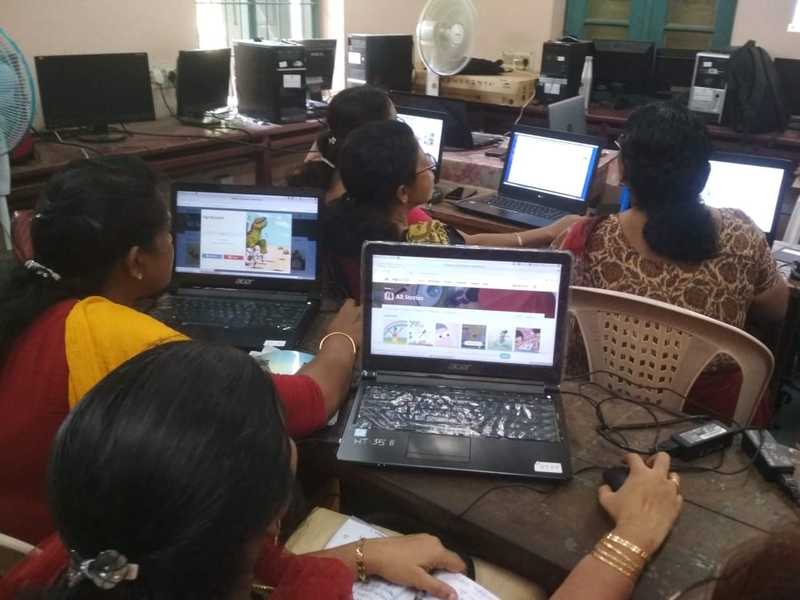 We came back from this workshop with a lot of ideas and suggestions, and of course, renewed commitment to put 'a book in every child's hand'. With partners like KITE, we know we're a step closer to this vision.
Be the first to comment.
---