Samidha Gunjal is an illustrator and animator with a distinct drawing style of her own which varies between cute to bizarre. She loves reading children's story books, graphic novels, watch cartoons, movies, cooking and travel. But Drawing is her passion as well as mode of expression that keeps her inspired. She's recently illustrated two new books for Pratham Books: 'Scratch! Scratch! Scratch!' by Dahwa Lahmu Yolmo and 'It's Play Time!' by Neha Singh. Samidha shared some lovely images and videos of her work in progress for 'Scratch! Scratch! Scratch!' and a note on illustrating the book.
"'Scratch! Scratch! Scratch' is such a charming story written by Dawa Lahmu Yolmo. Here, the protagonist Manu, is a naughty little girl who loves playing hopscotch! She's always counting 1-10 when she plays which is great way to introduce counting to little kids.
When I first got the manuscripy I was very curious about what a story with a title like 'Scratch! Scratch! Scratch!' could be about. When I read the story, I immediately fell in love with the Manu. I always enjoy creating rebellious girl characters who are bold, naughty, brave, clever and full of life. The story is based in he beautiful misty hills of Sikkim with colourful houses connected by twisty, curvy, sloping roads. My favourite part of the book was drawing the beautiful greenery of Sikkim.
To be able to create Manu's character I had to do some research on Sikkim, the people and especially school going kids. I searched for reference images on the internet for village life in Sikkim. Maithili Doshi, who Art Directed the book shared images of the actual school where the writer, a teacher,teaches. Based on these references I came up with a few rough sketches of Manu and other family members. Though there is no mention in the story, I added a baby sibling. Timely feedback from Maithili and Bijal helped with the finishing touches. For the final drawings I used charcoal pencil for outline and watercolour washes.
I have tried to incorporate the lifestyle and culture of the region while keeping the visuals as simple as possible.
I could easily relate to Manu's character as I was a bold, naughty and rebellious child myself. I used to love playing 'Ghar, Ghar' or House as a kid. And the best part of the game was that you could play it alone!
Now that the book has been published on StoryWeaver I am keen to know how children respond to the visual identity of Manu created by me!"
Be the first to comment.
---
Last year in November, Pratham Books launched a brand-new set of four PhoneStories that invited readers to take a walk in the wild. The books were written by Sejal Mehta, travel writer, wildlife enthusiast, and Editor-in-Chief, Nature inFocus and illustrated by the award-winning cartoonist Rohan Chakravarty of Green Humour fame. Captivating visuals and simple story lines lent themselves to audio-visual adaptation that could be enjoyed on a variety of handheld devices and that were sure to engage young readers.
Payoshni Saraf and Khyati Datt write about how they ensured the stories reached teachers, classrooms and most importantly, children, through their outreach efforts.
The wildlife set of #Phonestories was an exciting set of books. The books were short and simple, visually arresting and aurally engaging- guaranteed to capture the attention of the tiny tots!
We chose a set of partners for the exclusive on-ground launch keeping in mind the age group the books were meant for, which was under Grade 4. Our chosen partners, including Pratham Delhi, Pratham ECE, Pratham's Learning with Vodafone project, Agastya Foundation and Pratham's Smart Step Preschools worked in the space of early literacy with a focus on Science and Environment.
Direct to teachers' phones
More and more organisations are using WhatsApp these days to connect their on-field employees for swifter communication and sharing of information. For education organisations specifically, WhatsApp groups connect educators to draw from each other's experiences and learn collectively. This was why we chose WhatsApp as our primary vehicle for campaign communication with teachers for #PhoneStories. Also, since the stories were available in video format, we believed that sending them directly to educator's phones would make it easier for them to access.
Thanks to the collaboration with our partner organisations, #Phonestories reached 2,800 Schools/ Centres and teachers impacting over 56,000 children. We engaged with participating educators twice a week via the WhatsApp groups.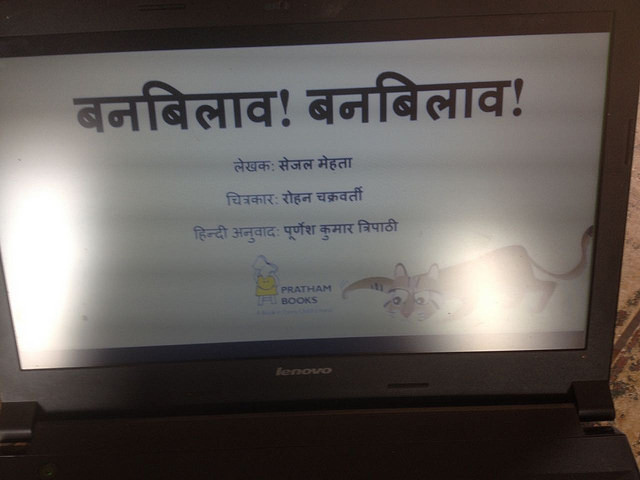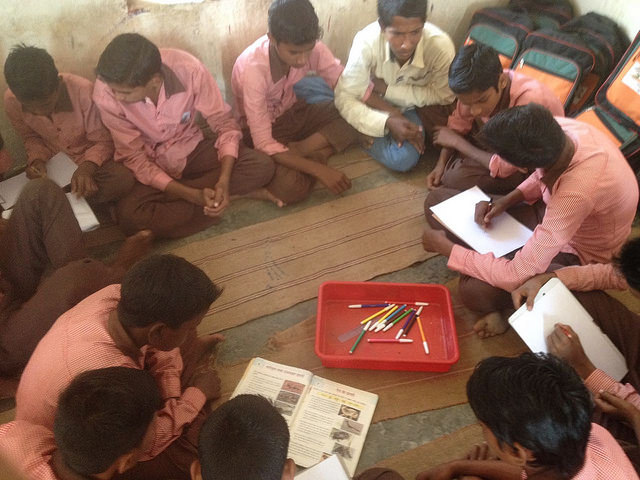 A session in progress for बनबबलाव! बनबबलाव! in an Agastya Foundation centre in Chandauli, U.P.
We first shared a 4-week reading plan with the teachers of participating organisations, post which, every Thursday, one book and 2 related activities were shared. Teachers were appreciative of the detailed activities related to the books as it helped engage children further with the story and its concept. We also conducted fun contests for the teachers on the WhatsApp groups, where they sent their entries via WhatsApp too. We found WhatsApp to be a quick, direct and effective way of communicating with teachers.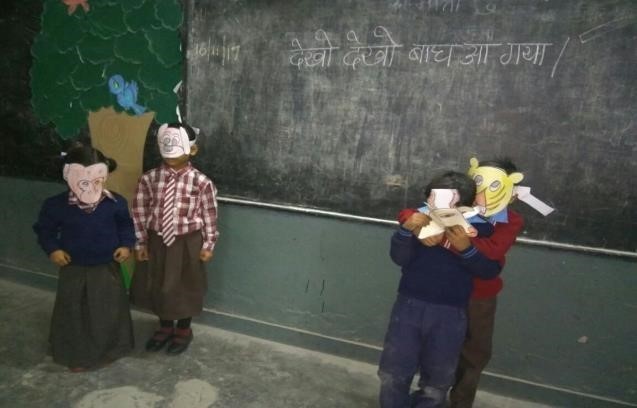 An activity being done for Watch Out! The Tiger Is Here at a Pratham Delhi centre
Going Forward
We hope to continue exploring WhatsApp as a channel of communication with our outreach partners in the future to share great content and new updates from us!
You can read, watch and listen to all four PhoneStories here.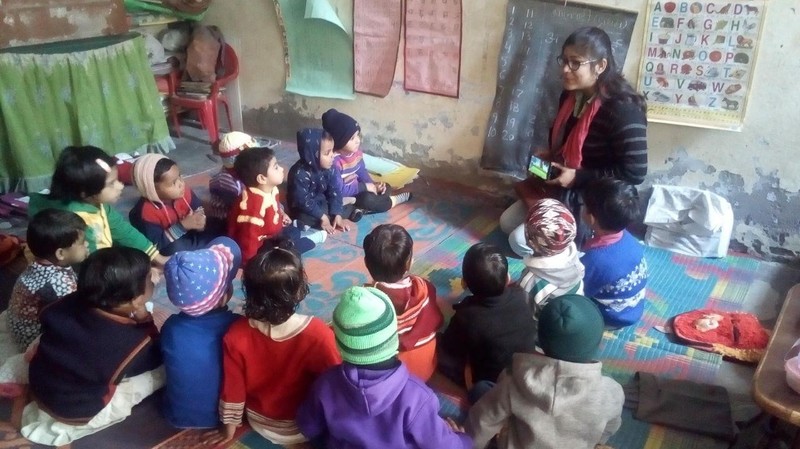 Did You Hear? being read in a Pratham ECE Centre.
Be the first to comment.
---
For our educator community, we've added a brand new feature called Lists. The objective was to create curated reading lists for our partners to help them find relevant content in an efficient manner. You'll find reading lists for Read Aloud books, Primary Maths Skills and much, much more on StoryWeaver. Additionally, the Lists serve children of different reading levels, for eg we have a a Read Aloud List for young children and another one for older children! Here's how Maegan Dobson Sippy, who helmed the project went about putting the lists together.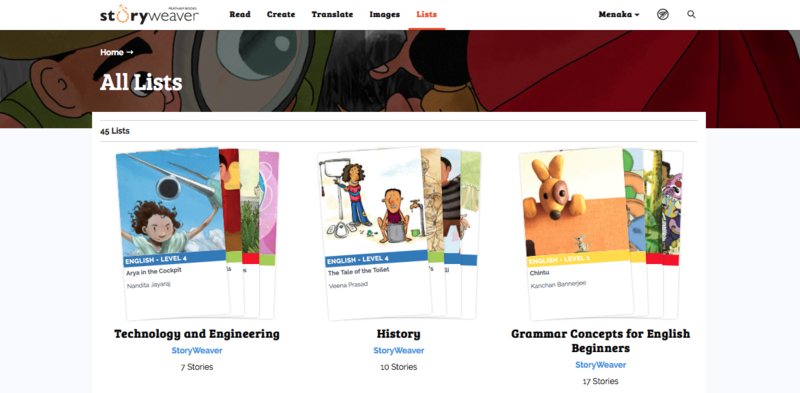 Getting started
Our Outreach team first put together a list of organisations who use StoryWeaver regularly for Maegan to interview. This ensured that the Lists would be grounded in the needs of educators." I went into the interviews with a set of talking points I devised with the Outreach Team." recounts Maegan.
Maegan asked each of the organisations about their mission, and spent a considerable amount of time talking to them about the kinds of themes they worked with in their classroom/schools/centers and how often these themes were changed. She also asked them how they were currently using the StoryWeaver platform, and how they searched for stories and whether they found this an easy or difficult task. Organisations shared their own methodology for curating reading lists and if they had activities or lesson plans for certain stories. Teachers were also asked to share feedback on how StoryWeaver could improve the platform and if there were features they'd like to see on StoryWeaver that would be of particular use to them as educators.
"It was still important to keep the discussions as organic and free-ranging as possible, as we found that was the best way to collect as much useful information as possible." shares Maegan.
Putting the lists together
Before and while conducting the interviews with partners, Maegan read all (yes all!) the StoryWeaver/Pratham Books titles that were on the platform in English; plus a few community stories, which helped her create a matrix which summarised the books and categorised them by them theme/subject/reading level/vocabulary etc.
"It was pretty organic: I added new categories to my matrix as I started to get feedback from organisations about how they used books or wanted to search for them. For example, when I found out that lots of organisations like to use StoryWeaver for picture comprehension exercises, I added that as a category, and started thinking about whether books, or certain pages within books, would lend themselves to that, even if they weren't necessarily wordless books." says Maegan.
Similarly, when Maegan found out that many of the organisations were using StoryWeaver to teach English to older students, she started thinking about which books with simple language might hold the interest of older students. Based on what the organisations told her about how they used or wanted to use StoryWeaver books in their work, Maegan devised lists. Each list you see is based on needs articulated by the educators she spoke to.
"For me, this exercise demonstrated the importance of talking to end-users before attempting 'solutions' - a useful lesson for any kind of work! It was also a fantastic opportunity to read and reflect upon a large amount of content for children. Though the prolific rate at which StoryWeaver is adding fantastic new content means that my reading is already out of date!"
If you're an educator who has created their own curated reading lists of StoryWeaver titles we'd love to hear from you! Also, if you have any feedback or siggestions on Lists, do write to us at [email protected]
About Maegan
Maegan Dobson Sippy is an editor and writer, who works with not-for-profit companies and publishers on a freelance basis. Recent collaborations include work for HarperCollins India, Duckbill Books, Pratham Books, Little Latitude, Quest Alliance and Humane Society International/India. Much of her free time is spent reading picture books, and uploading her favourites to the BAM! Books Instagram handle, which curates children's stories with Indian themes. She has also written and Guest Edited books for Pratham Books. You can read her book 'Farida Plans a Feast' on StoryWeaver.
Be the first to comment.
---