Pratham Books is a not-for-profit children's book publisher that was set up in 2004 to publish good quality, affordable books in many Indian languages. Our mission is to see 'a book in every child's hand' and we have spread the joy of reading to millions of children in India. As a publisher serving every child in India, Pratham Books has always pushed the boundaries when it comes to exploring innovative ways in which to create access to joyful stories and have been fortunate in finding partners to collaborate with who share this vision.

In 2015, Pratham Books' increased its footprint by going digital. As an industry leader, we were one of the first publishers in the country to open license our content. All this content is now available on StoryWeaver, which is a digital platform that hosts stories in languages from India and beyond, so that every child can have an endless stream of stories in her mother tongue to read and enjoy. The stories can be read, translated, versioned or downloaded for free. All stories on the platform are openly licensed.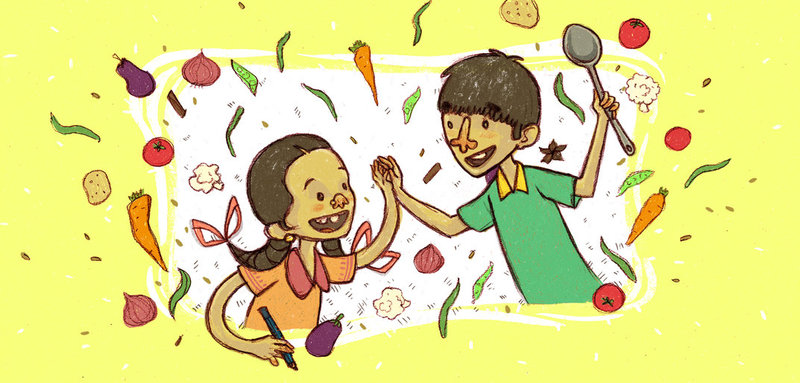 Illustration by Kabini Amin from Dum Dum-a-Dum Biryani by Gayathri Tirthapura
We are looking for an Assistant Project Manager - Storyweaver
This position will work closely with the StoryWeaver content team to support the expansion of StoryWeaver's global language content footprint. The role would involve identifying and nurturing partner relationships for content in languages, supporting core team to maximise partner engagement and support reporting and documentation. Must be someone who has the ability to network and make connections and is up to date with tech and social media trends. They also need to build strong relationships remotely. As nurturing language communities is a key focus area, a love for languages will help in bringing passion and commitment.
Key Responsibilities
Project level support and coordination across various stakeholders to ensure timely completion of project deliverables.
Identify and nurture partnership networks for language content.
Support the core team in follow up on contracts, reporting, documentation and campaign processes.
Support and facilitate translation workshops for scaling quality language resources on the platform.
Work closely with the internal teams to implement StoryWeaver's language goals.
Help with research and documentation for impact assessment from content partner orgs.
Contribute new ideas for both the function and platform.
Support platform feature enhancements through testing.
Required skills
Proven experience as a Project manager
Ability to network and make connections
Excellent organization skills
Familiar with latest technology, trends in Social Media.
Excellent communication skills in English and any other Indian language
Willingness to travel to all project locations
1-2 years of experience
Nice to have but not mandatory:
Interest in languages, communities, books and education
Social sector experience
Fluency in the 2-3 languages
Location:
This is a full-time position based out of Bangalore
Compensation:
Salary will be commensurate with qualification and experience.
Write to us:
Email your resume with Assistant Project Manager- Storyweaver in the subject line to [email protected]
Be the first to comment.
---