Written by Chetana Divya Vasudev and Sherein Bansal, Assistant Editors, Pratham Books
Even a kilometre away from Agastya Foundation's Science Campus in Kuppam, we're greeted by the fresh scent of its green landscape. We all wake up (or are made to) after a three hour journey, and look out the windows to see hills and farmland all around. As we reach the gate, we see their motto 'Aah Aha! Haha!' inscribed on it - a philosophy that drives their 18 year old science education programme.
Children from under-served backgrounds experience the wonderment of discovery (Aah!), to understanding the concept (Aha!), to having fun with learning (Haha!) here. The science campus, situated on the border of the three Southern states- Andhra Pradesh, Karnataka and Tamil Nadu, attracts about 600 children from neighbouring villages, who come to the campus about once a week to experience learning.

Pratham Books and Agastya Foundation have been collaborating for years, driven with a common philosophy of making children curious. With the launch of StoryWeaver, getting books into the hands of the hundreds of children that visit the campus has been made even easier. The digital library sits in the computer center where the children can choose a book to read in either Tamil, Telugu, Kannada or English, including many of our STEM titles, along with learning animation and mastering basic computer skills. The Pratham Books team is on a visit to the amazing campus to get a sense of all the initiatives Agastya Foundation has undertaken to nurture this curiosity further.
We roll ahead and everyone is looking out of the van windows pointing at the sculpture of a dismantled batsman, or a huge ant hill with child-sized ants crawling over it, or a mini-bus randomly sticking out on a pole. We come to know later that all the sculptures and installations across this beautiful 172 acre land were created by the renowned architect, Sharukh Mistry and Agastya Design team.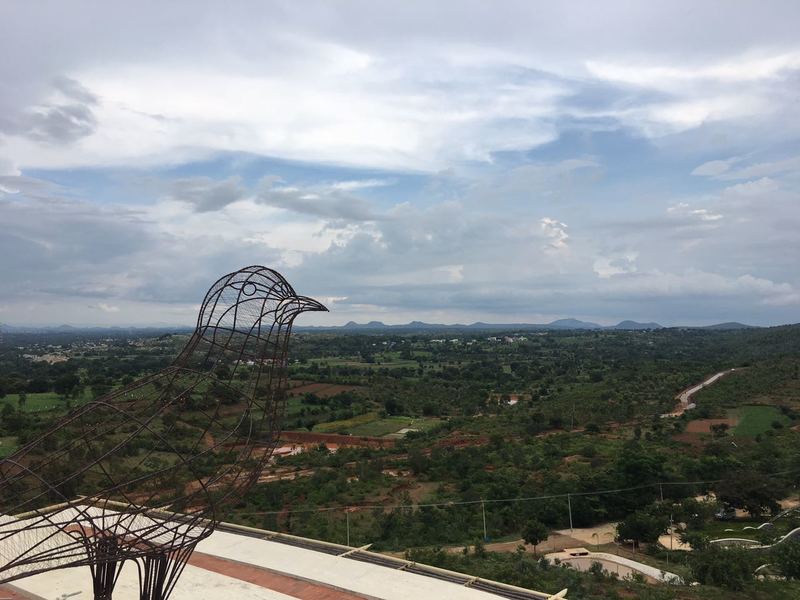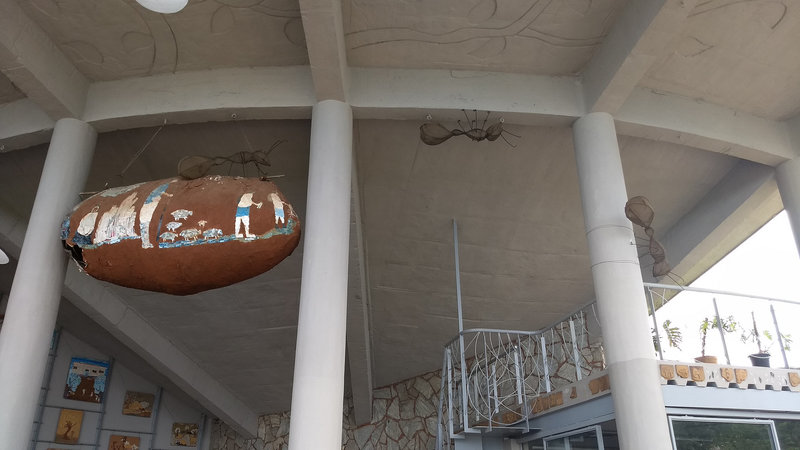 We have our fill of the sight of the faraway hills that circle us, and reach the stone-walled auditorium situated in the midst of this biodiversity. It's nearly lunch time when we walk into the cool auditorium. Jagadeesa, an ace storyteller and head of the library program at Agastya Foundation, has just finished the narration of 'Kottavi Raja and His Sleepy Kingdom' in English and Telugu. His audience of about 200 children, scattered across the space, are clearly delighted. One girl even volunteers to tell the story in English again.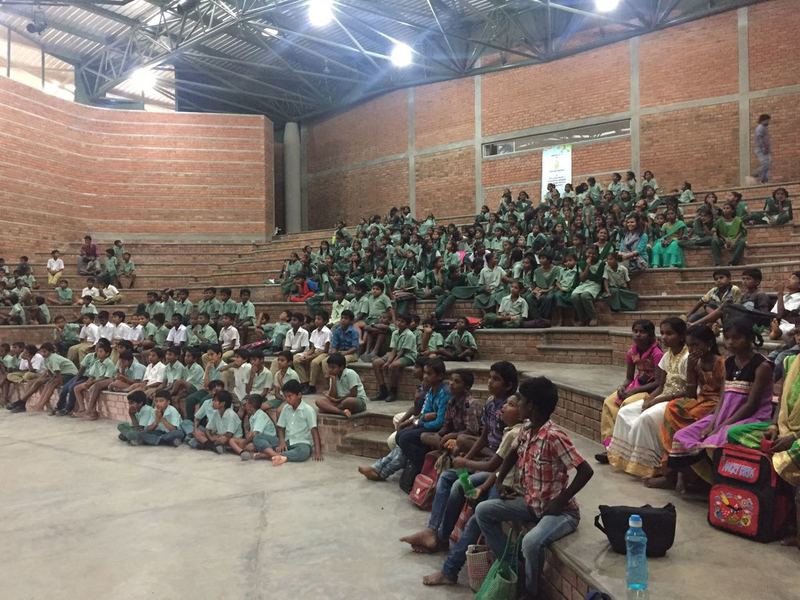 Once she's done, our team spreads out among the children, and an easy chatter resumes. Soon, they start filing out for their noon break. We meet some of the Agastya staff members, and they tell us more about the work they do.They lead us out, along a concrete path strewn with imprints of leaves of the Indian almond tree, up to the canteen. By the door are tyre and metal pawns that go with an outdoor chess board! The meal is simple yet delicious and we discuss Agastya's philosophy behind setting up this campus in detail.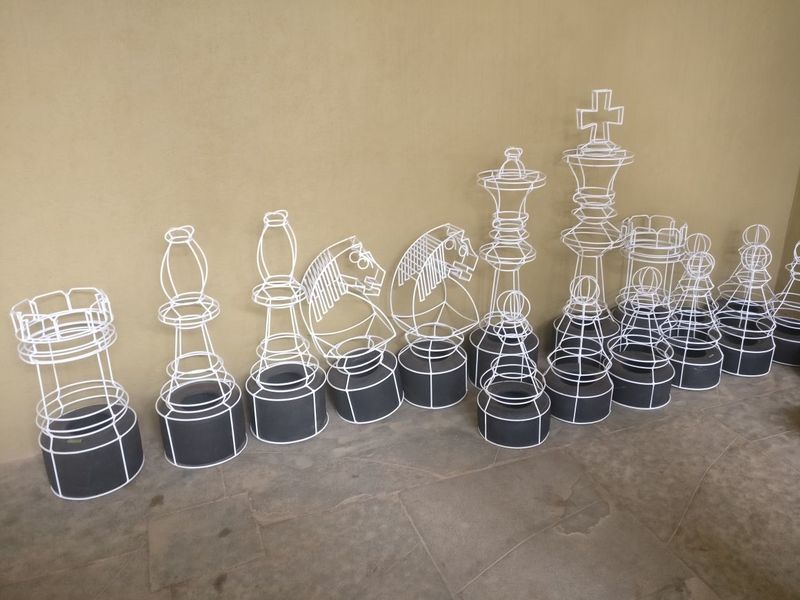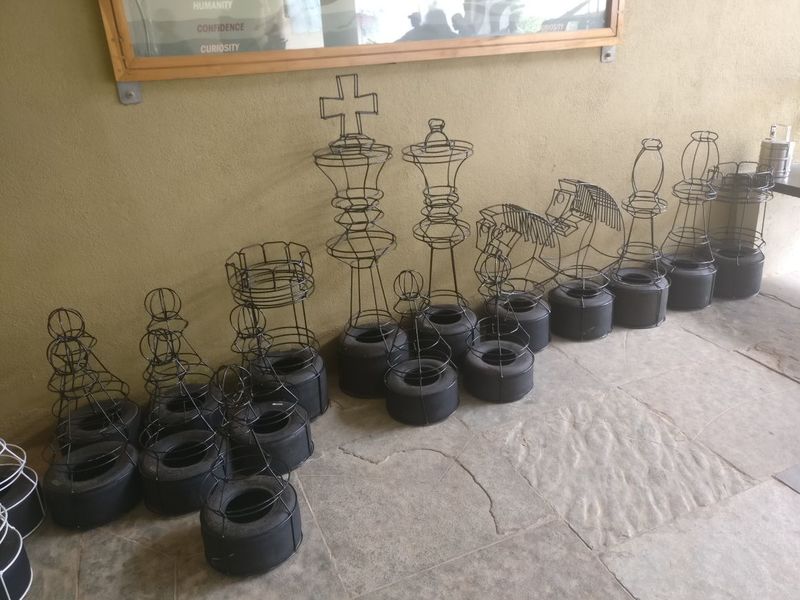 A little later, Aparna Kapur, author of 'Ghum-Ghum Gharial's Glorious Adventure', takes the stage and narrates the story of Ghum Ghum, a baby gharial who separates from her family in the river and must make her way back to them somehow! The children giggle their way through the animal sounds that punctuate the book. Jagdeesa live-translates the story into Telugu.
Our Editor, Bijal Vachharajani is up next. She makes the children laugh with the narration of her story 'What's Neema Eating Today?'. We watch children repeat after her. Funny expressions and sounds of 200 satisfied tummies, and the auditorium goes "Mmm-mmmmmmmmmmm!" Everybody has fun identifying their favorite seasonal fruits in the colourful picture book.
The final session with the children is the Food Rakshasa Activity conducted by Bijal and Aparna. Children are divided into groups and together they draw their idea of a monster on paper by substituting body parts with fruits and vegetables -- chilli, ladies' finger, bottle gourd, apple, carrot and more. And what lively, scary, yummy monsters we get to see by the end of it!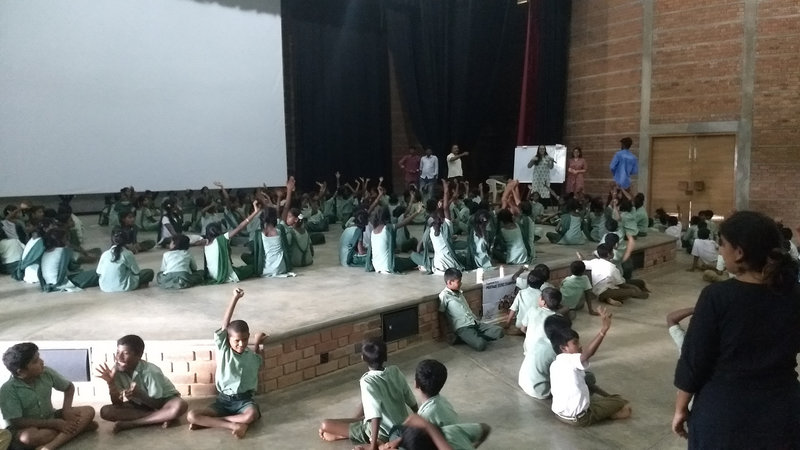 Post the session, the Pratham Books Team follows Subramanya Shastry, a key team member of the Foundation who has generously agreed to give us a detailed tour of the campus. "The children observe the nature around, pick up things from their surroundings, and create art from it," our host is explaining. But his words nearly skip our attention; the display around us is distracting.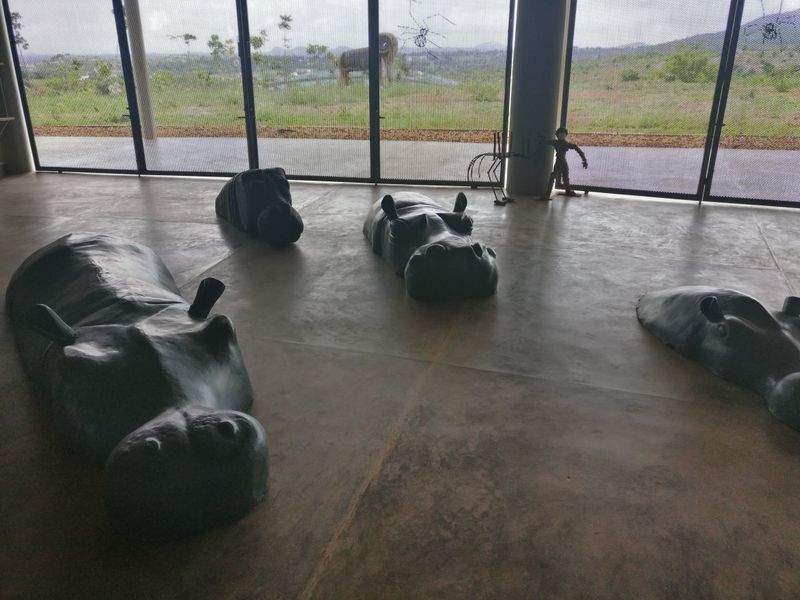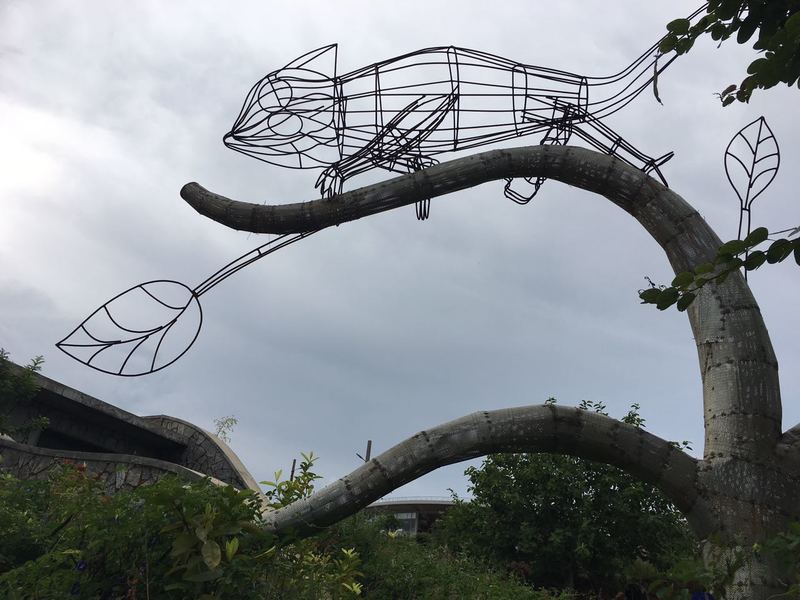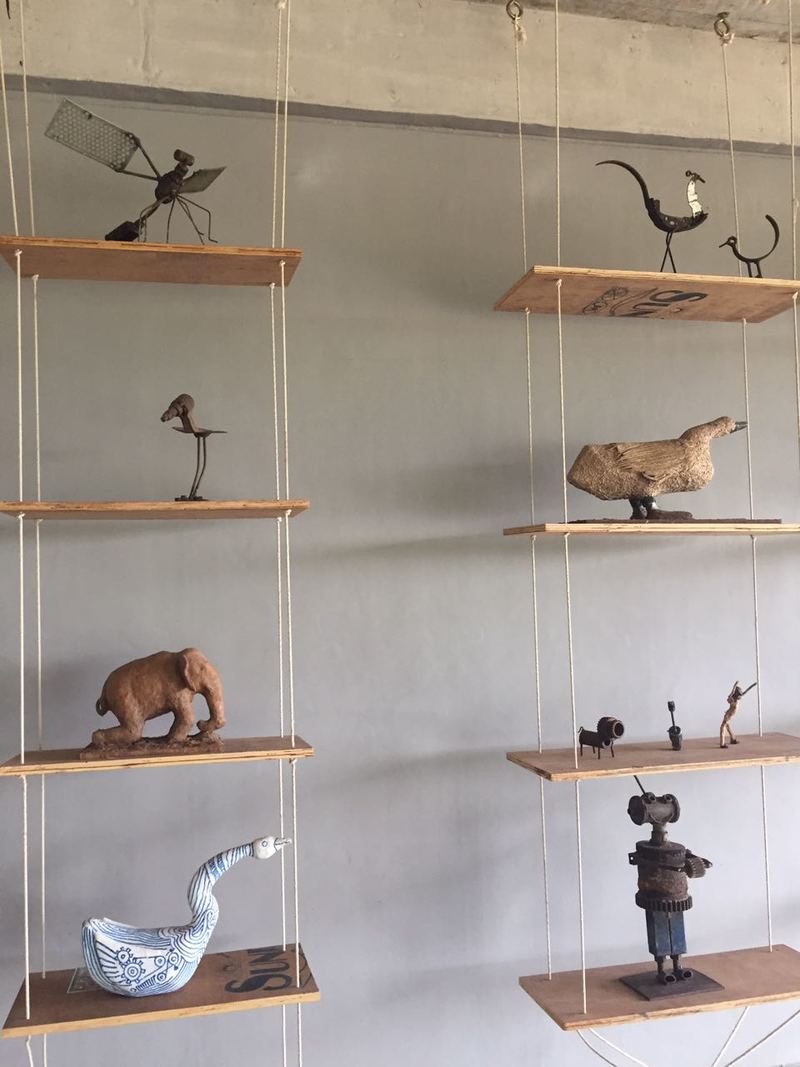 We tear ourselves away from this building with some difficulty and head to the innovation centre. Here the children, in groups, come up with devices or social interventions that impact their day-to-day life. For example, since water supply is erratic in most villages, one group has devised a sensor to alert people when water has been released. In the summer months, the supply can be as infrequent as once in ten days, so it's crucial not to miss every opportunity to fill up the buckets. Another group's device, to be installed at bus stops, would indicate how many buses of a certain route have passed.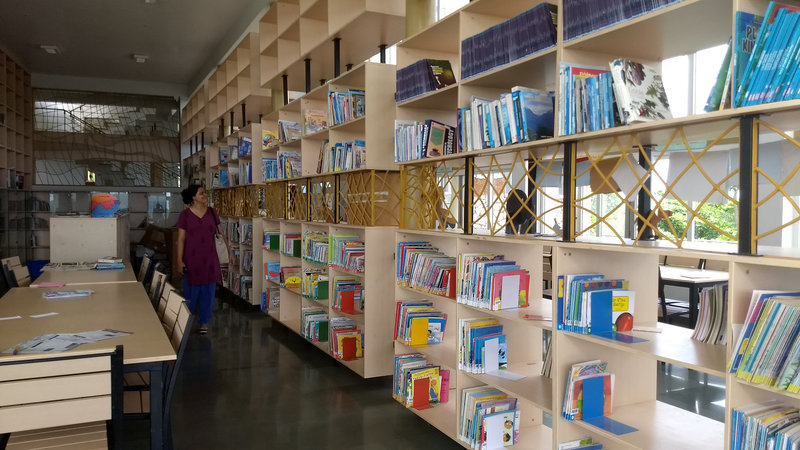 Our tour includes the media centre where we get to see photographs, animations and short films by the children. We wrap up with a short visit to the library and the robotics lab.
Too soon, it's time to get back on the bus. As we wave goodbye to the staff and children, we're certain we'll be back here before long.
More pics from our visit can be seen here: https://flic.kr/s/aHsm4sDAMf
Be the first to comment.
---
At Pratham Books, we love visiting schools, reading out our stories, and conversing with the children and teachers. It's a great way to collect feedback, understand how our stories are perceived, and reconnect with our purpose. And so, a few weekends back, a sunny Saturday morning found us outside the colourful Sujana Convent School for a story reading session with Oracle. Oracle supports the development and creation of our STEM books. The read aloud was organised with the help of Mantra4Change.
At this event, we decided to simply observe and left the story telling and activities to be carried out by the very enthusiastic Oracle volunteers who joined us.
We carried with us 'A Butterfly Smile' by Mathangi Subramanian for the 6th grade class, and 'A Cloud of Trash' by Karanjeet Kaur for the 5th grade class.
The 6th graders immediately found the colourful butterflies and bright faces in the story charming, and were soon listening intently to the volunteers. Keen ears and peeled eyes followed Kavya's story as she recollects leaving her peaceful village for crowded and noisy Bangalore in search of water, deals with her peers, and struggles to confidently share her knowledge about butterflies. The Oracle volunteers had an interesting discussion with the kids about the kinds of butterflies they've seen and admired, and how to be brave in front of new friends. With the lovely colours, relatable experiences, and simple but interesting knowledge about butterflies, the story was an immediate hit with all the kids. By this time they were excited about the activity and raring to go. Armed with stationery and butterfly outlines, they had a fun time creating and naming their own paper butterfly parks.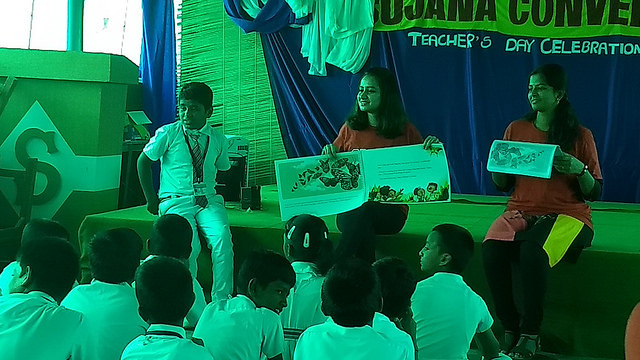 At the same time, the 5th graders were entering Cheeko's world, where her casual littering habits have created a monstrous cloud of trash that follows her around and acts as a major obstacle in all her relationships. At the end of the read aloud, the children were given stationery, and asked to come up with posters telling people not to litter. Whether it was Cheeko's experience, or their own observations, they were all brimming with ideas and opinions, and words and drawings were flowing freely. There were some strong slogans expressing great disdain for this sort of thoughtless behaviour. It was a lovely experience being able to witness their discussions and hear the conviction in their beliefs.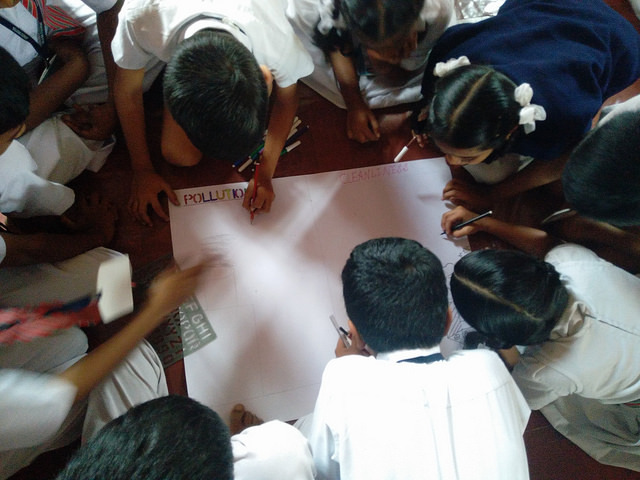 We snapped many photographs of the kids work, and had a quick snack break, and before we knew it, it was time to pack up and leave.
We all took different things back with us from the story telling session, and left excited about visiting again.
To see more images from the workshop, click here.
We thank volunteers from Oracle Bangalore for their time and enthusiasm for this session.
Be the first to comment.
---
It's Inktober, and we wanted to celebrate the amazing illustrators that we get to work with here at Pratham Books' StoryWeaver. If you're on Instagram, check out cool Instagram takeovers by some of our illustrators. We wanted to explore working styles, processes and more on our blog, so we got chatting with illustrator Bhavana Vipparthi. Read on!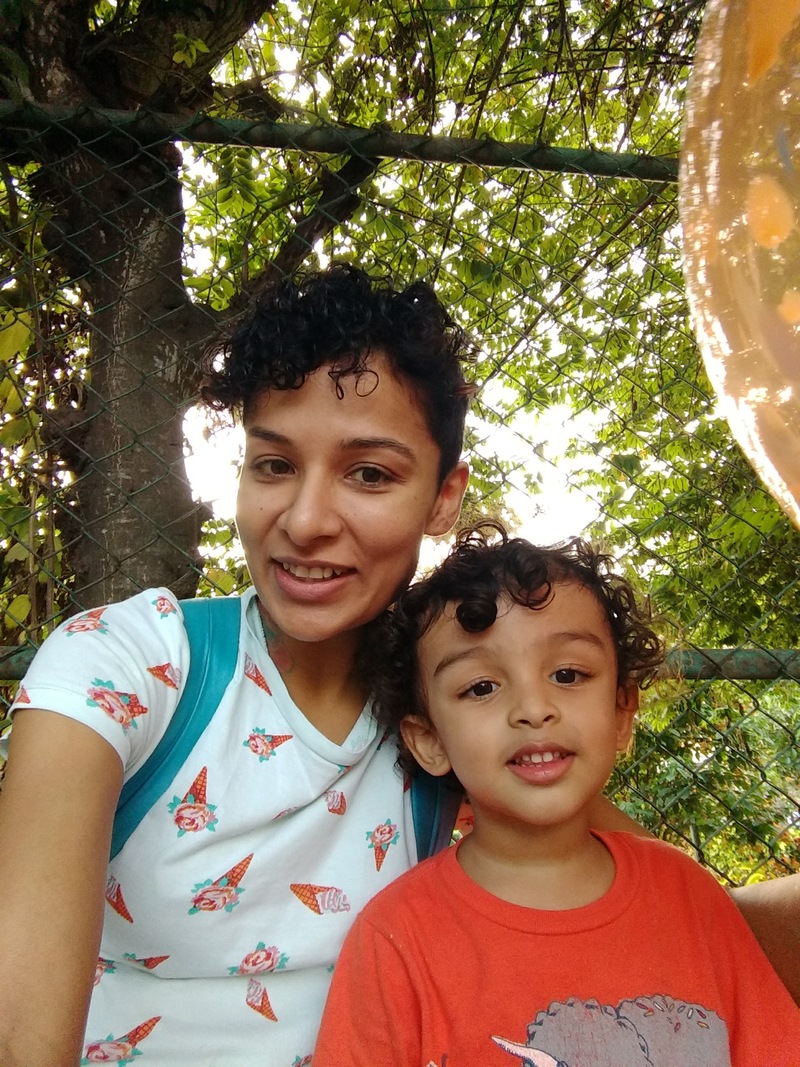 Bhavana Vyas Vipparthi, has lived and studied in Bangalore all her life. Having finished a Fine Arts course at Srishti, School of Art Design And Technology, she went on to do a masters in animation film design at NID in Ahmadabad. Her mind is now consumed by her terribly talkative two and a half year old son, a perfect dog, and a fellow animator husband. She makes up a million stories a day to stay sane. You can find their work on https://vimeo.com/thestudiospaceman
At what stage of the visualising process do you come up with the medium in which you choose to illustrate?
When I read the story, certain things pop out in terms of visual interest. In 'A Cloud of Trash', the big cloud of garbage hanging over Chikoo's head was a great hook. I figured the most interesting way to show garbage isn't a drawing of garbage, but the real trash itself. The rest flowed from there.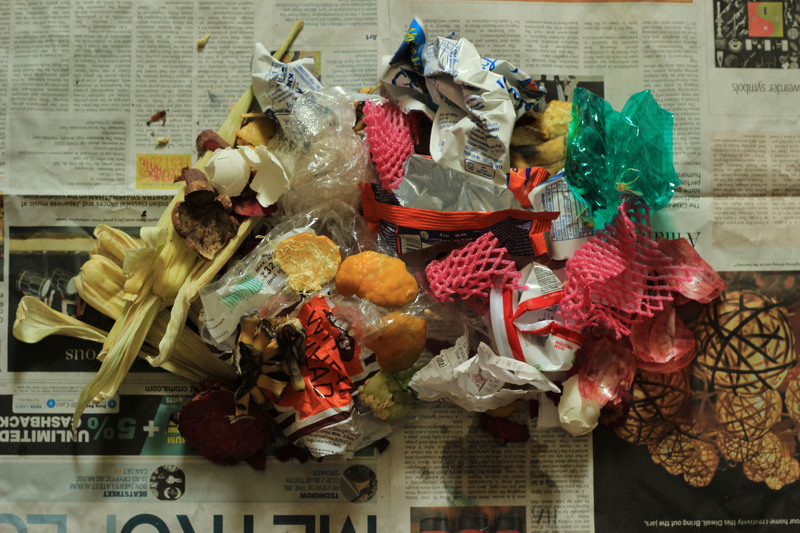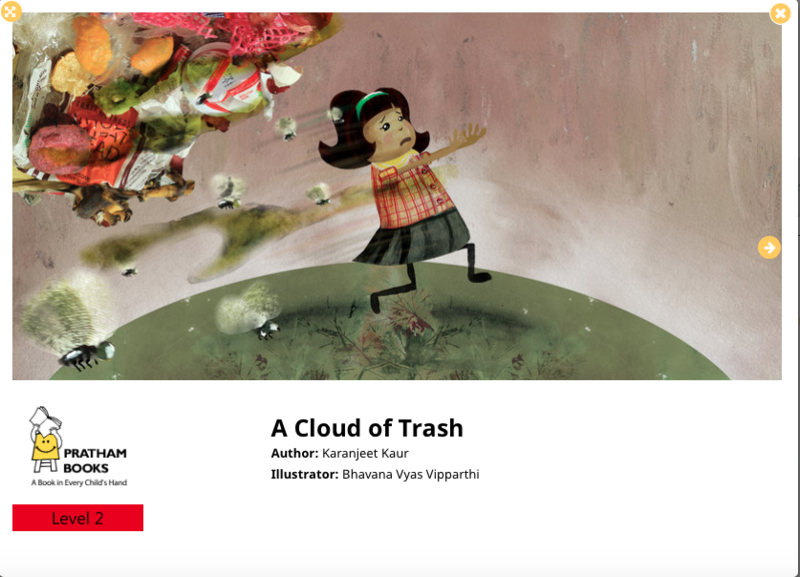 Do you invent a backstory for the character in your head?
You do tend to find a way to identify with the characters when you design them. What they might be like, what they would wear or how they would express emotions. Unknowingly people you know or bits if your own memory fill in those gaps to make the character a real person.
Who are some illustrators whose work you admire?
Dave McKean is a brilliant mixed media illustrator and comic book artist. I can pour over his pictures for hours enjoying how he has constructed the images. Emily Gravett is another wonderful artist. I really admire her lines.
What do you find exciting about working with mixed media?
I enjoy the little bits of reality that the image has. It makes for a topsy turvy world. It's interesting to me to sit with a page and wander around the image and see different things. I find mixed media allows me that space to play with different textures and perspectives to generate interest.
What was the first character you remember making up in your head?
This is very hard. I really can't remember the very first. They all live with me on a daily basis. When you have a kid, everything is a character. The cardboard tube is a rocket that talks back. The plastic zebra and elephant are having a chat by the river...
At what point in your life did you know that illustrating is what you wanted to do?
I was very lucky to have had a wonderful teacher at Srishti. Soumitro Sarkar, was an illustrator and a fantastic teacher. I think he was the reason I understood that the kind or art that I like to make and all the stories I have in my head were welcome in the land of illustration.
Could you tell us a little about what you're working on now?
Currently I am working on illustrating a book, about an absent minded Ajja ,who is turning the house upside down in search of his umbrella:)
Do you have any advice for illustrators who are just starting out?
Find something about the story that you connect with. A place, a character or even an emotion that you can identify with. Then take that and play. I always start my ideas from there.
You can read 'A Cloud of Trash' in 15 languages on StoryWeaver.
Be the first to comment.
---