Pratham Books is a not-for-profit children's book publisher that was set up in 2004 to publish good quality, affordable books in many Indian languages. Our mission is to see 'a book in every child's hand' and we have spread the joy of reading to millions of children in India. In 13 years, we have published over 3000 books and distributed over 14 million copies of our storybooks and 16 million story cards.
Last year, Pratham Books' increased its footprint by going digital. As an industry leader, we were one of the first publishers in the country to open license our content. All this content is now available on StoryWeaver, which is a digital platform that hosts stories in languages from India and beyond, so that every child can have an endless stream of stories in her mother tongue to read and enjoy. The stories can be read, translated, versioned or downloaded for free. All stories on the platform are openly licensed.
Donate-a-book, is a unique crowd-funding platform for children's books. The platform helps to bridge the gap between individuals who want to help children read and those organizations, schools and individuals who need books for children.
At Pratham Books, we are shaping a new, innovative approach to multilingual publishing because we believe that every child needs good books to read in a language of their choice.
Job Description
Pratham Books is looking for a dynamic person to lead its marketing and communications activities for all its initiatives. The landscape is wide, varied and creative. It would range from creating campaigns to tickle the imagination of writers, illustrators or translators to designing collateral for events; from creating newsletters to promoting a new series of books. You would need to create marketing communications strategies for different stakeholders, support internal teams, manage media relations, and oversee all brand related activities. It goes without saying that you'll be good with words and ideas.
Key Responsibilities
Develop and present the communication activities memorably and create a strong brand presence for Pratham Books
Plan and execute marketing campaigns

Create CRM programs

Support on ground events like book fairs and literature festivals with marketing collateral and on ground activation

Develop and maintain media relations

Use digital marketing tools to increase awareness and traffic to websites

Measure and report performance of marketing campaigns

Participate in award challenges
Qualifications
A degree in Business/Marketing
Minimum of 3-4 years experience in Advertising / Marketing Communications

All-round knowledge of different aspects of communication – Advertising, PR, Digital Marketing, CRM programs

Good communication, presentation and interpersonal skills

A self-starter and motivated team player

Good technology skills
Nice to have but not mandatory: Experience in working with nonprofits.
Location: Position is based out of Bangalore
Salary: Will commensurate with experience. We are looking for a passionate individual who wants to be part of a team that is creating a new model in multilingual publishing to address the scarcity of books for children in need
Write to us: Email your resume with Marcom Manager in the subject line to [email protected]
Be the first to comment.
---
Saurashtra is a language spoken by a group that migrated from Gujarat two centuries ago to cities like Madurai, Chennai and Tanjore. The script for this language is no longer in use and while it does follow the Devanagiri system, many native speakers cannot read Hindi. The only languages available to write Saurashtram are English and Tamil. Pavithra Solai Jawahar asked us to add her mother language Saurasthra and has been busy translating stories and creating a book of rhymes in the language.
In recent times, I found myself to be very jealous of people who speak Indian languages like Tamil and Gujarati. The reason: There were these lovely publishers in India, who were bringing out beautiful books in regional languages for children and young adults. But there were none in my language, my mother tongue, Saurashtra. Belonging to a group of linguistic minorities, I believe when your language has a very limited literature for children, it is an injustice done both to the language and the children who miss out reading books in their mother tongue. And when you read in your mother tongue, you also take pride in your heritage. A sense of belonging, you can't find elsewhere.
That's why I started to translate children stories into Saurashtra. And it wouldn't have been possible without the help of Pratham Books StoryWeaver. They graciously added Saurashtra onto the platform as a part of their Freedom to Read campaign.
There is something about a child's imagination. You can never put a lid on it. It is unparalleled in a way, you and I, can't imagine. So when I started to translate my first story, it was this fear that took over me. Will I do justice to this pure, boundless imagination of the child reading it? Also, Saurashtra is a dialect. A language whose script is in disuse. And so, I had to resort to transliterating Saurashtra into English. A language which would be easier to read for the children to read.
I have translated two books, as of now.
(Click on the above links to read these stories)
I have also created a "rhymes" book in Saurashtra, using illustrations from StoryWeaver. You can can read it here.
Now that I am able to create online story books in Saurashtra, my next challenge is to spread the word about it. And that's where I discovered the next tricky thing about my mother tongue. Saurashtra has several regional variances, that my transliteration couldn't cover. (The variation of Saurashtra I speak is different from my dad's. Yes, that's how it is!) I am in the process of getting inputs from the Saurashtra community, on how best this can be handled. Also, I now realise, that I should print these translations as physical books which can help engage children with the language better. You can expect more Saurashtra storybooks from me and if you know of any Saurashtrians or if you are one (Avo, avo!), please do share these books and spread the word.
You love your mother tongue. Let it live! :)
Pssst: Since you have read the whole blog, here is another interesting story book, I created with my spouse, for our nephew. It was about a certain SpaceBoy who jumps to the moon to dance with a dinosaur!
Be the first to comment.
---
The Asia Foundation is an international nonprofit that helps societies work towards a peaceful, just, and thriving region, and currently works to improve the standard of living across Asia, from Sri Lanka to Mongolia. Improving literacy levels is integral to the work the organisation does, and they have spearheaded a number of programmes across the region to this end.
One such initiative is Let's Read! which pledges to provide storybooks to children across the continent. "Through technology initiatives and book donations, we help infuse students with a love of reading essential for literacy," says Melody Zavala, director of the Books for Asia program at The Asia Foundation.
As part their Let's Read! campaign, The Asia Foundation has created e-libraries that are accessible on any device. "The e-library works in low-bandwidth environments and doesn't require an active internet connection for reading and hence are able to reach children even in areas with poor bandwidth and infrastructure. Books available are in the mother tongue languages of the children. "We know that children learn first and best in their mother tongue. So we want to make local publications available to more children and stimulate their imagination in ways that can only be possible in a local context," commented Melody.
To provide a wide range of these books, The Asia Foundation used the vast collection of stories available on StoryWeaver. "The translate tool on StoryWeaver attracted us, as once a language (e.g. Thai) is available on the platform, we can get stories translated and provide a large number of quality children's literature to our partner schools," shared Melody.
Being able to draw on StoryWeaver titles has been invaluable to the Let's Read! initiative, shares Melody. The initiative incubates innovative digital, print, and community-based solutions to "improving access to high-quality children's books in mother tongues and national languages and currently consists of integrated e-book library, translation, and content creation projects.
Stories in Khmer
"So far, we've translated 9 titles into Khmer which are all available on StoryWeaver. The stories are also available on our Cambodia project site, along with new stories created in Khmer by local authors and illustrators during our e-book hackathons." informed Melody. "In Cambodia the Ministry of Education's online education portal will also link to these stories, hence making them available to their 1.5 million followers. he stories will also be made to other Khmer educational apps and projects, including Khmer LEARN, which has 38,000 users, and the Library For All app, which is used in 5 rural schools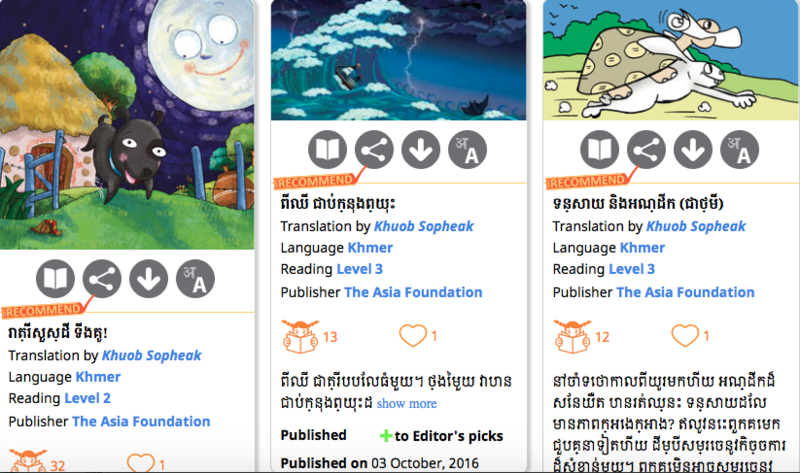 Increasing content in ethnic minority languages
In Thailand, StoryWeaver content will be translated as a part of the Let's Read initiative there that utilizes a suite of integrated smartphone apps – a translation tool and free story reader app - to increase content in ethnic minority languages. A Let's Read! translation workshop took place in Chiangmai, Thailand where 10 Pratham Books titles from StoryWeaver were translated from Thai into S'gaw Karen. The programme will initially be implemented in 10 villages and positively impact 1,000 children. S'gaw Karen is spoken by over four million S'gaw Karen people in Burma, and 200,000 in Thailand. The Asia Foundation will be using their own Thai translations on StoryWeaver to create joyful reading material in S'gaw Karen. Content translation for programmes in Bangladesh has also been initiated."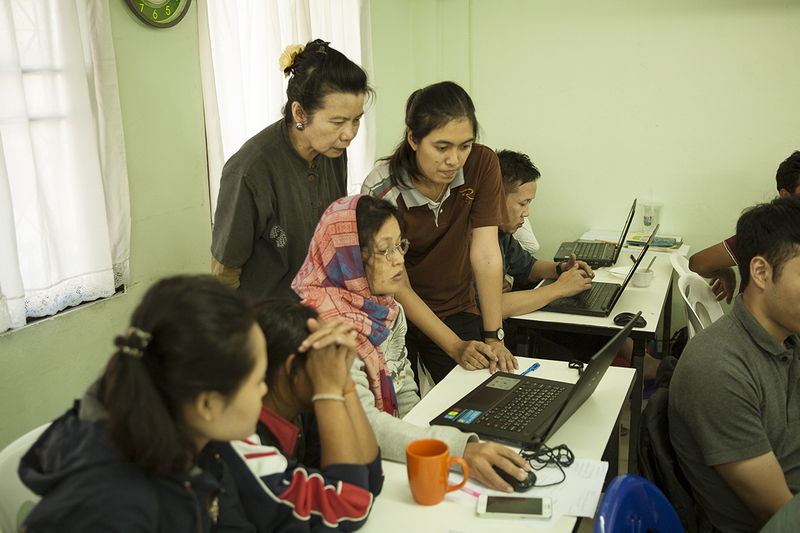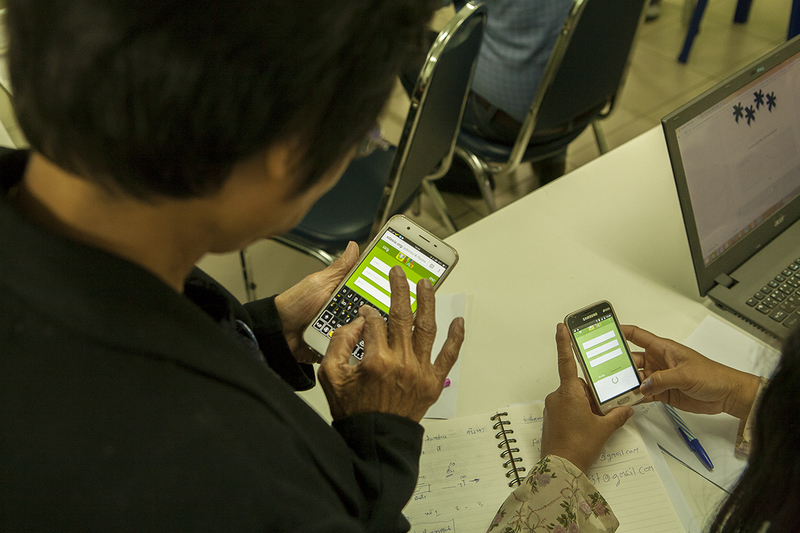 Participants at the ChiangMai workshop. Images courtesy Kyle Barker, The Asia Foundation.
You can read the Khmer translations uploaded by The Asia Foundation here. Keep following us on twitter for more updates about our work with them.
Be the first to comment.
---