Suzanne Singh, Chairperson, Pratham Books was invited to be part of a discussion on the Global Book Fund at CIES 2016 in Vancouver.
The Comparative and International Education Society (CIES), Inc., was founded in 1956 to foster cross-cultural understanding, scholarship, academic achievement and societal development through the international study of educational ideas, systems, and practices.
The Global Book Fund is a groundbreaking initiative with a wide range of partners that is building on experience from health sector commodity reform to transform the development, procurement and distribution of books for the education sector. It is expected that Book Fund activities will increase book quality and availability while decreasing costs. The initial focus will be on books for reading instruction and practice in underserved languages.
The three Book Fund panels at CIES this year updated CIES participants on progress and engaged them in contributing to improving and increasing content, transforming approaches to financing and procurement and modernizing approaches to supply chain management to ensure Books For Every Child.
The lack of high quality textbooks, reading books and library materials in languages children understand in many countries has produced a learning crisis: "Of the world's 650 million primary school age children, at least 250 million are not learning the basics in reading and mathematics . . . 130 million of these children are in primary school but have not achieved the minimum benchmarks for learning (UNESCO EFA GMR, 2014)."
Suzanne's panel focused on providing a critical analysis of new approaches to content development, content access and supply. She presented StoryWeaver as a tool to address the issue. Her co panelists were:
Ana Robledo, RTI who began the session by providing an overview of the large-scale Learning Materials Survey that was just completed for Africa. This survey reviewed more than 6000 titles in 11 African countries, covering many languages of instruction. She described the results of the survey and framed the issues of title availability and access. Ed Gaible, Natoma Group, presented recommendations from his recently conducted design study for the Global Reading Repository and solicited feedback from the audience on maximizing the functionality and use of the GRR for governments, organizations and individuals to upload, download and print titles within and across contexts.
Michelle Malecki presented the two prototypes of "track&trace" technology that USAID is piloting to improve book distribution and management.
Paul Frank, SIL LEAD and Suzanne, presented and discussed the open source software packages that their respective organizations had developed and engaged the audience in a conversation about encouraging access by local authors and large scale uptake.
Suzanne spoke of how Pratham Books was using Open Source as a means to address the scarcity in multilingual reading resources for children through the StoryWeaver platform.
Pratham Books mission is a book in every child's hand and this has a two part objective, one is to create more multilingual reading resources so there are more available for children to read and the second is to provide access to these books, where children need them the most. She spoke of the challenge in creating a scalable publishing model for a massively multi-lingual and multi-cultural market. Pratham Books' solution was to create an open source platform, StoryWeaver, which provides free access to thousands of books in multiple languages. As a publisher that has been creating children's books, primarily in print, for over a decade, Pratham Books' has a vast catalogue of high quality books in 18 Indian languages. We have openly licensed our storybooks on StoryWeaver for users to read, download or print. Apart from this, we have also embedded some tools for content creation - to enable people to repurpose the content into more languages and versions. The goal is to bring together content users and content creators and create a participatory culture that will catalyse the creation of more content.
You can see Suzanne Singh's entire presentation here.
Be the first to comment.
---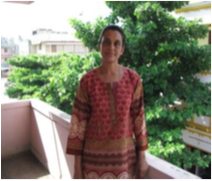 Nabanita Deshmukh is a teacher, a teacher educator, and a writer of children's stories and poems. She had been a consultant at Azim Premji Foundation, Pondicherry and has worked with government school teachers on interactive methods of teaching. Nabanita has been instrumental in introducing Stories and Language Games as a means for developing language skills in primary level children. She has also conducted workshops for teachers and students in Odisha, Pondicherry, Kerala and Arunachal Pradesh on creative writing, storytelling and classroom games and other alternate modes of classroom teaching such as the use of magazines for the improvement of English. She conducts teacher interactions on motivation and classroom management.
She contributes stories and articles to magazines and publishing houses like Chandamama, Bal Vihar, Children's World, Children's Choice, Children's Digest, Pratham Books and Matrubhumi.
You can read her books 'Why Do Bees Buzz?' and 'Why Can't We Glow Like Fireflies?' on StoryWeaver.
I am just back from a long teacher training tour in Chattisgarh and western Odisha. The main focus of the workshops was the enhancement of language and literacy skills through interactive modes such as stories, poems, skits and songs. In this context Pratham's Adi Kahani series and the online Storyweaver platform came in handy.
STORYWEAVER
Stories from this portal were shown to a group of primary school teachers and teacher educators from various states of India. Here is an example of how one of the presentations took place. The session went through three stages: pre-viewing, while-viewing and post-viewing. The 'First House' story was chosen for the demo.

In the pre-viewing stage, I first showed the cover page to the participants and they all had to guess what the story was all about and where it was set. This pushed the teachers to observe the illustrations and the printed details carefully. Later they guessed that the story took place in a forest and it was about two tribal men.

Pre-reading or pre-viewing stages always help break the ice and familiarise readers with unfamiliar settings, characters and vocabulary. If teachers used prediction like I had done with the cover page of the book, students would surely show more interest in reading a story.

In the while-reading stage, I projected the first page of the book and asked the following questions:
1. In which state of India do you think this story is taking place?
2. Which creatures do the characters meet when they come out of the cave?
3. What advice do these creatures give them? (Answers to be given using direct speech)
4. What kind of house do you think the characters built eventually? (Description)
These questions were asked to help participants use communicative English (Q-3), imaginative skills (Q-2&4), logic (Q-3) and geographical knowledge (Q-1)

After getting the answers from the participants, the entire story was projected on screen and the participants enjoyed reading it. They also loved the colourful illustrations and the different options the story presented. I finally read out the paragraph on the Singpho tribe printed at the end of the book and made the teachers use atlases to locate Arunachal Pradesh and its physical features on the map.

Some teachers even attempted to translate the first few lines of the story in their own mother tongue-Kannada, Tamil, Bengali and Chattisgarhi.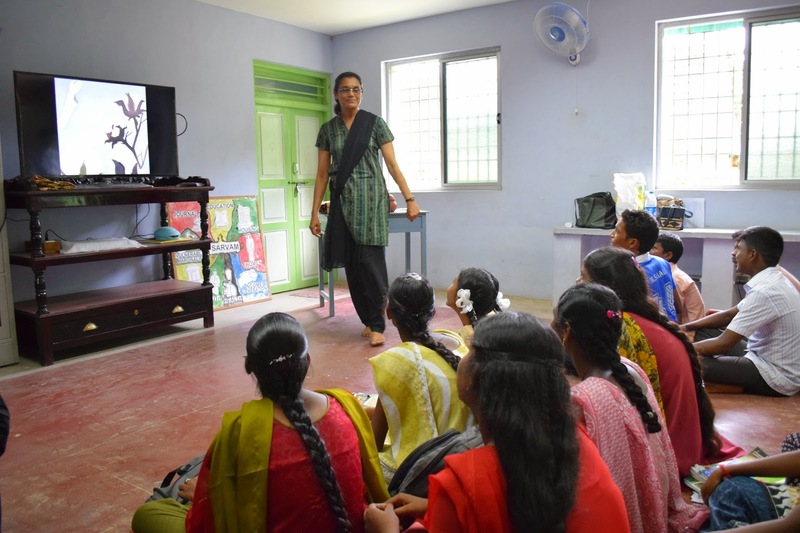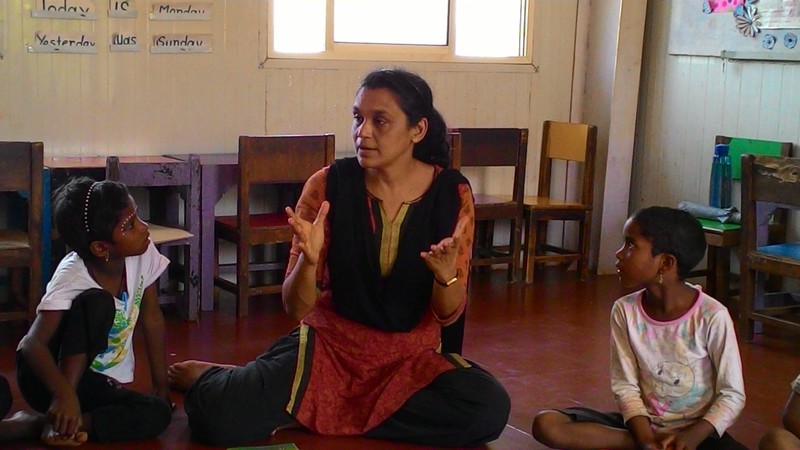 ADI KAHANI SERIES
The Adi Kahani stories in the Kui language were used in Odisha with primary school teachers who taught children of the Munda tribe. This tribe speaks the Ho language. Despite not knowing Kui, the tribal and the non-tribal teachers reacted favourably to the stories. For example in the stories of the fox and the pitcher and also in the fox and the chicken, the teachers appreciated the use of local settings, objects and characters. They thought these would help children understand the story better as the surrounding is familiar-rivers, foxes, cowherds, women carrying wood, earthen pots are all so familiar to village children no matter to which tribe they belong to!

The story of how the rabbit got its long ears became an instant favourite among Munda teachers and many felt the folktale could be made into a skit.
It was a great experience using Pratham Books and the Storyweaver platform during my training. More Odia translations of stories and Munda tribe folktales written in English and then translated into different languages will be most useful. I just came to know that the Ho language has a script. Heartening, isn't it?
Be the first to comment.
---
Payoshni Saraf, Outreach Manager, Digital Initiatives at Pratham Books shares what happened at a school visit to the Channasandra Government School, Bengaluru.
Wednesday morning brought in considerable excitement. The StoryWeaver team was going into a classroom, albeit not to study or teach, but to see what a wonderful classroom is made of!
As a part of a special project with Teach for India Bangalore, we are currently piloting the use of a curated collection of StoryWeaver titles in select Teach For India classrooms, here in namma city. The pilot is one of its kinds with a focus on using stories to enhance reading comprehension in the classroom resulting into an increase in reading fluency over the year.
Armed with scribble pads and the palpable excitement of entering a classroom, we were welcomed in a 4th grade classroom in Government School, Channasandra at Kadugodi. First year Teach For India fellow Siddharth Chellappa was just starting the day with a morning meeting with his enthusiastic students discussing their visit to Cubbon Park the previous day.
We soon moved into the first class for the day, which was the English Reading Comprehension class. The projector was connected, StoryWeaver was live and the children were set! 'Gulli's Box of Things' was the day's pick. The Level 2 book follows young Gulli and his seemingly bottomless box of things that always has just the thing needed to solve other people's problems. Siddharth started the lesson by spending some time on the cover page. He asked the children to look at the illustration and listen to the name of the story and predict what the story could be about. The children were enthusiastic and vocal and had lots of suggestions. Maybe the story is about a box full of books....or what about Gulli's box being a magical box? With all the conspiracy theories in place, the reading started. For each page that was read, Siddharth would pause and ask children questions around it. For example 'How does Gulli's Grandfather appear in this picture?' Or 'What do you think made the 'Clink-clonk-dadum-dum' sound?' There were many giggles and laughs with every Clink-clonk-dadum-dum by the way!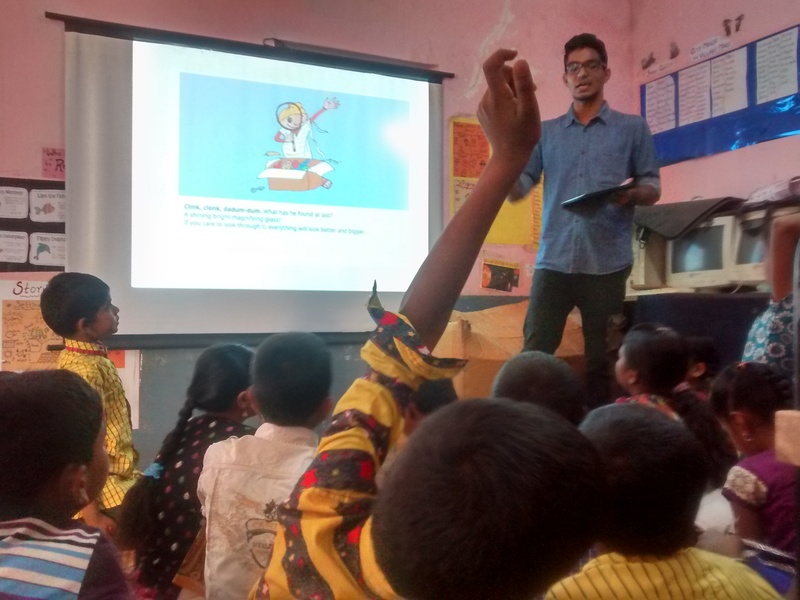 Another lovely moment was when Siddharth asked the children to try and relate aspects of the story to their own lives. He asked them if they knew anyone like Gulli in their homes or neighborhoods who helps without being asked and many children came up with examples of their fathers or friends helping strangers or people in need without an ask for it.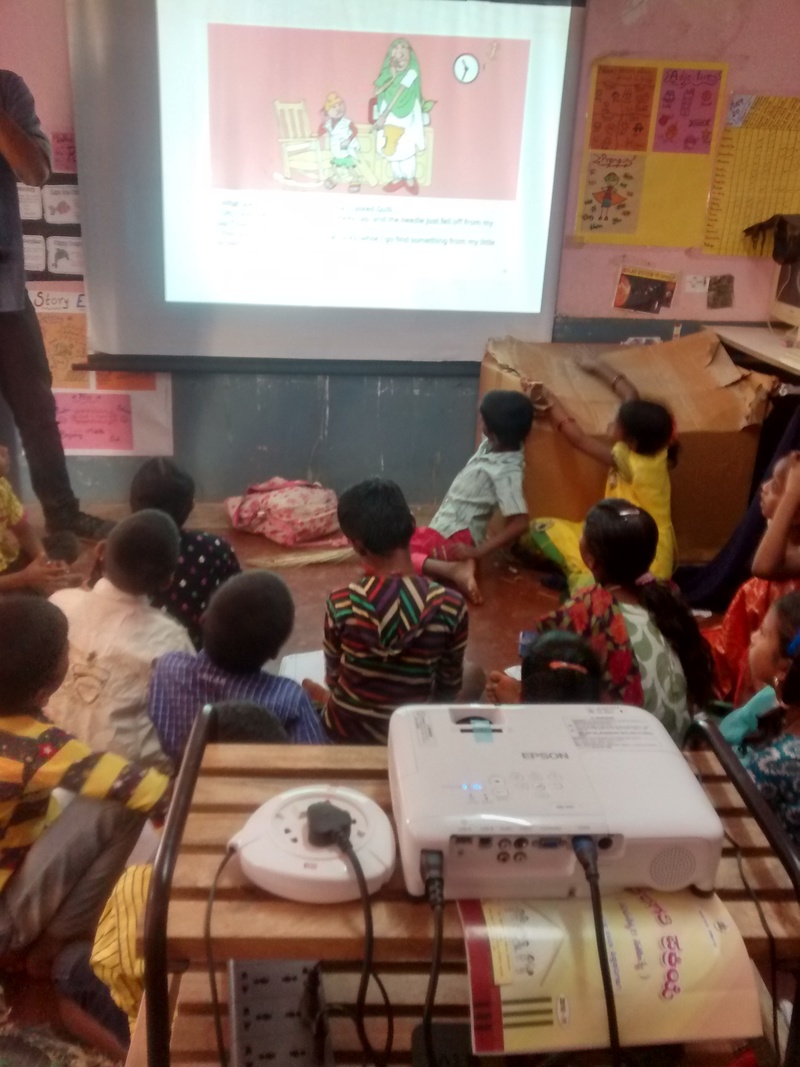 ​Before we knew the story finished and we were left wanting more, as much as the children did. We wrapped up the visit with a quick interaction with the children and got to know about their favourite books…'Aaloo-Maloo-Kaloo', 'Rani's First Day at School' and The Giving Tree emerged as clear favorites.
We said goodbye to the little munchkins and promised to see them again!
​For the pilot we are currently in the midst of,​ Teach for India and StoryWeaver are aiming to harness the power of contextual stories and familiar settings to push reading comprehension among children, many of them first generation learners with English as their third or fourth language. The stories are being used for read alouds as well as independent readings with activities created around it to push understanding.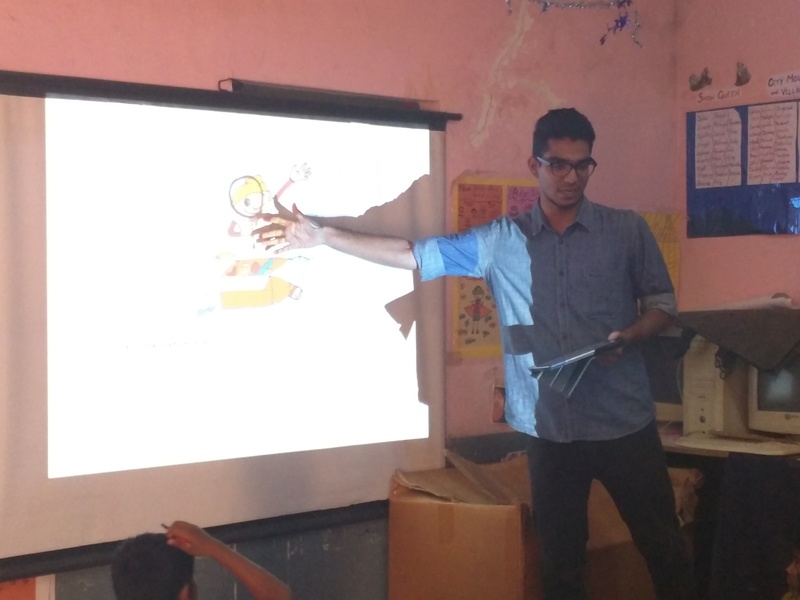 ​Siddharth Chellappa, whose classroom we visited had this to say -
"StoryWeaver is a great tool to use in the classroom, because it has so many possible applications. I'm able to create differentiated content ​from a story with such ease​ for all my children who are at different reading levels. Then, based on student interests I can also​ create amazing stories using StoryWeaver's ​collection​ of illustrations. Most importantly, having access to a massive story library​ with characters and stories​ the children can relate to, is the closest thing to a superpower a teacher who loves ​English and Reading Comprehension can have."
We thank Teach for India for their support and enthusiasm, especially Teach for India Bangalore and Siddharth for letting us into their classroom​s.
comment (1)
---