Post by Purvi Shah, Director - StoryWeaver
---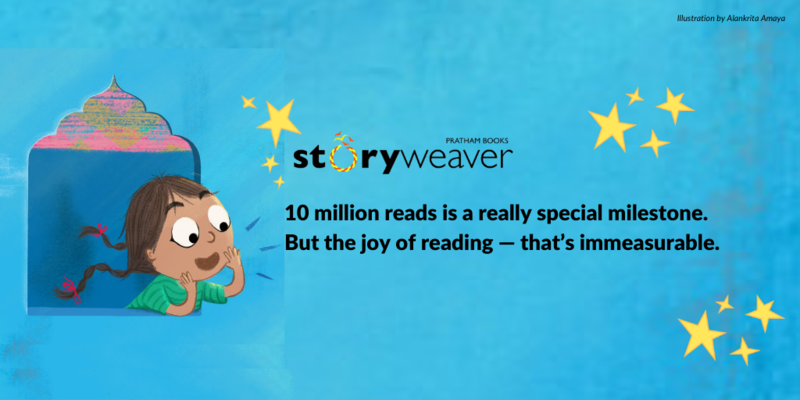 We must admit, we've been watching the number next to Reads with bated breath for the past few days.
One crore. Ten million.
However you interpret the numerals, it's tens of thousands of reads, and it puts a massive smile on our faces to think of children across the world enjoying reading books on StoryWeaver.
It's also a very, very special milestone to cross.
Special, for children like Manisha who speak Gondi (an Indian tribal language), but until recently had no access to books in their mother tongue, and who read their very first storybook in Gondi, which was created on, downloaded and printed from StoryWeaver.
Special, for teachers like Gangadhar, who keep their students spellbound and build their reading and pronunciation skills with Readalongs.
Special, for partners like Room to Read and Asia Foundation who help underserved children read.
Special, for community libraries like The Community Library Project in Delhi, who help dozens of children read and enjoy these books, even during difficult times during the pandemic, when they were unable to visit the physical library.
Special, for young readers like Vaishnavi, who haven't been to school for months due to the pandemic, but are continuing their reading journey using books from StoryWeaver.
And special for us, because it captures everything we stand for: Joy, Inclusion, Empowerment and Integrity.
It's been five thrilling years of creativity, innovation, and collaboration. And the best part? 10 million is already in the rearview mirror, as we fly on towards the next milestone.
Thank you for reading this far, and if you like our work, do consider partnering with us, and supporting us— there are millions of children still to discover the joy of reading.
---
Help us continue to give children free access to books. Click here to support StoryWeaver.
If you are part of an organization that promotes reading and learning among children, and you would like to partner with us, write to us at [email protected].
---