-This position is now closed-
Pratham Books (www.prathambooks.org) is a not-for-profit children's book publisher that was set up in 2004 to publish good quality, affordable books in many Indian languages. Our mission is to see 'a book in every child's hand' and we have spread the joy of reading to millions of children in India. As a publisher serving every child in India, Pratham Books has always pushed the boundaries when it comes to exploring innovative ways in which to create access to joyful stories and have been fortunate in finding partners to collaborate with who share this vision.
In 2015, Pratham Books' increased its footprint by going digital. As an industry leader, we were one of the first publishers in the country to open license our content. All this content is now available on StoryWeaver, which is a digital platform that hosts stories in languages from India and beyond, so that every child can have an endless stream of stories in her mother tongue to read and enjoy. The stories can be read, translated, versioned or downloaded for free. All stories on the platform are openly licensed.6
We are looking for a Project Manager for StoryWeaver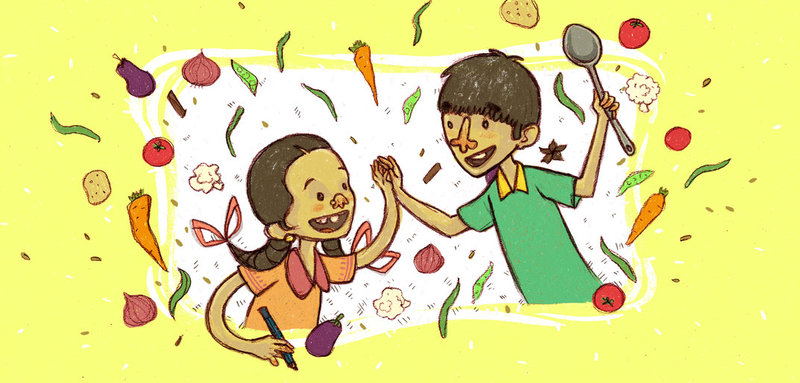 Illustration by Kabini Amin from BDum Dum-a-Dum Biryani! by Gayathri Tirthapura
This position will work closely with the StoryWeaver Product team to support the operations of StoryWeaver. The role would involve project co-ordination, anchoring product enhancements, nurturing on ground relationships and support reporting and documentation.
Key Responsibilities:
Work closely with the internal teams to implement StoryWeaver's operational plans
Project level support and coordination across various teams to ensure timely completion of project deliverables
Track and monitor user trends and usage data to drive future product enhancements
Anchor product enhancements through user research, requirement analysis, design and communication briefs to tech implementation
Support the core team in reporting, documentation, campaign processes
Drive on ground testing beds for key features and partner engagement
Required skills
Proven experience as a Project manager
Excellent organization skills
Excellent verbal and written communication skills in English
Sophisticated ICT skills
Willing to travel to all project locations
2-4 years of experience
Nice to have but not mandatory:
Experience working with non-profits
Masters in Business Administration, Marketing or a related field would be a plus
Location:
This is a full-time position for 1 year and is based out of Bangalore
Compensation:
Salary will be commensurate with qualification and experience.
Write to us:
Email your resume with 'Project Manager - StoryWeaver' in the subject line to [email protected]
---