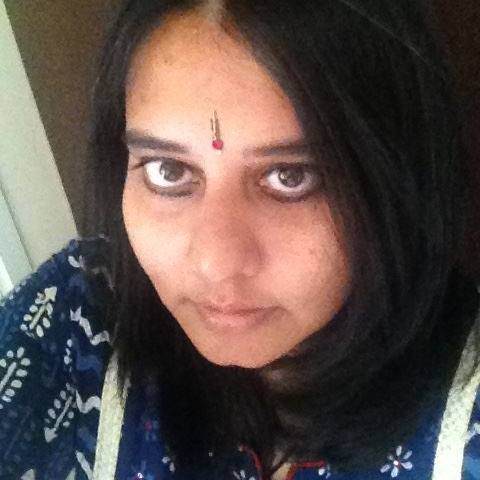 Swetha Prakash has an MA in Writing from the University of Warwick and is the recipient of the Charles Wallace India Trust Award by the British Council.She has won the The Times and Scottish Book Trust's New Writer Award and her book 'Padma Goes To Space' has been published by Tulika Books. She has edited India's first book on storytelling for schools published by Kathalaya, and recently wrote a nonfiction book called "Indian storytelling traditions." She writes about how she is using StoryWeaver to raise funds for an NGO.
Everbefore the story goes...With humanity came myths and with myths came civilization. Myths are our collective dream. Myths are profoundly important for our individual and collective consciousness.
I am running a charity fundraising campaign for the Bangalore based poverty alleviation initiative, The/Nudge Foundation by creating original myths everyday. The campaign is called The Living Myths project. As a part of this campaign, I am posting one myth everyday on Storyweaver for 21 days. I am also urging friends and family to raise funds for The/Nudge Foundation by donating to my campaign on Ketto, which can be found here.
The/Nudge Foundation is a non-profit working on tackling poverty, which is the greatest human development challenge of our times. Their goal is to nudge 1 million people out of poverty.
How are they solving for it? Their flagship program, Gurukul, is a 100-day residential program for underprivileged youth where they are educated on livelihood skills, digital literacy, financial management, family management and personal development. The program works towards the holistic development of the students and makes sure that they work towards growing in their respective careers and always aspire for better opportunities. The Gurukul program assures job for every student and boasts off 123% placement rate.
Stories, myths and collective consciousness
What is storytelling really? It is an expression, which arises within the body from the same space that makes people paint, sing and dance. It is a message from your soul that you want to transmit to the world at large. Storytelling defines how we react to both external solid realities and to ephemeral ideas. The tellers are adepts at conjuring up the confusions and misapprehensions of life universe and everything. Stories attempt to pierce through the evanescent illusion of all life and creation. They bring to us the fullness of all life, its fulfilment, its elixir of immortality shrouded in the casket of death. Stories help us access the embodied existence of others, providing us with the fullness of our own being. They change and mould our collective consciences and teach us to extend our sympathies to other beings that share this existence with us. Stories are in their core lessons in sympathy, helping us extend our compassion and empathy to others.
Myths are narratives that answer the most profound and primordial questions of existence through fascinating stories populated by fantastic creatures. Myths typically attempt to explain how the universe is created and the primary powers that are behind all creation, manifestation and destruction. Myths about powerful beings responsible for creation can be found as far back as the Vedas.
Devdutt Pattanaik says in Indian mythology: tales, symbols, and rituals from the heart of the subcontinent, 'Myth can be defined in two ways. First, it is a sacred idea that is inherited over generations. Second, it is absurd, irrational, and fantastic concepts about the world that appeal to unsophisticated minds. The two meanings are two sides of the same coin. Depending on one's point of view, a story, an image, or a custom can be sacred or stupid'
Most Indian myths can be found in the Puranas. Varied versions of the same myth exist. The same myth again may be open to varied interpretations depending on the audience and the purpose of narration. A myth may serve as simple delightful entertainment for the whole community or it may be understood as an entire philosophy encapsulates in symbolic code that opens up an entirely new field of meaning to a spiritual initiate who is able to read the sandhya bhasha or mystery mystical language.
You can read Swetha's modern myths here.
Are you using www.StoryWeaver.org.in in an interesting way? Write in and tell us at [email protected]
---