As part of StoryWeaver's Freedom to Read 2020, the Institute for Multilingual Education (IMLi) has translated and created an open digital library of 100 storybooks in Kolami - a vulnerable indigenous language from Maharashtra. These books include bilingual Kolami-Marathi books. The digital storybooks were launched at the District Institute for Education and Teacher Training (DIET), Yavatmal on February 17, 2020, with chief guest Hon. Shri. Dipak Chavne (District Education Officer, Yavatmal) and keynote speaker, Dr. Prashant Gawande (Senior Lecturer, DIET, Yavatmal). Certificates were handed out to the educators who participated in the translation process and a reading session was conducted for Kolami children from schools in the district.
Here is an interview with Alaknanda Sanap, the founder of IMLi.
Do tell us about the IMLi - Institute of Multilingual Education, its vision, and the communities that you engage with.
The Institute for Multilingual Education (IMLi) is a registered trust working towards education and language education in India. While it has been active since 2017, it has been registered in 2018 by a group of social activists. They believe in the vision of the organization 'to support and promote reading and multilingual education in the country with a view to promoting children's learning, engaging with community knowledge and culture and all-round development'. They believe this can be achieved through both academic pursuits such as research in language development, or through creation of multilingual books for children and through programmatic interventions such as teacher capacity building programs and advocacy.
IMLi has helped set up mini-libraries in anganwadis and school in Baramati district of Pune and trained anganwadi (pre-school) teachers on early childhood education and early literacy. They have created videos for readlongs for select books, and are in the process of creating supportive material for teachers to adopt MLE better in schools.
How did you come across StoryWeaver? What prompted you to enter into a collaboration?
IMLi had collaborated with a few organizations in Maharashtra who had translated books for tribal children and it was seen that these played a very good role in improving children's engagement with books and reading. When the Freedom to Read campaign was announced, it was felt that a similar effort could be undertaken for languages which really needed more books.
Do tell us about the Kolam community and their language. What resources are currently available? What are the challenges faced by Kolami children when they enter school?
The Kolams are a relatively small tribal group, spread across 4 states of south central India i.e. Andhra Pradesh, Chhattisgarh, Madhya Pradesh and Maharashtra. Until as recently as the 1940s, they typically practiced slash and burn farming and foraging, and were reluctant in intermingling or settling down. As such, in Maharashtra, they are part of the subcategory of particularly vulnerable tribal groups (PVTG), that are accorded more attention and support from the government for many welfare schemes. They are renowned for their familiarity with the jungle and skill in divination and the propitiation of local gods, particularly gods holding sway over forests and hills. Now, most of them are found in villages and plains where they work as tenant farmers or agricultural labourers, and a very small number of Kolams live in hill settlements. Some of them own the land they cultivate. They are scattered over a large area.
The Kolami language is part of the Dravidian language families, and as such, bears little to no resemblance with the state language of Marathi. Kolami children face a steep challenge when they enter formal centers of education such as anganwadi or school, as simple instructional words are also different.
What are the benefits of creating a local digital library of storybooks in Kolami?
If Kolami children get child-friendly reading material in addition to the syllabus, such as songs and stories, they will happily and easily familiarize themselves with Marathi letters and words. We have created and published bilingual books in Kolami-Marathi and books in Kolami on StoryWeaver.
Within Maharashtra, the Kolams are spread over three districts, and there are close to 200 primary schools with predominantly Kolami speaking children across the districts of Yavatmal, Chandrapur and Nanded, with close to 3500 children. These Kolami bilingual books can be used by teachers to support early literacy skills, and reading and writing instruction in classrooms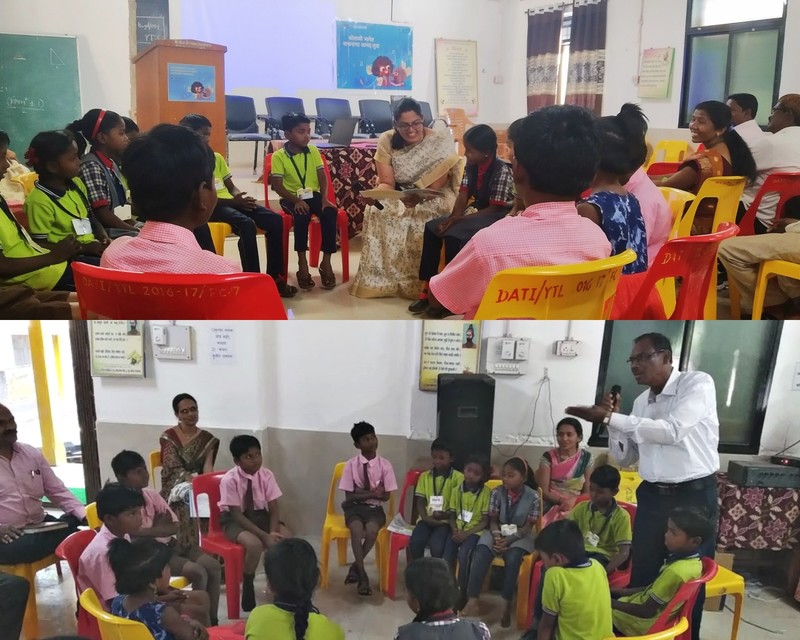 Photos from a Kolami reading session at DIET Yavatmal, held to mark the launch of an open digital library of 100 Kolami storybooks.
Tell us about the process of translation, and about the team that worked on this project.
IMLi reached out to the government teachers from the Kolam community, through the District Institute of Education and teacher training. The teachers were very happy to be part of such an initiative and enthusiastically agreed as this "was for the benefit of our children". Teachers passed on the word and referred each other and eventually 10 teachers were finalized to be part of the first workshop. While the initial plan was to translate the 100 books in phases, the enthusiastic support of the teachers made it possible to undertake the entire translation in one go, over the course of 2 workshops in a week. IMLi shared the importance of multilingual storybooks and helped the teachers understand the key points for translating for children. The workshop happened in mid September and was spread over a week.
Many of the teachers had translated the school textbooks in Kolami and had been part of other translation and literature collecting efforts in the community. Another round of review workshops was held in October when four of these senior teachers were invited to review the translations. These 2 workshops were also held across a week.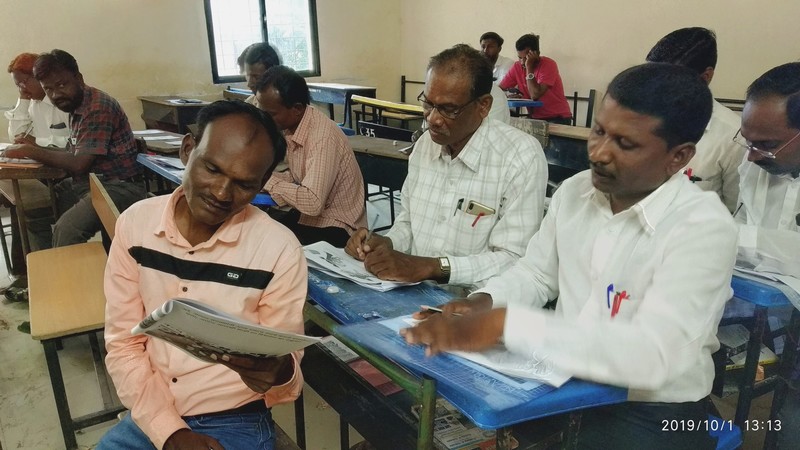 The translation team of educators at work, giving children access to storybooks in Kolami - a vulnerable indigenous language of Maharashtra.
After this, the reviewed translations were typed and first drafts of all books were prepared. After discussions, it was decided that most of the books should adopt a Marathi-Kolami layout and only a few books should be made in purely Kolami.
The draft Kolami books were then proofread with a team of volunteers who are working on a field research project on the Kolam community. Thus, after many rounds, the final books were prepared.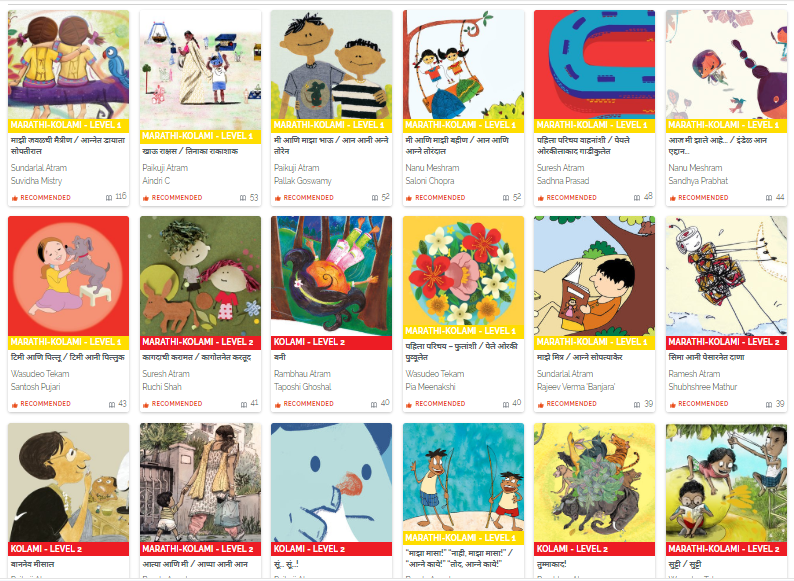 Storybooks in Kolami and Marathi-Kolami translated by Team IMLi
How do you hope to reach more children through your books in Kolami? How do you see the books being used by educators?
We plan to reach out to the Education Department and the Tribal Department to explore opportunities of collaboration. The Departments support publication and dissemination of books and story-readers for children in their respective schools. IMLi can also support the adoption of these books with teacher training sessions on pedagogy for integrating books in language learning.
Thank you so much, Alaknanda and Team IMLi, for giving children the #FreedomToRead in Kolami!
---
You can read the storybooks translated by IMLi here.
Be the first to comment.
---

At StoryWeaver, we believe that every child deserves to have joyful reading material in her mother tongue. To make this a reality, we have been building all-digital libraries in underserved languages through the 'Freedom to Read' campaign.
In November 2019, we opened applications for the 4th edition of Freedom to Read, inviting organisations and individuals to partner with us to achieve our goal: the co-creation of digital libraries in languages with few or no storybooks by February 21, 2020 - International Mother Language Day. Each of these free-to-use digital libraries will contain at least 50 quality-assured books - creating more storybooks, in more languages, that serve more children all over the world.
We are overwhelmed by the response to Freedom to Read 2020. A BIG thank you to the applicants - we are inspired by your work in the field of literacy and language.
Based on our guidelines, relevance of work, and a rigorous evaluation, we have selected 5 organisations and 18 individual Language Champions to collaborate with us to build and share digital libraries in 20 languages.
Here is the list of partners for Freedom to Read 2020:
Partner Organisations
| | |
| --- | --- |
| Target Language | Organisation |
| Amharic | Ras Abebe Aregay Library |
| Bodo, Nepali and Karbi | Pragyam Foundation |
| English-Surjapuri | Azad India Foundation |
| Fijian | Fijian Language Society |
| Hindi-Magahi | Karunodaya Foundation |
Language Champions
| | |
| --- | --- |
| Target Language | Language Champion |
| Amharic | Kaleab Getachew |
| Arabic | Amina Bouiali |
| Chhattisgarhi | Rohit Sharma, Er. Vivek Rathore, Charan Das Mahant |
| Farsi | Marzieh Nezakat |
| Basa Jawa (Javanese) | Theresia Alit, Sigit Apriyanto |
| Kochila Tharu | Sanjib Chaudhary |
| Lepcha | Minket Lepcha |
| Persian | Nazanin Karimimakhsous |
| Rana Tharu | Kamal Singh Rana |
| Setswana | Leelo |
| Sambal | Leo Fordan |
| Sambalpuri | Dron Sahu |
| Sindhi | Bhawana Dhameja P, Bharti Menghani |
| Tu'un savi | Francisco Amado Cruz Ramírez |
We shall be getting in touch with the selected partners to discuss the next steps.
We are so grateful to everyone who applied - thank you once again for your participation, interest and support! We shall do our best to reach out to you to explore alternate ways to collaborate.
---
Do join the conversation by leaving your thoughts in the comments section below. You can also reach out to us through our social media channels: Facebook, Twitter and Instagram.
Be the first to comment.
---

Azad India Foundation (AIF) was founded by Yuman Hussain in 1998 to seed initiatives in education & primary health care. The organisation's activities reach out to marginalised women, adolescents and underserved children from rural and urban areas of the Kishanganj district in Bihar.
We are delighted that AIF is participating in our Freedom to Read campaign for the second year in a row. They are also our first partner-translator this year to have completed their goal of translating 70+ Surjapuri bilingual books (English-Surjapuri and Hindi-Surjapuri). In an email interview, Yuman Hussain, Executive Director of Azad India Foundation, tells us about the importance of bilingual books and how these books have helped children read and learn in their mother tongue.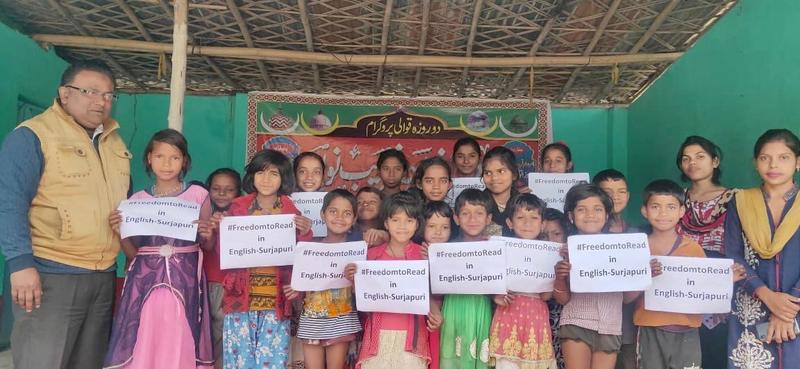 The Azad India Foundation team and the children in their learning centre in Bihar
"Azad India Foundation is delighted to be part of the #FreedomToRead campaign for the second year in a row. Foundational learning skills like reading are essential for a child's progress. StoryWeaver is a unique platform that allows children to learn these skills joyfully in their mother tongue."

- Yuman Hussain, Executive Director, Azad India Foundation
We are delighted that Azad India Foundation has participated in the Freedom to Read campaign for the second year in a row! How does it feel to be a part of the campaign for the second time?
It feels great to be part of the Freedom to Read campaign once again and to complete the translations well before time! The credit goes to the team. It was quite challenging this year as we chose to create bilingual books in English-Surjapuri.
Do tell us about the Surjapuri community and language: What is the mother tongue footprint and what resources are currently available? What are the challenges faced by Surjapuri children when they enter school?
Surjapuri is a dialect that is spoken in the Seemanchal area comprising Kishanganj, Araria, Katihar and Purnia of Bihar, and with minor variations in some parts of Bengal, neighboring Kishanganj.
I am currently not aware of any resources that are available for children in the local dialect of Surjapuri. In most schools, children learn in Hindi. In some schools, they are also taught in Urdu.
Can you tell us a little bit about how the Surjapuri books created from last year's campaign are being used? Do the children have any favorites?
We have taken printouts of the Surjapuri books from last year's Freedom to Read campaign and these are being used in classrooms for supplemental reading. Some of the STEM books are being used to explain maths and science concepts. The kids really like Gappu Can't Dance (Gappu nachwa ne sakche) and enjoy enacting it in class. However, Fat King Thin Dog (Moto Raja Patla Kutta) is their all-time favourite!
This year, you've chosen to create bilingual books in English-Surjapuri and Hindi-Surjapuri. Could you tell us about the need and benefits of these books?
Bilingual books help children understand concepts easily, and if created in the local dialect, then it becomes so much easier for children to learn. The English-Surjapuri books are great teacher learning material (TLM) for non-Hindi or English speakers. Through StoryWeaver, we have access to thousands of free storybooks. We are aiming to create at least 200 books in Surjapuri on the platform.
We do not have reading material/storybooks in English for our children, so these bilingual books for level 1 and 2 are helping our children learn and read English. Aakansha, our India Fellow at AIF, helps with the reading sessions in English–Surjapuri.
Do tell us about your team who worked to create these 70+ Surjapuri bilingual books, and how they went about the translation process.
We have an enthusiastic young team of translators: Chand Quasar, Juhi and Saqlain, supervised by Muzzamil, who rose to the challenge once again. First, they translated storybooks from Hindi to Surjapuri. Then, I added the English version and uploaded the books on StoryWeaver. It was slightly challenging finding the corresponding words/sentences in English that matched the Surjapuri version, but it was fun.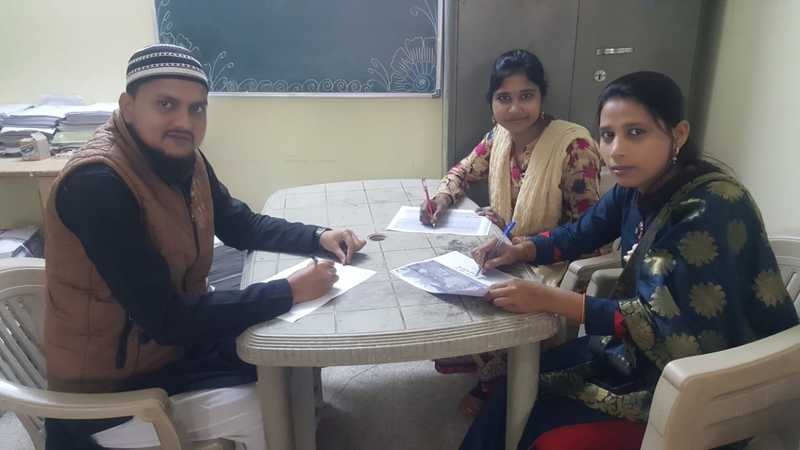 Azad India Foundation's Team Badhte Kadam
Thank you so much, Azad India Foundation, for giving children the #FreedomToRead in Surjapuri!
---
You can read all the storybooks translated by Azad India Foundation here.
Read more about the organisation here.
Do join the conversation by leaving your thoughts in the comments section below. You can also reach out to us through our social media channels: Facebook, Twitter and Instagram.
Be the first to comment.
---