Bonjour! Hola! Como estas?
StoryWeaver is a digital repository of openly licensed, multilingual stories from Pratham Books.
At StoryWeaver, we believe that all children, everywhere should have access to a never ending stream of stories in their mother tongue. It's probably why we're always setting fun challenges for ourselves and our community to help create more engaging mother tongue literacy content for young readers. The Pratham Books mission to put 'a book in every child's hand' has always motivated our community to volunteer their time and skills to past campaigns like Weave-a-Story and Freedom to Read. We're back with a new challenge now!
Help us add 100 stories in French and Spanish on StoryWeaver
Join our growing pool of community translators in French and Spanish, and help add 100 stories in each of these two languages to StoryWeaver. We realise this is a big ask, so to help you out, we've integrated the Google Translate tool which will auto-translate the story with a high level of accuracy. You'll need to use your expertise to ensure that the translation is error-free, nuanced and child-friendly.
Watch this short tutorial below to see how this works
We are looking for native language speakers or community members with a high degree of fluency in French or Spanish. If this is something you'd like to be a part of, sign up on this Google Form now and we'll get in touch with you.
Be the first to comment.
---
UPDATE: 'The Elephant Bird' is available to read in Assamese , Hindi, Kannada, Marathi, Odia, Sanskrit , Tamil , Telugu , Bengali, Malayalam, Punjabi, Konkani and English .
Pratham Books' One Day, One Story is back! The nationwide storytelling campaign is in its 5th year. Through the campaign, we encourage our community of volunteers to use one book to conduct reading sessions, free of cost with children from under-served communities. For more details about the event click here.
This year's chosen story is The Elephant Bird by Arefa Tehsin, Sumit Sakhuja and Sonal Goyal. The story about a magical bird, and a brave, curious child is also the tale of an unlikely friendship and rare courage. We totally love this one!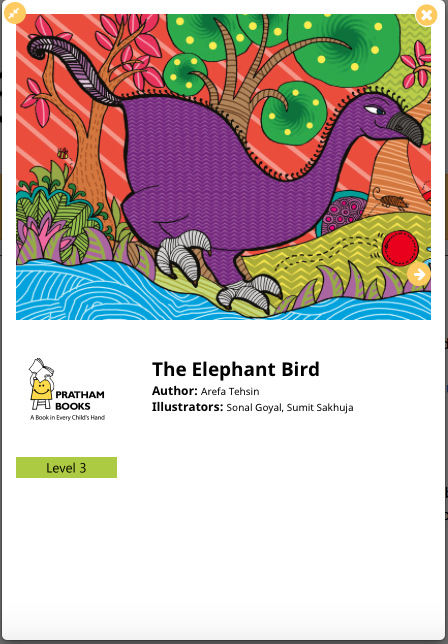 Last year 2500+ storytellers joined us to take The Boy and the Drum across India (and some other parts of the world!). This story was translated to 7 languages on StoryWeaver. The more languages a story is translated in, the more it will travel to be read and enjoyed by children.
This is where we need your help.
Yes, you guessed it right - we need translation volunteers for this year's story. The Elephant Bird' is already availble in English, Hindi, Kannada, Gujarati, Telugu, Urdu and Marathi. Your contribution to add a version of this story on StoryWeaver will go a long way in multiplying the number of PB Champs' reading sessions and in turn, help reach more and more kids. Wouldn't that be lovely?
We need all the translations to be on the site before 20th August, 2016.
If you have any queries please write to us at storyweaver@prathambooks.org
Here's a quick and easy video tutorial on how to translate stories on StoryWeaver. Once you've seen it, you can head over to the site to start translating 'The Elephant Bird'
P.s: If you're interested in joining us as a PB Champ this year, click here to enrol.
Be the first to comment.
---
Kumarika Mohanty is an Electrical Engineer and an Infosys staffer. She loves writing about causes that are close to her heart. She is very passionate about her mother tongue Odia and believes in making good use of Social Media channels to do her bit in propagating the use of Odia by the people who speak the language.
Here, she writes about Indic language software and tools, and how they have helped her work as a translator. You can read this post in Odia, here.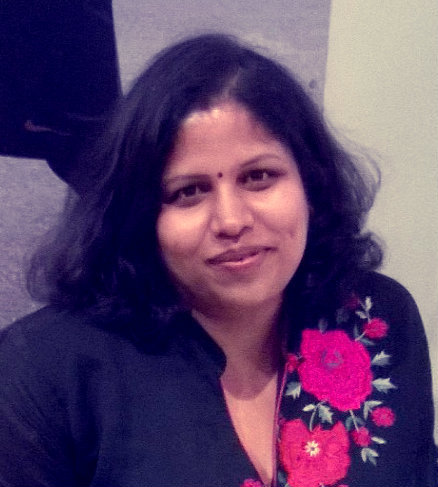 The first time I saw Odia fonts typed on a computer screen was in the late 90's. My dad had ordered Shree Lipi Oriya software. Though he got accustomed to the English key equivalents for Odia letters, a key issue that he faced with this software was its portability. The entire typed text (at times the entire volume of a book) was printed and then sent to type setters who used to retype the entire content, if the same software was not available with them. Though, tedious in this aspect, he still uses this software and has gotten it upgraded over the years.
Kumarika's Reccomendations
Few years back, I came across Indic fonts in Unicode. A boon, I must add, for people who want to write in Indian languages. I instantly installed 'Type Oriya' app on my Windows Phone. I am sure, it is available for iOS & Android too. This app lets me tweet in Unicode Odia and I have been able to connect to numerous Odias across the globe, like @nidhi_budha, @wearebbsr, @BBSRBuzz, @akala_kushmanda to name a few. I have also come across these blogs in Odia/ about Odia that I thoroughly enjoy - https://akalakushmaanda.wordpress.com/ , http://www.ameodia.com/ and http://www.bhubaneswarbuzz.com/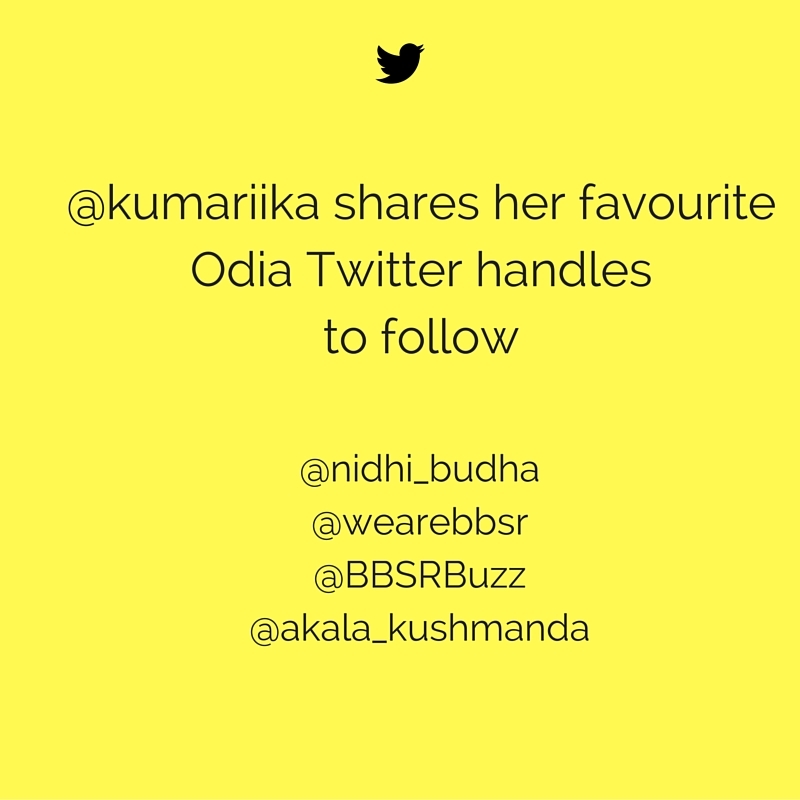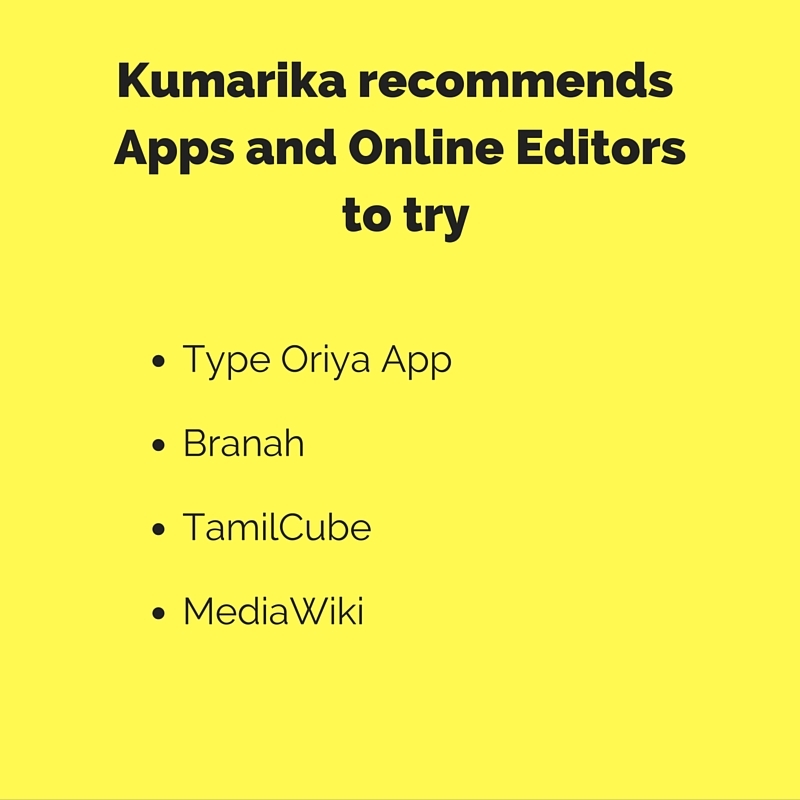 When I got associated with Pratham Books last year, I came across couple of more online editors for Odia. I am comfortable with two online editors- Branah and Tamilcube. I have to use two editors as one overcomes the shortcomings of the other. One striking issue is, due to a major use of 'juktakhyaras' (letters made from various combinations of vowels and consonants). While Branah allows 'juktakhyaras' that are not valid/used in Odia, Tamilcube does not let me create a couple of valid 'juktakhyaras'!
While I was interacting with Team StoryWeaver, regarding this blog, they mentioned Google Input Tools. I gave it a try and I find it to be very helpful. The interface is quite user friendly, in case of Google and it also eliminates the possibility of making spelling mistakes. I would like to thank StoryWeaver for introducing this to me.
Last month, I was involved in translation of a particular Wikipedia document. Here, I got to know of an online translation tool - MediaWiki. Though I am yet to use it, I am aware that it can translate smaller chunks of texts from a source language to target language. Such a tool would be very useful to translators, I am sure.
This webpage has a good collection of online editors and softwares available -http://odia.odisha.gov.in/it-tool-for-viewing-odia-in-browser.html
You can read some of Kumarika's translations to Odia on StoryWeaver here and you can follow her on Twitter @kumariika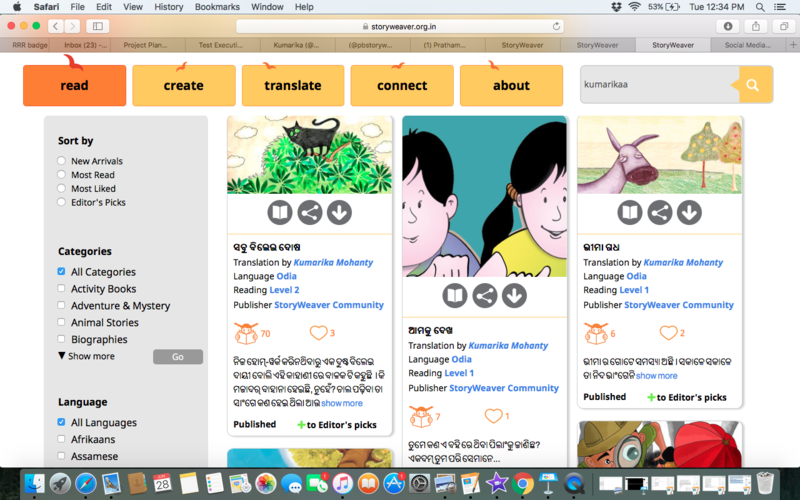 Do you have a favourite software on online tool for translation? Tweet us @pbstoryweaver or write to us storyweaver@prathambooks.org and tell us what it is!
Be the first to comment.
---