Jala is a translation platform that combines human skill with translation technology to make high quality translations accessible to those who need it the most. It collaborates with organisations, communities and individuals to help bridge the language barriers and increase access.
Earlier this year, Jala teamed up with StoryWeaver to help build a high quality repository of openly licensed storybooks in Chinese and Bahasa Indonesia. To get some insight into the translation process, they interviewed Sophia, a Jala user and hobbyist/ freelance translator, who translated five stories on StoryWeaver from English into Bahasa Indonesia. You can read an excerpt from the interview below.
---
Sophia, who translated storybooks from English to Bahasa Indonesia.
Hi Sophia! Thanks for being such an active user on Jala! Can you tell us a little about why you decided to translate the StoryWeaver books?
Hello! It was my pleasure. Well, firstly a little background about me. Bahasa Indonesia is my native language, but I moved to Singapore at the age of 15, and then later moved to the UK. So English has been the language I have spoken more actively. But ever since I started working in the publishing industry and have focussed on developing Singaporean content for Singapore, I began to miss home, and I began thinking about reconnecting with Indonesia. I feel a little like an outsider to Indonesia now, and I was not sure how I could help local readers in Indonesia. So when the opportunity to translate children's books on Jala into Bahasa Indonesia came along, I was quite excited by the idea! It felt quite perfect. While my Indonesian language abilities have withered a little, mainly due to lack of practice, I felt that working on translation really helped to revive my language skills! Translating children's stories had its own challenges for me. For example, word choice, which had to be suitable. I had to be sensitive about how an Indonesian child would understand the words I had chosen. It made for an interesting puzzle for me!
That's great. What did you like most about the stories that you translated?
Like any children's book, there was a nice rhythm to the stories. There were moments when I felt that the words in English had a rhythm, which I tried to capture in my translation. Knowing the natural rhythm of the book, I tried to ensure my translation stayed true to the original in terms of sentence length and word choice.
I liked that the stories were upbeat and (mostly) positive. For example, in Fati and the Honey Tree, even though the girl (Fati) fell down and hurt herself, there was still a positive message at the end. I also enjoyed the unique settings for the stories, everything from the environment to the characters and how they interacted with their surroundings.
Fati and The Honey Tree
The Indian and Ghanian cultures were very refreshing to me, and something I feel that is lacking in publishing, as most settings are very Western-centric. Finally, I liked how each story teaches something. For Let's Play, it was science, through the introduction of simple concepts in a child's everyday world.
This is really great to hear! What was the translation process like for you?
I was very methodical in my translation process, after the first one, I actually figured out what worked best for me and then came up with my own methodology which I actually have written down on my phone!
To start off I usually skim the original text first. I then proceed to do the translation line by line on Jala. I go through it once and have a first draft ready. I then go through both the original and the translation, by carefully comparing the two, and making any corrections along the way. I then read through just the translation to see how it flows and if I'm comfortable with it on its own. When I'm happy with what I have, I leave it for a day and then come back and read the translation again and do a final comparison with the original before submitting the piece. I like how Jala will always save my work, and I know that my progress will be safe until the next time I revisit the project!
Stories on the Jala platform
Of all the translations that you worked on, which was your favourite story to translate, and why?
I liked Fati and the Soup Pot the best.
Fati and The Soup Pot
Fati's attitude was really funny in the story. I also liked how despite the fact that Fati's mother knew that Fati had done wrong, she did not punish or scold Fati in the way you would expect parents to. In addition, I felt that the description of the cooking process and the listing of ingredients was a nice touch! If you are curious enough, you could attempt to recreate the dish! It also really liked that the child was involved in the cooking process!
What do you enjoy about freelance translation?
I think what I find most appealing is the extra income. But I also do believe there is a more interesting aspect to freelance translation. For instance, gaps in languages can be filled by multilingual individuals or translators. Being able to help and contribute to a specific skill is really interesting! I also think it's a really great cycle, the more you do, the more interested you are, and the more that you learn! For example, when there are natural disasters, you see NGOs making open (and urgent) calls for translators for a specific language. Often, contributions can be through knowledge instead of money or goods, which is so meaningful when you are filling a gap. Even in non-dire circumstances, I believe that translators can make a difference.
---
To read the original interview, click here.
You can read the stories translated by the Jala Community on StoryWeaver here.
Please join the conversation by leaving your thoughts in the comments section below. You can also reach out to us through our social media channels: Facebook, Twitter and Instagram.
Be the first to comment.
---
We are celebrating International Translation Day, and we are grateful for the support of our wonderful translation partners who help us reach more children, protect linguistic heritage, and build a culture of reading. Here is a post by Archana Nambiar, Research Consultant at Pratham Books. She writes about the work done for the indegenous language, Kora, by Shanto and our friends at Suchana, in West Bengal, India.
Shanto Kora is among the first from his village to have attended college and the first person to have completed a masters education in Bengali. He does not recollect reading any literature in his mother tongue Kora while growing up, let alone children's books. In 2007 he joined Suchana, a community group working on improving the quality of education to Adivasi children in Birbhum district of West Bengal. Today he is the Secretary of the organization, and works as a translator and development officer for the Kora language.
Suchana's focus has been on promoting learning through the mother tongue in the early years. The indigenous languages Santali and Kora have a rich oral tradition but no children's literature. Teachers who teach Santali and Kora children are usually completely bereft of resources for early literacy development. There are very few qualified teachers from these communities who can use their mother tongues in the teaching-learning process. Since 2009, the Suchana team has been developing a series of books in Kora and Santali using the Bengali script that support the multilingual approach to education. By 2014, they had developed 15 books in Kora and Santali that included alphabet primers, number charts, flash cards and storybooks. Shanto was instrumental in developing the first ever primer in Kora language called Allo Pora and a word book.
The collaboration with StoryWeaver changed the way in which Suchana viewed content creation. The StoryWeaver platform allowed them to translate 105 books in Santali and a hundred in Kora within a short span of two years. All these stories are published on StoryWeaver. Suchana has printed 10,000 copies of 20 titles and distributed these books to government schools, pre-schools and other organizations in the region. Both the print and digital stories are incorporated into their mobile library programme which reaches around 3000 children in 25 villages. Librarians from Suchana show the digital stories on laptops to children and conduct read-aloud sessions and related activities. Children are allowed to take the books home to read with their families.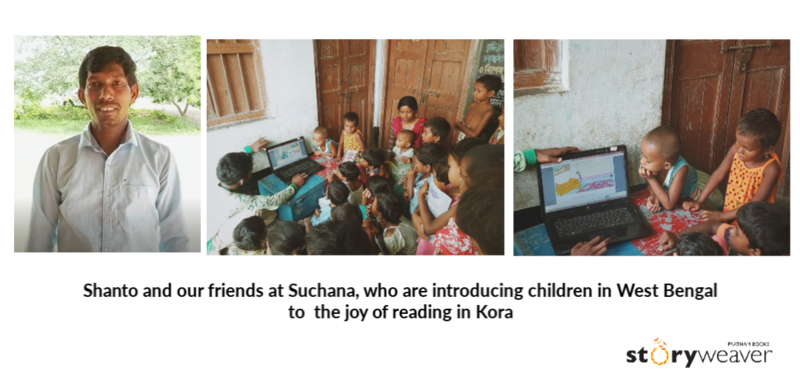 Suchana also works with government schools on using mother tongue based approaches in early years. Santali and Kora books have been shared with teachers from these schools. The books, particularly the bilingual ones, have proven to be great resources for the teachers who are mostly from non-tribal backgrounds, for teaching tribal children. Suchana has recently trained anganwadi workers from 49 anganwadis on using these books and is hoping that these will be adopted for early childhood education.
There is empirical evidence to suggest that learning to read in one's mother tongue in the early years makes learning more engaging, relevant and enjoyable for children. Children who benefit from mother tongue instruction also learn a second language faster and better. Having access to a variety of books in these languages can help children transition from their mother tongues into Bengali, the state language.
Shanto feels that the storybooks have given certain legitimacy to his language. Until recently, Kora has been outside the realm of literature. He prides himself on his contribution towards preserving a language which might have been on the brink of disappearance. The translation process gave him an opportunity to revive some of the lost words in Kora. People from the Kora community were using several Bengali words instead of the original Kora vocabulary. Together with fellow translators, he re-learnt some of these disappearing Kora words from community elders and included them in the storybooks, wherever possible. Examples of such replaced Kora words are chahalam (tail), jhanahjaha / rik (do things), tayen (alligator), arshi (mirror), taruh (tiger), teyang (brother-in-law), hili (sister-in-law).
'Cat brushing her teeth and a rat looking in the mirror' by Rajiv Eipe, 'Tiger looking at hare' by Rohan Chakravarty, 'Tail of a tiger' by Nirzara Verulkar
Shanto is happy that children from his community can now read in their mother tongue and tell their own stories. He attests to the fact that the storybooks have given children a sense of identity. These books have ensured that Adivasi children can discover the joy of reading. Knowledge of one's mother tongue is critical to connecting to one's roots and keeping the cultural heritage alive. StoryWeaver has empowered indigenous writers and creators to create engaging children's books in their own languages. Shanto is hopeful that he will continue to create more stories for children and is excited about developing his first original story on StoryWeaver.
Watch our interview with Shanto here.
---
You can read the storybooks translated by Shanto and access StoryWeaver's Kora library here.
We would love for you to join the conversation by leaving your thoughts in the Comments section, or on social media: Facebook, Twitter, Instagram.
Be the first to comment.
---
Written by Priyanka Sivaramakrishnan
StoryWeaver's Freedom to Read 2019 is our flagship annual campaign to mark the International Mother Language Day on February 21st. We have been collaborating with some fantastic translators, educators and literacy organisations across the world to bring to you digital hyperlocal libraries across underserved languages.
When we opened up the event in November 2018, we had a rush of applications, partners who were more than eager to collaborate with us on this exciting project. We received an overwhelming 200+ applications from 36 organisations and 196 individuals, representing translation partners and individual language champions from not just across India, but also international literacy organisations and individual language champions. Our final selection boiled down to 11 organisations and 8 individuals to help build hyperlocal digital libraries across 30 languages.
With the help of these partners, we targeted 14 underserved languages such as Korku, Marwari, Basa Jawa (Javanese), Bundelkhandi, Pawari, Santaki, Kora, Pashto, Farsi, Chinyanja, Ewe and more.
Since the storybooks created on the platform will be used in classrooms to retain students' interests and preserve local culture and language, we worked closely with the partners to help them curate lists.These curated lists were entirely based on the need of the partner to fill in the gaps. For instance, Agnes N.S. Nyendwa, Editor of Macmillan Publishers, Zambia wanted to make STEM concepts easier to understand, by versioning them to her mother tongue, Chinyanja. The North East Educational Trust (NEET), Assam, India worked towards translating joyful Assamese stories for early readers because there was a lack of material in this category. Afghanistan based Darakht-e-Danesh (DD Library) wanted to translate stories that could be localised to Afghanistan and the social reality of the land. Right To Play is working with a story list that is a cultural fit for Africa and are keen to get the books printed via our publisher partner, BookDash.
To begin the process, we first had to get our partners familiar with the the StoryWeaver platform. Support materials such as the Pratham Books translation manual, tips on translating, FAQ's, and video resources on how to use StoryWeaver as a translating tool were given to the partners. During the training, we reinforced the need for peer to peer review workflows as it is essential to ensure good quality content at such high volumes and also shared our in-house playbook (a ready reckoner of sorts for hackathons) as a resource to partners who were working with teams across geographies with scaled resources to help them conduct hackathons. This was used by African Library & Information Associations & Institutions (AfLIA) to conduct multiple translation hackathons with their teams in Nigeria, Ghana, Kenya, Uganda and South Africa.
We absolutely have to give it to our translation partners for knocking it out of the park, with the lengths they took to make sure that not only books got translated, but more importantly, got published.
They faced many challenges, the biggest of them all being able to complete the project despite not having all the resources. Since we've been working with underserved languages from remote locations, our translators were not necessarily the same people who were coming up on the StoryWeaver platform and publishing the same. This led to a lot of searching for support systems. In these cases, most of the translations were pen to paper which would then get passed on to their resource in a town or city with access to computers, where the newly translated stories were uploaded.
Keep watching this space for more news, final roundups and achievements of Freedom to Read, 2019.
Be the first to comment.
---