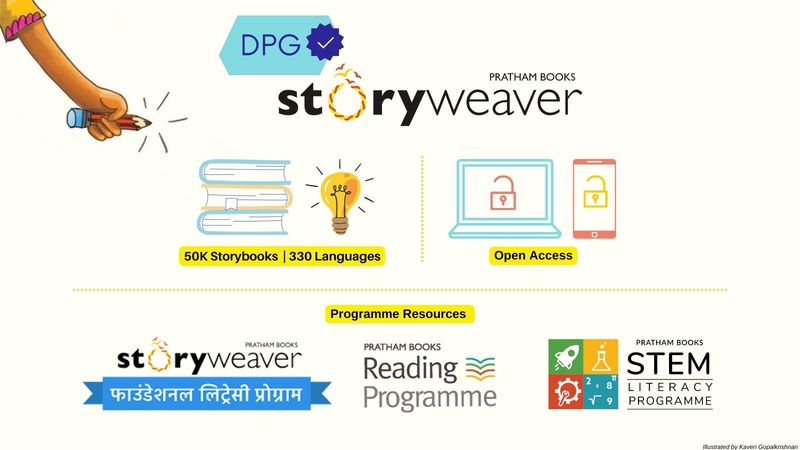 StoryWeaver, is an open source digital repository of multilingual stories for children from Pratham Books launched in 2015, that hosts 53K storybooks in ~330 languages today. In 2020, StoryWeaver was India's first recognised Digital Public Goods for Foundational Literacy and Early Grade Reading in 2020. This year, we were reviewed by Digital Public Goods Alliance (DPGA) and found to be a digital public good in alignment with the Digital Public Goods Standard for the third year in a row!
The Digital Public Goods Standard, requires a project to be an open-source software, with open data, open AI models, open standards, and open content that adhere to privacy and other applicable best practices, do no harm by design and are of high relevance for attainment of the United Nations 2030 Sustainable Development Goals (SDGs).
The Digital Public Goods Alliance is a multi-stakeholder initiative endorsed by the United Nations Secretary-General, working to accelerate the attainment of the Sustainable Development Goals in low- and middle-income countries by facilitating the discovery, development, use of, and investment in digital public goods.
StoryWeaver is one of the 36 DPGs recognised by the alliance that are working towards Sustainable Development Goal 4: Quality Education, and as such is available on the digital public goods registry alongside other open source projects that are meaningfully contributing to bringing about quality education in the world.
Through the power of collaboration, technology and open licensing, StoryWeaver seeks to provide children with the very first step in their reading journey - storybooks. Our approach to creating book security is three-pronged: creating storybooks, enabling open access to these books and providing free resources to encourage the use of these books to help children read.
For almost a decade now, StoryWeaver has been publishing books under open licences. We are one of the world's largest platforms for children's books in mother tongue languages. As India's first vetted digital public good for early reading, we are extremely delighted to be recognized by the Digital Public Goods Alliance for three consecutive years. Initiatives such as the DPGA have provided the much needed spotlight and conversation around the urgent need for public digital goods to help solve societal problems.

-Purvi Shah, Senior Director, Pratham Books StoryWeaver
comment (1)
---
We are excited to mark International Day of the Girl 2021 and World Space Week with the launch of a very special collaboration with mEducation Alliance, #InspirationSTEM, a campaign designed to celebrate and support young girls to pursue STEM education and careers — including those focused on space.
With this initiative, StoryWeaver hopes to inspire engagement with STEM themes using relatable storybooks, encouraging girls to continue aspiring.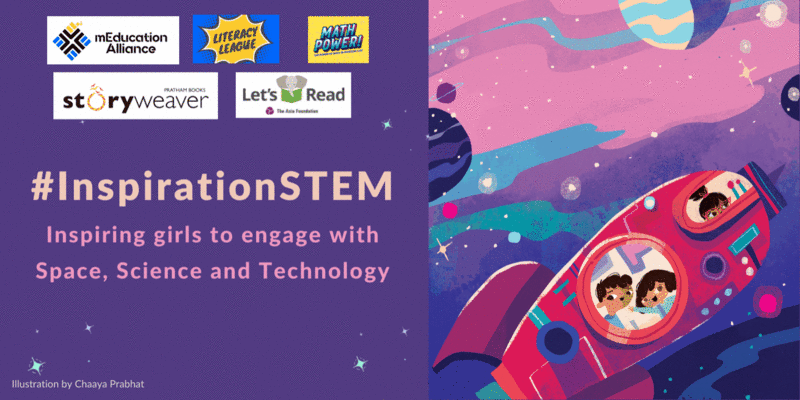 We are thrilled to kickstart this campaign with 'Gul in Space'. A level 3 storybook written by Richa Jha and illustrated by Lavanya Karthik.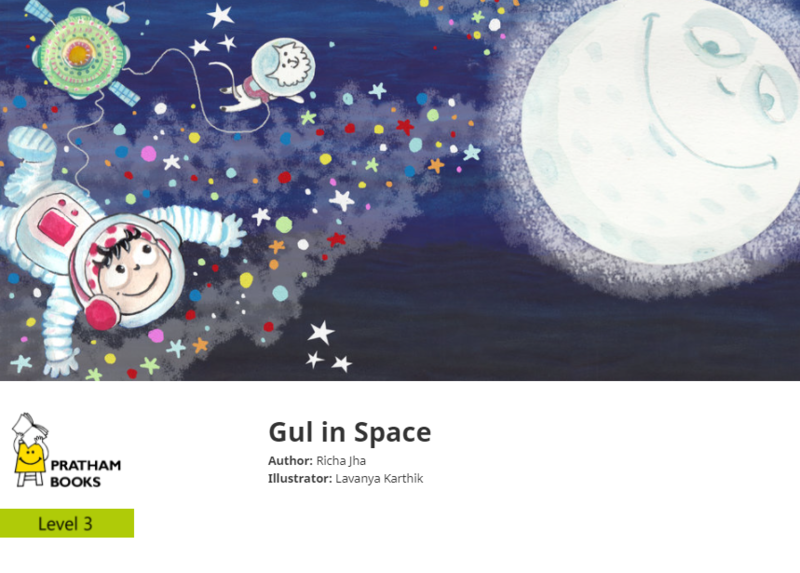 What would you like to do on your birthday? How about taking a walk in OUTER SPACE! Here's a story that will make you jump with joy… and if there's no gravity under you, you might just stay exactly where you are! Get ready to explore space with Astronaut Gul.
Gul, the protagonist, is a young girl who dreams about going to space. When an opportunity presents itself in front of her, she takes it without waiting for any permission from anyone. Her actions are inspiring to children, encouraging them to invest in their dreams. The poetic language in the book captures the sheer joy and excitement experienced by someone who manages to fulfil their dream, subtly but effectively invoking the readers. The illustrations further connect readers to the concepts and way of life about space.
Read 'Gul in Space' here.
Be a part of this year-long engagement with StoryWeaver and the #InspirationSTEM campaign!
For more details about the #InspirationSTEM campaign, visit the mEducation Alliance page here.
comments (2)
---
A year ago, on Children's Day 2020, StoryWeaver and Pratham Education Foundation announced a collaboration to develop and grow a repository of free, openly licensed reading resources for young children. As the first step, 50 storybooks from Pratham Education Foundation were launched on the StoryWeaver platform.
Kahaniyaan hi Kahaniyaan - A treasure trove of storybooks
To mark the first anniversary of this collaboration, we are delighted to share the progress that has been made since then, in creating, translating, and curating storybooks across many languages. This Children's Day, over one thousand storybooks will be made available for public access across two platforms – StoryWeaver and Pratham Education Foundation's Pratham Open School.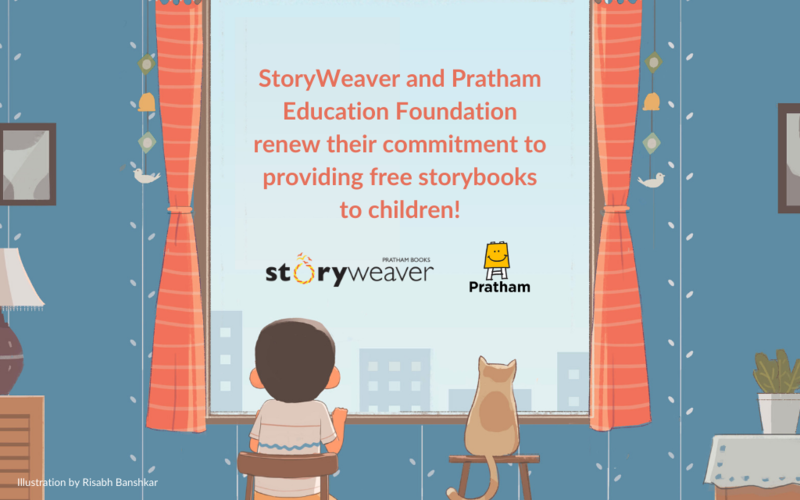 Storybooks in ten Indian languages and English
The Pratham-StoryWeaver collaboration now has uploaded more than 600 storybooks in Assamese, Bangla, English, Gujarati, Hindi, Kannada, Marathi, Odia, Punjabi, Telugu, and Urdu. This allows for open, and easy access to simple, interesting and fun storybooks.
Having these storybooks under the CC BY 4.0 license on StoryWeaver makes them available to a larger audience worldwide, and the books are free to read, download and use. At the same time, these books will give the StoryWeaver community new stories to translate, giving children around the world access to more books in their own languages.
In addition to the collection of new storybooks on StoryWeaver, a rich variety of additional storybooks are also available on the Pratham Open School website. You can "read", "listen" and use "highlighted" storybooks. What makes these packs special is that they are context-specific libraries with storybooks created by unique individuals from various backgrounds focusing on the local community and capturing the flavour of the region they represent. The packs include books from Himachal, Tripura, Assam, Bihar and Bengal with stories in the regional languages.
Campaign for celebration
Starting November 14, for a week, Pratham Education Foundation teams in 20 states will work with local volunteers, mothers, and community members to share one storybook a day through the 'Kahaniyaan hi Kahaniyaan' campaign and do a variety of activities like role-playing, drawing, and storytelling among others.
This partnership is a small step towards the goal of building a vast treasure trove of thousands of storybooks that will be freely available for children in their mother tongues.
Come join us on an exciting journey for the week of 'Kahaniyaan hi Kahaniyaan'!
Follow us on our social media for campaign updates!
Facebook | Instagram | Twitter
Explore all the storybooks available for free on StoryWeaver here: https://bit.ly/3wHyGf6
comments (9)
---