Our Outreach Executive Khyati Datt writes about how v-shesh is using books to help develop language skills amongst children with hearing impairments.
At a workshop conducted for parents of children with hearing impairments, Kanchan and Tabassum, trained sign language interpreters, posed the gathering question:
"What do you see as the biggest obstacle in ensuring that your child's learning is not restricted to the classroom only?"
Most parents spoke about the communication gap that existed between them and their child which often resulted in the child becoming withdrawn from the family. Kanchan and Tabassum gave them a simple solution for this:
"Read to your children."
Kanchan and Tabassum have always enjoyed interacting with children. They work with v-shesh Learning Services, an award winning impact enterprise that assists persons with disabilities (PwD), with socio-economic inclusion. v-shesh works in the training and education space to assist PwD in accessing formal sector jobs.
The duo are closely involved in the implementation of a project which aims to assist children with hearing impairment develop English language competency. When they joined v-shesh in 2016, the project had just started, but overtime, being in the field made them realize the needs of the children.
"Most of our students were either pre-teens or teenagers. We found a lot of interest and enthusiasm amongst the students to learn the English language, but most teaching learning material and methodologies available were not age appropriate to teach basic concepts. This led to the need for continuous innovation and to build upon existing material to make it relevant for students and simultaneously address the core challenge of assisting them with the basics", Kanchan shares.
Books and beyond
Kanchan and Tabassum have always believed that stories are an important tool in igniting interest in learning a language. They started looking for books that were simple, colorful and had captivating illustrations. While Kanchan decided to divide the children in groups and asked them to read to each other, Tabassum started giving out books as rewards to the children.
v-shesh is a big believer of the PVR (Preview, View, and Review) method of teaching. In this method, a book is introduced to children by giving them a general description of the topic. As a next step, they read the book with the students using some visual effects and end the discussion by asking the children to review the book and share their learnings with each other. Simple videos were also made to explain the concept to the teachers and parents as well.
Children reading in pairs in a v-shesh centre in Delhi
Tabassum shares how the books from StoryWeaver were, especially, loved by children with hearing disability; "The children would often read the books on their own and volunteer to talk about the story in the class. "
Kanchan and Tabassum's advice to the parents at the workshop ensured that learning did not stop once the children exited the classroom. The parents of Khushi, one of the students at the center, were the first to read a book to their child. Kanchan and Tabassum noticed a remarkable change in Khushi's confidence and were happy to see that despite not knowing sign language, Khushi's parents were able to connect with their child through books.
Kanchan feels that, "Books are the most effective and the most important means of igniting interest in language among the students . A beautifully illustrated book helps motivate children to read and learn a language like no other".
Source: v- shesh centre in Delhi
Be the first to comment.
---
Zarif Hussain, is a first year student at the Symbiosis Law School, Noida. As part of his course he is doing an internship with Servants of the People's Society that runs Balwadis for very young children from underserved communities across Delhi-NCR. Read on to find out how Zarif used StoryWeaver in his sessions with the children.
I was asked me to take interactive sessions with the children at Trilokpuri Balwadi and I currently conduct one-hour sessions everyday with the little kids on different topics like GK, math and health education. The children love to listen to the stories and they ask me bring a new story almost every day for them.
At first finding stories for them was a difficult so I asked my mom to help me out. She recommended Pratham Books' Storyweaver platform where she translates stories to Surjapuri for children and uses them extensively in education centers in Kishanganj, Bihar.
I checked the StoryWeaver platform and found that it was simple and beautifully done with stories across reading levels in multiple languages. I downloaded stories from StoryWeaver and the first story I narrated was "Fat King, Thin Dog" in Hindi. During the session I realised that StoryWeaver was just what I needed. The children loved the story and did a drawing of the Mota Raja. One of the children Faizan recited the story back to the class. In fact, when I did a recap of the story after few days they all remembered the story so well.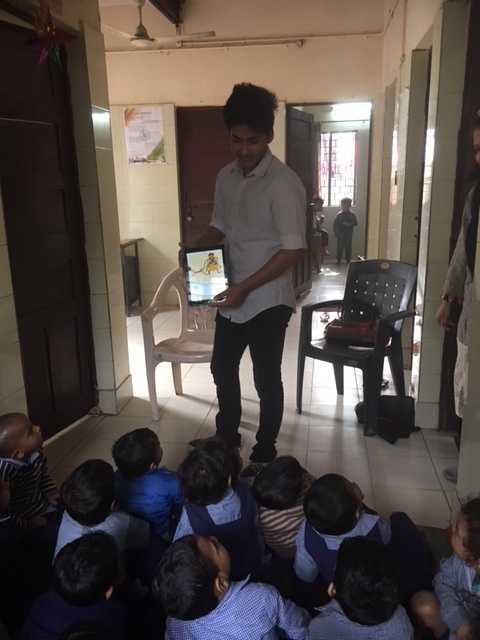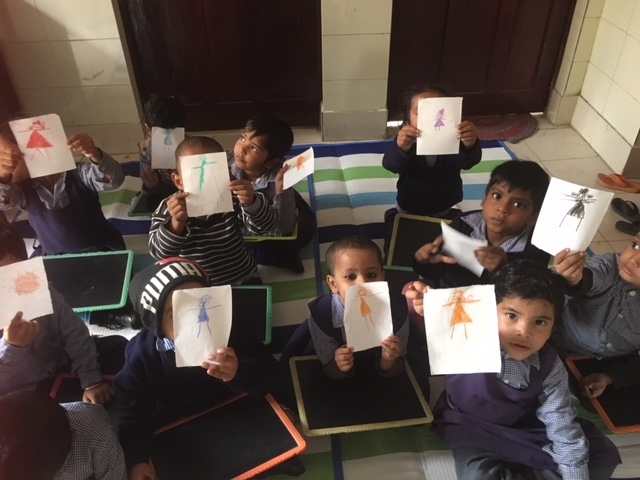 The next story we did was "Bunty aur Babli" which was about washing hands with soap with an emphasis on personal hygiene. The children learnt to wash their hands before eating food and after using toilet.
The most impressive thing I found about the stories on StoryWeaver was that they all had large, colorful pictures. The easy-to-use interface made it simple to download stories. I prepared activities for each story I narrated and that helped me retain the interest of the young children in class. Listening to the stories is the most enjoyable part of their day!
The stories on StoryWeaver are a great tool for teaching children. Thank you for making my sessions interactive and fun-filled with the children!
If you are using StoryWeaver in your classroom, library or after-school centre and would like to share your story on our blog write to [email protected]
Be the first to comment.
---
Last year in November, Pratham Books launched a brand-new set of four PhoneStories that invited readers to take a walk in the wild. The books were written by Sejal Mehta, travel writer, wildlife enthusiast, and Editor-in-Chief, Nature inFocus and illustrated by the award-winning cartoonist Rohan Chakravarty of Green Humour fame. Captivating visuals and simple story lines lent themselves to audio-visual adaptation that could be enjoyed on a variety of handheld devices and that were sure to engage young readers.
Payoshni Saraf and Khyati Datt write about how they ensured the stories reached teachers, classrooms and most importantly, children, through their outreach efforts.
The wildlife set of #Phonestories was an exciting set of books. The books were short and simple, visually arresting and aurally engaging- guaranteed to capture the attention of the tiny tots!
We chose a set of partners for the exclusive on-ground launch keeping in mind the age group the books were meant for, which was under Grade 4. Our chosen partners, including Pratham Delhi, Pratham ECE, Pratham's Learning with Vodafone project, Agastya Foundation and Pratham's Smart Step Preschools worked in the space of early literacy with a focus on Science and Environment.
Direct to teachers' phones
More and more organisations are using WhatsApp these days to connect their on-field employees for swifter communication and sharing of information. For education organisations specifically, WhatsApp groups connect educators to draw from each other's experiences and learn collectively. This was why we chose WhatsApp as our primary vehicle for campaign communication with teachers for #PhoneStories. Also, since the stories were available in video format, we believed that sending them directly to educator's phones would make it easier for them to access.
Thanks to the collaboration with our partner organisations, #Phonestories reached 2,800 Schools/ Centres and teachers impacting over 56,000 children. We engaged with participating educators twice a week via the WhatsApp groups.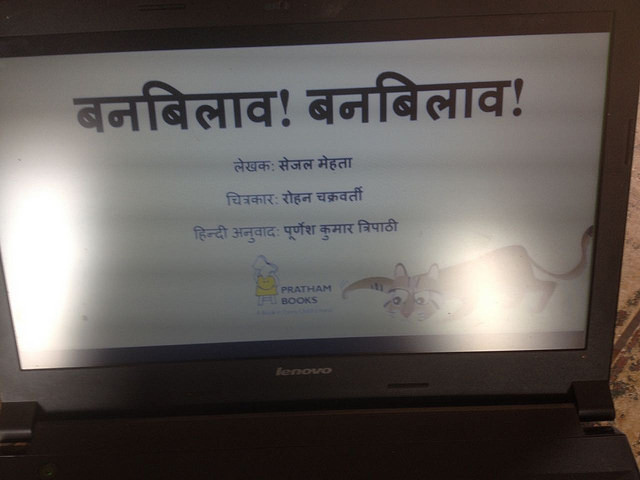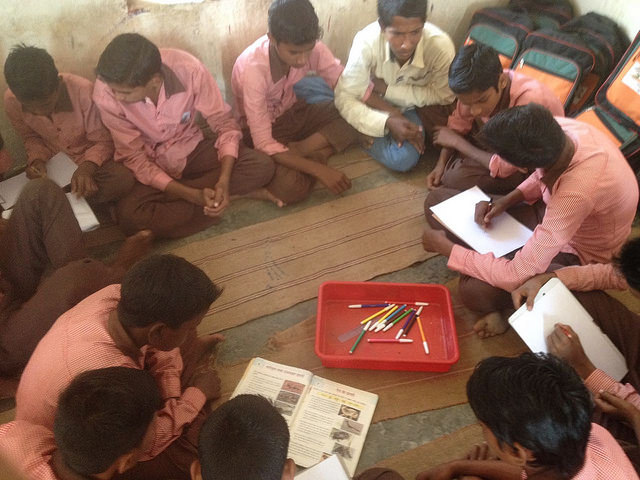 A session in progress for बनबबलाव! बनबबलाव! in an Agastya Foundation centre in Chandauli, U.P.
We first shared a 4-week reading plan with the teachers of participating organisations, post which, every Thursday, one book and 2 related activities were shared. Teachers were appreciative of the detailed activities related to the books as it helped engage children further with the story and its concept. We also conducted fun contests for the teachers on the WhatsApp groups, where they sent their entries via WhatsApp too. We found WhatsApp to be a quick, direct and effective way of communicating with teachers.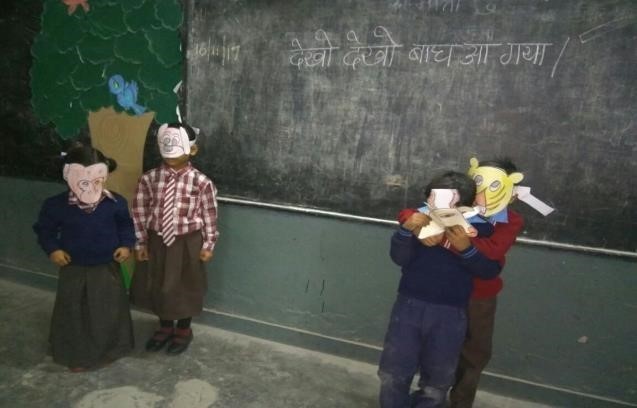 An activity being done for Watch Out! The Tiger Is Here at a Pratham Delhi centre
Going Forward
We hope to continue exploring WhatsApp as a channel of communication with our outreach partners in the future to share great content and new updates from us!
You can read, watch and listen to all four PhoneStories here.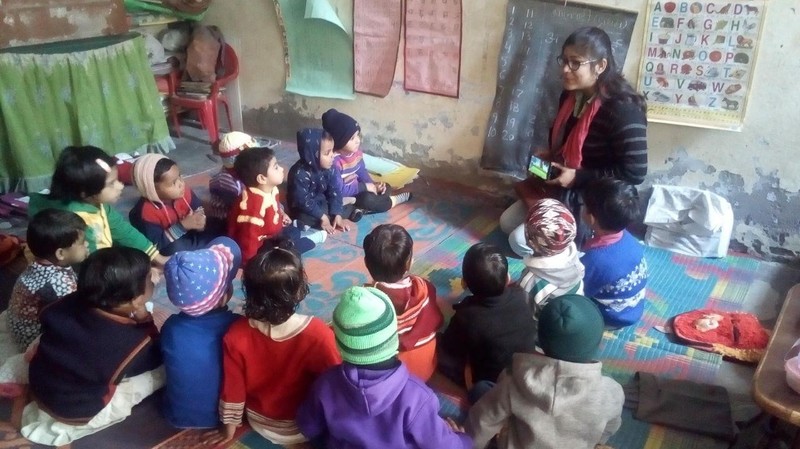 Did You Hear? being read in a Pratham ECE Centre.
Be the first to comment.
---