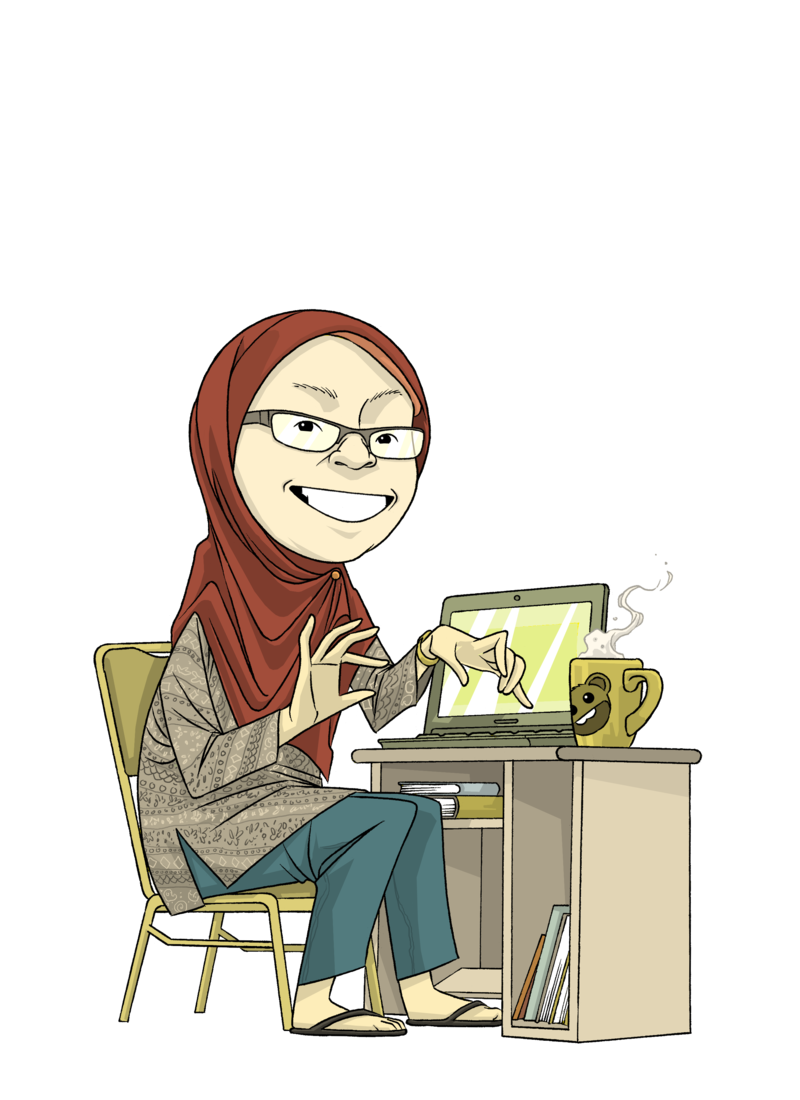 Maharani Aulia, commonly called by her nickname Lia. She has written dozens of stories and translated over a hundred titles from English to Indonesian. Her works are spread in local and national media, and published as books in several national publishers. She writes for the StoryWeaver blog about her writing journey. (Caricature of Maharani Aulia by Diyan Bijac.)
I have been writing since I was a kid. My first very-short story was published in a local newspaper, Surabaya Post, when I was 11. This encouraged me to continue my writing, although I couldn't write much because I was still in junior high school. I wrote only 2 stories at that time, published in local children's magazine, Mentari (Mentari means the sun in English). I love to read since childhood because my parents gave me many books. While in high school and college, I just wrote for my school magazine and journal for our own circle.
I started writing as a professional writer in 2005, with my first children's book published by a national publisher (Mizan), entitled Makan Sepuasnya. (Eat As Much; on the contrary, I wrote this story to inspire my readers to share our food with the poor.)
In fact, my parents did not really support me to become a writer. Perhaps they thought as a writer, I could not be rich. My educational background is animal health (part of veterinary medicine), but I keep writing for children because this is what I love since I was a kid. I write for early readers and older ones, and recently wrote about a child in a kindergarten who can not read yet, but he can draw. I'm still learning to write good children stories.
I recently wrote two biographies, in Genius Kids series, at the publisher's request. Writing biographies gave me a new experience, but I prefer to write stories and non-fiction articles on topics I choose. I have published six articles in national papers (Kompas, children section) about how to learn effectively, how to care about our senses, about plastics and its negative impacts on environment, how to live healthy with animals, why we should wash our hands with soap, and introduction to cashless society. All these are for older readers (10-12 years old).
Bitten by the translation bug
I have a passive knowledge of English, and I'm still practicing speaking it fluently. Basically I like to learn about languages, and I have translated stories and articles on my own since I was in high school. About a decade later, a publisher offered me to translate storybooks from English into Indonesian, and I was so excited. I have translated over a hundred books, some of them are teenage books. Reading so many stories on StoryWeaver give me much information and entertainment. I like to translate Indian stories written in English into my language, and I like to share my translations with my friends and colleagues. They like StoryWeaver's stories, too. Some of them have contributed their original stories to the web.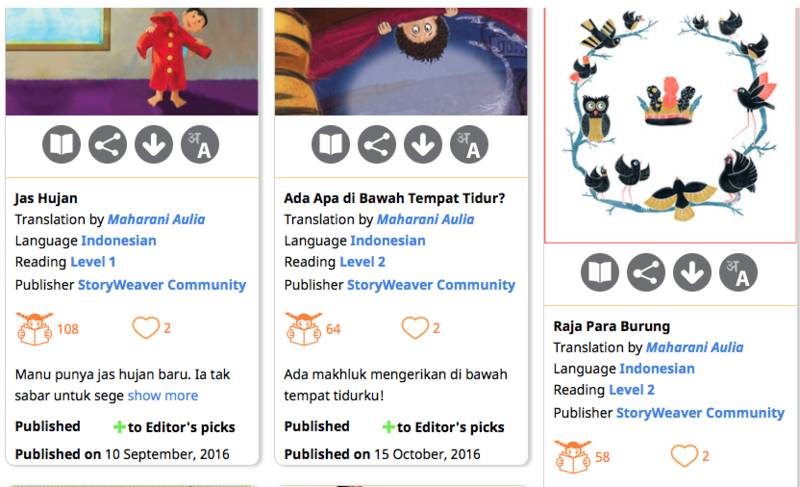 My friends have a free download e-book website, called SeruSetiapSaat (it means Fun Anytime in English). I am now waiting for my first picture book to be published on it, and after being illustrated, I plan to link it to StoryWeaver. Of course, I will translate it into English to be read by everyone:).
Maharani Aulia has translated 25 stories to Indonesian on StoryWeaver. You can read them here.
comments (3)
---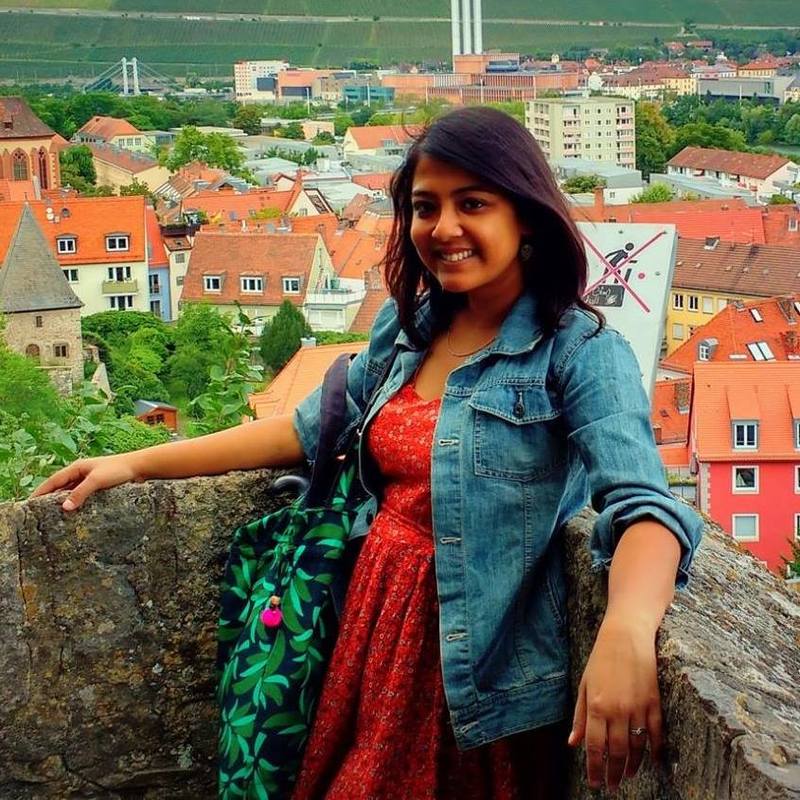 Anurima Chanda is a PhD research scholar working on Indian English Children's Literature from Jawaharlal Nehru University (JNU). Recently, one of her papers on Nonsense Superheroes was chosen as course curriculum at the Berklee College of Music. She loves translating to and from Bengali, her native language. She loves writing and illustrating for children.
I am doing my PhD from the Centre for English Studies, Jawaharlal Nehru University. I am at the last stage as I submit in July this year. My topic (and this you would be glad to know) is on Twenty First Century Indian English Children's Literature and how it has been challenging previously held taboos within this area. So I look at texts that are not afraid to talk about caste, class, crime, violence, death, disease, disability, broken families, alternate sexualities, so on and so forth. The Pratham Books title 'Chuskit Goes to School' is one of the many stories that I am looking at - and I should inform you that I absolutely loved the story. I remember that I was looking for the English version of the story at the Delhi Book Fair this year, but they had already been sold out. That is when I started searching for it online and was glad to see that it was made freely available online on StoryWeaver.
I discovered StoryWeaver when the Pratham Books page on Facebook advertised about the Retell, Remix and Rejoice Contest 2017. When I went through the site, I realised how easy it was to upload one's stories through the platform. That is what got me so excited! But I saved all my excitement for later, as at that moment my prime target was to send a story for the contest. I got to know really late as it was already 27th or 28th of April and the last date for submission was 30th. I knew I had a story but I did not have enough time to weave it properly. When I saw the subheadings under which I could write, I knew I wanted to write about "Body Parts" but with a slight twist. I wanted to tie it up with disability, so that we bring a break in the way body parts are taught at schools. Children are made aware that there are people for whom eyes and ears function differently. The motive behind it was not just spreading awareness but also to find a way against bullying that disabled children face at school.
StoryWeaver has given me that confidence to tell my story, even if it is not polished. Plus, it is an added advantage, that you guys are so open to new ideas. Unlike most other publishing houses, who still have concerns about the suitability of sharing stories around certain topics with young children, Pratham Books has always been a forerunner in breaking that pattern and showing the way ahead. So thank you, thank you for changing the scene of children's writing in India and for giving us - people who are so passionate about this field, an opportunity to experiment.
By that time the story bug had hit me hard. I started with simple translations. Then I thought of writing my own story, and the easiest was telling my own story - yes, Mohar is my nickname and that story had really happened. I wrote in Bengali, because although I am an English student, I still 'think' my stories in Bengali - even today. About the illustrations, one of the biggest grouse against Indian children's literature has been that it uses western pattern of illustrations. Even though there have been experiments with indigenous art-forms, it has shot up the prices of the books, making it out of reach for majority of the children in India. So, I knew that whenever I tell my own story, I will experiment with indigenous art-form. That was the reason that I used the Warli art-form for the book. And, in the future too, I intend on using similar art-forms - be it Poto-chitro, Madhubani, Gond or the others.
You can read Mohar in English, here.
There were so many people who complimented me on Mohar, that now I know that I am doing something right. I always knew that in the future I wanted to write for children. But this one, just made me more confident. Now I know for certain that I can do it. And thanks to you guys for making it so simple! So, my major aim is to get through complex ideas to children in the most easy way possible. To tell stories about children who do not fit into the mainstream idea of childhood in India. Then, to have my friends translate these stories into as many languages as possible to spread them far and wide. And yes, to experiment with folk art. I also want to help open libraries for children in the country - starting with my hometown Siliguri. At present I do not have the money, but once I submit my PhD and have a job, I would love to initiate that project. It is all a dream!
Be the first to comment.
---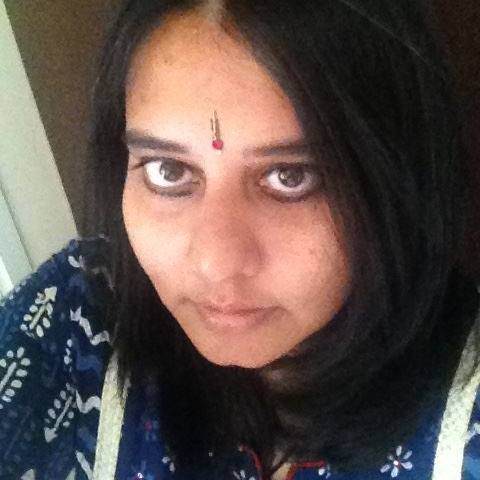 Swetha Prakash has an MA in Writing from the University of Warwick and is the recipient of the Charles Wallace India Trust Award by the British Council.She has won the The Times and Scottish Book Trust's New Writer Award and her book 'Padma Goes To Space' has been published by Tulika Books. She has edited India's first book on storytelling for schools published by Kathalaya, and recently wrote a nonfiction book called "Indian storytelling traditions." She writes about how she is using StoryWeaver to raise funds for an NGO.
Everbefore the story goes...With humanity came myths and with myths came civilization. Myths are our collective dream. Myths are profoundly important for our individual and collective consciousness.
I am running a charity fundraising campaign for the Bangalore based poverty alleviation initiative, The/Nudge Foundation by creating original myths everyday. The campaign is called The Living Myths project. As a part of this campaign, I am posting one myth everyday on Storyweaver for 21 days. I am also urging friends and family to raise funds for The/Nudge Foundation by donating to my campaign on Ketto, which can be found here.
The/Nudge Foundation is a non-profit working on tackling poverty, which is the greatest human development challenge of our times. Their goal is to nudge 1 million people out of poverty.
How are they solving for it? Their flagship program, Gurukul, is a 100-day residential program for underprivileged youth where they are educated on livelihood skills, digital literacy, financial management, family management and personal development. The program works towards the holistic development of the students and makes sure that they work towards growing in their respective careers and always aspire for better opportunities. The Gurukul program assures job for every student and boasts off 123% placement rate.
Stories, myths and collective consciousness
What is storytelling really? It is an expression, which arises within the body from the same space that makes people paint, sing and dance. It is a message from your soul that you want to transmit to the world at large. Storytelling defines how we react to both external solid realities and to ephemeral ideas. The tellers are adepts at conjuring up the confusions and misapprehensions of life universe and everything. Stories attempt to pierce through the evanescent illusion of all life and creation. They bring to us the fullness of all life, its fulfilment, its elixir of immortality shrouded in the casket of death. Stories help us access the embodied existence of others, providing us with the fullness of our own being. They change and mould our collective consciences and teach us to extend our sympathies to other beings that share this existence with us. Stories are in their core lessons in sympathy, helping us extend our compassion and empathy to others.
Myths are narratives that answer the most profound and primordial questions of existence through fascinating stories populated by fantastic creatures. Myths typically attempt to explain how the universe is created and the primary powers that are behind all creation, manifestation and destruction. Myths about powerful beings responsible for creation can be found as far back as the Vedas.
Devdutt Pattanaik says in Indian mythology: tales, symbols, and rituals from the heart of the subcontinent, 'Myth can be defined in two ways. First, it is a sacred idea that is inherited over generations. Second, it is absurd, irrational, and fantastic concepts about the world that appeal to unsophisticated minds. The two meanings are two sides of the same coin. Depending on one's point of view, a story, an image, or a custom can be sacred or stupid'
Most Indian myths can be found in the Puranas. Varied versions of the same myth exist. The same myth again may be open to varied interpretations depending on the audience and the purpose of narration. A myth may serve as simple delightful entertainment for the whole community or it may be understood as an entire philosophy encapsulates in symbolic code that opens up an entirely new field of meaning to a spiritual initiate who is able to read the sandhya bhasha or mystery mystical language.
You can read Swetha's modern myths here.
Are you using www.StoryWeaver.org.in in an interesting way? Write in and tell us at storyweaver@prathambooks.roh
Be the first to comment.
---