TinyTales is a performing arts initiative invested in taking stories to children through the medium of theatre.
The TinyTales team consists of three theatre graduates and storytellers: Kalpesh, Pratiksha & Santosh whose journey began when QUEST (Quality Education Support Trust) announced a Goshtrang fellowship to work with children in Ashramshala, Sonale village (District Palghar).
"We applied for the fellowship and through it we were able to perform stories for children in several schools," shared Kalpesh. "Interactions with the children made us realise how the sessions affected them, and we decided that the experience shouldn't be restricted to children in one region. We felt the need to reach out to more children in more schools in more villages."
The outcome of this strong belief was TinyTales.
"Today, because of their hectic schedules, children do not have the free time to go and watch plays. So we decided to take the plays to them. We do not need a professional stage with sounds and lights; we improvise to present our stories wherever possible. In classrooms, under trees or even on playgrounds. We only need some space and enthusiastic kids as an audience."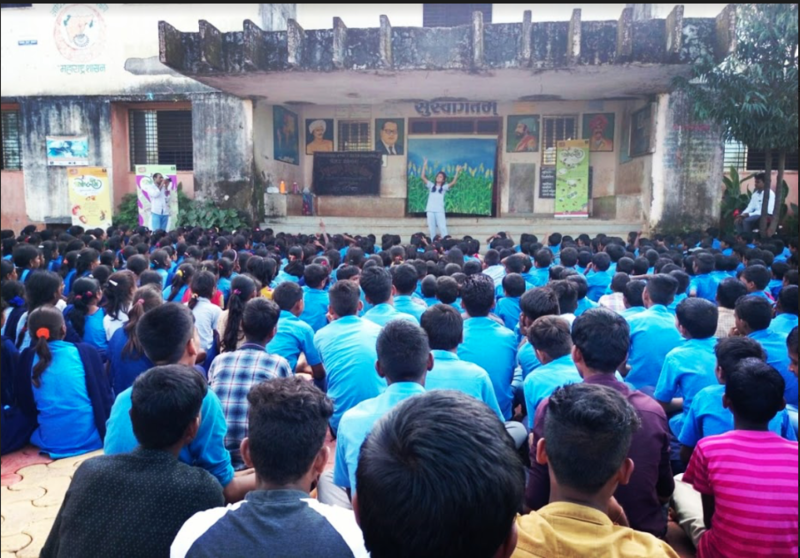 After 90+ shows, TinyTales realised that while listening to and watching stories, children get emotionally involved with them. "They laugh with us, they cry with us. This joy of learning together is really immense." said Kalpesh. "Adding a visual element to storytelling not only strengthens the audience's imagination but also subtly demonstrates the spirit of teamwork, which is the base of any theatre activity." Though theatre is at its heart a form of entertainment, TinyTales attempts to present a different world to children through stories which can enrich and broaden their way of thinking.
The team discovered the StoryWeaver platform when looking for the book 'My Best Friend' by Anupa Lal and Suvidha Mistry. "It's like a Pustakancha Khajana for us" shares Kalpesh "and now we have a perfect list of great book to use. We have used a number of books from workshop and got great results."
Geetanjali Kulkarni (Goshtrang, Project Head), Nilesh Nimkar (Founder of Quest) and Prasad Wanarse (TinyTales, Director), have chosen stories based on the age of the audience. "We've included books from the StoryWeaver platform such as जपून रे सत्तू! and बुजगावण्यांची वरात. All these stories were directed by Prasad Wanarase and we performed these stories in Marathi."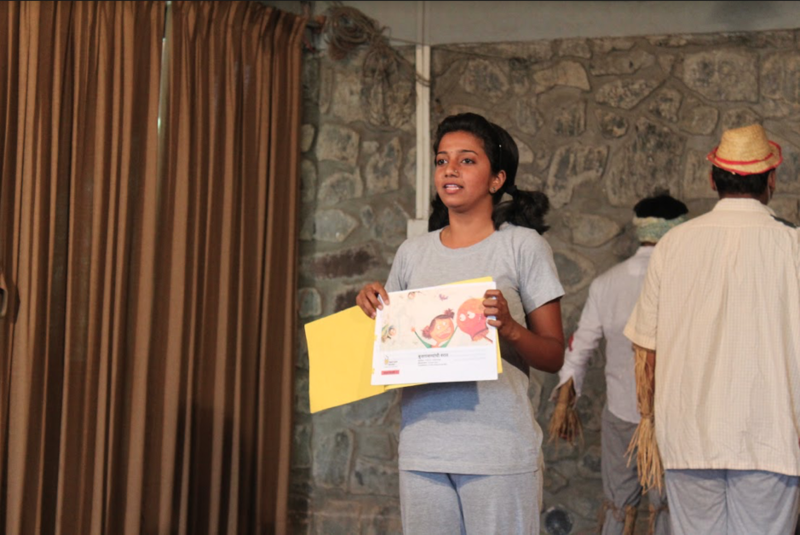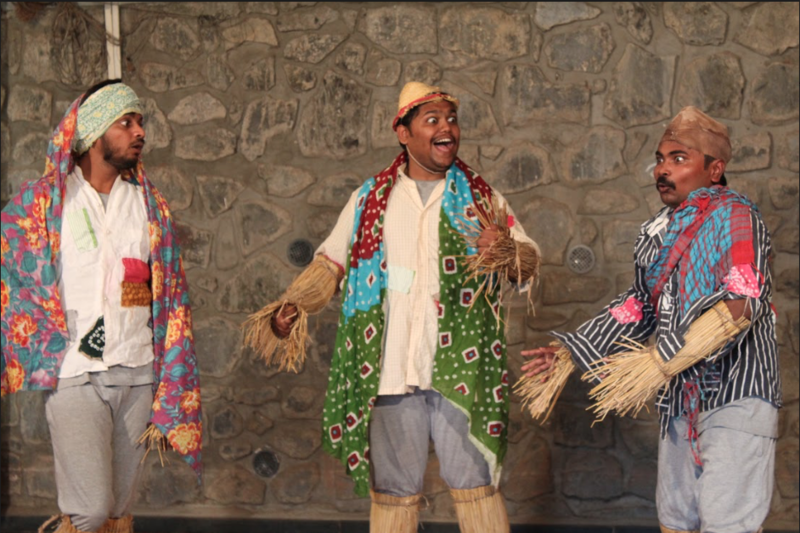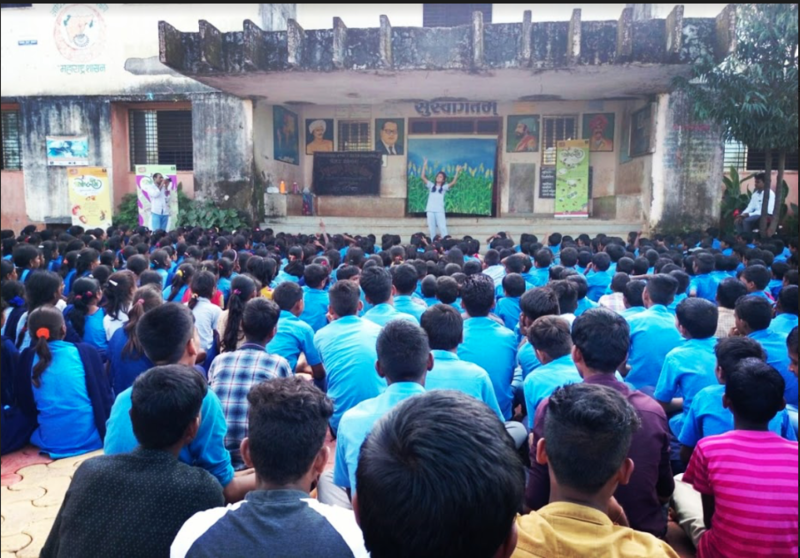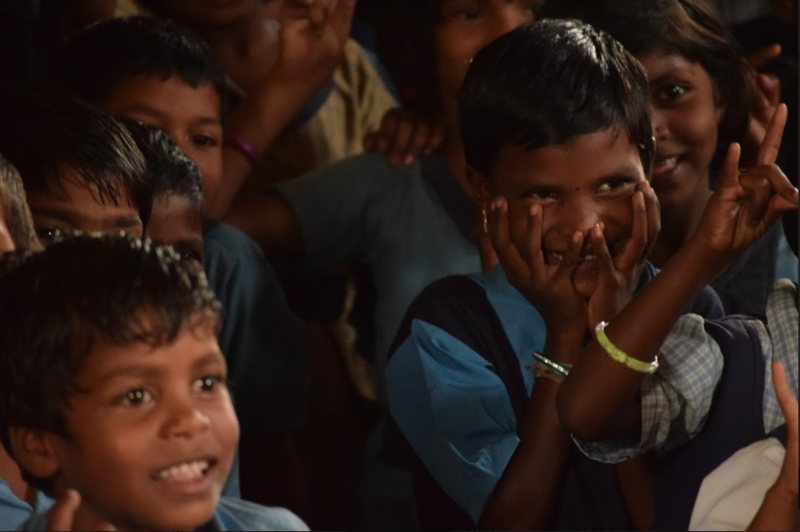 The group has also begun to add more components to their sessions like 'Goshtincha War' where they gather together with students and read out stories to them. "This way they are introduced to various authors and their books and hear and learn new words too."
"Our objective is to work with the kids as per their needs and demands. Most important of all are the little viewers who are genuine and constructive in their feedback. That's why we love to work with them."
- Kalpesh, Pratiksha & Santosh
Be the first to comment.
---
Settle down for this long read that comes to our blog all the way from the Phillipines.
It's 7:30AM in Antipolo, Rizal, a suburban city in the Philippines, and Saida D. is on her knees, polishing the production floor of the four-storey office building where she works as a cleaning lady and messenger. In a few minutes, the employees will start to arrive one by one to fulfill Localization and Translation projects for companies and governments around the world.
Saida took over the job from her mother, Aida, herself a career househelp. In the Philippines, the wages for domestic help can be as low as US$60 a month, and Filipino women especially in the rural areas have very few options aside from working in agriculture — which does not pay well and is subject to uncertainty in a disaster-prone country like the Philippines.
The lack of occupational opportunities is itself a result of an educational system that has faced tremendous challenges in recent times. In 2008, UNESCO reported a drastic decline in participation and achievement rates in basic education in the Philippines: from a high of 96.8 percent in 2000, net enrolment rates at the elementary level dropped back to 84.4 percent in 2005 (even lower than the 85.1 percent in 1991). Education spending as a percentage of overall government expenditures has declined from 18.2 percent in 1998 to 12.4 percent in 2005.
Data from the Philippines Department of Education shows that in 2015, only 3 of every 5 children who enter grade school will graduate from high school. The Philippines' youth literacy rate fell from 96.6 percent in 1990 to 95.1 percent in 2003, making it the only Southeast Asian country to register declining youth literacy rates.
Aida, the retired househelp and Saida's mother, took it upon herself to help her community beat the odds by helping organize a volunteer-run day care center. It is at this day care center where Saida leaves her children in the morning before travelling to work. The day care center relies on donations from parents and is run by a volunteer teacher who does not get a salary.
One day last April, the children at Aida's volunteer-run day care center received visitors who brought books written in Filipino, the national language of the Philippines. The children have received donations of books before, but many of the books were written in English. The books that they received that day were in their native language, and were created through Pratham Books' Storyweaver platform.
A smiling Aida stands in the doorway of her day care centre watching an activity filled classroom.
For many of these children, the books they received and took home that day were the very first books they will ever own in their lives. Behind the books is a story that has come full circle.
The books were translated, printed and distributed by a group of volunteers led the wife-and-husband team of Judy and Jake Estrada, who is himself a son of a former househelp.
The building -- and the Language company -- where Aida used to work, and where Saida now works, is owned by Jake.
Jake is the founder of QwertyWorks, a translation enterprise based out of Manila, Philippines. A former freelance translator, Jake has always focused on propagating Tagalog and other Philippine languages through translation and localization work.
"Unlike in India, Europe and East Asia, we actually don't have a considerable localization market in the Philippines, owing to the fact that majority of Filipinos are able to understand and speak English fairly well. This is why our consumer goods are labelled monolingually in English by default, and most of our road signs are in English -- despite the fact that most Filipinos do not "think" in English, but rather in their native tongues (e.g. Tagalog, Cebuano, Hiligaynon, etc.)" shared Jake over email.
"That said, whenever a Filipino reads any material in his or her native language, a deeper emotional attachment is created between that person and the material (or the product). Since no "thought conversion" is involved because the language used is the person's "thinking language", the message becomes more credible, personal and enduring."
Jake believes that this is especially true for books and literature as one is able to make a deeper connect with stories in one's mother tongue. It was this "native-language human understanding" that served as the underlying purpose at QwertyWorks, the company he founded.
Since 2001, QwertyWorks has grown to become the 'go-to' Philippine-language vendor for companies with a team of more than 50 in-house linguists, Project Managers, business managers and admin staff working out of Manila, plus linguists located in more than 60 countries around the world.
"We've been wanting to pay it forward for sometime now," Jake shared. "As we entered our 15th year of operation in 2016, we decided to look overseas for collaborations to propagate our language. I was referred to Translators Without Borders (which I joined), then the Rosetta Foundation. It was through Rosetta that I stumbled upon Pratham Books and the StoryWeaver platform."
Jake translated his first book on StoryWeaver last year ("Bheema the Sleepyhead") and loved the experience. When he shared it with his team at QwertyWorks, they loved the idea too and team members volunteered to translate stories on StoryWeaver in their own time. "Nevertheless, since we do have an established CSR program, the company also allows (and encourages) the linguists to work on select books on company time whenever our workload allows it." informed Jake.
Till date, the QwertyWorks team has already translated a total of 64 books to Filipino, Cebuano and Cebuano-Davao.
It was one of these books that his wife Judy brought to Aida's volunteer-run community day care center in late-April, which served as a pilot for what hopes to be a countrywide grassroots book distribution program.
The book had been translated by the QwertyWorks team on StoryWeaver, then Jake and Judy printed the book at home and stapled the pages together.
Here's an excerpt from Jake's email:
"I just wanted to let you know that one of the several Filipino books we did on Storyweaver has been successfully distributed to a pilot group of 64 children aged 3 to 5 years old."
Two groups of around 20 children each attend the local summer classes taught by a volunteer teacher. The teacher read the book out loud to the first class of children aged 4-5 years old, and the children participated in the activity by mimicking the characters in the story. Afterwards, they took the book home. The second group (children aged 3-4 years old) came in after an hour, and did the same thing. All of the books were distributed for free at no charge to the recipients nor to the day care center.
A mother reading with two boys at the session.
"Today's event was a pilot of a program that aims to do 3 things: book creation (digitally), self-printing and self-distribution of printed material. The idea was to jumpstart discovery: by making children and their parents get their hands on the printed versions, we hope to urge them to visit StoryWeaver on their own where more books are available. Today there really was 'a book in every child's hand', at least in this day care center!"
"For many of the children, the book they got today was the very first book they ever took home, as their own. The teacher encouraged the parents to read the book to their children at home, even at bedtime. More importantly, it is written in their native language (Filipino), so this removes some of the common barriers at least here in the Philippines.
We aim to do this more regularly to more communities here, and expand to more languages and provinces in the Philippines."
"Please do wish us luck as we are a small volunteer team. Yes, we do this all for free -- from translation to printing and distribution -- we do hope that we'll have enough physical, financial and emotional endurance to cover the remaining 7,100 islands of our country :-)
We don't know how we'll do that but we'll take it one day at a time."
His wife Judy, herself a former private-school teacher, has also launched Libreo.ph, a portal where she is distributing books translated on StoryWeaver. Plans are afoot to translate more Storyweaver books into other Philippine languages (such as Ilokano, Hiligaynon and Pangasinan). QwertyWorks is also onboarding linguists overseas who would be willing to participate in the CSR initiative for Thai, Burmese, Malay, etc.
"I personally "began" translating as a 15-year old, translating books donated by the United Nations from English into Tagalog, for free. It is through translation and books that I found my calling, and my livelihood.", writes Jake, who along with four other siblings was raised almost single-handedly by his mother Hermelina, who started working as a househelp outside of Manila in the 1960s.
Back at Jake's office building, Saida is finishing up her work so she could go home early to her children. Saida's sister, Czarina, is a product of the community day-care center that their mother Aida helped put up. Today, Czarina is now a teacher herself, having graduated in 2016, the year Aida retired from cleaning the premises of the QwertyWorks office.
While Czarina embarks on being an educator herself, Saida the office-cleaner hopes that her children will someday finish college as well, with far better life options than she ever had. Who knows, one of them might even have their own office building someday, bigger than QwertyWorks's!
All the very best to Jake and his amazing team at QwertyWorks! We're so lucky to be able to collaborate with passionate language champions such as yourself!
You can read Team QwertWorks' translations on StoryWeaver, here.
If you're using StoryWeaver to help put 'a book in every child's hand' and would like to share your story, write to us at [email protected]!
Be the first to comment.
---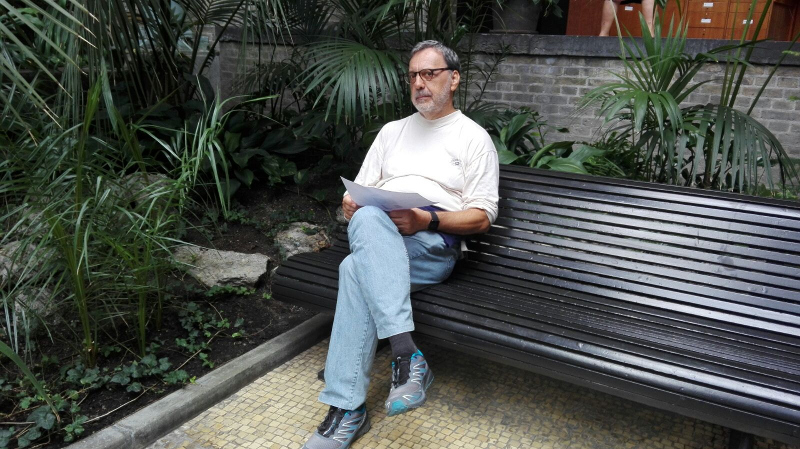 Roberto Marcolin is a High School teacher near Milan, Italy. He's been doing some very interesting things with StoryWeaver both inside the classroom and out! Read on to find out more.
"I'm a teacher in a high school near Milan, Italy and I'm in charge of the school library. Our school recently participated in Libriamoci a Ministry of Education project to promote reading aloud. Many different classes in the school took part, with some students reading out loud stories from StoryWeaver in English. At the end of January, we took part in Piazze Solidali (Solidarity Squares), an event held in the public library of our city. At the event some of my students read StoryWeaver stories in six different languages: Albanian, Romanian, Arabic, Spanish, French and of course Italian."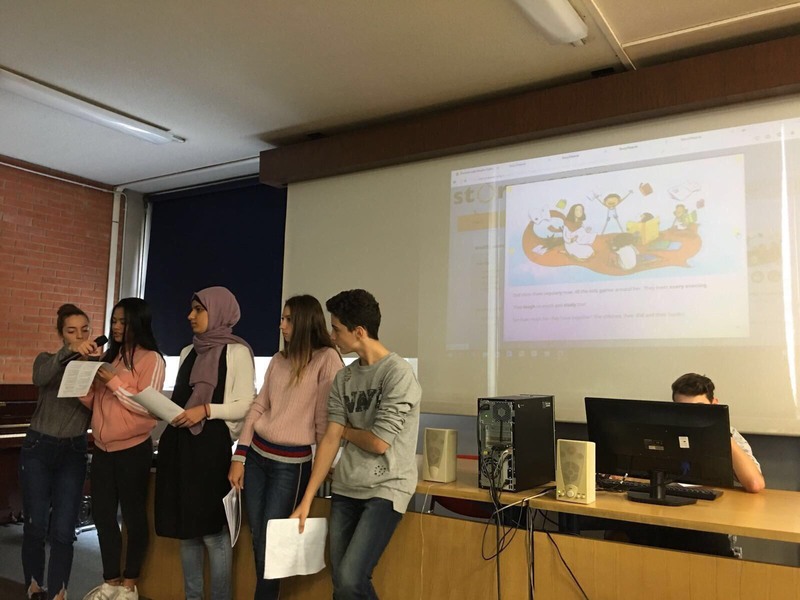 A class from Roberto's school is participating in Etwinning a European project, students from the Czech Republic, Spain and Sweden. "Through this project they will translate books from English to their mother tongue on StoryWeaver. You can find the first seven stories translated to Italian on StoryWeaver."
Students read aloud stories from StoryWeaver at the Libriamoci event held in October, 2017.
Roberto has also made an audio version of 'Ghum Ghum Gharial's Glorious Adventure' in Italian with Canoprof an open source software created by the French education ministry.
"Framapad is an open source software for collaborative writing which I used when preparing for the Piazza solidale event. I made some recordings of stories like this one and I hope to do others. I think they could be used to promote reading amongst students."
Roberto has a few other ideas on how he would like to use StoryWeaver. "In 2018, I would like to organize a collaborative translation of some stories of StoryWeaver involving other teachers and students. The translators could meet in a place at school like the library and collaboratively translate some stories together. I would also like to create free digital libraries using StoryWeaver stories as my French colleague Cyrille Largillier has already done here."
We look forward to hearing more from Roberto and his students this year!
If you are using stories in your classroom or library and would like to share it with our community, write to us at [email protected] and we'll feature you on our blog!
Be the first to comment.
---