Written by Chetana Divya Vasudev and Sherein Bansal, Assistant Editors, Pratham Books
Even a kilometre away from Agastya Foundation's Science Campus in Kuppam, we're greeted by the fresh scent of its green landscape. We all wake up (or are made to) after a three hour journey, and look out the windows to see hills and farmland all around. As we reach the gate, we see their motto 'Aah Aha! Haha!' inscribed on it - a philosophy that drives their 18 year old science education programme.
Children from under-served backgrounds experience the wonderment of discovery (Aah!), to understanding the concept (Aha!), to having fun with learning (Haha!) here. The science campus, situated on the border of the three Southern states- Andhra Pradesh, Karnataka and Tamil Nadu, attracts about 600 children from neighbouring villages, who come to the campus about once a week to experience learning.

Pratham Books and Agastya Foundation have been collaborating for years, driven with a common philosophy of making children curious. With the launch of StoryWeaver, getting books into the hands of the hundreds of children that visit the campus has been made even easier. The digital library sits in the computer center where the children can choose a book to read in either Tamil, Telugu, Kannada or English, including many of our STEM titles, along with learning animation and mastering basic computer skills. The Pratham Books team is on a visit to the amazing campus to get a sense of all the initiatives Agastya Foundation has undertaken to nurture this curiosity further.
We roll ahead and everyone is looking out of the van windows pointing at the sculpture of a dismantled batsman, or a huge ant hill with child-sized ants crawling over it, or a mini-bus randomly sticking out on a pole. We come to know later that all the sculptures and installations across this beautiful 172 acre land were created by the renowned architect, Sharukh Mistry and Agastya Design team.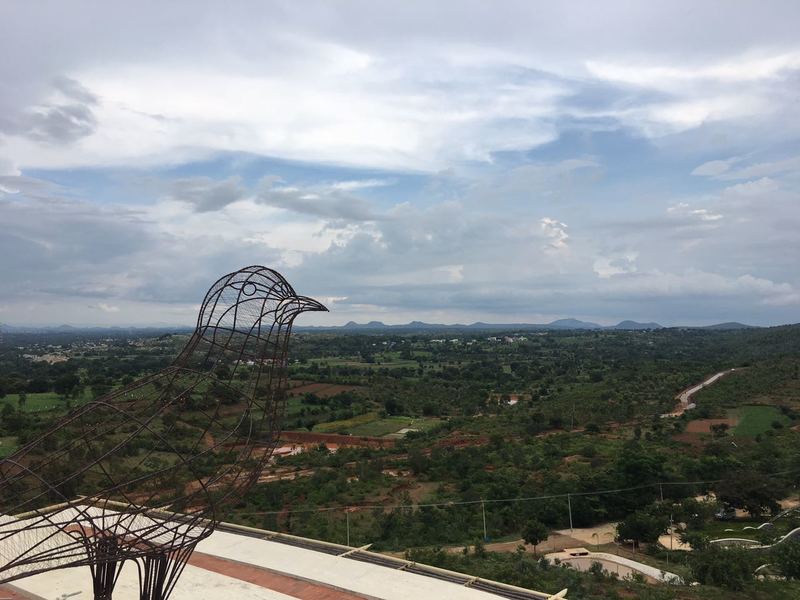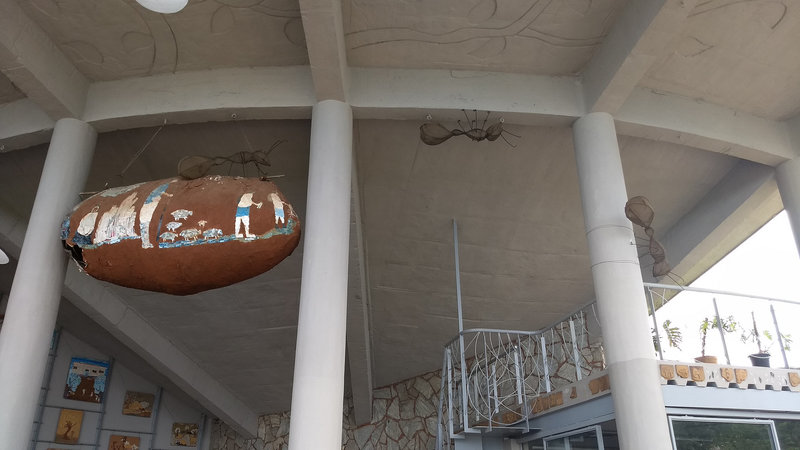 We have our fill of the sight of the faraway hills that circle us, and reach the stone-walled auditorium situated in the midst of this biodiversity. It's nearly lunch time when we walk into the cool auditorium. Jagadeesa, an ace storyteller and head of the library program at Agastya Foundation, has just finished the narration of 'Kottavi Raja and His Sleepy Kingdom' in English and Telugu. His audience of about 200 children, scattered across the space, are clearly delighted. One girl even volunteers to tell the story in English again.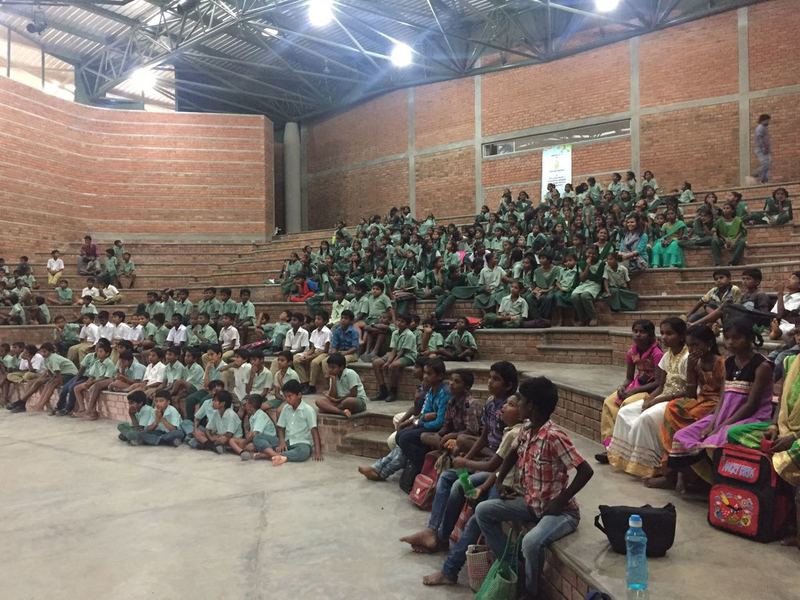 Once she's done, our team spreads out among the children, and an easy chatter resumes. Soon, they start filing out for their noon break. We meet some of the Agastya staff members, and they tell us more about the work they do.They lead us out, along a concrete path strewn with imprints of leaves of the Indian almond tree, up to the canteen. By the door are tyre and metal pawns that go with an outdoor chess board! The meal is simple yet delicious and we discuss Agastya's philosophy behind setting up this campus in detail.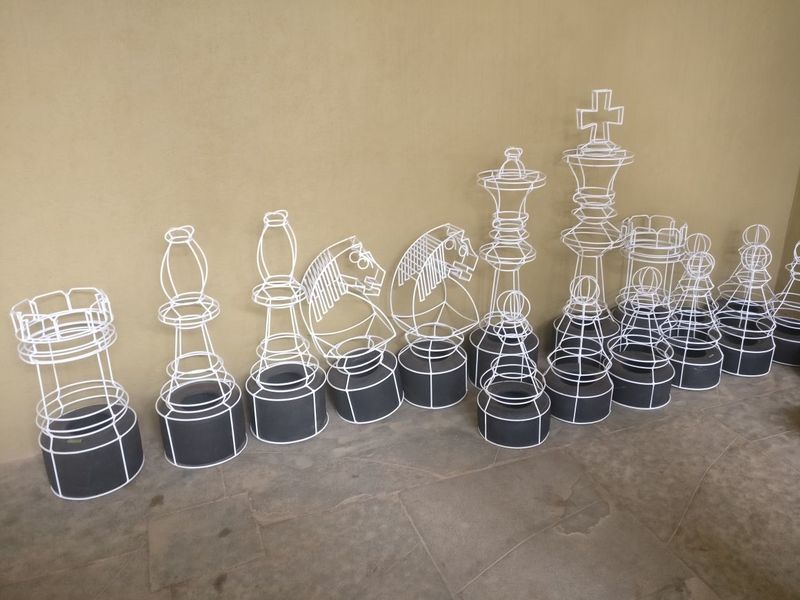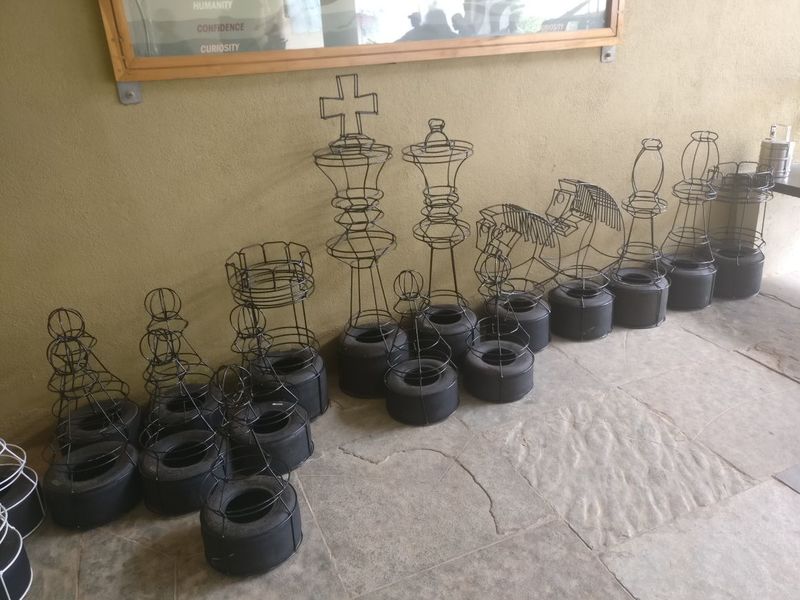 A little later, Aparna Kapur, author of 'Ghum-Ghum Gharial's Glorious Adventure', takes the stage and narrates the story of Ghum Ghum, a baby gharial who separates from her family in the river and must make her way back to them somehow! The children giggle their way through the animal sounds that punctuate the book. Jagdeesa live-translates the story into Telugu.
Our Editor, Bijal Vachharajani is up next. She makes the children laugh with the narration of her story 'What's Neema Eating Today?'. We watch children repeat after her. Funny expressions and sounds of 200 satisfied tummies, and the auditorium goes "Mmm-mmmmmmmmmmm!" Everybody has fun identifying their favorite seasonal fruits in the colourful picture book.
The final session with the children is the Food Rakshasa Activity conducted by Bijal and Aparna. Children are divided into groups and together they draw their idea of a monster on paper by substituting body parts with fruits and vegetables -- chilli, ladies' finger, bottle gourd, apple, carrot and more. And what lively, scary, yummy monsters we get to see by the end of it!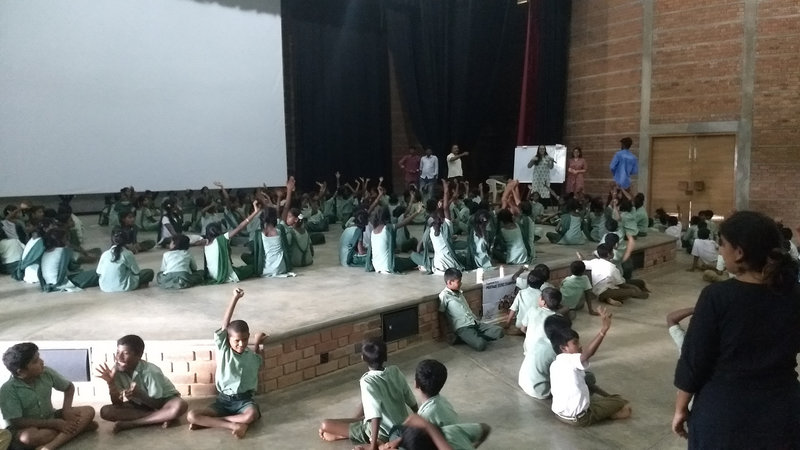 Post the session, the Pratham Books Team follows Subramanya Shastry, a key team member of the Foundation who has generously agreed to give us a detailed tour of the campus. "The children observe the nature around, pick up things from their surroundings, and create art from it," our host is explaining. But his words nearly skip our attention; the display around us is distracting.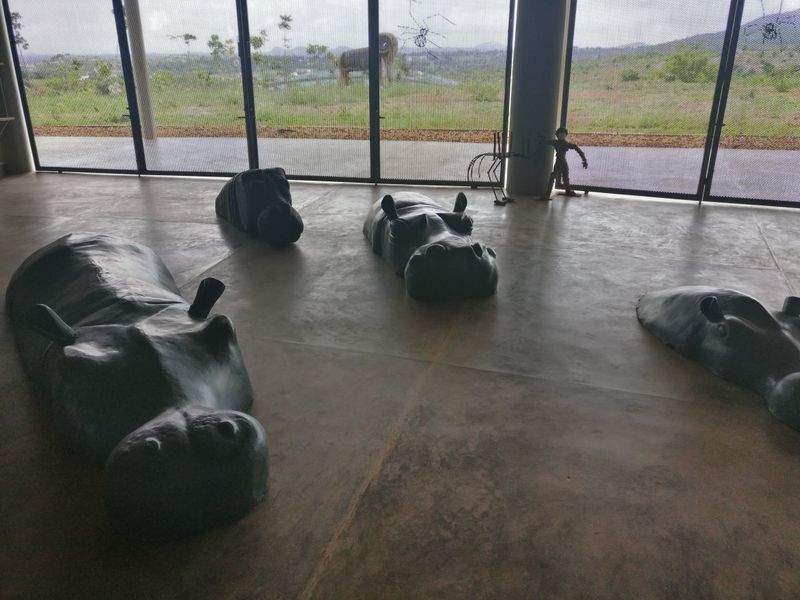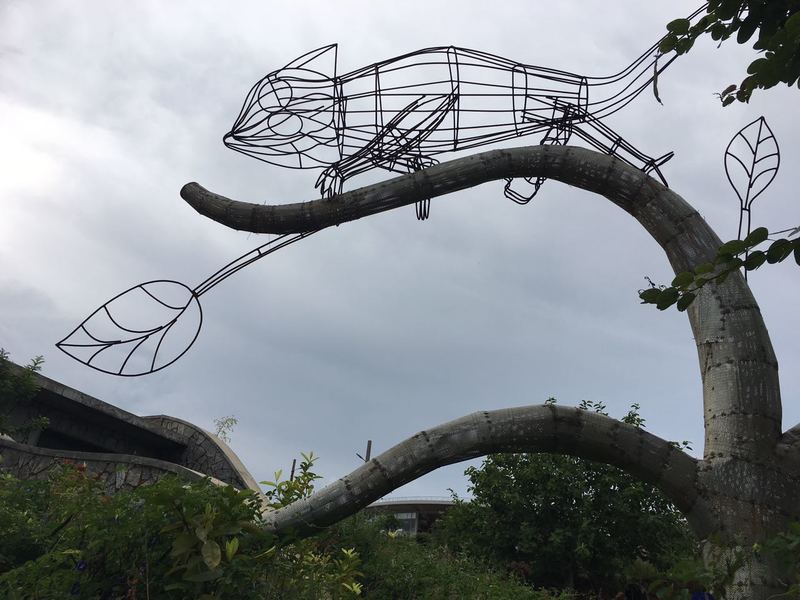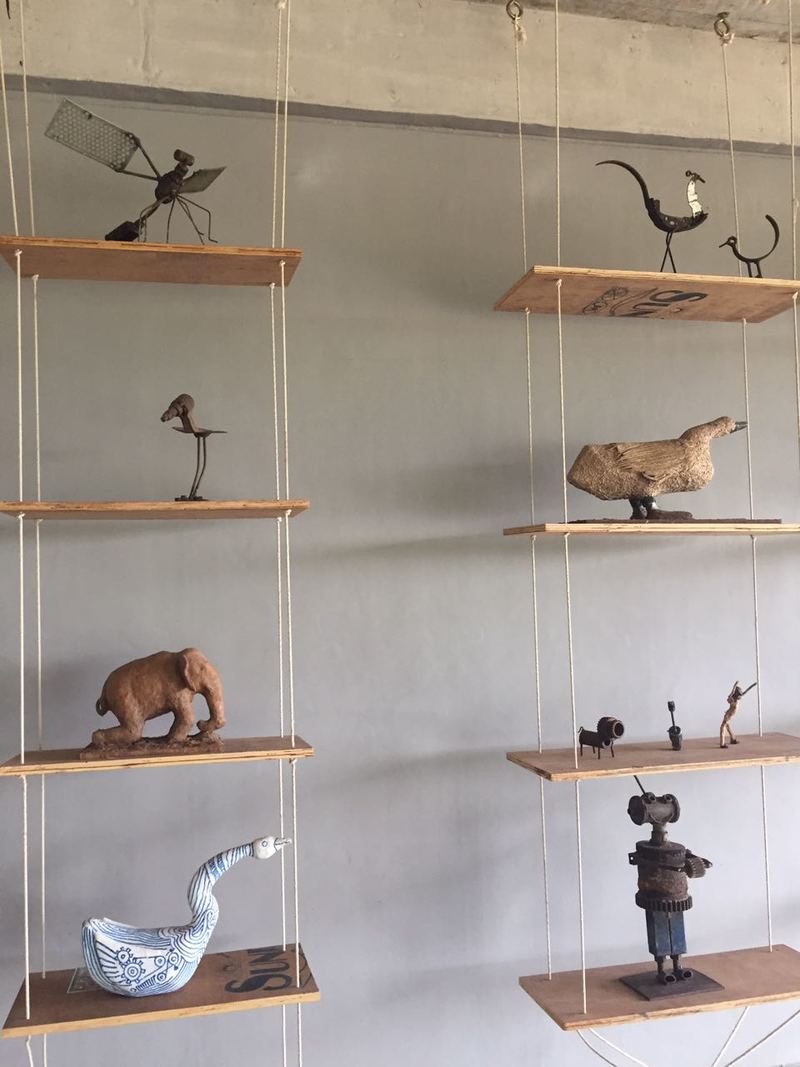 We tear ourselves away from this building with some difficulty and head to the innovation centre. Here the children, in groups, come up with devices or social interventions that impact their day-to-day life. For example, since water supply is erratic in most villages, one group has devised a sensor to alert people when water has been released. In the summer months, the supply can be as infrequent as once in ten days, so it's crucial not to miss every opportunity to fill up the buckets. Another group's device, to be installed at bus stops, would indicate how many buses of a certain route have passed.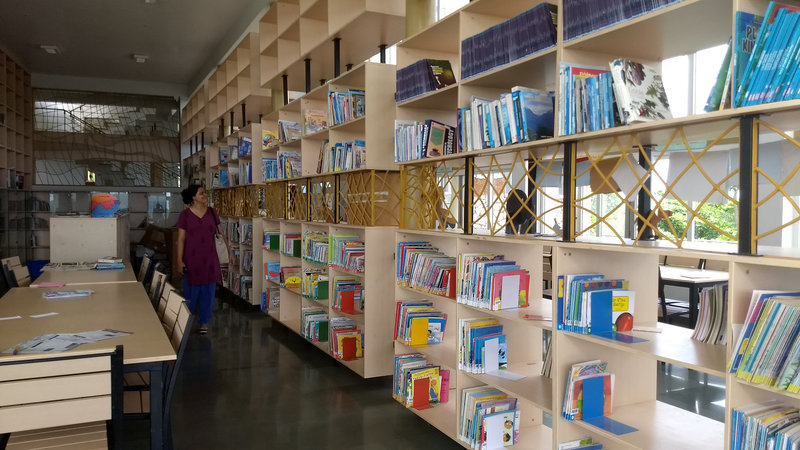 Our tour includes the media centre where we get to see photographs, animations and short films by the children. We wrap up with a short visit to the library and the robotics lab.
Too soon, it's time to get back on the bus. As we wave goodbye to the staff and children, we're certain we'll be back here before long.
More pics from our visit can be seen here: https://flic.kr/s/aHsm4sDAMf
Be the first to comment.
---
This campaign is now closed
Children LOVE 'spotting challenges'. Ask them to spot anything from a busy image and you can be sure they won't quit. 3 crabs on a beach, 4 tyres in a workshop, 11 spoons in a kitchen... anything! Unfortunately, it's hard to come by memorable spotting books which are affordable. So...
This Children's Day (November 14), StoryWeaver is eager to create a fun spotting book for children and make it available for free. We think this will be special if it's a collection of illustrations from artists around the world. And this, illustrators, is where we need your support. Just 1 illustration from you can make all the difference!
The best entries from Spotathon will become part of a grand spotting book published by StoryWeaver, filled with illustrations from different artists. However, each entry that is submitted as part of Spotathon will be available on StoryWeaver as an individual activity book as well.
Here's how you can participate in Spotathon!
Draw something which has enough details so that a child can spot up to 15 objects in it. Think of a setting which can accommodate these details. A beach, rainforest, kitchen, classroom, market... the possibilities are endless! The objects to spot are up to you.

Before you start, imagine the child you're setting the challenge for. Our readers are primarily children who haven't had much access to books. We have 2 different categories which are linked to age and levels of difficulty. Remember, these are only guidelines.
a. 3-6 years (Level of Difficulty: Easy) – She has only recently started reading books. She'd enjoy spotting up to 8 objects. While she's open to all kinds of settings, do remember that her vocabulary is limited. But her imagination definitely isn't! As an example, here is an illustration by Soumya Menon of what would be ideal for her.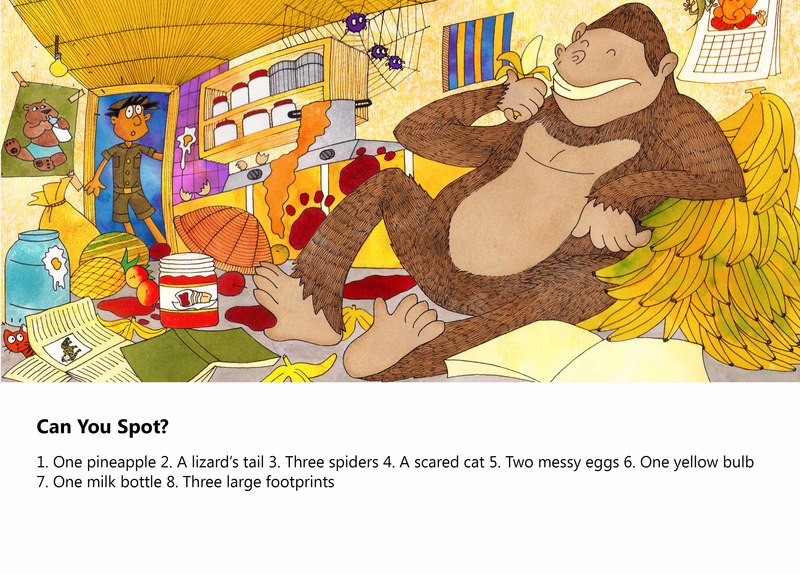 b. 7-10 years (Level of Difficulty: Medium) – As she's expanding her vocabulary, she will be more comfortable with prediction and open to unfamiliar settings. She'd be able to spot up to 15 things. Even the way in which the objects are hidden can be more complex here. As an example, here is an illustration by Bindia Thapar of what would be ideal for her.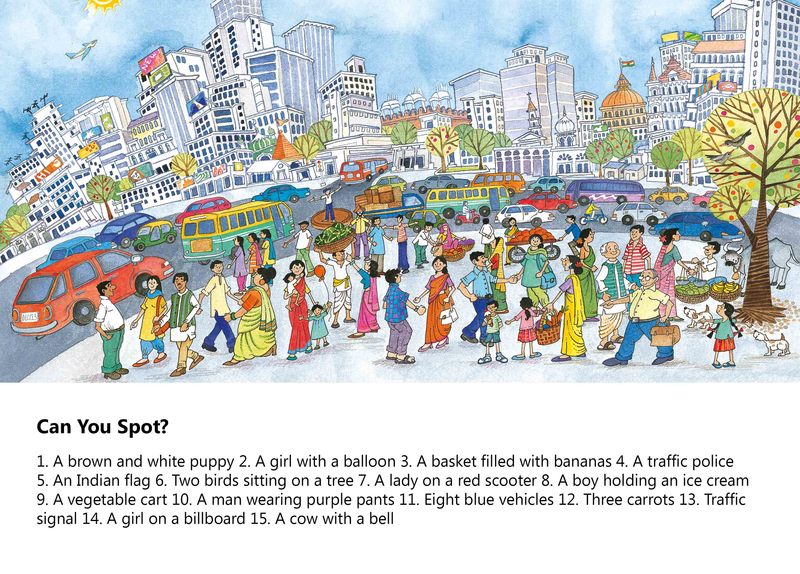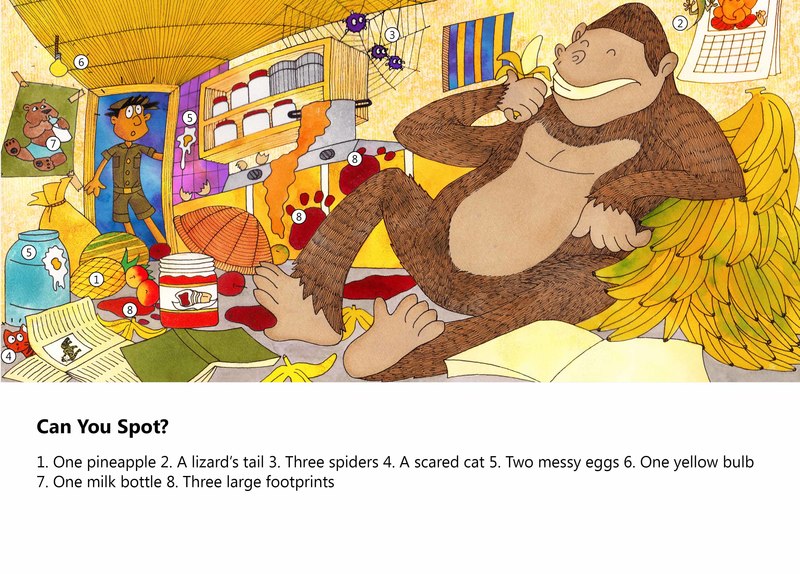 GUIDELINES FOR SUBMISSION
Timelines
Spotathon begins on October 25 and ends on November 21.
Submission

You will have to submit two illustrations: Main Illustration and Answer Key (examples above).

You can submit your entry in any language that is available on StoryWeaver.

You can submit more than one entry.

Watch a short Video Tutorial on how to submit your entry on StoryWeaver.
Format
Size of illustration (Main illustration & Answer Key): 11.17 inches (width) x 5.35 inches (height). This is the recommended size as it fits neatly into one of the templates on StoryWeaver.

The illustrations should be high-res (150-300 dpi).

Format: JPEG

File size for each illustration: Between 2 to 4 MB; above 4 MB will slow down the upload process
Copyright and other guidelines:
To participate in Spotathon, you must be over the age of 16.

The illustrations you submit must be your original work.

By submitting your work, you are agreeing to a CC-BY 4.0 license being applied to it. To know more about this license, click here.
You can register for the campaign over here so that we know you're participating and can reach out for any updates. If you have any queries, feel free to drop us an email at [email protected]!
Be the first to comment.
---
The cutest, warmest, furriest, squishiest and bubbly cheeks-pull worthy photos of kids are the ones in which they are cuddling up with a loving animal. Well now, we can't send an animal your way (We are hopeful that the crazy futuristic era will have an easy animal courier service so that we can all share different pets in different states… or even countries… ! Ah! What a bliss! But we digress…). So, until that future hops, skips and prances up to us, what we CAN give you is a list of books instead that you can cuddle up with, along with excited little humans. Books about animals- Funny, unpredictable, generous, strange, friendly, loud and just adorable.
Good Night, Tinku By Preethi Nambiar
Illustrator – Sonal Goyal, Sumit Sakhuja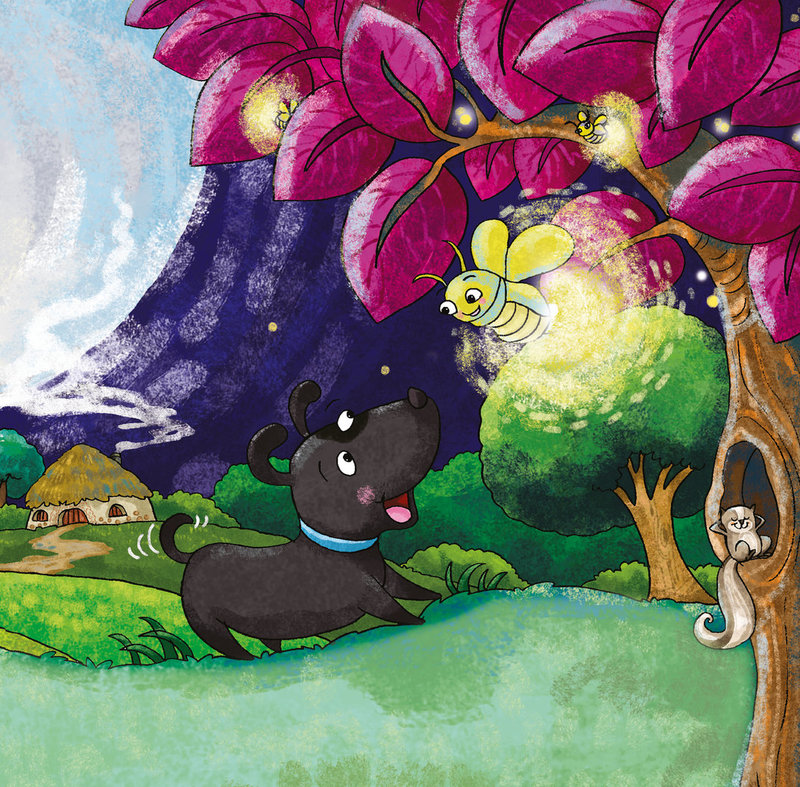 Afraid of the dark? We all are sometimes. Here comes Tinku the dog, who explored the dark and found…. friends! Tag along where he wags on, and meet some new animals that are wide awake when you are deep asleep. From Hindi to Sanskrit, from French to Italian, we have all these translations available for you, and more!
Anaya's Thumb by Natasha Sharma
Illustrator – Ruchi Shah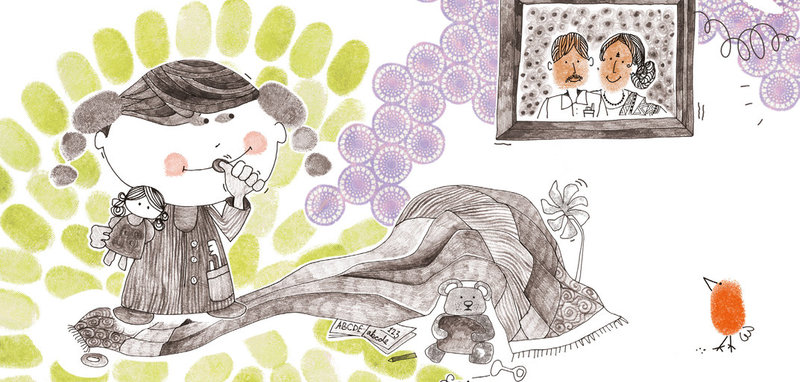 Anaya has a bad habit. She keeps sucking her thumb! Know anyone like that? But then one day she went to the zoo and quit her bad habit. Read about the human and animal behavior she witnessed there to make this surprising decision. Apart from some Indian languages, this book is also available in German and Portuguese!
Sniffles, the Crocodile and Punch, the Butterfly by Herminder Ohri
Illustrator – Herminder Ohri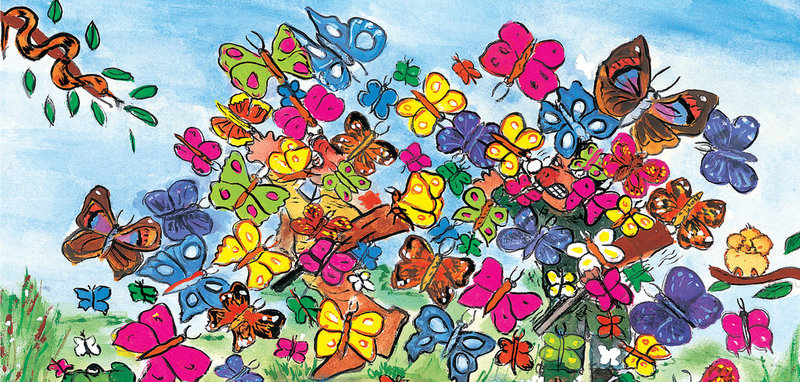 A big, strong animal that cries and a light as feather one that likes to punch! Let's go beyond the deceptive waters of someone's cover and read about this amazing frienship that… saved lives! Do you know Sniffles, the crocodile also speaks in Kiswahili and IsiXhosa? We have this story available in these two African languages too.
Clean Cat by Kanchan Bannerjee
Illustrator – Deepa Balsavar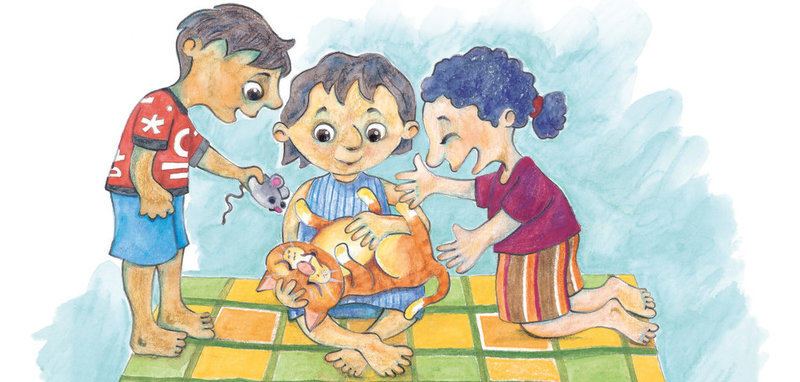 It doesn't matter how long you've been living somewhere, you will never know your neighborhood as well as a cat. This Clean Cat is up to all kinds of fun and antics. Read in 6 languages including Urdu, Marathi and two bilingual versions too!
Samira's Awful Lunch by Bharati Jagannathan
Illustrator – Preeti Krishnamurthy
How many of you have heard of kids complaining about what they got for lunch? *raises hand* You too? That's what we thought. Well, we have some very kind animals in this book who are willing to ideas for food alternatives. Do read and find out what Samira finally chooses!
(The Generous Crow) by Venkatramana Gowda
Illustrator - Padmanabh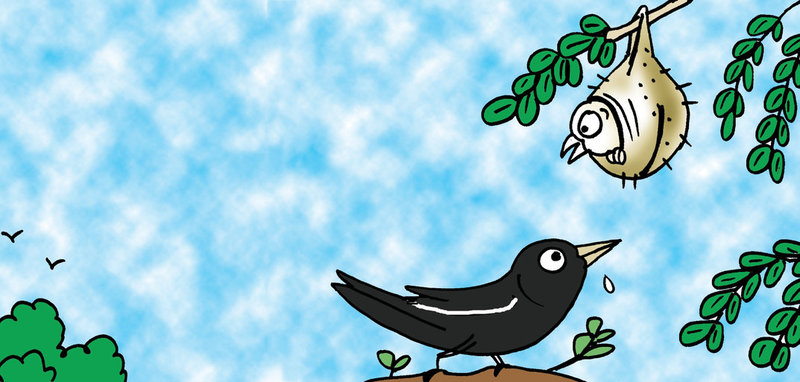 It's hard to be in a classroom full of students feeling left out as you feel 'different' or smaller than the others. It's probably like being a small crow in a huge forest full of animals that seem better than you. This is a story in Assamese, Telegu and Tamil in which a crow 'Caws Caws' his way into a journey of self-identity and self-esteem.
Noisy Crows by Kanchan Bannerjee
Illustrator - Deepa Balsavar
Here's another story about crows and this one is just plain NOISY! Available in Hindi, Marathi and Kannada along with English as bilingual books, make sure that you find out which animal likes this crow's singing.
The Jungle Book by Madhav Chavan, Meera Tendolkar
Illustrator - Ketan Raut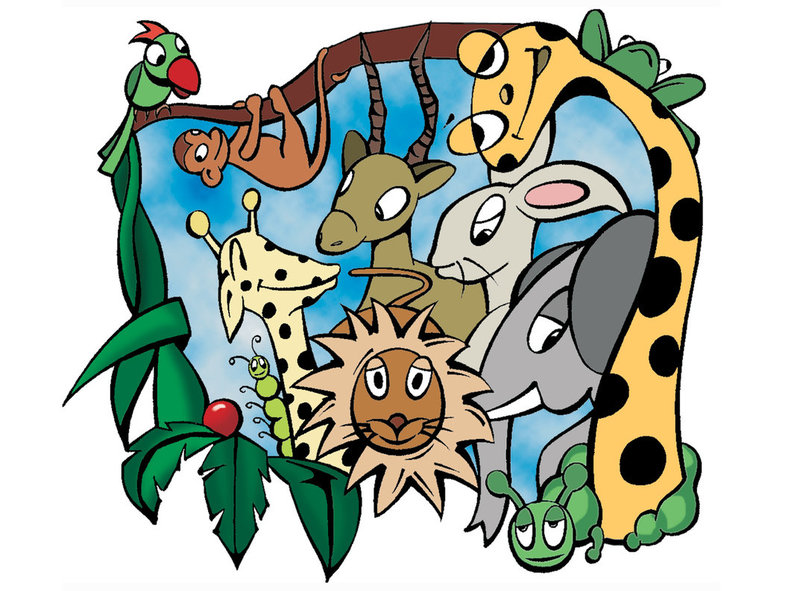 Translated in Punjabi and Odia, along with three African languages, this book follows the day of a few animal friends who hear about an exciting new development in the forest. Their jungle has a school! So they go in search of it and wait for the teacher. Guess who turns up?
Busy Ants by Kanchan Bannerjee
Illustrator – Deepa Balsavar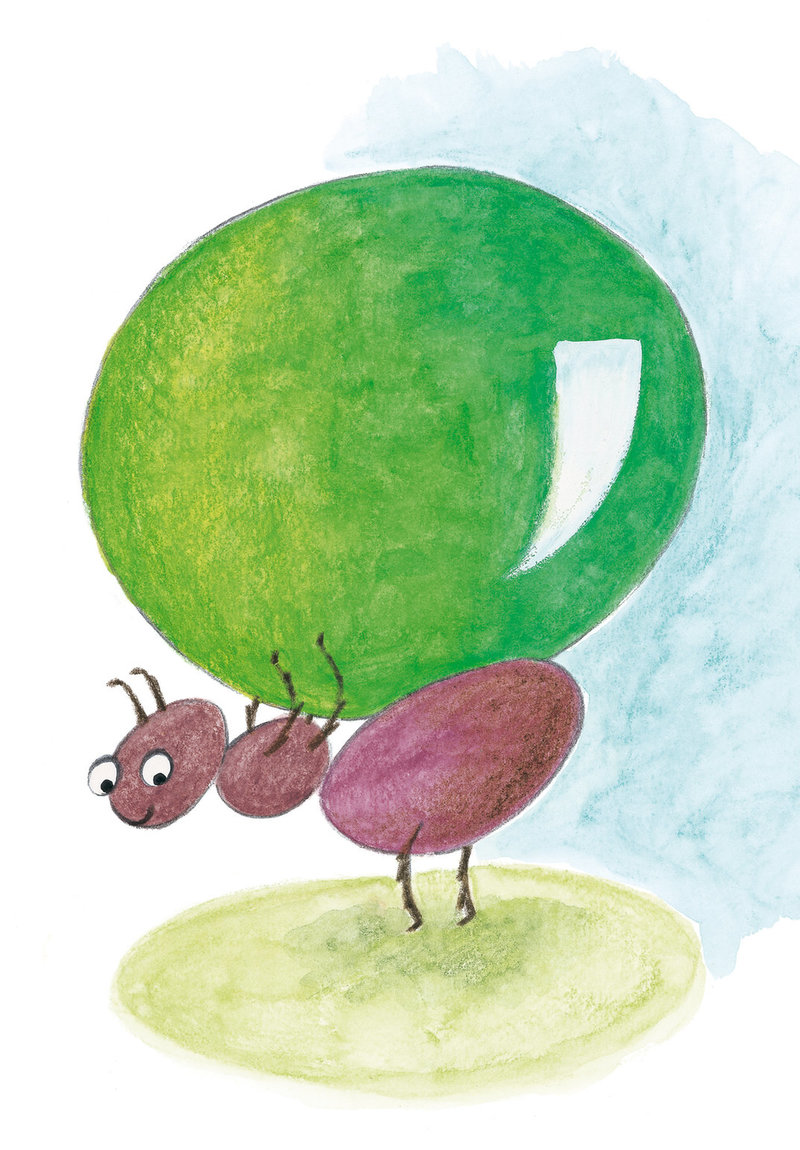 Have you ever seen ants just loitering about or sitting under a shade passing their time? No, they are always busy, and they have some unique traits and skills too! You can read all about them in Malayalam and Tamil, along with other languages!
भीमा गधा (Bheema, the Sleepyhead) by Kiran Kasturia
Illustrator – Shweta Mohapatra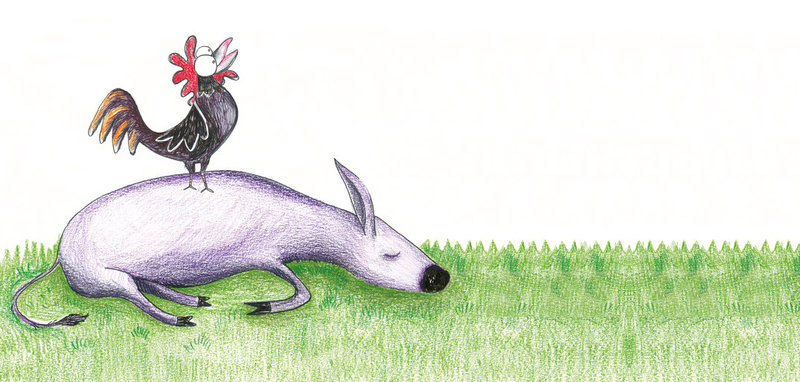 Translated in 14 languages, this book tries to answer a fundamental question of our existence- How does a person (in this case, a donkey) wake up early in the morning? Bheema likes to sleep like a log, and it doesn't matter who tries to wake him up- a cow, crow or a dog! See what finally works for him. Maybe it will work for you too?
Do you have a favourite animal story? Tell us what it is in the comments, or on Twitter and Facebook!
Be the first to comment.
---