StoryWeaver Spotlight turns the light on Priya Muthukumar. Priya always dreamt of flying on her very own magic carpet! Yes, today she flies to several distant lands along with different people through her stories. Priya is a storyteller and educationist who connects with people across age-groups through her storytelling initiative (Storipur in Bangalore). She continues to dream, this time.. about a greener tomorrow! She has translated many stories to Tamil for Pratham Books including 'Goodnight Tinku' and 'What Did Priya Eat'. You can read her stories The Louse's New House and A Perfect Match on StoryWeaver.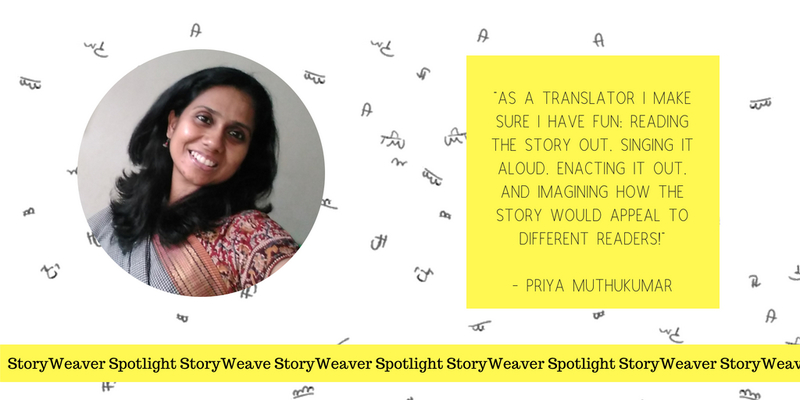 Q: What is your personal relationship with language and/or translation?
I strongly believe that languages bring people together. Even though I am not a quick learner when it comes to different languages, I can really pause and admire the beauty in languages. As a translator, I make sure I have fun, reading the story out, singing it aloud, enacting it out...imagining how the story would appeal to different readers!
Q: When you have been given a story to translate what is the process , how long does it take ?
There is no strict process or pattern that I follow. Generally, when I receive a story, I read it a couple of times in an attempt to grasp the essence of the story. As I work with children, I narrate the story to them and I get thrilled, seeing their immediate reaction. After all these immersive experiences, I start my translation, keeping the emotions which the author had tried to express through the story. And I am a complete last-minute-person! I just can't start the task before the nth minute.
Q: What do stories bring through translation?
As a strong believer in the power of stories, I believe that we all need to read, tell and listen to more stories. The whole process becomes even more beautiful, when we use different languages. It could be foreign languages, regional languages or it could one's own mother tongue. Languages are windows to another culture. And through translation, stories and languages subconsciously take the reader to another world where things are similar yet, are different !
Q: How did you cultivate the skills needed to translate books for children?
Well, this is something which I am learning, book by book. As a translator, I am very much on the learning curve. Being a Tamizh translator, reading Tamizh newspapers and books (translated and original ones) also help me. My conversations with my father in Tamizh on history, archaeology,literature, politics, almost everything under the sky also enables me to hone my skills.
Q: Does being a storyteller help your translation process?
Emotions, however subtly expressed are the 'pulse' of stories, according to me. This is a valuable lesson which I've learnt from my storytelling experiences, so far. Hence, I make sure while translating, to convey the same emotion into my work from the original story. Intonation/ voice modulation are essential aspects of storytelling, hence stories with varying 'sounds' delight me. I make sure that these sounds are more 'realistic' in the translated versions. Besides, once I translate, I read it aloud or narrate the story to different groups of listeners, to check if my translation has kept the original essence alive.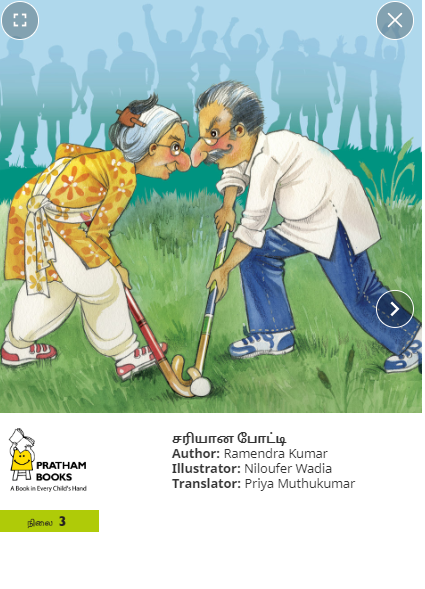 Q: What was the experience of translating a children's book like?
My first translation was for 'The Missing Bat'. I found it challenging and I remember calling up my father, asking people, cross-checking if my Tamizh equivalents for the English words were right. After working on few translations, now, I feel more confident and I am keen on learning the nitty-gritties involved in translating and also writing for chilldren.
Q: What is the toughest thing about translating from English to TAMIL? How do you navigate through words or phrases to translate?
Some words are unique to certain languages. The English language is no exception. To find exact equivalents for certain words has been challenging. In such cases, finding a word in translation close to the original is one of the options. Sarcastic overtones, jokes while translating need that extra attention. Pronunciation of names is also something I check before translating.
Q: How do you feel when your translation reaches a child?
Absolutely thrilled!
Q: How else do you think we can join hands to take more stories to more children in more languages ?
Simply by continuing to do the good work which Pratham Books and StoryWeaver is already doing. Probably, we could add more stories from History and mythology too.
Q: What type of person do you think makes a good translator for children's books?
Besides the language skills, as in any field of work, a willingness to learn and an open-mindedness would help. And anyone who has the spark, the sense-of-wonder children are born with, can always work magic with children's literature including translation!
Q: Do you have any advice for anyone who would like to become a translator?
Hmm...continue to be passionate! Read more, listen more and write more.
Be the first to comment.
---
StoryWeaver Spotlight aims to shine the light on members of the wonderful community of translators who help bring stories alive in new languages through their translation efforts. This week, we turn the spotlight on Sarita Sharan. Sarita is a passionate teacher, who uses stories to pass on information in a fun way to her students and her two kids. She works at a primary school in Badami Taluk, Bagalakot district. She often visits underserved communities and strives to convince drop-outs to continue schooling. Science, English and Maths are her favorite subjects. She has translated 11 books to Kannada for Pratham Books including Whpopee Hyperloop, Neelumbera on a Full Moon Night and Anna's Extraordinary Experiments with Weather.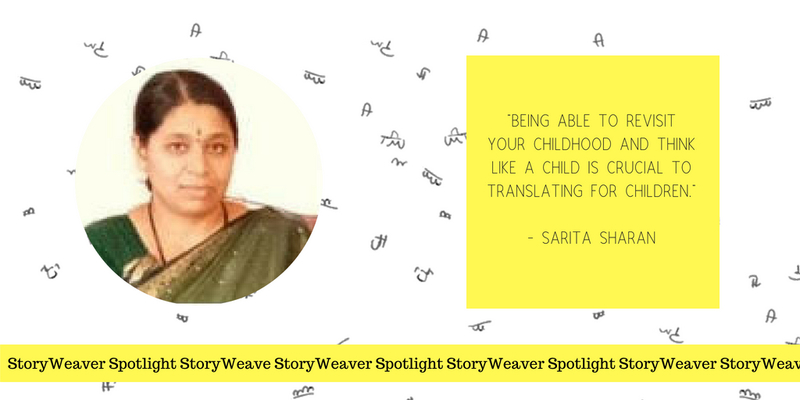 Q: What type of person do you think makes the best translator for children's stories?
A: Someone who works closely with children: teachers and storytellers, for example.
Q: Do you have any advice for anyone interested in becoming a translator?
A: If you can revisit your childhood and think and narrate like a child you are almost half way towards becoming a translator.
Q: A Book you'd like to recommend to other translators?
I don't see any set rules for this, it really depends on each piece of work and the way you want to communicate. For me, reading updated STEM curriculum, boosts my efficiency.
Q: What is your personal relationship to language and/or translation?
A: It is just like the relationship between a student and a teacher. A language is so rich, so versatile, so essential to communication.
Q: When you've been given a story to translate, what's your process, and how long does it generally take?
A: I read the whole story a couple of times. And, imagine narrating the same to my students before I begin. How long? Ha ha! It depends on my schedule,
Q: What do stories in translation bring to young readers?
I think the highlight of translated stories is that they bring diversity, and introduce readers to different cultures and places. Kids really just enjoy the variety.
Q: You've translated stories for us. Which has been your favourite to work on?
I liked Neelambara on a Full Moon Night, Sailing Ships and Sinking Spoons, Who Made Tomato Chutney and the Annamani story. They were were my favourites. I really liked the concepts and the way they were told as stories.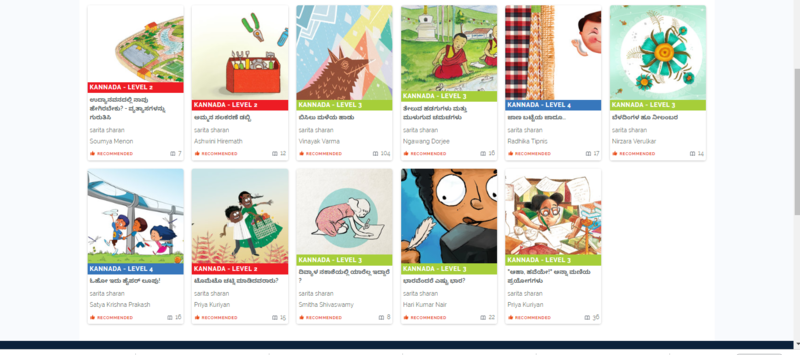 Q: What is the hardest thing about translating from English into Kannada? How do you navigate words or phrases that are tricky to translate??
A: I think common sense quotient works here. It's just about the concept as a whole and the way you narrate in your language. I think my profession has equally helped me in this regard.
Q: How do you feel when your story reaches the child?
Wow! That's an amazing feeling. I feel like a student who's waiting for results.
Q: Translating stories must have required research when it came to STEM related terms and concepts.. How did you explore new objects and concepts?
Like I said, I refer to the latest curriculum related to STEM concepts. So, it clears my confusion and difficulty while translating too.
Q: How else do you think we can join hands to take more stories to more children in more languages.
My wish is that we reach almost every school in every nook and corner as a group till books reach the last child. I personally prefer print formats for this , as the feel of a book is sacred.
Q: As a passionate teacher, story teller what do you think is the best way to approach a child?
Be a child while translating, narrating. That's all!!
Be the first to comment.
---