A year ago, on Children's Day 2020, StoryWeaver and Pratham Education Foundation announced a collaboration to develop and grow a repository of free, openly licensed reading resources for young children. As the first step, 50 storybooks from Pratham Education Foundation were launched on the StoryWeaver platform.
Kahaniyaan hi Kahaniyaan - A treasure trove of storybooks
To mark the first anniversary of this collaboration, we are delighted to share the progress that has been made since then, in creating, translating, and curating storybooks across many languages. This Children's Day, over one thousand storybooks will be made available for public access across two platforms – StoryWeaver and Pratham Education Foundation's Pratham Open School.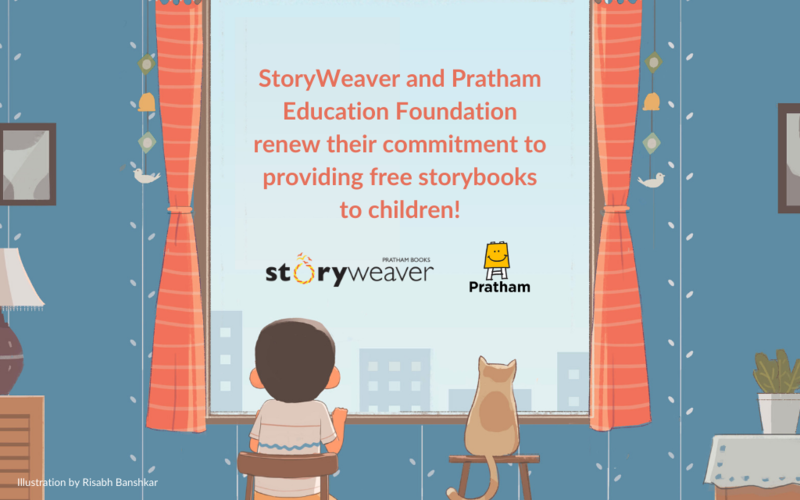 Storybooks in ten Indian languages and English
The Pratham-StoryWeaver collaboration now has uploaded more than 600 storybooks in Assamese, Bangla, English, Gujarati, Hindi, Kannada, Marathi, Odia, Punjabi, Telugu, and Urdu. This allows for open, and easy access to simple, interesting and fun storybooks.
Having these storybooks under the CC BY 4.0 license on StoryWeaver makes them available to a larger audience worldwide, and the books are free to read, download and use. At the same time, these books will give the StoryWeaver community new stories to translate, giving children around the world access to more books in their own languages.
In addition to the collection of new storybooks on StoryWeaver, a rich variety of additional storybooks are also available on the Pratham Open School website. You can "read", "listen" and use "highlighted" storybooks. What makes these packs special is that they are context-specific libraries with storybooks created by unique individuals from various backgrounds focusing on the local community and capturing the flavour of the region they represent. The packs include books from Himachal, Tripura, Assam, Bihar and Bengal with stories in the regional languages.
Campaign for celebration
Starting November 14, for a week, Pratham Education Foundation teams in 20 states will work with local volunteers, mothers, and community members to share one storybook a day through the 'Kahaniyaan hi Kahaniyaan' campaign and do a variety of activities like role-playing, drawing, and storytelling among others.
This partnership is a small step towards the goal of building a vast treasure trove of thousands of storybooks that will be freely available for children in their mother tongues.
Come join us on an exciting journey for the week of 'Kahaniyaan hi Kahaniyaan'!
Follow us on our social media for campaign updates!
Facebook | Instagram | Twitter
Explore all the storybooks available for free on StoryWeaver here: https://bit.ly/3wHyGf6
comments (9)
---
Reading literacy is not only a foundation for achievement in other subject areas within the educational system but also a prerequisite for successful participation in most areas of adult life. Children who read are able to think more, are able to express themselves more freely and become independent learners.
The National Education Policy (NEP) 2020 emphasizes the importance of well-stocked school libraries and digital libraries to attain the goal of foundational literacy and numeracy for all children by the year 2025. It recommends making quality children's literature available in all local languages to build a culture of reading across the country.
About the CBSE Reading Mission
In order to support reading literacy among students and enable joyful reading experiences, the Central Board of Secondary Education (CBSE), in partnership with Pratham Books' StoryWeaver and with the support of the Central Square Foundation, is pleased to announce the launch of the CBSE Reading Mission. The launch will take place at 3:00 pm on the 20th of September 2021. During the launch, there will also be a teachers' webinar on building a culture of reading in schools.
Link to the CBSE Reading Mission launch YouTube Livestream: https://bit.ly/3ExxoXd
The Reading Mission is a two-year-long initiative, in which all CBSE schools can participate. The Reading Mission will impact young learners across CBSE's network of 25,000 schools, including Kendriya Vidyalayas, the Jawahar Navodaya Vidyalayas, Central Tibetan Schools, schools run/aided by the state governments and private independent schools.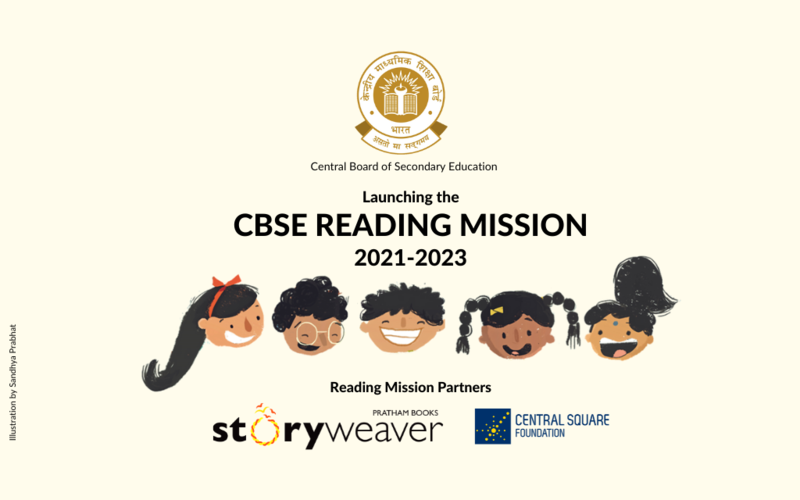 Under the Reading Mission, CBSE schools and teachers will have access to a large repository of openly licensed high-quality children's literature via the Pratham Books Reading Programme, available for free in English and Hindi on StoryWeaver. The Reading Programme offers 144 beautifully illustrated, age-appropriate storybooks that provide a rich reading experience for all children, cutting across geographical, economic, social and cultural divides.
The books are organised grade-wise and thematically for Grades 1 to 8 and are accompanied by supplementary resources such as discussion ideas and activities that can be conducted online, in-classroom or at home.
StoryWeaver will support and empower teachers with training materials on conducting engaging virtual reading sessions and activities through periodic 'Teacher Connect' interactions, where teachers can also discuss best practices, showcase their work and share inputs on the programme design.
For CBSE teachers who would like to participate, or require more details on the CBSE Reading Mission, do visit the Reading Mission campaign page on StoryWeaver: https://bit.ly/39n8FXj
comments (4)
---