When Pratham Books launched StoryWeaver two years ago and openly licensed all the content on the platform under CC-BY4.0, we had an inkling of the potential the idea had. In the last 24 months we have been blown away by the amazing ways our community members have used the power of open licensing to adapt the content on StoryWeaver to answer certain needs in classrooms and other learning spaces.
BooksThatSpeak.com is one such initiative. The platform hosts audio and video versions of children's stories in Marathi, Hindi, English and Gujarati. Many of the stories are from Pratham Books. Asawari Doshi, who runs the platform lives in Pune with her husband and two daughters and works part-time on reading and creating audio and video versions of stories for BooksThatSpeak.com.
Q: Tell us a little bit about why you started BooksThatSpeak.com
A: My aim behind starting this initiative was to create a medium through which more kids can listen to and read the fantastic stories that are published by Pratham Books. I currently read out books in four languages that I am familiar with (Marathi, Hindi, Gujarati and English).
But wait, my daughters (age 9 years and 4 years) and my niece (3 years) also are part of the Books That Speak team. You will hear their sweet little voices at the beginning and at the end of the stories, along with their signature tunes.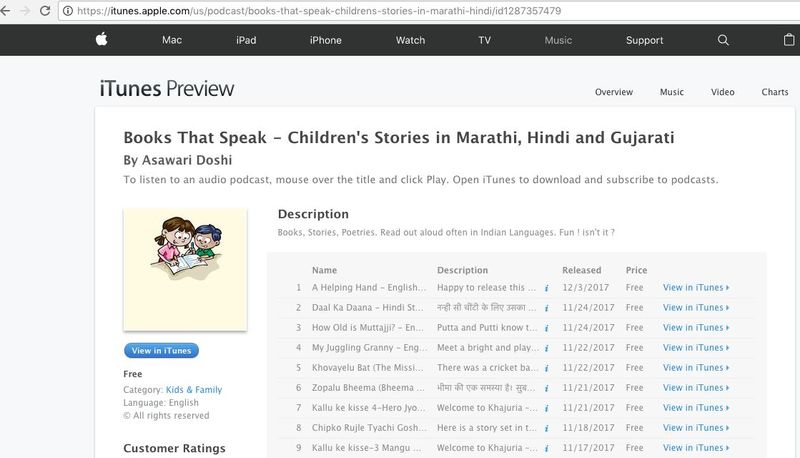 Q: How did you discover the StoryWeaver platform?
I got introduced to the lovely books published by Pratham Books around 6 years ago when my daughter brought some books home from her school library. I (even more than my kids) have been in love these books since then. We must have around 30 books published by Pratham Books in our little book cupboard at home!
From Pratham Books website and blog, I got to know about the StoryWeaver platform around 2 years ago. I was so happy to know that so many of these books are now freely available for everyone to read and also to re-purpose in multiple ways.
Q: What made you want to create audio versions of the books and make videos with them for YouTube?
A: My kids were the inspiration to start this initiative. They just love stories. But more than reading the books themselves they keep asking me to read stories to them. I love reading the stories to them too. My husband suggested why not share this joy with many more children. That was the start of BooksThatSpeak.com
Initially, I started creating audio versions of the books but as I read the books, I felt that the creative illustrations add so much to the experience so that's why I started creating video stories as well using the illustrations.
I must say that I personally enjoy the process of selecting which book to read next. As part of this process, I get to read to a lot of books from the StoryWeaver platform. All of the books are so good, that it makes the decision making very hard :) but I am not complaining because I get to read all these fantastic books.
Q: Where does your love for storytelling come from?
My background in in IT. But, I have been an actor in amateur theatre in my village in Konkan for many years. I think that may have been my accidental training in storytelling. Also, thanks to the inspiration from my father, ever since I was a child I used to read lots of books. I also remember that as a child I used to be mesmerized listening to Pu La Deshpande (A renowned Marathi author and my personal favourite) reading out and enacting his books. I think I might have picked up the liking for reading books aloud from those early years.
5. Do you have any plans for taking these stories to children?
As of now, Books That Speak are available as podcasts on the several platforms like iTunes, Sticher and Player.fm. The stories are also available as videos on our YouTube channel. I read stories in Marathi, Gujarati, Hindi and English. In future, I would love it if I can find other volunteers who want to join BooksThatSpeak.com and read out stories in other languages like Bengali, Urdu etc.
I hope to connect with government schools so that they can download and play these audio or video stories for children in their schools.
6. What kind of feedback have you received from the online community for your recordings?
I am getting to hear a lot of positive feedback from the children and their parents for these stories. I think though that most of the praise really is deserved by Pratham Books, StoryWeaver and the authors, translators and illustrators who have created these books and made their work Open Source.
Some feedback for BooksThatSpeak.com:
"Aunty, I love these stories! Why do you record only one story every day, start recording 2 or 3?"
"Beautifully narrated stories. The changes in voice for different characters make the stories a lot of fun."
"My kid's goodnight sleep starts with these stories, thank you Asawari!"
"My child loves the stories and enjoys the ae-roo-waao-ee signature tune at the beginning and end of the stories"
"These audio stories are very helpful to keep kids engaged during long travels. It's much better than them playing games on the phone all the time"
Here's a photo of me reading my favourite Pratham Books to my daughters!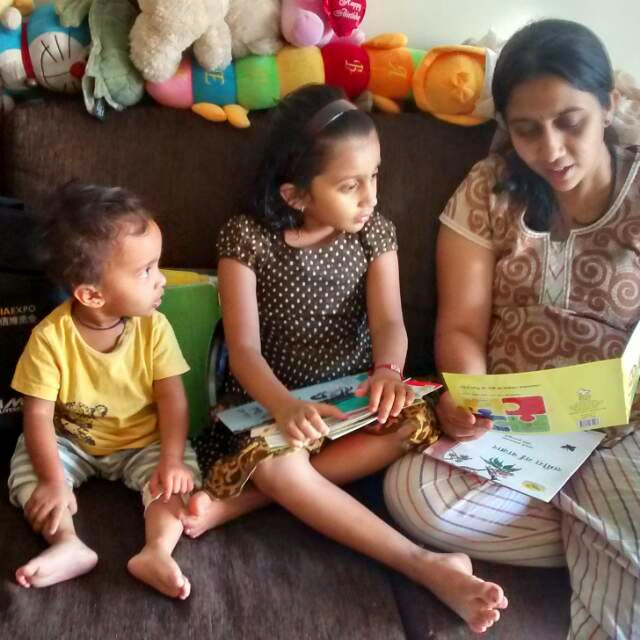 Thank you Aswari for this wonderful platform and taking the joy of reading to more children with your efforts! If you'd like to get in touch with Asawari head over to BooksThatSpeak now!
Are you using StoryWeaver content in interesting ways? Write to us at storyweaver@prathambooks.org and tell us so we can feature you on our blog.
comment (1)
---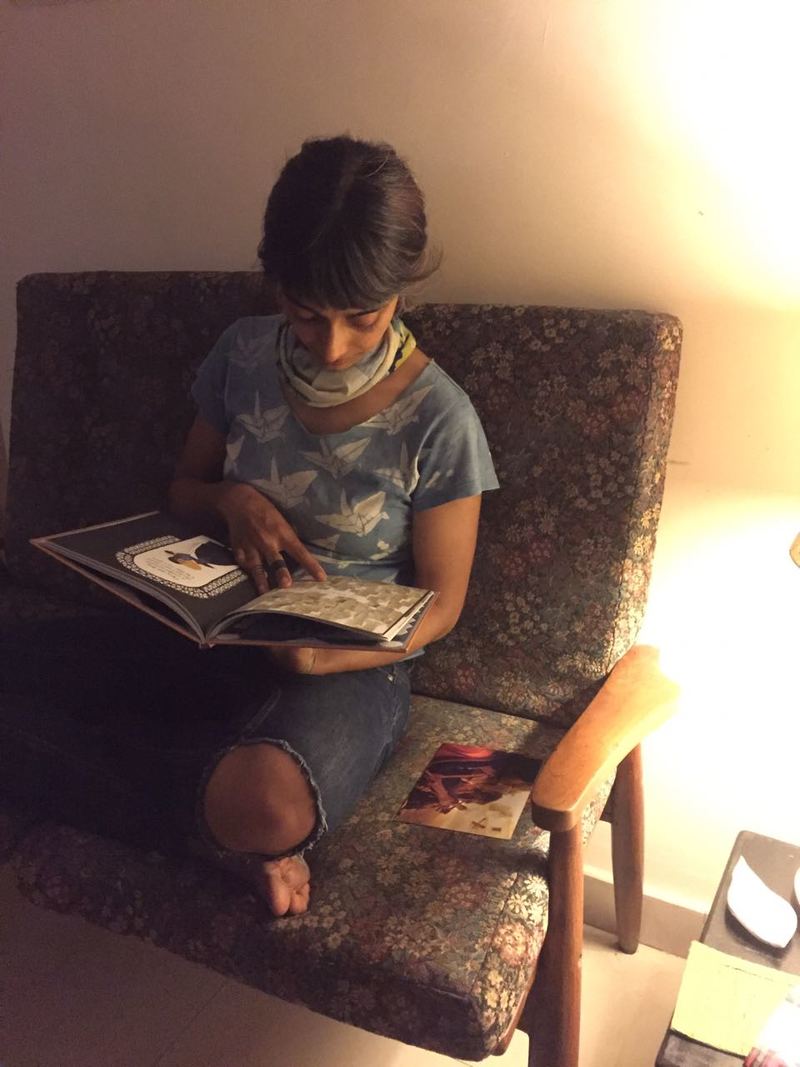 Anjora Noronha was one of the Illustrator Gurus for our #6FrameStoryChallenge in 2015, and we're delighted that she is illustrating a book for Pratham Books this year. Written by Sheila Dhir, this story is about the moving friendship between a goby fish and a pistol shrimp who live deep in the ocean.
Read a short interview with Anjora, in which she gives us a peek into into her illustration process.
What mediums do you most enjoy working with? How do you choose a particular medium for a story?
For personal projects, my drawing kit contains a sketchbook, watercolour postcards, a tiny bottle of Indian ink, a tiny tube of watercolour in ivory black, a mechanical pencil, a 'pencil' eraser, an aquapen, a MUJI gel pen (LOVE) and lots of tissues collected from all over the place.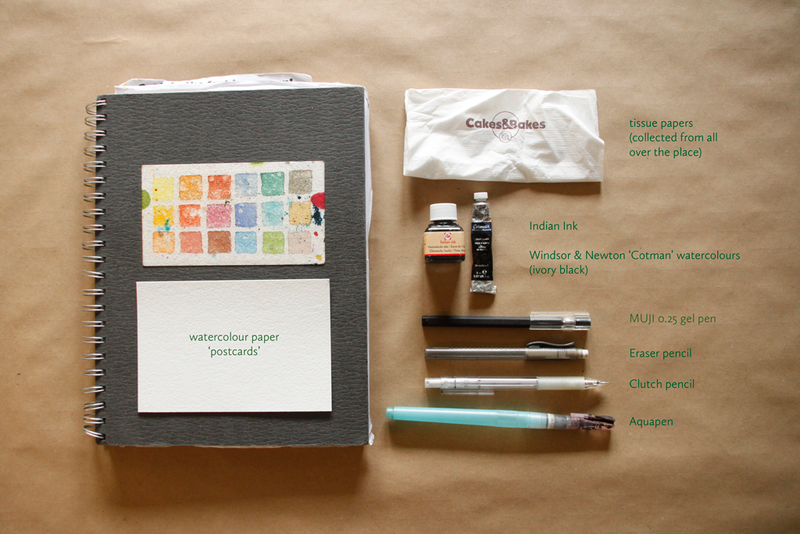 Other than that, I don't have a particular style or medium that I work with, so the start of a new project is always a mix of excitement and nervousness at discovering which medium is going to be the medium of choice. I somehow never know, and so each time I start, I have to go through sheets and sheets of paper and material, looking for what 'feels right'. 'What feels right' includes: how much texture I can achieve; if the essence of the medium suits the essence of the story (this is naturally highly subjective); and also very simply - if it excites me.
What kind of stories do you enjoy working on the most?
For children's books I prefer working on books that have a strong environmental theme. For adults I prefer working on stories about people and cultures. My favourite thing to draw is portraits of people I meet when I travel.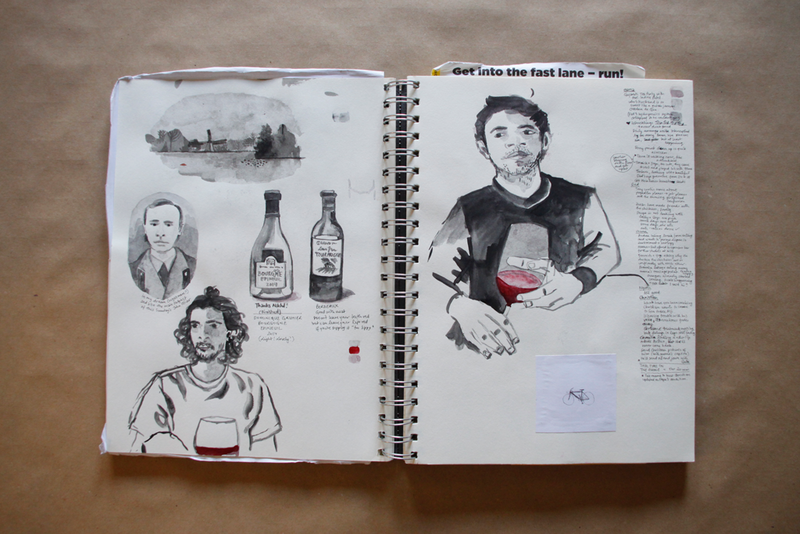 Which part of your work do you enjoy the most, and which part do you enjoy the least?
The most enjoyable part is when all the frames and page sketches have been approved and finalized, and it's time to colour them in. That is the most charming part of any project for me: I put on music, or a podcast, and spend hours glued to my desk in creative solitude. Most details have been decided by this stage, at this point it is a matter of turning off the thinking side of my brain and allowing things to happen on their own. I sleep at night excited about the next day of drawing. Even though I find it more challenging, I also love the character development stage because either I act out expressions and postures, or I ask someone to act them out for me. What I enjoy the least is scanning and cleaning the final artworks and preparing them for print. Following that, there's always the big existential angst about which font to chose, and at what size, with very few helpful cues from the universe.
This year, you're illustrating a book for us on the symbiotic relationship between a goby fish and a pistol shrimp. We loved all the character sketches you made for this. What kind of preparation goes into illustrating a book for children?
Ideally, the initial stage would involve doing studies of the characters from life, but since I didn't have access to the two main characters in the story I'm currently working on, I watched as many YouTube videos and read as many articles as I could. Then I filled many pages with drawing after drawing of the characters, repeating them over and over again. My aim was to get to know these two so that I could intuitively draw them in any situation. This was followed by a style and colour test, which is the phase where I try to discover which medium I will be working in. For this book, it is colour pencil, which is a medium I have never worked in before. I tweaked my colour palette multiple times and drew one page over and over again, changing individual details with every attempt to discover what textures and effects I could achieve with them. I have stopped using sites like Pinterest to find inspiration.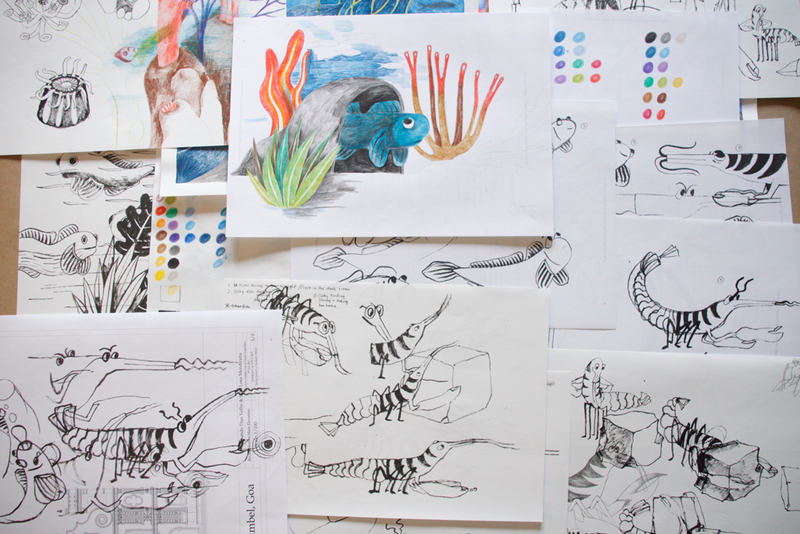 The third phase has been to thumbnail the entire book, and incorporate feedback. The practical side of illustrating for children cannot be ignored, and I like collaborating with editors as they are involved in the entire process but are not stubborn and attached to everything (as illustrators tend to get). This is where we have reached so far. Some pages need to be tweaked, some are good to spend afternoons of coffee and music with. Each thumbnail will be fully detailed and shared with the editors before being coloured in. The last stage is scanning, cleaning and layout. After that I hand over the files and wait for the printed books to come by mail :)
Who are some of the illustrators whose work you follow closely?
For children's books: Carson Ellis and Júlia Sardå Portabella. http://www.carsonellis.comhttp://www.carsonellis.com has a Q&A section on her website, and one of the things she speaks about is her limited gouache colour palette, and how - when she added a colour to it - it was quite ground-breaking for her. Júlia Sardå Portabella seems to work mostly digitally, so I turn to her work for clues on how to work digitally - a new medium for me. Recently I discovered the work of Joann Sfar, and have bought every book of his that I can get my hands on. The colourful and surprising artwork of Brecht Evens. One of my favourite young, contemporary artists is this guy called Ward Zwart, who puts up a lot of his work online, but is very mysterious otherwise. (He did reply directly to a message I left him on Instagram though :) Stephanie K. Birdsong, mostly known as shoulda-woulda-coulda: for her daily and very quirky warm up paintings in her Planner. Oh, to be so productive on a daily basis! And of course, the work of my peers in India, some of whom I know personally, and whose creative journeys I have been following for a while now.
How do you deal with creative blocks?
In three ways. The first is that I break down what I have to do into micro steps, and then push myself to complete one micro-task after the other, all the while telling myself that I can change everything at a later stage. The point is just to gain momentum, which always leads to enthusiasm. Most of the time, producing a lot of work that doesn't work leads to something that does work, and when that moment comes, the Battle against the Block is won. The more involved I get with an artwork, the more enthusiastic I am to delve into the details and spend time on it. The second is that I try to meet someone who is currently in a good creative place / moment. There is nothing that kindles my excitement about the work that we illustrators and designers do, than having a long, dense conversation about the nitty-gritties of the creative process. There hasn't been a time when it hasn't left me fired up to sit down at my own table and MAKE. The third is to not allow myself a break after completing a big project, so that I don't lose the rhythm and flow, but I'm still working on that, I almost always end up taking a short break :P
Anjora Noronha grew up in Vienna, moved back home to Goa, studied at the Srishti School of Art and Design in Bangalore, worked in Delhi, and then studied more at the University of Barcelona. She currently lives between the Indian tropics and a windy little town somewhere in northern Europe, where she works as an illustrator on a variety of projects ranging from comics, children's books, and historical books of places long forgotten.
comment (1)
---
Riddhi Dastidar recently joined Pratham Books as Outreach Manager. Here she writes about our recent workshop in Delhi, with Humana India.
On a scorching summer day in June, we found ourselves in the winding bylanes of Kishangarh in Delhi, looking for the Humana India Office. We entered to wooden floors, quiet reading spaces filled with books in multiple nooks and a massive German Shepherd dog draped languorously across the gate to welcome us in.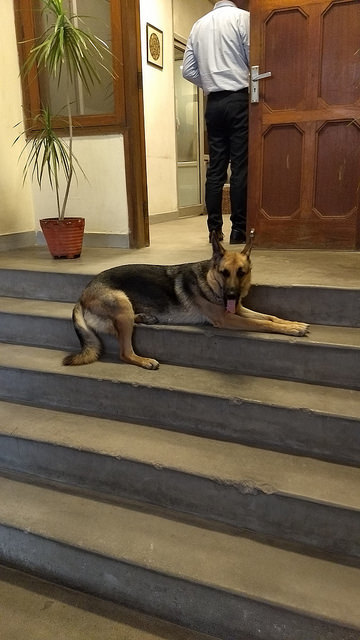 Humana People to People India is a part of Humana International's network of 31 organisations in Europe, Africa, Asia and the Americas working across a range of issues from from health to microfinance. Our overlap in interest comes from their work in Education.
HPPI's educational programmes aim to equip people with knowledge and skills to break the cycle of poverty and fulfill their potential. Their five programmes are Necessary Teacher Training Programme (NeTT), Academy for Working Children, Girls Bridge Education, Step up Centers and Prarambh. NeTT and Prarambh focus on incubating quality teachers. Humana had invited their NeTT master trainers from different states to spend the day with us to know about StoryWeaver and how can it be used to bring in a reading culture in the classroom, as well as serve as a resource pool for our teachers. We also had trainers from other organizations like Stir Education and Pratham who added to the diversity of the group.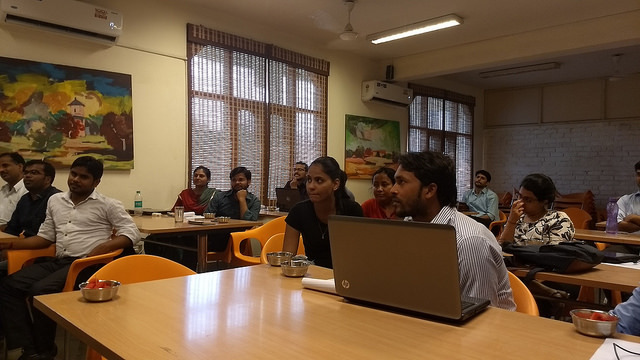 We started by getting to know the workshop participants a little better by discovering their hidden talents. Someone mentioned they were good at working with special needs children while another teacher found travelling interesting. Stories give way to many emotions and what better way to establish that than to begin the session with a story? The audience giggled and winced and tried to come up with a solution to Bheema's problem in the process realising with us how important stories are to classrooms!
How stories help kindle curiosity and develop lateral thinking in children.
After we walked through how StoryWeaver works, our philosophy of reaching as many children in need as possible in their native tongue, and hence our embrace of Creative Commons, it was time for the teachers to get their own hands dirty. They practiced curating lists of stories on specific themes (from Math concepts through biryani making to a Level 1 reading on Traffic lights). They got into groups to take a stab at translating stories into Hindi and finally even creating their own story from our set of open illustrations.
To break down the concept of 'filters' on StoryWeaver to help select the desired kind of tale we drew a parallel to online shopping - Amazon and Flipkart being commonly recognized.
An interesting story we explored brought out the critical role illustration can play in a book. We read 'दीदी का रंग बिरंगा खज़ाना', and the teachers pointed out that as Didi became happier, the book bloomed from black and white into colour - hence even a child struggling to read the words would be able to grasp what was happening!
By the end of the workshop we had a couple of first-time story-writers in our midst. The teachers were beginning to share the challenges of balancing something as 'inessential' and essential as the time to read for joy in class with the demands of administrative work and completing the syllabus. Waseem, one of the trainers from Stir mentioned that the main reason we work is actually the children. Very often lost in the pressures of checking very real demands and tasks off the checklist, we forget the heart of it - which is the relationship being built with the child. He pointed out that stories could be a great option to reverse this disinvestment and foster strong relationships.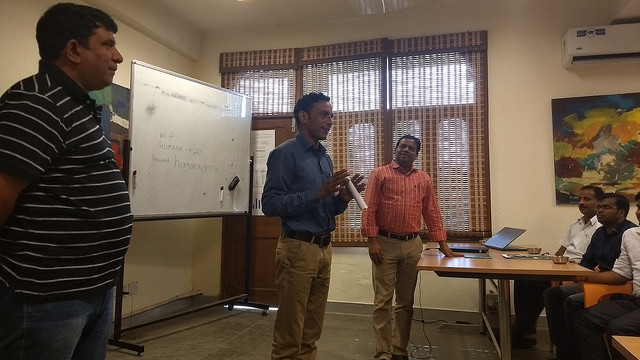 We came out of the workshop with many of the teachers coming up to us to ask for follow-up training with their organisations, and excited to see how they would go on to integrate stories into making different kinds of academic learning interesting - be it learning about division through biryani or just taking 20 minutes out of the day to Drop Everything And Read!
To see more images from the workshop, click here.
If you would like us to conduct a workshop with your organisation, drop us an email at [email protected]
Be the first to comment.
---