A year ago, on Children's Day 2020, StoryWeaver and Pratham Education Foundation announced a collaboration to develop and grow a repository of free, openly licensed reading resources for young children. As the first step, 50 storybooks from Pratham Education Foundation were launched on the StoryWeaver platform.
Kahaniyaan hi Kahaniyaan - A treasure trove of storybooks
To mark the first anniversary of this collaboration, we are delighted to share the progress that has been made since then, in creating, translating, and curating storybooks across many languages. This Children's Day, over one thousand storybooks will be made available for public access across two platforms – StoryWeaver and Pratham Education Foundation's Pratham Open School.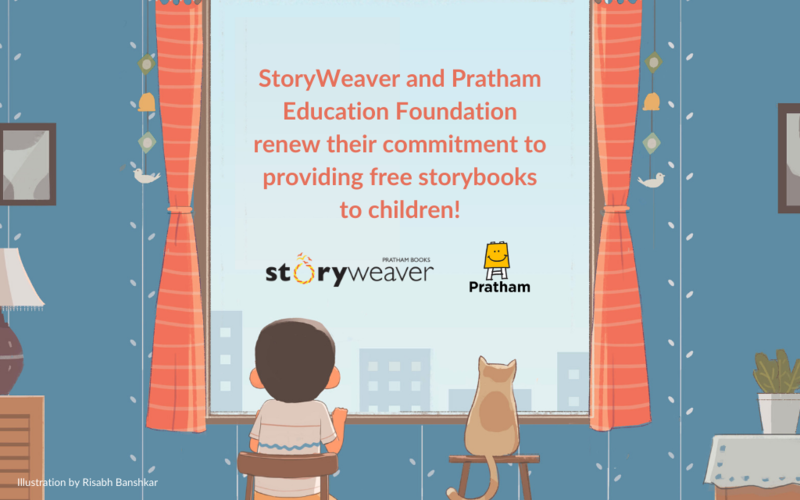 Storybooks in ten Indian languages and English
The Pratham-StoryWeaver collaboration now has uploaded more than 600 storybooks in Assamese, Bangla, English, Gujarati, Hindi, Kannada, Marathi, Odia, Punjabi, Telugu, and Urdu. This allows for open, and easy access to simple, interesting and fun storybooks.
Having these storybooks under the CC BY 4.0 license on StoryWeaver makes them available to a larger audience worldwide, and the books are free to read, download and use. At the same time, these books will give the StoryWeaver community new stories to translate, giving children around the world access to more books in their own languages.
In addition to the collection of new storybooks on StoryWeaver, a rich variety of additional storybooks are also available on the Pratham Open School website. You can "read", "listen" and use "highlighted" storybooks. What makes these packs special is that they are context-specific libraries with storybooks created by unique individuals from various backgrounds focusing on the local community and capturing the flavour of the region they represent. The packs include books from Himachal, Tripura, Assam, Bihar and Bengal with stories in the regional languages.
Campaign for celebration
Starting November 14, for a week, Pratham Education Foundation teams in 20 states will work with local volunteers, mothers, and community members to share one storybook a day through the 'Kahaniyaan hi Kahaniyaan' campaign and do a variety of activities like role-playing, drawing, and storytelling among others.
This partnership is a small step towards the goal of building a vast treasure trove of thousands of storybooks that will be freely available for children in their mother tongues.
Come join us on an exciting journey for the week of 'Kahaniyaan hi Kahaniyaan'!
Follow us on our social media for campaign updates!
Facebook | Instagram | Twitter
Explore all the storybooks available for free on StoryWeaver here: https://bit.ly/3wHyGf6
comments (9)
---
Today is World Children's Day - a time to reflect upon and renew our commitment to protect children's rights. Here is a selection of books that showcase some of the principles listed in the United Nations Convention on the Rights of the Child.
We hope that these books will be a useful resource for educators, parents, and caregivers, and that they inspire our young readers.
Ikru's First Day of School | Article 28: The right to education
What will Ikru's very first day at school be like? This heartwarming, wordless book brings alive the unexpected delights and quiet fears of a child's first experience of going to school.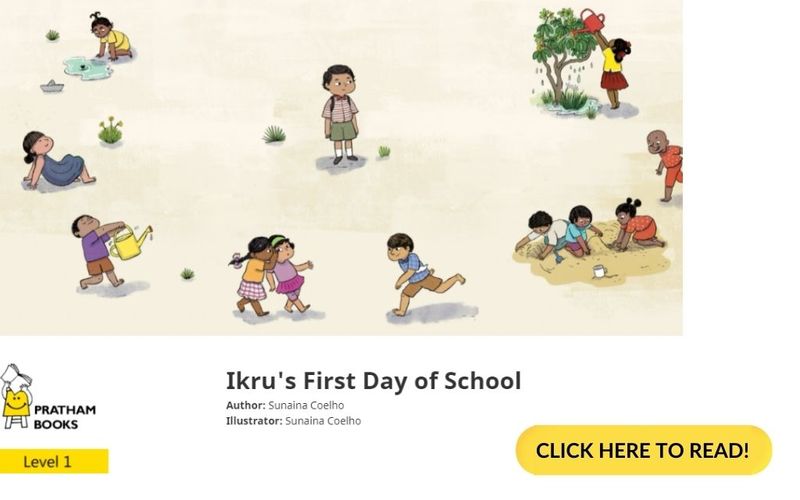 A Level 1 storybook written and illustrated by Sunaina Coelho, and published by Pratham Books.
Just Like Me | Article 12: The right to form and express views freely
It's Rahah's birthday party. Mum wants to know who she will invite. Will they all fit in?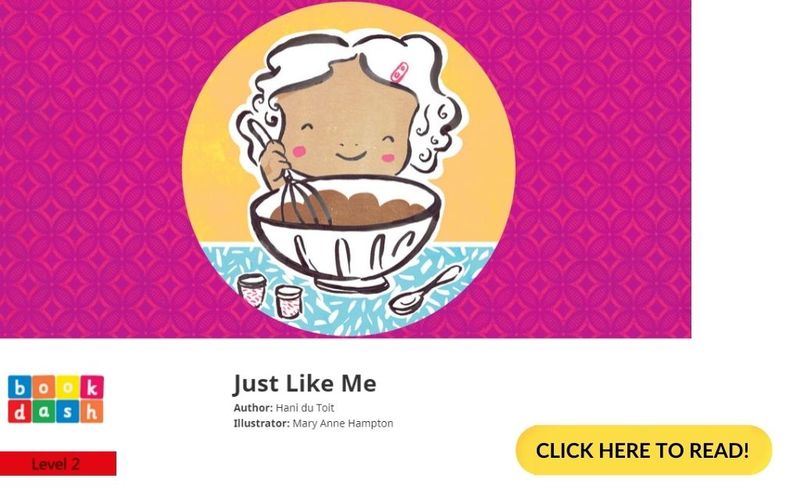 A Level 2 storybook written by Hani du Toit, illustrated by Mary Anne Hampton, and published by Book Dash.
Your Body is Yours | Article 19 & 34: The right to be protected from violence and abuse
Your body is unique and it belongs only to you. Get to know it, and learn to take good care of it. A book that aims to start open and healthy conversations around our bodies, and our right to say no to anyone who does not respect boundaries.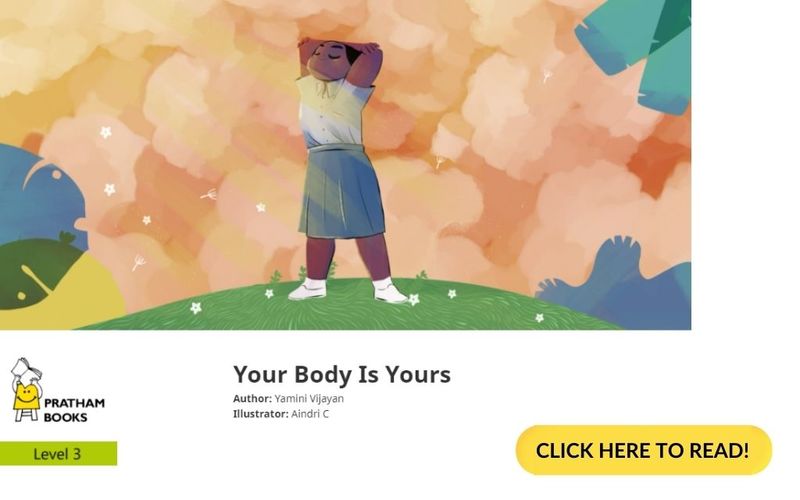 A Level 3 storybook written by Yamini Vijayan, illustrated by Aindri C, and published by Pratham Books.
I Know My Rights | Article 42: The right to know and exercise your rights
The United Nations Convention on the Rights of the Child lists out the basic rights that children have. It doesn't matter where you come from, what colour your skin is, whether you practice a religion or not, what language you speak, whether you are a boy or a girl or haven't decided yet – you have the right to these rights! This poster book lists out some of the rights of the child.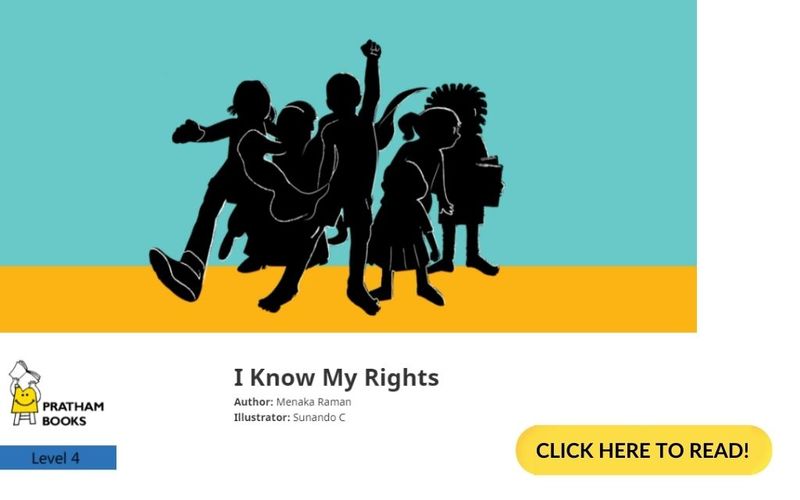 A Level 4 storybook written by Menaka Raman, illustrated by Sunando C, and published by Pratham Books.
SUPPORT STORYWEAVER
The United Nations Convention on the Rights of the Child states that all children have the right to an education that helps them fully develop their personalities, talents, and abilities. The ability to read is the ability to learn, explore, and imagine.
StoryWeaver is deeply committed to the goal of literacy and giving children open and free access to the reading resources and opportunities they need to succeed in school and beyond. With your help, we can do even more. Visit https://storyweaver.org.in/donate.
comments (18)
---
About Us:
Pratham Books (www.prathambooks.org) is a not-for-profit children's book publisher that was set up in 2004 to publish good quality, affordable books in many Indian languages. Our mission is to see 'a book in every child's hand' and we have spread the joy of reading to millions of children in India. As a publisher serving every child in India, Pratham Books has always pushed the boundaries when it comes to exploring innovative ways in which to create access to joyful stories and have been fortunate in finding partners to collaborate with who share this vision.
In 2015, Pratham Books increased its footprint by going digital. StoryWeaver is a digital platform that hosts stories in languages from India and beyond so that every child can have an endless stream of stories in her mother tongue to read and enjoy. The stories can be read, translated, versioned, or downloaded for free. All stories on the platform are openly licensed.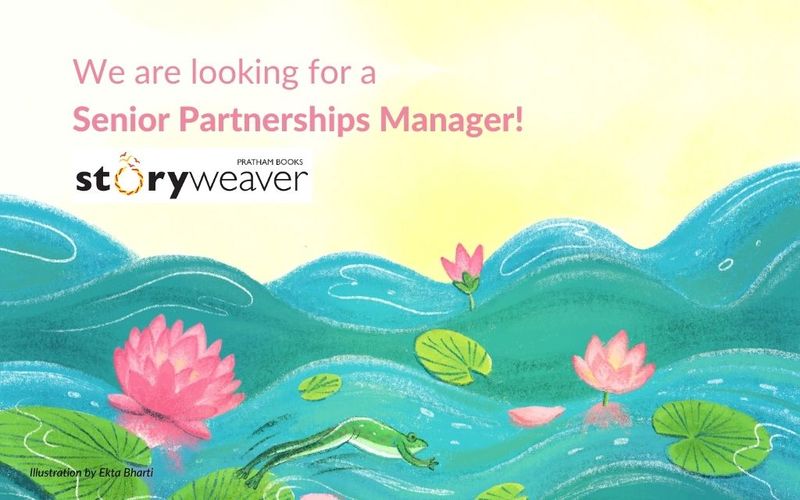 India's National Education Policy (NEP 2020) has made it a mission to achieve foundational literacy for all children by 2025 and aims at building a culture of reading in schools across the country. In the last few years, we have increased our impact by investing deeply in foundational literacy and reading programmes to further our mission.
We are looking for a passionate individual to lead the StoryWeaver Partnerships function who can drive our impact goals by forging strategic partnerships with organisations that promote reading and learning among children. The Senior Partnerships Manager will be responsible for strategizing and executing plans to increase the user base of StoryWeaver and also provide the necessary resources, support, and training to the partner network. This position will also play a critical role in the development of new foundational learning programmes as well as enhancing the existing ones. The role also requires keeping a close eye on policies and trends in the education sector and forming strategies for agile organizational responses.
New Partnerships and Key Account Management:
Build and manage accounts with governmental and non-profit organisations and strategise, design, and execute plans to nurture sustained partnerships with them
Forging large scale partnerships with government education authorities, nonprofits, UN bodies, civil society and ed-tech organizations
Large scale adoption, roll out and monitoring of the Foundational Learning, STEM and Reading Programmes
Ensure integration and uptake on Diksha and other ed-tech platforms
Represent StoryWeaver at relevant platforms and events while being the SPOC for government and large-scale partnerships
Analyse and interpret platform and partner data from the platform to devise and develop the strategy for the vertical
Content Curation and/or Development:
Project manage collaboration with partners and external subject matter experts to curate and/or develop curriculum-based offerings for existing and prospective partners
Liaison with educational organisations, governmental partners, and teachers on curating content based on curriculum and structured frameworks
Others:
Provide information, feedback, and support to the internal product team for the development of new product & program offerings
Maintain documentation for the various processes under the Partnerships function and to help with research and documentation for impact assessment
Lead and manage a team to ensure a wide network of Indian and International partners
Required skills and experiences:
Minimum 8-10 years of work experience in Education, Outreach, Partnerships, or related areas
Direct experience working with teachers and/or in classrooms
Knowledge of Indian school education landscape especially in the context of Foundational Literacy
Experience in content design/development and training in the areas of literacy and primary education
Exceptional communication and project-management/organisational skills
Proven ability to build consensus and work within a cross-departmental team
Ability to network and make connections
Nice to have but not mandatory:
Experience working with nonprofits
Understanding of central and state government education resource platforms such a DIKSHA, NISHTHA
An established network of contacts in the Indian education sector
Experience or interest in researching/documenting education/literacy programmes
Location: Bangalore
Compensation:
Salary will be commensurate with qualifications and experience.
Write to us:
Email your resume with 'Senior Partnerships Manager- StoryWeaver' in the subject line to [email protected]. Also, send us a short paragraph on why you think you are suitable for the position.
comment (1)
---